"Love You Inside Out"
The Bee Gees
RSO 925
June 1979
Billboard: #1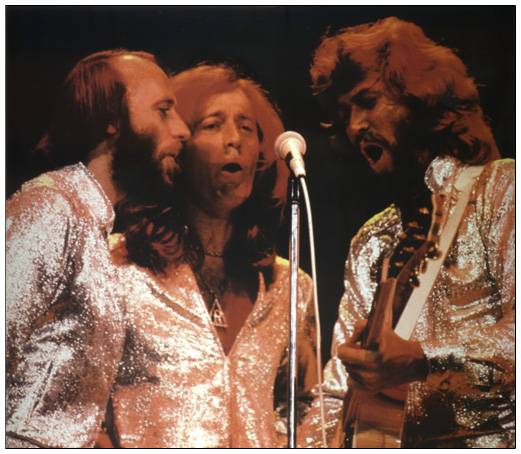 ove You Inside Out" was a statistically important single for the Bee Gees, helping them to rewrite the pop history books. It entered the Billboard Hot 100 at number 27 on April 21, 1979, and when it went to number one seven weeks later (interrupting Donna Summer's run at the top with "Hot Stuff"), it left four accomplishments in its wake:
1. It was the ninth number one single for the Bee Gees, tying them with Paul McCartney for fourth place on the list of artists with the most number ones. The top three: the Beatles (20), Elvis Presley (17) and Diana Ross and the Supremes (12).
| | |
| --- | --- |
| First charting on April 21, 1979, "Love You Inside Out" was the Bee Gees' 26th Top 40 U.S. single and their third consecutive number one from their 1979 album Spirits Having Flown. The LP, which first charted on Feb. 17, followed 1977's Saturday Night Fever to become the group's second number one album, remaining in the top position for six weeks and staying on the charts for 55 weeks. It was certified platinum by the R.I.A.A. on January 30, 1979. | |
2. It was the Bee Gees' sixth chart-topper in a row. The only other group to have six consecutive number one singles was the Beatles.

3. It was the third consecutive number one pulled from the Spirits Having Flown album, following "Too Much Heaven" and "Tragedy." The Bee Gees also had three consecutive number one singles on Saturday Night Fever: "How Deep Is Your Love," "Stayin' Alive" and "Night Fever." No other artist has ever had three consecutive number one singles each from two successive albums.

4. It brought the Bee Gees' total number of weeks spent at the top of the chart to 27, ranking them behind Elvis Presley (79), the Beatles (59) and Paul McCartney (30).

It also brought a surprising end to the good chart fortunes of the Gibb brothers. The most successful group of the second half of the '70s, they became yesterday's heros in the '80s. Their first two singles of the new decade, "He's a Liar" and "Living Eyes," ranked at 30 and 45 respectively on the Hot 100. Their work on the motion picture Staying Alive, the sequel to Saturday Night Fever, fared just slightly better. "The Woman in You" was their biggest hit of the first half of the '80s, peaking at number 24. The second single from the film, "Someone Belonging to Someone," petered out at number 49 in 1983; "You Win Again," from their 1987 album E.S.P., fared even worse at number 75. It wouldn't be until two years later that the trio would return to American radio and score their biggest hit of decade with "One," which rose to number 7 in September 1989, going gold and becoming their last single to reach the US top ten.

As cold as they were as artists, the Bee Gees remained white hot as writers and producers. Robin Gibb and the Bee Gees' keyboardist Blue Weaver wrote and produced "Hold on to My Love," a number 10 hit for Jimmy Ruffin in May, 1980 (Robin pursued a solo career in the '80s, reaching number one in Germany with "Juliet," included on his How Old Are You? album).

Barry produced the best-selling album of Barbra Streisand's career, Guilty, which included the number one single "Woman in Love" written by Barry and Robin. Dionne Warwick was the next beneficiary of a Barry Gibb production, and the Barry-Robin-Maurice Gibb composition "Heartbreaker" reached number 10 in January 1983. Later that year, Kenny Rogers recorded his first RCA album, Eyes That See in the Dark, with Barry as producer. That resulted in another Barry-Robin-Maurice song, "Islands in the Stream," going to number one.

The only person Barry could not work his production magic on was himself. His solo LP, Now Voyager, was a commercial and artistic disappointment, with the "Shine Shine" single fading away after peaking at number 37 in October, 1984.

- Fred Bronson, The Billboard Book of Number One Hits, Billboard, 1988.


comments powered by