"Love Train"
The O'Jays
Philadelphia International
March 1973
Billboard: #1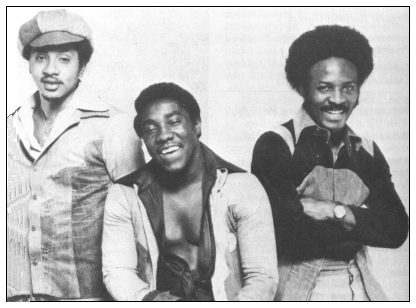 he O'Jays began as a duo, grew to a quintet and then shrank to a quartet. When their 13th chart single, "Love Train," went to number one, they were a trio.
Eddie Levert and Walter Williams were friends in elementary school in Canton, Ohio, when they formed a duo to sing gospel songs. In 1958, they joined with William Powell, Bobby Massey and Bill Isles and turned to secular music. They called themselves the Triumphs until 1961, when they signed with Sid Nathan's King Records and changed their name to the Mascots.
Four singles on King failed to make any noise and they were taken under the wing of Cleveland disc jockey, Eddie O'Jay. He booked them into small clubs and introduced them to a record producer from Detroit, Don Davis. They recorded "Miracles" for the small Dayco label, and in appreciation for Eddie's guidance, changed their name to the O'Jays.
| | |
| --- | --- |
| "Love Train" was the third single from the O'Jays' first album for Kenny Gamble and Leon Huff's Philadelphia International record label, Back Stabbers. First charting on Sept. 9, 1972, Back Stabbers peaked at number 10 on the Billboard Hot 200 album chart and remained on the charts for a total of 44 weeks. It was certified gold by the R.I.A.A. on May 8, 1973. | |
In 1963 they met producer H.B. Barnum, who signed the group to Los Angeles-based Imperial Records. "Barnum helped us with our vocals, and showed us in the ins and outs of the music business," says Levert. "After a year he took us into the studio and we recorded "Lonely Drifter."

That became their first chart entry, peaking at a humble number 93 in September, 1963. They had three more chart entries on Imperial, including "Lipstick Traces (On a Cigarette)." The group also did backing vocal work for other artists, including Nat "King" Cole, but by 1966 they were not having much luck with their recording career. Isles quit the group in August and the remaining four members moved back to Cleveland.

They were considering retirement when they were offered a contract with Bell Records. They had three more chart entries, then found their career cold again. They appeared at the Apollo Theater in Harlem with the Intruders, who were scoring hits on Kenny Gamble and Leon Huff's Philadelphia label, Gamble Records. The Intruders told Gamble and Huff to check out the O'Jays, and they did, signing them to their new label, Neptune Records.

"One Night Affair" was the first single released on Neptune. it was the first of three chart entries on the label, but before the O'Jays could build any momentum, the label folded. Once more, the O'Jays returned to Ohio without a record label. They were briefly reunited with Barnum and Massey quit the group to become a record producer.

Now a trio, the O'Jays kept in touch with Gamble and Huff, knowing the producers intended to start a new label, Philadelphia International, through CBS. According to Walter Williams, the group received offers from Motown and the new label started by Brian Holland, Lamont Dozier and Eddie Holland, called Invictus. But they turned both offers down in favor of returning to Philadelphia to sign with Gamble and Huff.

One of the label's first releases was "Back Stabbers," which went to number one on the R&B chart and number three on the pop chart in the summer of 1972. It was the first O'Jays single to go higher than 40. The follow-up, "992 Arguments," came from the Back Stabbers album, and when Gamble and Huff returned to the album for a third single, they selected the final track on side two: "Love Train." It entered the Billboard Hot 100 at number 61 on January 20, 1973 and became the O'Jays first and only number one single on March 24.

For the next five years, the O'Jays were consistent hit-makers, charting with top 10 songs like "For the Love of Money," "I Love Music" and "Use Ta Be My Girl," and released commercially and critically successful albums such as Ship Ahoy and Family Reunion. There was one sad change in the group's line-up in 1976. William Powell was stricken with cancer that year. He quit touring, but continued to record with the group until his death on May 26, 1977. He was replaced by Sammy Strain, who had been a member of Little Anthony and the Imperials for 12 years.

- Fred Bronson, The Billboard Book of Number One Hits, Billboard, 1988.


Reader's Comments
CoCo Turtle
Back Stabbers went to number one in the summer of 1972. Love Train became the O'Jays first and only number one single on March 24. Explain, please.
superseventies (Moderator)
Should be "number one on the R&B chart and number three on the pop chart," which I have corrected.