"Let Your Love Flow"
Bellamy Brothers
Warner/Curb 8169
May 1976
Billboard: #1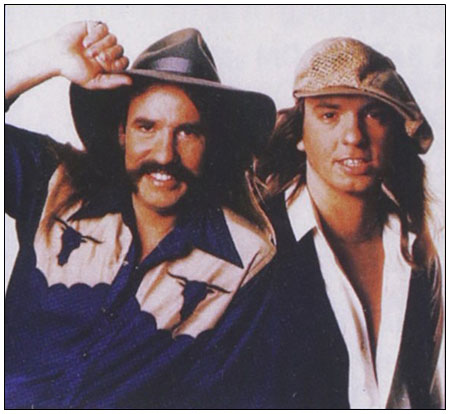 avid Bellamy, younger of the two Bellamy Brothers by four years, left his rural Florida home for California after Jim Stafford recorded one of his songs. "Spiders and Snakes" went to number three in early 1974, and Stafford's producer/manager, Phil Gernhard, was interested in developing David as a singer/songwriter.
| | |
| --- | --- |
| After making their professional debut in 1958, Darby, Florida country duo The Bellamy Brothers moved to Los Angeles in 1973 and topped the pop chart in May 1976 with "Let Your Love Flow." The single was taken from their self-titled 1976 album Bellamy Brothers, which first charted on the Billboard Hot 200 album chart on May 15, 1976, rising to No. 69 and remaining on the charts for 12 weeks. It was certified a gold seller by the R.I.A.A. on January 29, 1976. Their biggest hit, "Let Your Love Flow," was included on the 1982 album Greatest Hits (above), which was certified a gold seller by the R.I.A.A. on Oct. 10, 1986. | |
Gernhard often used Neil Diamond's road band for recording sessions. Diamond toured infrequently and they were a tight band of musicians who played well together. One of Diamond's roadies was Larry Williams, an aspiring songwriter who gave one of his compositions to Gernhard. Phil liked "Let Your Love Flow" and decided to cut it with David on lead vocal. The results were disappointing, and the track was stored on the shelf.

A few months later, Gernhard and his partner, Tony Scotti, flew to Florida for the taping of a television special at Cypress Gardens. Stafford was scheduled to perform, but gathering storm clouds threatened to disrupt the location shooting with rain. Gernhard told Stafford's roadie to check the equipment quickly so they could tape the production number before he bad weather struck.

The roadie was Howard Bellamy, David's older brother. He needed a job, so Gernhard had hired him to "schlep things around" for Jim. "Tony and I were standing there talking, and this voice drifted across from the other side of the lake where they were set up to shoot, and before I put two and two together, I said that's the voice for 'Let Your Love Flow.' I turned around and it was Howard Bellamy."

When Howard finished a tour with Stafford, he was flown to California to go into the studio for the first time in his life. With assistance from brother David and Diamond's band, he spent a couple of sessions recording "Let Your Love Flow."

On the day of Howard's final session, Gernhard was about to go into the studio when his secretary handed him a copy of the song -- just released by ABC/Dunhill by an R&B artist. Phil said he didn't want to hear it before he did the date with Howard. When he listened to it afterward he was satisfied he had produced the definitive version. Still, the idea of a competing record didn't sit well with record company executives, so the Bellamy Brothers' "Let Your Love Flow" was rush-released. It entered the Billboard Hot 100 at number 88 on January 31, 1976, and went to number one 13 weeks later.

Gernhard wasn't as surprised about the single going to number one as he was about a letter praising the song for its religious aspect. "What I envisioned was much more sensual than that," Gernhard admits. "I never thought abut the religious aspects."

Howard and David told Dolly Carlisle in People magazine that the song was not beneficial to their careers. "Right after that, we hit bottom because we lost control," David explained. "We had people working for us we didn't know, and managers wouldn't let us do our own music." Howard added, "There were so many fingers in the pie, that there was no pie left." "We ended up in debt because of that record," David concluded.

They toured Europe for a couple of years after "Let Your Love Flow," then returned to the family homestead in Florida. They hired some local musicians to back them on a song, "If I Said You Had a Beautiful Body Would You Hold It Against Me," which topped the country chart and did well internationally.

The urban cowboy trend may have passed, but the Bellamy Brothers continued to be popular on the country charts, recording for MCA/Curb. "We don't want to be part of something that just comes and goes, like disco," Howard told People. "We hated that. We're interested in longevity. There have been some terrible times, but now we've learned to ride with them.

- Fred Bronson, The Billboard Book of Number One Hits, Billboard, 1988.


Reader's Comments
Ivo Ponduša
This is my favorite and Bellamys biggest hit !!!