"I Write The Songs"
Barry Manilow
Arista 0157
Jan. 1976
Billboard: #1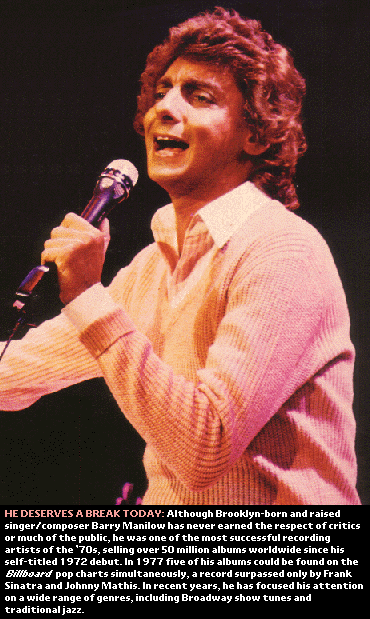 ne of the popular misconceptions of rock history is that Barry Manilow wrote "I Write the Songs." It's easy to see why people would assume he did -- he is a songwriter, and he says it out loud for all to hear -- "I Write the Songs." But not this one, nor any of his three number one singles in the 1970s.
The writer of "I Write the Songs" is Bruce Johnston, born in Peoria, Illinois, on June 27, 1944, and raised as Benjamin Baldwin. Transplanted to Santa Monica, California, when his father was made the president of a drug store chain owned by Justin Dart, he fell into the music business at 16 years old, playing piano in a band with Sandy Nelson. He recorded as part of the duo Bruce and Terry ("Summer Means Fun") with Doris Day's son, Terry Melcher, produced the Rip Chords ("Hey Little Cobra") and on April 9, 1965, officially became one of the Beach Boys.
Bruce was driving on the San Diego Freeway, working his way up the steep incline toward Mullholland Drive, when he got the idea for "I Write the Songs." He took the next offramp and returned home so he could work out the tune on the piano, and made a cassette of his new tune. He submitted it to a Japanese song festival, but it was rejected as being unsuitable.
He played it for two friends who had worked with the Beach Boys and were looking for a record deal -- Toni Tennille and her husband, Daryl Dragon. Once they were signed to A&M, the Captain and Tennille included Bruce's song in their first LP, but didn't release it as a single.
| | |
| --- | --- |
| Released in November 1975, Barry Manilow's third album, Tryin' To Get the Feeling, peaked at #5 on the Billboard Hot 200 and remained on the charts for 87 weeks. After being unavailable on compact disc for many years, Arista reissued the album in Nov. 1998 with a bonus track, "Marry Me a Little," written by Broadway composer Stephen Sondheim. | |
In 1975, Johnston was producing David Cassidy for RCA Records in Britain. David's first single for the label was "I Write the Songs," and it went to number 11. On a visit to London, Arista Records president Clive Davis heard the Cassidy version and thought it would be a perfect song for Manilow.

Recorded for the Tryin' to Get the Feeling album, "I Write the Songs" was the first single released from the LP. It debuted on the Billboard Hot 100 at number 48 on November 15, 1975, and made it to the top nine weeks later. Johnston refers to Manilow's recording as "the definitive version."

There's another song that many people mistakenly assume was written by Manilow -- the "You deserve a break today" commercial for McDonald's. The confusion bothered Manilow enough to prompt a letter to the press: "Over the years there's been some confusion about my involvement in the commercial industry. Before my records began to break, I participated in a few dozen jingles, I had a great time, learned a lot and moved on. Recently, I've begun to get credit for writing just about every jingle ever written. I guess that's because in my stage act, I don't stop and break down credits for all the jingles in my commercial medley." Manilow provided a list of jingles he wrote, which included Bowlene Toilet Cleaner, State Farm Insurance, Stridex and Band-Aids. His singing credits only included Pepsi, Jack-in-the-Box, Dr. Pepper and the famed Big Mac spot.

Manilow folllowed "I Write the Songs" with the title track from his Tryin' To Get the Feeling, a Top 10 hit in April 1976 and also song that he didn't compose himself (it was written by David Pomeranz). His 1972 debut album eventually went platinum, and over the years a dozen more followed suit, including the multiplatinum Barry Manilow Live, Even Now, and Greatest Hits. He won an Emmy for one of his TV specials, a special Tony for a Broadway concert, and a 1978 Grammy. He produced Dionne Warwick's 1980 comeback album and in early 1982 hit the Top 20 once again with "Old Songs." He scored and produced an album of songs by the great lyricist Johnny Mercer, With My Lover Beside Me, for Nancy Wilson in 1991 after Mercer's widow discovered a trunk full of unpublished lyrics by her late husband and offered them to Manilow. "Barry Manilow's Copacabana - The Musical" premiered in London in 1994 and he made his film scoring debut the same year for the animated feature film Thumbelina. In 1996's Summer of '78 album, he covered many of his favorite songs of the '60s and '70s, including "Never My Love," "I Go Crazy" and "We've Got Tonight." He remade 13 Frank Sinatra hits in 1998's Manilow Sings Sinatra and in 2001 released Here At the Mayflower, a concept album about an imaginary apartment building. As recently as 2002 he could be found at the top of the Billboard pop album charts once again, with his greatest hits compilation Ultimate Manilow.

- Fred Bronson, The Billboard Book of Number One Hits, Billboard, 1988.


comments powered by