"It Don't Come Easy"
Ringo Starr
Apple 1831
May 1971
Billboard: #4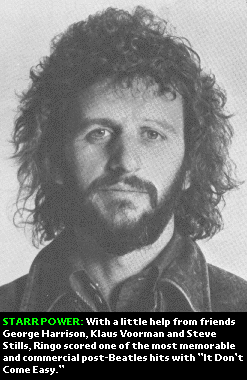 he well-worn maxim "The whole is greater than the sum of its parts" was never more true than it was with the Beatles. The solo careers of John Lennon, Paul McCartney, and George Harrison fell so far short of their promise that it is mind-boggling to consider the effect they must have had on one another while they were an ensemble. Ringo Starr is the only Beatle who surpassed all expectations, simply because nobody expected much. His two compositions with the Beatles, "Don't Pass Me By" and "Octopus's Garden," hardly suggested that he might be a capable songwriter, and the limitations of his interpretive abilities certainly didn't leave much room for promise, either. His first two solo albums, Sentimental Journey and Beaucoups of Blues, only made it more apparent that, with the Beatles defunct, Starr probably should have retired from record-making.
| | |
| --- | --- |
| "It Don't Come Easy" was a bonus track on the 1991 compact disc reissue of Ringo Starr's 1973 Ringo album, a set that featured contributions from John Lennon, Paul McCartney and George Harrison. | |
Who, then, could have predicted that he would write one of the most memorable post-Beatle singles of the four? It was uncanny, so uncanny that it needed to be attributed to something or someone else. That person was probably none other than his ex-groupmate George Harrison, who both produced and played on "It Don't Come Easy," providing both the hook-laden guitar line and the memorable solo. Ringo recorded the song, which was produced in the best Spector style, in London thirteen months before it was released in April 1971. It easily outshone and outsold the contemporary efforts by fellow Beatles Harrison ("Bangla Desh"), Lennon ("Power to the People") and McCartney ("Another Day").

Harrison was at his creative zenith from 1969 to 1971. Abbey Road contained two of his best songs ever, and his own triple album, All Things Must Pass, was chock-full of memorable songs, many of which were left over as rejects from his Beatle days. Freed of Lennon and McCartney's claustrophobic restrictions and lack of support, he found musicians who appreciated his talent, and for a while at least, he flourished. Harrison had rather unpredictably become the most promising songwriter of the band, and with "It Don't Come Easy," Starr was giving him a sportsmanlike run for his money. It even surpassed Harrison's excellent singles, "My Sweet Lord" and "What Is Life," for melodic content and originality. Soon, Lennon and McCartney got into the act of supporting Starr's solo career, with both of them contributing pieces to his eponymously titled 1973 album, Ringo. Two #1 hits came from the album ("Photograph" and "You're Sixteen," with neither Lennon's nor McCartney's involvement), causing a bemused and slightly jealous Lennon to remark, "You should write one for me!" Never a true solo artist, Starr usually relied on the input of others, and he was at his best when showing just how much could be achieved with a little help from his friends.

- Thomas Ryan, American Hit Radio, Prima Entertainment, 1996.


Reader's Comments
CoCo Turtle
It's a 100% George composition, gifted to his friend Ringo.