"I'm Your Boogie Man"
KC & the Sunshine Band
T.K. 1022
Apr. 1977
Billboard: #1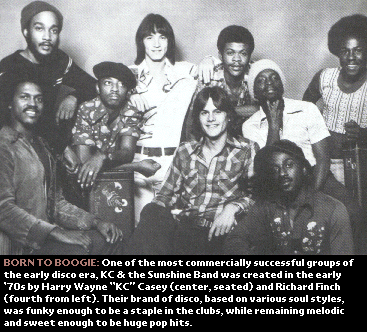 C and the Sunshine Band's hit streak started in 1975 with "Get Down Tonight" and "That's The Way (I Like It)" and extended into 1977 with "(Shake, Shake, Shake) Shake Your Booty." "I'm Your Boogie Man" was the group's fourth number one song, making them only the second group to have four number one singles in the Seventies after the Jackson Five.
| | |
| --- | --- |
| In June 1990, Rhino Records released the 16-track collection The Best of KC and the Sunshine Band, which features "I'm Your Boogie Man" and seven other KC hits that made the Top 40 in the US. | |
"I'm Your Boogie Man" was not KC's original title for the song. When he first wrote it, the lyrics were "I'll be a son-of-a-gun, look what you've done" instead of "I'm your boogie man, that's what I am." He wasn't happy with the song and changed the meaning of the lyrics from being about a relationship gone bad to an ode to a disc jockey. "There was a double meaning there," KC confides. "There was the meaning that I would be there to help you, too."

On the Part 3 album, "I'm Your Boogie Man" segued directly into "Keep It Comin' Love." "That was intentionally done," KC explains. "It worked real well. I guess that was just an extension of saying, 'I'm your boogie man, keep it coming.' A lot of people start something, and when it gets to the point where they would hit -- they stop.'"

"I had those feelings a lot of times during my apprenticeship -- my five years of struggle," he adds. "There were days when you would feel, 'what am I doing this for?' and at the same time a little voice would say, 'don't you stop now.'"

"Keep It Comin' Love" peaked at number two in the autumn of 1977, and for the next two years, KC and the Sunshine Band couldn't get a Top 30 hit. One of their older flip sides, "Boogie Shoes," was included in the motion picture Saturday Night Fever, causing T.K. to re-release it.

"Boogie Shoes" only managed to get to number 35 on the Billboard Hot 100, but there was some consolation in the fact that it was included in an album that sold over 25 million copies.

The group followed "Boogie Shoes" with their first non-original song. It was "It's the Same Old Song," a 1965 hit for the Four Tops. "I didn't do anything tremendously different with it," says KC. I felt that (would have been) disrespectful. I put our sound to it, (but) I did try to stay as close to the original as possible." KC's next two singles failed to make the Top 50, and KC blames T.K. for lack of promotion. "They weren't backing us at that time. I was getting ready to sign with new management, and I think they knew that and didn't want it to happen."

It was not over yet for KC and the Sunshine Band. They would extend their run of chart hits into the '80s with their first ballad in 15 chart entries, "Please Don't Go." In 1984, after KC recovered from a serious 1982 car crash, he hit the Top 20 again with "Give It Up," which went to number one in the U.K. In the early '90s, KC revamped his act, releasing a new album and making numerous television and concert appearances, both in the US and in Europe, where the group always had a strong following.

- Fred Bronson, The Billboard Book of Number One Hits, Billboard, 1988.


Reader's Comments
No comments so far, be the first to comment.