"I'll Take You There"
The Staple Singers
Stax 0125
Jun. 1972
Billboard: #1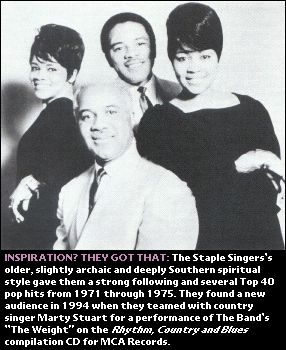 oebuck "Pop" Staples hails from the rural, blues-rooted Mississippi delta. During the depression, he moved to Chicago with his wife Oceola, where by days he worked in a steel mill and at night sang gospel with his musically gifted family. In the early '50s, Pop officially organized the Staples Singers, which featured son Pervis (who would leave the group in 1971) and daughters Cleo, Mavis and Yvonne, with the patriarch himself accompanying them on guitar.
Eventually the Staples -- sparked by Mavis' spirit-lifting lead vocals -- became headliners on the gospel music circuit. "At that time gospel music was much more popular than it is today," Mavis told Vernon Gibbs in Essence magazine, "and we would appear with eight or ten other gospel acts. We could easily fill a 10,000-seat auditorium or armory doing two shows a day, especially in the South."
| | |
| --- | --- |
| "I'll Take You There" was the second hit single from the Staple Singers' second album for Memphis's legendary Stax label, Be Altitude: Respect Yourself. Released in Feb. 1972, the album peaked at #19 on the Billboard Hot 200 and remained on the charts for 37 weeks. In 1990, Fantasy/Stax released The Best of the Staple Singers (above), a 16-track CD compilation that features all seven of the Staples' Stax Top 40 hits, as well as remakes of such R&B/rock standards as "(Sittin' on) The Dock of the Bay" and "The Weight." | |
In the mid-'50s, the Staples Singers began recording traditional gospel music, first for the small United label and then for Chicago-based Vee Jay Records, which released the gospel smash, "Uncloudy Day." Pop experimented with a secular, soul-oriented sound, and in June, 1967, the Staples had their first Billboard Hot 100 record, "Why? (Am I Treated So Bad)," which lasted just one week on the chart, at number 95. Signed to Epic Records, they also recorded cover vesions of Bob Dylan and Woody Guthrie songs, and did a dynamite rendition of Buffalo Springfield's "For What It's Worth."

Critics screamed "sell out," but Pop insisted to Gibbs, "We didn't do it for the money. Since we made the move, a lot of groups have come up to us and said, 'I'm going to do the same thing you did and get me some of that rock money.' But what usually happens is that they can't make it in the pop field, and they can't go back to the church circuit. Once you leave the church, you can't go back..."

In keeping with the changing times, the Staples sang about peace on Earth and the sanctifying power of universal love. "We always tried to do material that was inspirational and uplifting in addition to whatever else it was," Pop said in Essence, "and I guess the deejays picked up on that. We were accepted for that, and even efter we started doing material that wasn't strictly gospel, we've always tried to make music that is affirmative, happy music that makes a positive point. Our aim is to get across a message while we're entertaining people. We want people to enjoy the music, but we also want them to hear the lyrics and hear our message -- love."

The family made an important move in July, 1968 -- they signed with Memphis-based Stax Records.

Steve Cropper was their first Stax producer, and he gave them a number 27 hit in April, 1971, with "Heavy Makes You Happy (Sha-Na-Boom Boom)," written by Jeff Barry and the late Bobby Bloom. Bell produced the album Be Altitude: Respect Yourself. It was the title track, "Respect Yourself," that was the real breakthrough for the Staple (the final 's' was long gone) Singers. It peaked at number 12 in December, 1971.

The second single from the album took them to the pinnacle of the pop chart. "I'll Take You There" made its first appearance on the Billboard Hot 100 at number 63 on April 8, 1972, and became the group's first number one single eight weeks later.

It had been a long, hard climb from the Mississippi delta to the top of the chart. But Pop kept it all in perspective and never forgot for an instant who made it happen. "It pleased God to put a guitar in my hands and a song on the lips of my children," he said, "and we aim to please God through our music."

When Stax Records declined and eventually closed in the mid-Seventies, the Staple Singers signed a contract with Curtis Mayfield's Curtom label and scored another number one pop hit with "Let's Do It Again," the title song of a 1975 movie. From there they moved to Warner Bros., changed their name to simply "The Staples," and scored two Top 20 R&B singles, "Love Me, Love Me, Love Me" and "Unlock Your Mind," in 1976 and 1978. The hit the R&B charts once again in 1984 with a cover of Talking Heads' "Slippery People" and in 1985 with a version of "Are You Ready?" In 1987, Prince signed Mavis Staples to his Paisley Park label and coproduced her album with longtime Staples producer Al Bell. Pops Staples won a Grammy in 1985 for Best Contemporary Blues Album for his album Father Father and in 1999 was awarded the Mississippi Arts and Letters Special Award for his contribution to music. He died on Dec. 19, 2000, in Chicago at the age of 84.

- Fred Bronson, The Billboard Book of Number One Hits, Billboard, 1988.


Reader's Comments
No comments so far, be the first to comment.