"Hot Child In The City"
Nick Gilder
Chrysalis 2226
Oct. 1978
Billboard: #1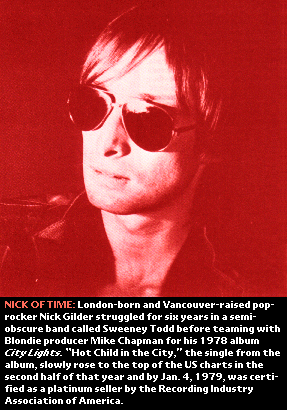 'm intrigued by sex," Nick Gilder confessed to Rolling Stone. "It's so much a part of everything we do, and we don't completely understand why we're doing it. It's our prime directive, almost, on this planet. Seek out and multiply, you know. Seek out and multiply, you know. I write stories around it because it intrigues people so much."
Nick Gilder fashioned one of his stories around the wasted life of a street-wise Lolita ("Drinking champagne is her pastime/Making love is her mainline") in "Hot Child in the City." His platinum-selling single debuted on Billboard's Hot 100 at number 88 on June 10, 1978, and took 20 more weeks to reach the top, longer than any other single that had come before.
| | |
| --- | --- |
| "Hot Child in the City" was a number one smash from Nick Gilder's Sept. 1978 album City Lights, which peaked at #33 on the Billboard Hot 200 and remained on the charts for 20 weeks. In March 2001, BMG/Razor & Tie released the 12-track compilation The Best of Nick Gilder - Hot Child in the City (above), a collection of songs composed solely by Gilder. | |
"'Hot Child in the City' could well have been entitled "Don't Bite the Apple,'" Gilder said in Rolling Stone. "I've seen a lot of young girls, 15 and 16, walking down Hollywood Boulevard with their pimps. Their home environment drove them to distraction so they ran away, only to be trapped by something even worse. It hurts to see that so I tried writing from the perspective of a lecher -- in the guise of an innocent pop song."

The man Rolling Stone dubbed "the Nabokov of the jukebox" was born November 7, 1951, in London, England. When he was 10, his family moved to Vancouver, British Columbia, Canada. After attending technical college, he teamed up with guitarist Jimmy McCulloch in 1971 to form a rock band called Sweeney Todd. They struggled in semi-obscurity until 1976 when London Records released "Roxy Roller," a sardonic tune about a groupie.

Gilder and McCulloch bowed out of Sweeney Todd due to internal squabbling, and travelled south to test their power-pop sound in the more lucrative waters of Los Angeles. They signed with Chrysalis Records, while their former label released a semi-new version of "Roxy Roller" in the United States, featuring a different lead singer and the original Sweeney Todd backing track.

When Chrysalis got wind of it, they obtained an immediate injunction that banned the record from further airplay and issued a new recording of the song by Gilder. To further complicate matters, a revamped Sweeney Todd went back in to the studio and recorded an entirely new version. As a result of this muddle, all three singles bombed.

After an aborted attempt to record with Beatles producer George Martin, Gilder teamed up with Stuart Alan Love in 1977 to produce his debut LP, You Know Who You Are. For his next effort, 1978's City Lights, Gilder was paired with glitter pop producer Mike Chapman to record three tracks in three days. One of them was "Hot Child in the City."

"I didn't think that track was strong enough to be the single," Chapman told Jim McCullaugh in a Billboard interview. "There was another track called 'All Because of Love' which I thought should be the single but Chrysalis president Terry Ellis felt 'Hot Child in the City' was stronger. He was right on that one."

Ellis' decision gave Chapman two consecutive number one singles as Gilder succeeded the Chapman-produced "Kiss You All Over" by Exile. "It's like a dream come true," Chapman told McCullaugh. "I've wanted that kind of success in the U.S. for a long time and it's finally starting to happen."

The following July, Gilder released a followup to his moderately successful City Lights album entitled Frequency, but it stalled at number 127 on the Billboard Hot 200 album chart and remained on the charts for only eight weeks.

- Fred Bronson, The Billboard Book of Number One Hits, Billboard, 1988.


comments powered by