"Gypsys, Tramps & Thieves"
Cher
Kapp 2146
Nov. 1971
Billboard: #1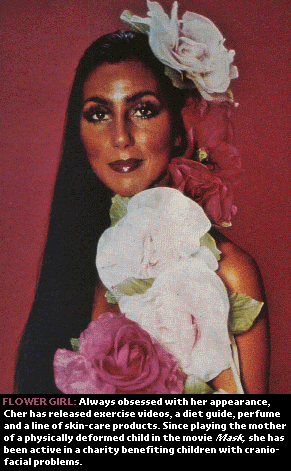 roducer Snuff Garrett has worked with many artists, including Bobby Vee, Gary Lewis and the Playboys and Vicki Lawrence, but "Gypsys, Tramps & Thieves" remains one of his two all-time favorite singles that he's produced. The other is "Old Rivers," a number five hit for Walter Brennan in 1962.
Like "Old Rivers," "Gypsys, Tramps & Thieves" is a story-song, and it's exactly what Garrett was looking for when Cher was signed to Kapp Records in 1971. He had known Sonny and Cher for a long time, both from his days at Liberty Records -- when Cher recorded solo singles for the Imperial subsidiary -- and from living next door to the couple in the affluent Bel Air suburb of Los Angeles.
| | |
| --- | --- |
| Released in Sept. 1971, Cher's Gypsys, Tramps & Thieves album peaked at #16 on the Billboard Hot 200 album chart and remained on the charts for 45 weeks. Another single from the album, "The Way of Love," climbed to the #7 position on the US pop charts in February 1972. | |
Johnny Musso of Kapp Records thought that Garrett and Cher would work well together and decided to team them up. "I knew exactly what I was looking for," Snuff maintains. "I wanted a song along the lines of 'Son of a Preacher Man,' a story-type song." A writer named Bob Stone met with one of Garrett's staff members and asked if he could meet personally with Snuff. He told Snuff he didn't have a handle on what the producer was looking for and asked him to elaborate. "He came back the next day with a song called 'Gypsys and White Trash,'" says Snuff. A simple re-write turned it into "Gypsys, Tramps & Thieves."

It was an important release for Cher. Her last solo appearance on the Billboard Hot 100 had been almost four years earlier, with "You Better Sit Down Kids." Her first solo single to make the chart, "All I Really Want to Do," preceded the debut of the first Sonny and Cher single, "I Got You Babe," by one week. Until "Gypsys, Tramps & Thieves," her biggest hit on her own had been "Bang Bang (My Baby Shot Me Down)," which peaked at number two in April, 1966. After recording on Imperial for four years, she recorded some solo singles for Atco, the label that released Sonny and Cher's biggest hits, but none of those 45s made the chart.

"Gypsys, Tramps & Thieves" entered the charts at #88 on September 18, 1971, and was the number one record in America seven weeks later. Its success followed the debut of The Sonny and Cher Comedy Hour on CBS, which premiered August 1, 1971, as a summer series. The show opened with an antagonistic banter between Sonny and Cher, a routine they had perfected in their night club act. Fred Silverman, then head of programming for CBS, saw them at the Americana Hotel in New York and thought they might work well on a variety series. He arranged for them to be substitute hosts on The Merv Griffin Show and satisfied with their performance, offered them their own series. The summer tryout earned high enough ratings for Silverman to bring the program back in December, 1971, as a weekly prime time offering.

After her musical and romantic partnership with Bono ended in 1975, Cher went on to reinvent herself as an acclaimed movie actress, middle-aged sex symbol, fitness guru, and international pop superstar. After marrying Gregg Allman in 1975 and divorcing him four years later, she became romantically involved with a series of younger rockers, including Kiss' Gene Simmons and Richie Sambora of Bon Jovi. She won an Academy Award for best actress for her performance in the movie Moonstruck, and scored worldwide multi-platinum hits with a string of hit singles that include "We All Sleep Alone," "If I Could Turn Back Time" and "Believe."

- Fred Bronson, The Billboard Book of Number One Hits, Billboard, 1988.


Reader's Comments
No comments so far, be the first to comment.