"Got to Give It Up, Pt. 1"
Marvin Gaye
Tamla 54280
June 1977
Billboard: #1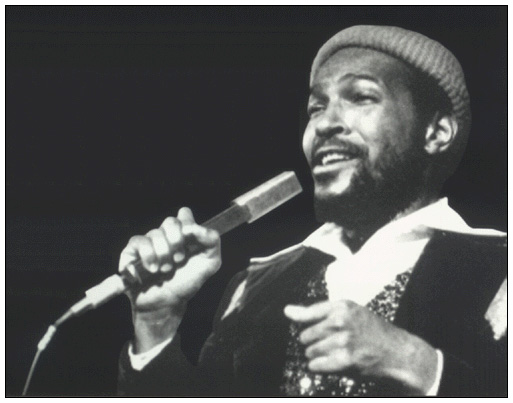 espite his fear of flying, Marvin Gaye agreed to appear in London in October, 1976, his first British performance in 10 years. "I saw that the English did understand me, and I understood them," Gaye told biographer David Ritz. "They're wilder than they let on."
| | |
| --- | --- |
| "Got to Give It Up (Pt. 1)" was Marvin Gaye's 27th Billboard Top 40 single for the Detroit-based Tamla label, and his third and final No. 1 hit. Debuting in the Billboard Top 40 on Apr. 23, 1977, the single stayed on the charts for 15 weeks and was taken from Gaye's second live LP, Live at the London Palladium. The album charted on the Hot 200 album chart on Apr. 2, 1977, rose to No. 3, and remained on the chart for 17 weeks. | |
Sold out concerts at the Royal Albert Hall and the London Palladium brought rave reviews from the British press. The Palladium concerts were recorded for a double album, but there was only enough material for three sides. Marvin needed to record something in the studio to fill up side four.

"He had this riff that seemed very danceable," producer Art Stewart told Ritz in Divided Soul. "He was doing crazy things like banging on a half-filled grapefruit juice bottle for rhythm. Well, I kept stuff like that on the track. Also people talking in the studio -- that loose feeling."

Originally titled "Dancing Lady," Marvin told Ritz the inspiration for the song was Johnnie Taylor's "Disco Lady." "I love the way Johnnie sings, and I thought it was a fabulous song," Gaye said. "As good as disco ever got. I appreciated the picture of the super-sexy woman on the dance floor, though in my version I tried to give it a little twist."

Retitled "Got to Give It Up," the song ran 11 minutes and 48 seconds. "He left me alone to piece the song together," Stewart said. "On Christmas Day, 1976, after working on it for months, I ran it over to his house in Hidden Hills (California). He liked it but still still wasn't sure -- a typical Marvin reaction. Soon everyone was liking it."

"Got to Give It Up" was Gaye's last single for the Motown Record Corporation to make the Billboard Hot 100. Divorced from Anna Gordy Gaye, and living as a tax exile in Europe, Marvin left the company he had been part of for 20 years in the spring of 1981. A year of negotiations later, Marvin signed with Columbia Records.

His 1982 debut album for Columbia, Midnight Love, produced a number three single, "Sexual Healing." Mikal Gilmore, pop music critic of the Los Angeles Herald Examiner, said of the album, "Midnight Love was not merely an elegant, stylistic rebound, but also the most vividly hopeful and celebratory work of his career. Gaye wrote, arranged, produced and performed all of the music himself, and though, on the surface, it seemed merely a reprisal of the sex themes and rhythms of Let's Get It On, the singer clearly pursued physical and spiritual notions of fulfillment in the LP as if they were mutually inseparable ends."

"Sexual Healing" won two Grammys for Marvin Gaye, and it's no wonder he kissed the statuette during his acceptance speech. He had never won a Grammy before. One month and two days later, he reunited with old friends and sang "What's Going On" at the taping of Motown's 25th anniversary special.

On April 18, 1983, he began his final tour. When it ended in August, he returned to his parents' home on Grammercy Place in the Crenshaw District of Los Angeles. On April 1, 1984, one day before Marvin's 45th birthday, an argument between the singer and his father escalated into violence. Gaye was fatally shot twice in the chest. Paramedics rushed him to California Medical Center, but his heart had stopped beating and attempts at resuscitation failed. Marvin Gaye was declared dead at 1:01 p.m. PDT.

- Fred Bronson, The Billboard Book of Number One Hits, Billboard, 1988.


Reader's Comments
No comments so far, be the first to comment.