"The Candy Man"
Sammy Davis, Jr.
MGM 14320
Jul. 1972
Billboard: #1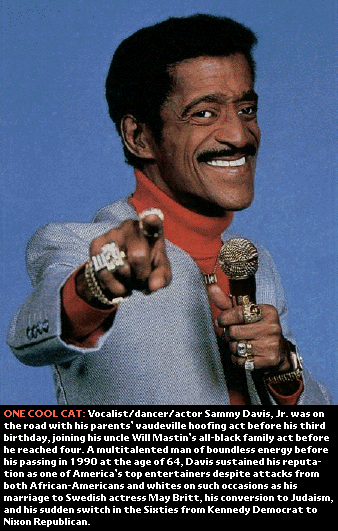 he Candy Man" was the first song heard in the children's musical Willie Wonka and the Chocolate Factory, a 1971 motion picture directed by Mel Stuart from a script by Roald Dahl, based on his novel Charlie and the Chocolate Factory. Gene Wilder starred as the eccentric owner of a candy factory who devises a scheme to find an honest, loving child to take over his work.
The musical score for the film was written by Anthony Newley and Leslie Bricusse, long-time collaborators whose credits included the Broadway shows Stop the World, I Want to Get Off and The Roar of Greasepaint - The Smell of the Crowd. They also wrote the lyrics for John Barry's "Goldfinger," and Newley had written the music for the autobiographical motion picture Can Heironymus Merkin Ever Forget Mercy Humppe and Find True Happiness?, in which he starred with his ex-wife, Joan Collins.
The song "The Candy Man" is sung in Willie Wonka and the Chocolate Factory by Aubrey Woods, who plays Bill, a candy store owner who sells sweets to neighborhood children. Newley was so appalled at his singing, he offered to play the role himself if producers Stan Margulies and David Wolper would re-shoot the scene. They declined and Newley was convinced the song would never become a hit because of what he considered to be a dreadful performance in the film.
| | |
| --- | --- |
| "The Candy Man" was Sammy Davis, Jr.'s eighth and final foray into the American Top 40, topping the hit parade for three weeks and remaining on the charts for 16 weeks. A 2006 CD compilation Sammy Davis Jr. - The Definitive Collection on Hip-O Records includes the Leslie Bricusse/Anthony Newley compositions "The Candy Man," "What Kind Of Fool Am I?" and "Gonna Build A Mountain" as well as the Davis-sung Baretta TV theme, "Keep Your Eye On The Sparrow." | |
Newley hadn't counted on Mike Curb, president of MGM Records, coming up with the idea of recording the song with Sammy Davis, Jr. Two of Davis' biggest hits in the rock era had come from Broadway shows: "I've Gotta Be Me" was from Golden Rainbow and "What Kind of Fool Am I?" was from Newley and Bricusse's Stop the World.

Curb and Don Costa produced an instrumental track and asked Davis to sing the vocal. He disliked the song at first, according to Newley, but consented to record it anyway. The result was not the kind of song Top 40 radio usually played. In fact, many rock stations refused to play the song at all, and "The Candy Man" made it to number one based on heavy airplay from stations that featured what is now known as "adult contemporary" music -- or "easy listening," as it was labeled in 1972.

"The Candy Man" was the biggest pop hit of Davis' multi-faceted career. He was born December 8, 1925, in New York City. His parents were vaudeville performers in his uncle Will Mastin's "Holiday in Dixieland," and by the time he was four years old, Sammy was performing with his uncle and father in the Will Martin Trio.

Sammy was a regular nightclub performer until 1943, when he entered the Army. During World War II he was a member of the special services unit, producing shows and performing. When he returned to civilian life, he rejoined the family act. They opened at Slapsie Maxie's in Hollywood in April, 1946. The act played Las Vegas, Chicago and the Copa in New York. In 1954, Sammy signed a recording contract with Decca. On November 11 of that year, he was driving from Las Vegas to Los Angeles for a recording session when he was involved in an automobile accident, resulting in the loss of one eye.

His acting talents came to the fore in the 1950s. He was cast in the lead of Mr. Wonderful on Broadway, a role which led to film work. He starred in Anna Lucasta with Eartha Kitt and made a series of films with the "rat pack" of Frank Sinatra, Dean Martin, Peter Lawford and Joey Bishop. These included Oceans 11, Sergeants Three and Robin and the Seven Hoods. Sinatra started his own label, Reprise, in 1961 and signed Davis as his first artist.

Sammy appeared on many television variety series and guest starred in episodes of Ben Casey, The Rifleman and Lawman. In 1966, he had his own variety series on NBC, The Sammy Davis, Jr., Show. Because of a prior contract with ABC, he couldn't appear in three segments of his own series. He was a regular performer on NBC Follies, a musical variety series that lasted for four months in 1973 and starred in a comedy-drama movie for television, Poor Devil. From 1975-1977 he hosted his own talk show, Sammy and Company. He also guest-starred in situation comedies, most notably All in the Family, Diff'rent Strokes and Gimme a Break. In 1985, "The Candy Man" brought new revenues to Anthony Newley and Leslie Bricusse when Davis re-recorded it as "The Sunshine Baker Man" for a television commercial.

After the cancellation of Sammy and Company, Sammy's profile diminished and throughout the Eighties he was primarily confined to the casino circuit. A 1988 comeback tour he mounted with Sinatra and Martin was largely unsuccessful and the following year, he made an acclaimed appearance in the film Tap. A lifelong smoker, Sammy died of throat cancer on May 16, 1990, in Beverly Hills, Calif.

- Fred Bronson, The Billboard Book of Number One Hits, Billboard, 1988.

Just about everyone has a favorite candy. Some people prefer holiday-specific sweets like Christmas or Easter candy, while others stand by old favorites like chocolate bars or M&Ms. Next time you visit the candy store think of the lyrics to "The Candy Man" and it will bring a smile to your face.


Reader's Comments
No comments so far, be the first to comment.