"Brother Louie"
Stories
Kama Sutra
Aug. 1973
Billboard: #1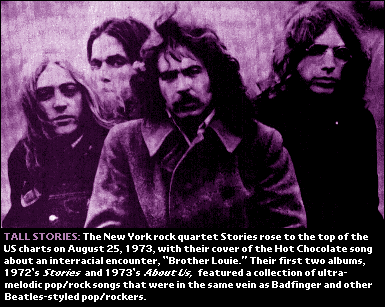 cover version of a British pop-reggae hit about an interracial marriage took a troubled American band to the top of Billboard's Hot 100 on August 25, 1973. The short story of Stories' meteoric rise and fall began in the late '60s when Michael Brown and Ian Lloyd were introduced by their violinist-fathers, who had been working together as session musicians.
Brown, a Brooklyn native, was the founding member and guiding force of the Left Banke, the chamber-rock group that scored with "Walk Away Renee" (number five in October, 1966) and "Pretty Ballerina" (number 15 in February, 1967).
| | |
| --- | --- |
| Stories' #1 US smash "Brother Louie" was appended to their July 1973 album About Us when the single became a left-field hit one month after the album's release. About Us peaked at #29 on Billboard's Hot 200 and spent 19 weeks on the charts. In 2007, a double-album CD (above) of Stories' eponymous 1972 debut (which peaked at #182) and About Us was released by Australia's Raven Records. | |
After those two hits, Brown recorded a couple of other songs with different personnel under the Left Banke's name, then re-grouped the band for one final chart entry, "Desiree."

When Brown met Lloyd (nee Ian Buoncongiglio), he was looking to assemble a new group along clean, Beatlesque lines. He found the perfect front man in the charismatic, Seattle-born singer. Teaming up with guitarist Steve Love and drummer Bryan Madey, they secured a record deal with Kama Sutra and released their first album in 1972.

Stories' self-titled debut album, which yielded a number 42 hit in the summer of 1972, "I'm Coming Home," sold well enough to merit a follow-up. But in the midst of the recording sessions, internal dissent caused Brown to write off his brain-child and leave the group.

To replace him, the remaining band members added Kenny Aaronson on bass and Ken Bichel on keyboards. Stories completed the 1973 LP, About Us, and as an afterthought covered a hit by the British rock/soul outfit Hot Chocolate called "Brother Louie."

Composed by Hot Chocolate's Errol Brown and Tony Wilson, "Brother Louie" was the tale of a black girl, her white boyfriend and his racist parents. The song's chorus ("Louie, Louie, Louie, Loo-aye") was strongly inspired by the Kingsmen's 1963 classic "Louie, Louie," written by Richard Berry. Hot Chocolate's original version went to number seven in the United Kingdom in 1973, but never made the American chart. Stories' driving version entered the Billboard Hot 100 at number 83 on June 23, 1973, and went to number one nine weeks later.

Not until early 1975 did Hot Chocolate make an impact on the American market with "Emma," a number eight hit. They also scored with "You Sexy Thing" (number three in February, 1976), "So You Win Again" (number 31 in September, 1977, but number one in England) and "Every 1's a Winner" (number six in February, 1979).

The enormous popularity of "Brother Louie" gave Stories enough momentum to sustain themselves with two less spectacular hits, "Mammy Blue" (number 50) and "If It Feels Good, Do It" (number 88). But the group did not have a storybook ending. Another round of squabbles broke the band up for good.

Ian Lloyd followed a solo career and had one mid-chart record, "Slip Away," in 1979. Three years earlier, British musicians Mick Jones and Ian MacDonald met at a Lloyd recording session, and went on to organize the hit-producing band Foreigner. But that's another story.

- Fred Bronson, The Billboard Book of Number One Hits, Billboard, 1988.


Reader's Comments
No comments so far, be the first to comment.