"Annie's Song"
John Denver
RCA 0295
July 1974
Billboard: #1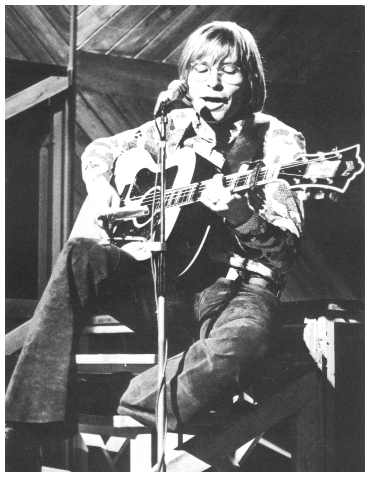 sing about America, about family, about the celebrations of life. I sing about what I know," John Denver has declared. In "Annie's Song," he made it perfectly clear how he felt about his college sweetheart, Ann Martell, whom he married in 1967. Written in 10 minutes on a ski lift, "Annie's Song" became a standard number for couples to marry to during the mid-70s (the song is generic enough -- Annie's name is not mentioned anywhere in the lyrics).
| | |
| --- | --- |
| Written for his first wife Ann Martell, "Annie's Song" was John Denver's fourth Top 40 hit and his second number one single. The song, which stayed on the chart for 11 weeks, was one of two Top 5 hits taken from Denver's seventh studio LP, Back Home Again. First charting on June 29, 1974, the album topped the charts in the US, peaked at No. 3 in the UK three months later, and remained on the Billboard Hot 200 for 96 weeks. | |
People magazine said the song "may be the most celebrated love ballad John Denver ever wrote." A 1979 story revealed that the near break-up of his marriage to his Minnesota-born wife is what "jolted" Denver into writing the song. "Admittedly 'insecure' and overwhelmed by John's staggering success during their 'tough' early years together, Annie, as well as John, had withdrawn into 'noncommunication,'" the article revealed.

"Finally, they actually separated, and a confused Denver fled their Aspen aerie for Switzerland. 'It was only six days, but felt like three months,' Annie recalls now. The crisis didn't end until a tearful long-distance call helped Annie 'really get clear that I loved him totally. What it came down to is that love is unconditional. We've had some bad times, but now we keep talking.'"

"Annie's Song" debuted on the Billboard Hot 100 during the week of June 1, 1974. Eight weeks later it became Denver's second consecutive number one single ("Sunshine on My Shoulders" was the first). "Annie's Song" almost made Denver a one-hit-wonder in Britain. His only solo single to ever chart in the United Kingdom, it went to number one on October 12, 1974 (four years later, Irish flutist James Galway too an instrumental version of "Annie's Song" to number three in Britain.) Denver was rescued from being a one-hit-wonder by Placido Domingo. A duet between Denver and the Spanish vocalist, "Perhaps Love," went to number 46 on the British chart in early 1982.

"Annie's Song" ultimately ends on a sad note. The celebrated marriage ended in divorce in 1983, and the ensuing property settlement caused Denver to become so enraged he nearly choked his ex-wife, then used a chainsaw to cut the marital bed in half. "I'd never had an experience like that ever before," Denver told Dennis Hunt of the Los Angeles Times. "The divorce was one of the most unhappy moments of my life. We were married 16 years. On the 15th anniversary we sat down and said, 'This isn't working out." I had failed. I said, 'What you want from me is something I'm not able to give you, so you'd better look elsewhere.'"

Denver added, "I'd like to fall in love again, but I'm not sure that I ever will. I'm too busy to have a woman in my life. The last thing on my mind is finding a woman for a relationship. It wouldn't be that easy anyway -- there's a lot I have to learn about women. Also, I'm pretty set in my ways now. That makes things even tougher."

In 1988, Denver married actress Cassandra Delaney, after a two-year courtship. Settling at Denver's home in Aspen, the couple had a daughter, Jesse Belle. Denver and Delaney separated in 1991 and divorced in 1993. Of his second marriage, Denver would later recall that "before our short-lived marriage ended in divorce, she managed to make a fool of me from one end of the valley to the other."

Denver was an avid skier, golfer, painter and photographer, but his love of flying was secondary only to his love for music. Among his private collection of airplanes was an experimental, amateur-built Rutan Long-EZ, which he was flying when he was tragically killed in a crash into the Pacific ocean near Pacific Grove, California, on October 12, 1997. He was 53.

- Fred Bronson, The Billboard Book of Number One Hits, Billboard, 1988.


Reader's Comments
No comments so far, be the first to comment.