"Angie Baby"
Helen Reddy
Capitol 3972
Dec. 1974
Billboard: #1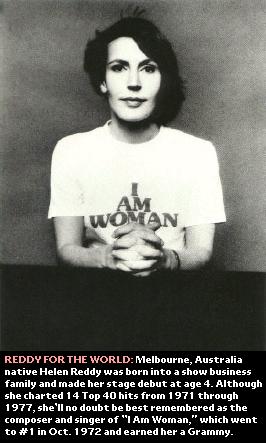 f I were going to teach a course on songwriting, I think I'd use 'Angie Baby' as my textbook," says Helen Reddy. It's a high compliment for the first number one song written by Alan O'Day, who would top the Billboard charts three years later himself with "Undercover Angel."
"I was a little bit like a male 'Angie Baby,'" admits O'Day, "in that I used to sit alone a lot, being an only child, and listen to the radio and just kind of crawl into the songs. That was a lot of my entertainment."
The musical ancestor to "Angie Baby" was a Beatles song, according to O'Day. "The song 'Lady Madonna' by the Beatles just killed me. I thought, well, I'm gonna write a song about somebody who's growing up with the radio playing in the background of their life, with this rock and roll time we live in... there are songs for all of our emotions, and the radio really speaks for us in a way that nothing else does.
"But the heroine of my song came out real boring... at this point there was no 'Angie Baby,' just scraps of paper trying to work out something... so I took my ingenue and made her a little bit weird. The song started getting interesting. The weirder she got, the more interesting the song became."
"At another point, I went on one of my songwriting vacations down to Palm Springs. I stayed in this little motel. I had the idea of Angie becoming impregnated by this guy in the song and having a baby." Alan read a first draft of the idea to a woman who ran the motel, figuring that as someone removed from the record industry, her opinion would count more than some label executive. "She had heard the first part of the song and really liked Angie as a person. When I told her I was thinking about Angie going through this further trial and tribulation, she got kind of upset. She said, 'no, she's been through enough.'"
| | |
| --- | --- |
| "Angie Baby" was a #1 single from Helen Reddy's sixth studio album Free and Easy, which climbed to #8 on the Billboard Hot 200 and remained on the charts for 28 weeks. In 1998, BMG/Razor & Tie collected all 14 of Helen's Top 40 hits on the 23-track CD I Am Woman - The Essential Helen Reddy (above). | |
When he completed the song, his publisher, Warner Brothers Music, took the song to Cher, who had already recorded Alan's "Train of Thought." It was not the first number one song to be rejected by Cher (in 1973, she said no thanks to Vicki Lawrence's eventual chart-topper "The Night the Lights Went Out in Georgia). Then the song went to Helen's manager and husband Jeff Wald, who grabbed it for his wife.

Joe Wisert produced the song for Reddy. Alan says he "was one of the few producers who ever came back to me and asked me things about my demo and what I meant by the lyrics, so he would have a real understanding of the song when he went into the studio. That was real impressive to me."

The lyrics of "Angie Baby" have remained cryptic, even though Alan thought they were very clear. "I thought I spelled out what happened. It's a fantasy trip but it's real clear. And the very thing that made the song a hit was what happened to the guy in the song. I never intended it to be (a mystery)."

Still, neither Alan nor Helen will divulge what they think the ultimate outcome of the song is. Asked to explain the lyrics, Helen replies, "That's everybody's question... I'll never tell you." Alan will volunteer what Helen thought happened to Angie's mysterious visitor: "Helen Reddy said he turned into a sound wave."

But while he won't reveal his own idea of what happens at the end of the song, Alan tells the story of a phone call that woke him up at two in the morning: "I got a call from a disc jockey friend in Palm Springs when 'Angie Baby' was number one... he says, 'listen, I figured out who the guy was'... he said he was a disc jockey... he was so excited. I'd never thought of that."

"Angie Baby," the second number one single in 15 months to mention the name Angie in the title (the Rolling Stones' "Angie" had climbed to the top of the Billboard charts in Sept. 1973), was Helen Reddy's third and final number one single. She made the Top 10 one more time, with "Ain't No Way to Treat a Lady" in 1975. On July 18 of that year she became the first and only permanent host of The Midnight Special on NBC, the network that gave her an eight-week summer replacement show in 1973. She also starred in three films: Airport 1975 (as sort of a flying, singing nun), Pete's Dragon and the abysmal Sgt. Pepper's Lonely Hearts Club Band.

She continued to record for Capitol until 1979, then switched to MCA for two albums. Later, when not signed to a label, she admitted, "I certainly don't have the interest in music I once had. I'll always sing, but I would like that to be a smaller part of my life." After divorcing Wald, she wrote a book about the history of her native Australia and did some acting in musical theater. In the early 1990's she started her own musical production company, Helen Reddy Inc., and in 2002 released an album called Greatest & Latest on the Cleopatra label.

- Fred Bronson, The Billboard Book of Number One Hits, Billboard, 1988.


Reader's Comments
No comments so far, be the first to comment.