Related Seventies Artist CDs
and books at Amazon.com
| | |
| --- | --- |
| Favorite Seventies Artists In The News | |

Bringing you the Web's best '70s music & culture news since 1997!

Tuesday, May 26, 2020
The Doobie Brothers have rescheduled their special 50th anniversary 2020 North American reunion tour for the summer of 2021 due to the coronavirus pandemic. Kicking off on July 21, 2021 in West Palm Beach, Fla., the tour will mark the first time founding members Tom Johnston, Pat Simmons, John McFee and later member Michael McDonald have toured together in nearly a quarter century. Originally a 53-date tour, seven dates from the 2020 schedule (Mount Pleasant, MI, Sioux City, IA, Boise, ID, Albuquerque, NM, Little Rock, AR, Bossier City, LA, and Memphis, TN) were forced to be canceled "due to scheduling conflicts," according to a statement from the band. The statement, which said the tour was being rescheduled "with the health and safety of The Doobie Brothers' fans, crew and local employees in mind," also encourages fans to hold on to their tickets, which will be valid for new dates although refunds are being offered. - Billboard, 5/26/20......

Queen guitarist Brian May posted a video to Instagram on May 24 detailing the "saga" of events leading up to his recent "near death" heart attack, including a recent gardening accident that injured his buttock muscle. May says he was experiencing excruciating pain following the gardening incident, which he initially blamed on shredding his gluteus maximus. But an MRI of his lower spine revealed that May actually had a compressed sciatic nerve. During the process of treating his pain and torn muscle, May discovered that he had a "small heart attack." "I thought I was a very healthy guy. But I turned out to have three arteries that were congested and in danger of blocking the supply of blood to my heart," the 72-year-old musician said in the clip. May added that three stents were successfully put in after his doctor drove him to the hospital. "I walked out with a heart that's very strong now. I was very near death because of this," he noted, also recommending those in their "autumn years... get their heart checked from time to time." - Billboard, 5/25/20...... A Facebook page devoted to late rock & roll legend Little Richard has announced that a statue in his honor is expected to be installed outside his childhood home in Macon, Ga. The Little Richard House Resource Center Facebook page announced the tribute during a live Zoom meeting, which is being funded by Friends of the Little Richard House and the Community Foundation of Central Georgia. "Little Richard's contribution to music as a whole, to all the genres of music, was monumental and very instrumental in a lot of people's careers," said Friends of the Little Richard House board member Antonio Williams. Georgia State Rep. James Beverly said the fund will also be used to support organizations that provide music education to low to moderate-income students across Bibb County and Middle Georgia. The goal is to have the statue erected by Dec. 5, which would have been Little Richard's 88th birthday, and Macon Mayor Robert Reichert will proclaim that date as "Little Richard Penniman Day." Little Richard, also known as Richard Wayne Penniman, died of complications from bone cancer on May 9 in Nashville at the age of 87. Meanwhile, Little Richard's music has entered multiple Billboard song and album charts following his death. His catalog earned 7.1 million on-demand U.S. streams in the tracking week running May 8-14, a leap of 879%, according to Nielsen Music/MRC Data. Additionally, downloads of his music jumped 2,271% to 14,000 sales, and his album catalog moved 4,000 in album sales, up 3,885%. - AP/Billboard, 5/26/20...... In a new interview with CNBC, ABBA's Bjorn Ulvaeus revealed that the Swedish supergroup will be releasing new music sometime later in 2020. Asked when fans could expect some new music, the producer-songwriter replied: "I think sometime this year. Yes, I think so." A new song titled "I Still Have Faith In You' was due to premiere on the BBC in December 2018, then followed up with the release of another new song, "Don't Shut Me Down," but so far neither has surfaced. It is unclear as to whether the new music Ulvaeus has mentioned includes these songs. In February, his bandmate Benny Andersson also said the quartet were hoping to release some new music in 2020, "I'm guessing after the summer." Ulvaeus also said that the "feeling between us was extraordinary" when he entered the studio with the band after 35 years. "It took half a minute and somehow we were back in time like we had been there yesterday as well. It was so strange," he said. - New Musical Express, 5/23/20......
In an interview with the Associated Press, the Who's Roger Daltrey said he worries that the coronavirus pandemic will have a devastating effect on a special group of people in need -- teens with cancer. "(The pandemic is) devastating for them because every treatment that they have for cancer compromises their immune system," said Daltrey, who along with bandmate Pete Townshend started the Teen Cancer America foundation in 2012 to deal with the specific needs of teenage cancer patients. TCA has funded specialized hospital wings and services for teens and their families, but with venues closed and touring postponed due to the COVID-19 outbreak, the organization faces a potential shortfall in donations heading into June, which is National Cancer Survivors Month. "We pay for that space in the hospital. We equip it. We maintain it. And we provide specialist nursing. That's what we do," Daltrey says of TCA. "And you have to remember that a lot of these youngsters who get cancer don't live near a big city. They might be miles out in the sticks. So we are starting outreach programs where we send specialized nursing, setting up web links so that they can link patients up," he added. Asked about streaming possibly making up the loss of revenue from live performances, Daltrey says "there's no money" in streaming. "Ask any musician, man. The only ones making money are the streaming companies. You can have a billion streams and you'll get paid $5,000. Oh, man. It's cruel. It's crucifying. I don't know whether it would work for us, though. I mean, that music's very different," he said. The 76-year-old musician added that he has been "singing for myself just to keep my voice up" during the Who's downtime. "I don't want to go back and be half as good as I was last year. I want to be as good as I was last year because the Who was better than ever last year... But I'm going to continue. I don't know what else I would do, man," he said. - AP, 5/22/20...... Paul McCartney posted a series of Twitter posts on May 21 paying tribute to Beatles photographer Astrid Kirchherr, who died earlier in May at age 81 of as yet undisclosed causes. "Very sad news this week about Astrid Kirchherr," McCartney began. "Astrid was a dear friend from my Hamburg days with The Beatles. Another friend, Klaus Voormann, told me she had passed away and this brought back memories of our days in the clubs in Hamburg. She had a great sense of humour and later went on to marry Stuart (Sutcliffe) our bass player. I have so many fond memories of our time together in the club or her home or a trip to the nearby seaside resort, Lubeck. So sad for all of us who were her friends to lose such a lovely lady from our lives. I will miss her but will always remember her and her cheeky grin with great fondness. God bless you Astrid, see ya love!," McCartney added in his posts. Kirchherr, who was known for taking the first ever photo of the then-quintet in her native Hamburg, Germany in the early 1960s and helping to shape their trend-setting style before they shot to international superstardom, passed away on May 13, days before turning 82. - Music-News.com, 5/22/20...... Foreigner premiered a new performance of their 1984 power ballad "I Want To Know What Love Is" on YouTube on May 22 to celebrate the release of Netflix's new rom-com The Lovebirds. In the clip, Foreigner performs the song via Zoom, after being inspired by its use in the Michael Showalter-directed film's trailer. "I want to know what the lovebirds are doin' on Netflix. Check it out," current Foreigner frontman Kelly Hansen quips before launching into the track's first verse. "I want to know what love is/ I want you to show me/ I want to feel what love is/ I know you can show me," the band mates sing on the chorus, interspersed with clips from the movie. Starring Kumail Nanjiani and Issa Rae, The Lovebirds tells the story of a couple's magical first date, which takes a hilariously dark left turn after they accidentally witness a murder and get framed for the crime. Originally slated to premiere at South By Southwest this spring, the film's theatrical release was cancelled due to the coronavirus pandemic, and is instead available on Netflix starting May 22. - Billboard, 5/22/20......
Cher celebrated her 74th birthday on May 20 with a socially distanced surprise party outside. Cher revealed details of her big day as she responded to a fan who tweeted her a picture of the chocolate cake she had made for the star's birthday. In her usual capital letters, Cher replied on Twitter that she'd been thrown a surprise party by her nearest and dearest, explaining: "We were outside, masks, gloves and social distancing. Hardest part, social distancing, not easy! Being outside helped." Cher added that there were 10 people present for the celebration, and concluded: "There was cake. Hope we did it right. It's not easy. A million things you're used to doing that you can't do." Cher also tweeted her gratitude to her legion of Twitter followers who inundated her with birthday messages. Calling her followers "the best", Cher added: "I can't believe I'm 'so' old and 'still crazy after all these years'. I can't find words to thank you for all you've (done) for me." - Music-News.com, 5/21/20...... A UK postman and rabid KISS fan on the Isle Of Sheppey who has been dressing up as KISS frontman Gene Simmons on his delivery rounds to boost morale during the coronavirus lockdown has drawn attention from Simmons himself. "Gary Underdown is keeping spirits up in the UK by delivering the mail as The Demon Gene Simmons during quarantine, KISS posted on their Twitter feed. "We love it!" Simmons simply responded, "Wow." According to a local paper, Underdown has dressed up as Simmons for at least four shifts. He told the paper: "I have been a KISS fan since I came out of the womb, revealing that he first donned Simmons'makeup around a month ago and "got a good reaction." "You get a few who are like, "Oh my God, that's fantastic,' and some people have been asking for a picture and I thought I would try and get everyone's mood up. Everyone's a bit down in the dumps with what's going on -- it just lifted them up again," he says. However Underdown says he nixed the idea of also wearing the band's iconic heavy footwear while on shift. "I couldn't walk 10 miles in the Destroyer boots -- but I have got a pair." - New Musical Express, 5/23/20...... Neil Young has shared a special performance of the title track from Homegrown, his long-unreleased 1975 album, during the fifth episode of his Fireside Sessions series from his Telluride, Col., home. Singing to an audience that included a handful of chickens and a mallard, the latest instalment of the 74-year-old's live-streamed series featured renditions of "Tumbleweed," "Harvest," "Old Man" and 1969's "Everybody Knows This Is Nowhere." The set ends with a performance of "War of Man" from Harvest Moon. Homegrown will drop on June 19 on all formats via Reprise Records. - NME, 5/21/20.....

Rolling Stones guitarist Ronnie Wood says beating lung cancer was like being given a "get out of jail free card" in his new documentary, Somebody Up There Likes Me. Wood previously revealed he was diagnosed with the illness in 2017 after smoking "25 to 30 cigarettes a day at least for 50-odd years" and had prepared to say goodbye to his loved ones before he underwent five hours of surgery to remove cancer from one of his lungs. He announced that he was cancer-free in 2018 ."I got away with having it cut out of one lung, the cancer," he revealed in a preview for his first feature-length documentary, which can be viewed on YouTube. "Luckily it had just stayed there," he continued. "They said, "We got rid of that and while we there we got rid of the emphysema on the top lobe of your lung.' I went, "Oh great', and they went, 'Your lungs now are like you'd never smoked' and I went, 'How is that for a get out of jail free card?' Somebody up there likes me, somebody down here likes me too," Wood added. Sharing news of the documentary on Twitter, Wood wrote: "UK friends! My first feature length documentary, Somebody Up There Likes Me, by Mike Figgis is hitting your TV screens on Saturday 6th June at 9pm on Sky Arts." - NME, 5/21/20..... Former The Sex Pistols member John Lydon (aka Johnny Rotten) will host a virtual party and Q&A session on Facebook on the morning of June 7 at 5 AM EST/2 AM PST to celebrate the initial release of a documentary on his later band Public Image Ltd. (PiL), The Public Image is Rotten. Lydon, PiL manager Rambo Stevens and the film's director, Tabbert Fiiller, will ask questions from fans about the film. The Public Image Is Rotten launches on Vimeo and is available now in English and with Spanish subtitles. Until now, theatrical viewing has been the only opportunity to see the film. - Music-News.com, 5/23/20.
Thursday, May 21, 2020
ABBA's 1974 hit "Waterloo" has been crowned the UK's favourite Eurovision song of all-time after British TV viewers participated in a public vote on Eurovision performances from previous years on May 16. The one-off BBC special gave viewers the chance to vote on a shortlist compiled by experts and celebrity super fans, including Rylan Clark-Neal, Scott Mills, Ken Bruce, Adele Roberts and Mel Giedroyc, as well as former UK acts SuRie and Nicki French. "Waterloo" beat off competition from Bucks Fizz, Conchita and Gina G to claim the top spot this year. "Of course it's ABBA," said said host Graham Norton, as he announced the winner, "it was always going to be." ABBA famously won the Eurovision song contest with "Waterloo" back in 1974, which helped propel the Swedish pop quartet to international stardom. The 2020 Eurovision Song Contest was cancelled in March amid the coronavirus pandemic. - New Musical Express, 5/17/20......

In April, organizers of a "Hungry Heart Club Night" in the UK raised over £32,000 for charity after spinning a virtual 24-hour DJ set of Bruce Springsteen songs. Now Hannah Summers and Jon Beck have announced details of their latest Springsteen DJ event which will raise money for Mental Health Awareness Week, after The Boss himself previously opened up on his own battles with depression -- with fans encouraged to submit their requests in advance. "To help support conversations about mental health, this Saturday we will be bringing you a Hungry Heart requests special. As @springsteen is someone who has spoken openly about his own mental health (and given how his music has helped us manage ours!), we wanted to do our bit in raising awareness," the duo wrote on Instagram. Fans who wish to take part in the latest Hungry Heart Club Night can log on to the Hungry Heart Events website from 8:00 PM London time on Apr. 23. Meanwhile, Springsteen and the American Celtic punk band Dropkick Murphys have announced a live-streamed concert at Boston's Fenway Park on May 29 at 6:00 PM EDT. The "Straight Outta Fenway" concert, which takes place at an empty stadium, will feature a full set from Dropkick Murphys, while Springsteen will join remotely for a guest appearance. Together they will present a "double play," performing one song by each artist. The livestream is hosted by Boston tech company Pega, and will raise funds for three charities: Habitat For Humanity, Feeding America and The Boston Resiliency Fund. Springsteen headlined the first-ever headline rock gig at Fenway in 2003, while the Dropkick Murphys played a headline gig there in 2011. - New Musical Express, 5/18/20...... In more Springsteen news, the New Jersey rocker took over his SiriusXM channel, E Street Radio, on May 20 to pay tribute to late rock & roll pioneer Little Richard during his latest guest DJ session, which has been shared on YouTube. "And that is the purest rock 'n' roll voice of all time," Springsteen said of the Richard, who died May 9 at the age of 87. "He was one of the founding fathers of rock 'n' roll, and its preeminent vocal genius." Springsteen also spinned some of his favorite tracks by the likes of Glen Campbell, Tom Petty, Dion and more. Fans and SiriusXM subscribers can tune into all four editions of Springsteen's guest DJ segment, "Bruce Springsteen -- From His Home, To Yours...," until May 25 as part of E Street Radio's Memorial Day celebration. The broadcast kicks off on May 20 at 5 p.m. ET on SiriusXM channel 20, and runs at varying times throughout the fourth weekend of May. Meanwhile, it has been announced that Little Richard will be buried at the historically black Alabama college Oakwood University on May 20, the same college of which Little Richard is an alumnus. The service will be private and officiated by Richard's close friend Pastor Bill Minson. - Billboard/AP, 5/20/20...... Lionel Richie is remaking the 1985 charity single "We Are the World" with former American Idol contestants in place of the original's all-star line-up. In March, Richie suggested a third remake could be released to benefit coronavirus relief efforts. It was previously remade in 2010 following a catastrophic earthquake in Haiti. Co-written by Richie and Michael Jackson, the original "We Are the World" aided the non-profit USA For Africa charity which aims to "help ease the pain of poverty in Africa and the United States." The latest version of "We Are The World" will feature Richie and his fellow American Idol judges Katy Perry and Luke Bryan. They will be joined by former winners and contestants of the US talent show including Jordin Sparks, Lauren Alaina, Scotty McCreery, Fantasia, and more. The top 11 finalists from the current series also feature and the group performed the track for the first time on the May 17. - NME, 5/16/20......
Seventies popsters America have announced they'll be celebrating their 50th anniversary in 2019 by releasing a deluxe 8-disc career retrospective called Half Century on Aug. 21. The set kicks off with an unreleased version of "Children," which can be streamed on YouTube, from their classic 1972 eponymous debut LP. America's Dewey Bunnell says it's one of the first songs he ever wrote, and part of a 1970 session in London for famed British song publisher Dick James. "I started 'Children' and 'Riverside' around the same time," Bunnell says. "('Children') was the song that really locked into my brain how good our vocal harmonies were at that point. We really worked on those, and I give full credit to [his America bandmate] Gerry (Beckley) as a great arranger. The song itself had a little bit of that era, that '60s 'come on children, get your heads together,' but what stands out is really our (vocal) blend and how unique that was." Half Century also boasts a cornucopia of unreleased studio and live recordings, including demos, alternate mixes, rehearsals, interviews and video footage from a variety of sources ranging from 1970-89, along with one new track, aptly titled "Remembering." Other projects celebrating the group's golden anniversary include 2019's Live at the Palladium, and in the works is an authorized America biography by Jude Warne, with a foreword by Billy Bob Thornton. America's live shows have been suspended for the moment due to the coronavirus pandemic, while Beckley recently spent a couple of weeks quarantined in Australia, where his wife is from. Beckley says that he thinks with "the right guidance there could easily be another one or two America projects in the future," including the duo's first new music since their 2007 set Here & Now. - Billboard, 5/20/20...... '70s acts KISS and Devo are among the artists who have made branded COVID-19 PPE merchandise available to fans. KISS fans can keep their tongues nicely tucked in with decorative KISS everyday face maks featuring the legendary shock rockers. All the profits benefit Live Nation Entertainment's Global Relief Fund For Live Music Crews, and can be purchased at the KISS online shop. Devo has also launched their own unique PPE line, including an Energy Dome face shield that's attached to the members' idiosyncratic Energy Dome red hats and emblazoned with the rock band's logo. "Graphically bold design in aggressive, primary red it became the most iconic symbol of the band's multi-media mission to spread the idea of Devolution," according to the band's website. Devo's face shields can be bought at Impactmerch.com. - Billboard, 5/20/20...... Joan Jett, Blue Oyster Cult, Pat Benatar, Kurtis Blow, The Vanilla Fudge, Dream Theater and Gary U.S. Bonds are among the artists slated to perform on an upcoming New York TV special supporting Long Island's "Health Care Heroes." Presented by the Long Island Music Hall of Fame, the event is set for broadcast on May 31 on News 12 Plus (Channel 61) and FIOS Channel 530. Each artist is contributing a performance, with most performed exclusively for the broadcast. - Billboard, 5/19/20...... Marianne Faithfull is thanking healthcare workers in the UK who aided her recovery from COVID-19, as well as her fans for offering their support. "I would like to say to all the people who cared for me and thought of me, who sent me love, people I know, people I have never met, thank you for helping me to get better," Faithfull posted on Facebook to her followers on May 20, along with an image of herself."I want to thank the doctors and nurses who were so good and basically saved my life! Thank you all again for all your care, love, thoughts, prayers and wishes. All my love, Marianne." The "As Tears Go By" singer, 73, was hospitalised back in March after developing symptoms of the coronavirus. In April, she was discharged after 22 days and returned to her London home. - New Musical Express, 5/20/20...... Elvis Presley's Graceland tourist attraction announced on May 17 that it will reopen on May 21 after it was forced to shut down its tours and exhibits due to the coronavirus outbreak. The popular Memphis tourist attraction says it has adjusted its tours, and restaurant and retail operations since it closed in March, with temperature checks for guests and employees to be implemented and hand sanitizing stations being installed. Presley's former home-turned-museum will also be reduced to 25% capacity, requiring employees and encouraging visitors to wear face masks, and limiting restaurant capacities to 50%. "We are helping Memphis and Tennessee to get back to some sense of normality," said Joel Weinshanker, managing partner of Graceland Holdings, in a statement. Graceland annually attracts about 500,000 visitors, including many international travelers. - AP, 5/17/20......
Former Pink Floyd principal Roger Waters shared his thoughts about the coronavirus situation on his Twitter feed on May 17. "Social distancing is a necessary evil in Covid world. Watching 'Mother' reminds me just how irreplaceable the joy of being in a band is," posted Waters, who accompanied the post with a clip of a socially distanced performance of Pink Floyd's "Mother" off the band's 1979 double album, The Wall.The black-and-white video kicks off with the 76-year-old musician sitting alone in a studio and playing his guitar. As he plays, members of his touring band appear in clips from their own homes and studios to perform. Meanwhile, Rogers has slammed his former Pink Floyd bandmate David Gilmour for "banning" him from the group's website and social media accounts. In a video posted to social media on May 18, Waters initially thanked fans for their reaction to his new version "Mother," but then began his attack on Gilmour. "[It] does bring up the question of why is this video not available on a website that calls itself the Pink Floyd website? The answer to that is because nothing from me is on the website. I am banned by David Gilmour from the website. About a year ago, I convened a sort of Camp David for the surviving members of Pink Floyd at a hotel at the airport in London, where I proposed all kinds of measures to get past this awful impasse that we have and predicament that we find ourselves in. It bore no fruit, I'm sorry to say." Waters continued: "I suggested that because whoever the 30 million of you are who subscribe to the web page, that you do that because of the body of work that the five of us created. That's Syd (Barrett), me, Rick (Wright), Nick (Mason) and David, over a number of years. And in consequence, it seems to me that it would be fair and correct if we should have equal access to you all and share our projects." Aiming his criticism at Gilmour, Waters said: "David thinks he owns it. I think he thinks that because I left the band in 1985, that he owns Pink Floyd, that he is Pink Floyd, that I'm irrelevant and I should just keep my mouth shut. We're all welcome to our opinions... This is wrong. We should rise up. Or, just change the name of the band to Spinal Tap, and then everything will be hunky dory." Waters famously left Pink Floyd in the '80s and sued the remaining three members for continuing to use the name without him. He lost the case. Waters, Gilmour and Nick Mason last reunited as Pink Floyd to play Bob Geldof's Live 8 benefit concert in 2005. - Billboard/New Musical Express, 5/19/20...... An unreleased demo tape of "Angel in Disguise," Paul McCartney and Ringo Starr's only jointly written duet, sold for $9,900 at auction in the U.K. on May 19. The track was recorded for Starr's 1992 solo album Time Takes Time but did not make the cut -- with a cassette containing two versions of the song selling to an unnamed bidder after a sale at Omega Auctions in Cheshire, England. The tape is currently owned by former Radio Luxembourg DJ Tony Prince, and sold at less than half its top price estimate of $20,000. It features McCartney on vocals on one track and another with Starr singing. "Angel in Disguise" is thought to be the only song "co-written exclusively" by the duo without any other musician's involvement. - WENN/Canoe.com, 5/19/20...... The annual "birthday bash" for late The Ramones frontman Joey Ramone is returning in 2020, but this time swapping out a real-live concert for a digital livestream due to public gathering restrictions put in place from the coronavirus pandemic. Set for May 20, this year's concert includes performances from CJ Ramone, Richie Ramone, Sex Pistols bassist Glen Matlock and Blondie's Clem Burke, among others. All up, more than 25 artists will be performing. The concert is free to watch from Ramone's Facebook page, but audience members will be encouraged to donate to the Joey Ramone Foundation for Lymphoma Research. Joey Ramone passed away on Apr. 15, 2001 from lymphoma, one month before his 50th birthday. - NME, 5/18/20......

In an interview with BBC Radio 2 on May 17, Rod Stewart has discussed the prospect of a movie about his life and career, following the success of recent Freddie Mercury and Elton John biopics Bohemian Rhapsody and Rocketman. The 74-year-old musician said he would be "flattered" if a similar film was to be made about his own career, and said he thought actor Rhys Ifans (Notting Hill, Harry Potter) would be a good choice to play him. "Rhys would be a very good idea. [But] he has got to do something with his barnet (Cockney rhyming slang for hair), Stewart said. Ifans, who previously dated Stewart's daughter Kimberley, also has musical experience of his own as a founding member of Welsh band Super Furry Animals. Stewart also said he'd like his fourteen year old son Alastair to play his younger self, as he believes they have a "remarkable similarity" in their looks. "If it does not happen it does not matter but I would be flattered if it did," Rod mused. "But I tell you what, the Freddie Mercury one was so good. It was rock and roll. It would be hard to get something better than that but I would give it a shot," he added. - NME, 5/17/20...... Guitarist Jorge Santana, the younger brother of Carlos Santana and whose guitar riffs on the band Malo's 1972 hit "Suavecito" transformed the song into a Chicano anthem, died on May 14 of natural causes. He was 68. "We take time to celebrate the magnificent spirit of our beloved brother, Jorge," Carlos Santana wrote on his Facebook page on May 15. "He transitioned unto the realm of light that cast no shadow the eyes of my heart clearly see him right in between our glorious and magnificent mother Josefina and our father Jose," Carlos added. Born in Jalisco, Mexico, Jorge Santana began playing guitar following his brother's footsteps. He joined a San Francisco-based band that would later become Malo, which means "bad" in Spanish. According to band legend, the group got its name after the mother of its lead signer told them, "todos ustedes son malos," translating into English, "all of you are bad." Their 1972 hit "Suavecito," a tune released during the apex of the Chicano Movement, became a staple for Mexican American cookouts, weddings and quinceaneras for generations throughout the American Southwest. - AP, 5/18/20...... Veteran comedic actor Fred Willard, who rose to fame in the late '70s with appearances on parody sitcoms like Mary Hartman, Mary Hartman, Fernwood 2 Night America 2-Night, and others like it throughout the 1980s, died on May 15 at the age of 86. In the '90s, Mr. Willard started appearing on a bunch of hit comedy shows on air at the time, including Sister, Sister, Roseanne, Access America and The Simpsons, among others. He later went on to star on The Weird Al Show, Maybe It's Me and a number of mockumentaries -- including The History of White People in America, This Is Spinal Tap, Waiting for Guffman, Best in Show, A Mighty Wind, For Your Consideration, and Mascots. He is also known for his role as Ron Burgundy's news director in the Anchorman films. Mr. Willard was married to his wife Mary from 1968 to 2018, when she passed away. He is survived by his daughter, Hope. - TMZ.com, 5/16/20...... Pioneering female NFL sportscaster and Miss America-winner Phyllis George died on May 15 at a Lexington, Ky. hospital after a long fight with a blood disorder she'd had since she was in her 30s. She was 70. George became a female sportscasting pioneer on CBS's The NFL Today in the 1970s, and was the 50th contestant to be named Miss America in 1971. She is the mother of CNN White House correspondent Pamela Brown and a son, entrepreneur Lincoln Brown. - DailyMailUK.com, 5/16/20......

Ken Osmond, best known as the sneaky troublemaker on the 1957-63 TV sitcom Leave It To Beaver, died on May 17, his manager has confirmed. He was 76. Osmond's Haskell character was a troublemaking friend of Wally Cleaver (Tony Dow), Beaver's (Jerry Mathers) older brother. His impact on pop culture can be measured by the fact that, for those of us of a certain age, if someone is described as an "Eddie Haskell"-type, we know exactly what is meant. Osmond revisited his most famous role frequently over the years in the many subsequent iterations of the show, most notably Still the Beaver, which ran from 1983-1989. He also guested on such series as Happy Days, Lassie, Petticoat Junction and The Munsters. After his acting career ended, he went on to become an LAPD Cop and reportedly took five bullets in the line of duty, reportedly growing a mustache to be less-recognizable on the job. "He was an incredibly kind and wonderful father," his son, Eric, said in a statement. "He had his family gathered around him when he passed. He was loved and will be very missed." - Deadline.com, 5/18/20...... Annie Glenn, wife of astronaut and former U.S. Sen. John Glenn, died at a nursing home of COVID-19 complications near family in St. Paul, Minn., on May 19. She was 100 years old. Annie, as everyone knew her, lived in the shadow of her husband's fame, but emerged in midlife to become an inspiration for people with disabilities around the world by overcoming the chronic stuttering that afflicted and limited her during the years her husband was becoming a household name. In 1983, Annie Glenn received the first national award of the American Speech and Hearing Association for her meritorious service to those with communicative disorders. In 1987, the National Association for Hearing and Speech Action awarded the first annual Annie Glenn Award for achieving distinction despite a communication disorder. In 2009, the Ohio State University awarded her an honorary Doctorate of Public Service to recognize her work on behalf of children and others. John Glenn died in 2016 at age 95 and is buried at Arlington National Cemetery. At the time of his death, the two had been married 73 years, after being high school sweethearts. - USAToday.com, 5/19/20.
Saturday, May 16, 2020
Rock & roll legend Dion Dimucci has released a new single called "Bam Bang Boom" and shared a YouTube video of the track with Billy Gibbons of ZZ Top on lead guitar. "Bam Bang Boom" will be featured on Dion's upcoming album Blues With Friends on Joe Bonomassa's new label KTBA Records (Keeping The Blues Alive Records), which drops on June 5. "Billy Gibbons was a joy to work with on this," says the "Abraham, Martin and John" singer. "He's a true renaissance man. I love the way he communicates with a guitar and in conversation. There's nobody like him." Blues With Friends features 13 tracks with special guests including Gibbons, Bonomassa, Bruce Springsteen, Jeff Beck, Paul Simon, Van Morrison, Brian Setzer, Stevie Van Zandt and many more. More information can be found on Dion's official website. - Noble PR, 5/11/20......
Jethro Tull frontman Ian Anderson is reassuring fans he isn't at death's door after revealing that he had been diagnosed with an incurable lung disease and that his "days are numbered." In an interview with veteran newsman Dan Rather on the US TV channel AXS, Anderson said he had been diagnosed with the lung condition chronic obstructive pulmonary disease (COPD). "I'm going to tell you something I've never told anybody in public before -- I am suffering from an incurable lung disease which I was diagnosed with a couple of years back." Anderson said he "struggles" with the condition. "I have what are known as exacerbations: Periods when I get an infection, it turns into severe bronchitis and I have maybe two or three weeks of really a tough job to go out there onstage and play. Fingers crossed, I've gone 18 months now without an exacerbation." He said he believes one of the main factors in contracting the disease was his exposure to smoke machines during live performances with Jethro Tull. But Anderson has now clarified his "days are numbered" statement: "After all, I am 73 years old this August! But I should be OK for a few more years if COVID doesn't get me first." He says that the COPD "has no impact at all on my daily life as long as I don't catch a cold or flu virus and suffer the subsequent heavy bronchitis which, for me, historically follows since I was a young man." - WENN/Canoe.com, 5/14/20...... Alice Cooper has just written and recorded "Don't Give Up," a new single inspired by the COVID-19 lockdown. In a press release, Cooper says he penned the song from isolation at home, where he is recording his new album, before working with his longtime producer Bob Ezrin using remote technology to complete the record. "'Don't Give Up' is out today! It's a song about what we've all been going through right now and about keeping our heads up and fighting back together," Alice explains. "And whatever you do - Don't Give Up!" The song debuted on YouTube on May 15. Cooper also invited his fans to participate in the new video, with Alice and his band filming separately during quarantine. Over 20,000 responded, holding up signs and messages of unity featuring words from the lyrics. A strictly limited 7-inch vinyl single of the song will be released on Aug. 14. Meanwhile, Cooper is re-releasing his classic Alice Cooper's Greatest Hits LP on 140 Gram Vinyl on July 3. - WENN/Canoe.com, 5/15/20...... Queen announced on May 14 it will be hosting a stream of the "Freddie Mercury Tribute Concert for AIDS Awareness" on their YouTube channel for 48 hours, beginning on May 16 at 7pm BST. The gig, which took place to 72,000 people at Wembley Stadium on Apr. 20, 1992, was in tribute to the band's late frontman, who had died from AIDS the previous November. Viewers of the stream are asked to donate the World Health Organisation in Mercury's honour, with Google pledging to match each a $2 donation as part of an ongoing Google/YouTube UN Foundation fundraiser. - NME, 5/14/20......
In 1974 and early 1975, Neil Young recorded a 12-track album called Homegrown that he shelved in favor of his 1973-recorded Tonight's the Night album. Now the Canadian singer/songwriter is making the unheard LP, one of the great "Holy Grails" of his unreleased catalogue, available on June 19 on all formats via Reprise Records. "I apologize. This album Homegrown should have been there for you a couple of years after Harvest," Young posted on his Neil Young Archives site. "It's the sad side of a love affair. The damage done. The heartache. I just couldn't listen to it. I wanted to move on. So I kept it to myself, hidden away in the vault, on the shelf, in the back of my mind.... but I should have shared it." Young says Homegrown is "actually beautiful." "That's why I made it in the first place. Sometimes life hurts. You know what I mean. This is the one that got away," he says. Young says Homegrown is "the unheard bridge between Harvest and Comes A Time, featuring different mixes of songs that turned up on later albums, such as "Star of Bethlehem" (on 1977's American Stars 'n Bars), "Little Wing" and "This Old Homestead" (on 1980's Hawks & Doves), and "White Line" (on 1990's Ragged Glory). Homegrown is "coming your way in 2020," Young concludes, "the first release from our archive in this new decade. Come with us into 2020 as we bring you the past." - Billboard, 5/15/20...... Rod Stewart was so moved after seeing video of a Welsh student nurse named Natasha Jenkins reuniting with her three children following a five-week stay at a Cardiff, Wales hospital where she had spent 22 days on a ventilator, that he decided to get in touch with the COVID-19 survivor so he could send her a $6,000 (£5,000) cheque to help with expenses. "My house phone rang one day, and it was a lady saying, 'I'm calling on behalf of Rod Stewart,'" Jenkins, 35, told People.com. "She said, 'I'm from his PR company. He'd like to send you something.'" Jenkins was pleasantly surprised to receive the call, and two days later, she received an envelope containing a signed promotional picture of the "Maggie May" hitmaker -- and the generous gift. "I was like, 'Wow!' I was only expecting a card or something!" she exclaimed. Jenkins says she plans to hold on to the extra funds unless absolutely necessary. "The money is just going to be put away until I need it really," she said. "There's not too much I can do at the moment but it's just one less worry isn't it, the money issues and everything. It's just so sweet." The nurse also shared her story on Facebook showing off Stewart's personal, handwritten note, which read, "Hi Natasha, a small gift to help you through rough times." - Music-News.com, 5/16/20...... Streams of Little Richard's catalog of classic rock & roll hits have soared by 2,228% after the legendary Rock and Roll Hall of Fame musician died on May 9 from bone cancer at age 87. On May 9-10, songs by Richard drew 4.1 million on-demand U.S. streams, according to Nielsen Music/MRC Data. The sum represents a whopping 2,228% surge from the previous two days, May 7-8, during which his songs were streamed 175,000 times. Leading the pack was his 1955-56 hit "Tutti Frutti," which earned 412,000 streams on May 9-10, up 1,210% from 32,000 on May 7-8. His 1958 smash "Good Golly Miss Molly" also racked up 367,000 streams on May 9-10, up 985%, followed by 1956's "Long Tall Sally" (255,000 streams, up 1,056%). As for digital song sales, Little Richard's catalog sold 10,000 downloads on May 9-10, up 6,928% from a negligible amount on May 7-8. Lyrics to his songs are also in demand on LyricFind U.S., with "Good Golly Miss Molly" placing at No. 4 on its top lyrics searches, followed by "Long Tall Sally" (No. 6) and "Lucille" (No. 7). - Billboard, 5/13/20......
Former The Doobie Brothers member Michael McDonald has released live covers of Marvin Gaye's "What's Going On" and the 1965 Burt Bacharach-Hal David penned Jackie DeShannon hit "What the World Needs Now Is Love," and McDonald says there's nothing random about his decision. "We always end our evening with one of those two songs, or both," says McDonald, who's slated to inducted into the Rock and Roll Hall of Fame with the Doobie Brothers on Nov. 7. "We've tried to make our live shows leave people with a sense of community and a little something more important than just all of us getting together to hear some live music... And the mindfulness of being a community is always important -- especially now," he says from quarantine in his home near Santa Barbara, Calif. McDonald says he's also been working on a new studio album, the follow-up to 2017's Wide Open, and is also planning an EP of material he's been working on with local musicians in a converted barn studio on a ranch his friend owns north of Santa Barbara. A summer 2020 Doobies tour, with McDonald joining the existing lineup of the band, is slated to kick off July 9 in West Palm Beach, Fla., and has not yet been postponed or canceled, although he says "I can't imagine we'll go out this summer or any time soon." The Doobies Rock and Roll Hall of Fame induction has been moved back six months and he says the band is "pretty geared up to go do it -- but such is everybody's fate these days." "I know I'm really looking forward to it, and I hope all the other guys are up for it come next year," he says. - Billboard, 5/13/20...... A YouTuber who goes by the moniker of Funk Turkey has created an AC/DC song using Artificial Intelligence called "Great Balls" and shared it on YouTube. Funk Turkey says he put all of the Aussie headbangers' lyrics through modelling software which then analyzed all the words across AC/DC s back catalogue. The software then picked out the most popular ones and the lyrics were generated on Lyrics.rip before instrumentation and vocals were added over the track. Funk Turkey also noted that "trying to sing like Brian Johnson is extremely hard." - New Musical Express, 5/16/20...... The companion live album to Prince's 1985 concert film Prince and the Revolution: Live has finally been released on major streaming platforms. Prince and his backing band were captured on film performing on Mar. 30, 1985 at the Carrier Dome in Syracuse, N.Y. during the Purple Rain tour. On May 15, the audio version of the album was made available to listen to on major streaming and download platforms. The film can be viewed on YouTube until 11:59 PM on May 17. The stream is aiming to raise funds for the COVID-19 Solidarity Response Fund for the World Health Organisation, and any viewer donations will include a matching component from Google. - NME, 5/15/20...... LiveAndWell.com, a rare live album from David Bowie, finally made its debut on major streaming services, including Spotify.com, on May 15. The record is one of three remastered live Bowie albums that are set to be released digitally over the coming months. LiveAndWell.com was originally only available to listen to if you subscribed to Bowie's innovative but now defunct ISP BowieNet, and the record didn t receive a subsequent commercial release after it debuted on the online platform in Nov. 1999. The album is comprised of live recordings from Bowie's 1997 "Earthling Tour" featuring songs from his solo albums, including Outside and Earthling and features two new bonus tracks: "Pallas Athena" and "V-2 Schneider," the latter of which was named after the recently deceased Florian Schneider of Kraftwerk. - NME, 5/15/20......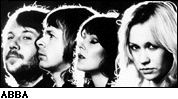 ABBA announced on May 14 it will be reissuing its entire back catalogue on colored vinyl for the very first time. All eight of the Swedish pop group's albums will be neatly collected in a box set titled ABBA: The Studio Albums, complete with replicas of each LP's original artwork. The deluxe box set arrives July 3. - New Musical Express, 5/14/20...... The Who's Roger Daltrey is asking fanse to support a new charity single from '80s hitmaker Bonnie Tyler to keep his Teenage Cancer Trust alive. Tyler and Lorraine Crosby have released an updated version of their 2005 duet "Through Thick And Thin (I'll Stand By You)" to raise funds for the organisation, for which The Who frontman is a patron. "We need a vital lifeline at the moment and we won't get it from the first round of charitable money coming out of the Government, because that's got to be tailored specific," Daltrey told a UK news outlet. "We deserve to survive this and to survive this we have to raise between five to seven million this year. So whatever you can give -- it doesn't matter what it is, it will really help us," he added. It is hoped proceeds will help fill the void left by the cancellation of the charity's 20th annual Royal Albert Hall in London in March, which has been rescheduled due to the coronavirus pandemic. - Music-News.com, 5/15/20...... After the Rock and Roll Hall of Fame's 2020 induction ceremonies was pushed back from May 2 to Nov. 7, the Cleveland-based hall and museum has been busy sharing footage from previous induction ceremonies on YouTube. Beginning by sharing clips from the class of 2019, the channel then included performances and acceptance speeches from the likes of Neil Young, Stevie Nicks, U2, Mick Jagger, The Pretenders, Roxy Music, The Stooges, Lauryn Hill and Prince. More than 200 clips are currently on the Rock And Roll Hall Of Fame's YouTube channel. - NME, 5/14/20...... Paul Simon has praised the NHS staff of Wales after their stirring cover of "Bridge Over Troubled Water" went viral. Simon says the performance by construction workers, medics and council staff at a field hospital in Llandudno was "extraordinary," and praised workers as Ysbyty Enfys, which means "Rainbow Hospital" in Welsh, for their bravery. "Here is an extraordinary performance of 'Bridge Over Troubled Water' by the brave men and women from NHS in honour of the Llandudno's Venue Cymru, which has been turned into a temporary coronavirus hospital," Simon wrote on Facebook. "During this process, the facility has been renamed to Ysbyty Enfys, which is Welsh for Rainbow Hospital, as a symbol for hope," he added. The video has scored more than 80,000 views since Simon reposted it on his own Facebook page on May 13. - New Musical Express, 5/14/20......



The surviving members of the Beach Boys, who have been touring in two separate camps since completing their 50th anniversary tour in 2012, could all reunite in 2021 for a 60th anniversary tour. In an interview with Rolling Stone, Beach Boys co-founder Mike Love, who heads up one of the camps says he is "not against anything like that in terms of another proper Beach Boys reunion." "Anything that's creative and done for positive reasons is good with me," says Love. "We will continue thinking about stuff like that and see what we can do." In March, Al Jardine told a concert industry publication that a full BB reunion tour "will happen... we'll probably do about 20 or 30 [shows] together next year," although Love says he has not spoken with Jardine about a reunion "specifically." "Al's a really good singer, but he's been travelling and performing with Brian Wilson, [and] Brian has some serious health issues," Love said. "We are in a very fortunate and blessed position to be able to do music for a lifetime. It's pretty amazing. I can remember when my cousin Brian was a young boy. He sang "Danny Boy' sitting on my Grandma Wilson's lap. So that's how far back we go musically." Brian Wilson's manager, Jean Sievers, says no one has spoken to Brian about a 60th anniversary tour, however. In February, Wilson urged fans not to attend a Beach Boys show that had been organized by Love as it was taking place at the Safari Club International Convention, a group that supports trophy hunting. - NME, 5/14/20...... Elton John says he's "thrilled" to be the focus of an episode of the BBC television series Killing Eve, in which Villanelle's younger brother Bor'ka is revealed to be a superfan of the musician. In the episode "Are You From Pinner?," which is the name of John's English hometown, several references to Elton's music appear throughout the episode, as well as an inner table rendition of John's hit "Crocodile Rock," and a later scene which sees Bor'ka buy tickets to see the musician live. "#KillingEve is such a groundbreaking series and I was thrilled to be included in this week's episode," John said on Instagram, sharing a still from the episode which sees Villanelle wearing heart-shaped glasses just like John. "I think the glasses suit you @jodiemcomer! = the caption added. - NME, 5/13/20....... Pink Floyd guitarist/vocalist David Gilmour has paid tribute to his late former bandmate Syd Barrett by covering some of the singer-songwriter's solo songs during a lockdown performance, and sharing them on YouTube. Covering the Barrett tracks as part of his and his family's weekly "Von Trapped Family" livestream series, Gilmour also shared some personal anecdotes about Barrett and their time working together. Elsewhere in the livestream, Gilmour revealed that he was asked to proofread a forthcoming book of his late bandmate's lyrics. - NME, 5/11/20......

Astrid Kirchher, the legendary German Beatles photographer and collaborator who is renowned for taking the first ever photograph of the Beatles in her hometown of Hamburg, when they were an unknown five-piece combo, has died at age 81 of as yet undisclosed causes. Enjoying a lengthy collaborative relationship with the Beatles, Ms. Kirchherr is also known as the person who first suggested that the band cut their hair into what would become iconic "mop tops." She was also engaged to one-time Beatles guitarist Stuart Sutcliffe before his death in 1962. "Astrid was intelligent, inspirational, innovative, daring, artistic, awake, aware, beautiful, smart, loving and uplifting," Beatles historian Mark Lewisohn posted in tribute on Twitter. "Her gift to the Beatles was immeasurable." Also among the many fans paying tribute to Ms. Kirchherr on social media, where she was referred to as "the sixth Beatle," was George Harrison's widow Olivia Harrison. "Astrid is and was the sweetest woman, so thoughtful and kind and talented, with an eye to capture a soul. Our family loved her and none more than George. I am truly saddened but honoured to have known her," Olivia said. Ms. Kirchherr's photography of several iconic photos of the band was collated into a 2018 book, Astrid Kirchherr with the Beatles. - New Musical Express, 5/16/20...... Phil May, the frontman of the influential 1960's rock band The Pretty Things, died on the morning of May 15 at hospital in Kings Lynn, England, according to a rep for the band. He was 75 and died from complications after falling off his bicycle and undergoing emergency hip surgery. The Pretty Things, who formed in 1963, were peers of the Rolling Stones, and featured former Stones bassist Dick Taylor in their line-up on guitar. The band's 1968 album SF Sorrow has gone down in rock history as one of the first rock & roll concept albums, and The Pretty Things were publicly adored by the likes of Jimi Hendrix and David Bowie, who covered one of their tracks on his 1973 album Pin-Ups. In 2014, May was diagnosed with chronic obstructive pulmonary disease and emphysema, and while the band never officially broke up, May did take a break from touring following the diagnosis. The band played a "Final Bow" gig in Dec. 2018, at which they were joined on stage by Van Morrison, Pink Floyd's David Gilmour and more. The band continued to release iconic and influential recordings, right up to the present day, with a new album due for release this year. Among those paying tribute to May was Dave Davies of The Kinks, who called him "a very talented guy" who "will be sorely missed." - NME, 5/16/20.
Monday, May 11, 2020
Tributes to Little Richard continue to pour in after the rock & roll pioneer died in Tennessee on May 9 at age 87 of bone cancer. Elton John, Bob Dylan, Mick Jagger, Jimmy Page and Ringo Starr are just a few of the artists who mourned the loss of Little Richard on Twitter and elsewhere. "Without a doubt -- musical, vocally and visually -- he was my biggest influence. Seeing him live in my teens was the most exciting event in my life at that point," Elton John began his Twitter tribute. Bob Dyan tweeted that he was "so grieved" about Richard's passing and that "He was my shining star and guiding light when I was only a little boy... His was the original spirit that moved me to do everything I would do." Mick Jagger posted that he was "so saddened to hear about the passing of Little Richard, he was the biggest inspiration of my early teens and his music still has the same raw electric energy when you play it now as it did when it first shot through the music scene in the mid 50's." Jimmy Page said his "thoughts are with (Little Richard's) loved ones... I got to hear him and his band at the Newport Lounge in Miami and boy were they good." Ringo Starr captioned a pic of Richard, himself and the other three Beatles while on tour with the rocker in the 1960s with "A night to remember... Little Richard... And the boys peace and love." Richard's fellow 1950s rock & roll legend, Jerry Lee Lewis, also paid his respects, calling the late icon "one of a kind." "He will live on always in my heart with his amazing talent and his friendship! He was one of a kind and I will miss him dearly," Lewis said. - Billboard, 5/9/20......
On May 7, Bob Dylan released his third new track of 2020, "False Prophet," and announced on Twitter he'll release a new album, Rough and Rowdy Ways, on June 19. "False Prophet," which Dylan shared on YouTube, is accompanied with a sinister piece of artwork that could be an old poster from a 1940s horror movie. It features a skeleton in a sharp suit and top hat, carrying an old-school hypodermic in one hand, and a mystery present in another. His shadow is that of a man hanging from a noose. "False Prophet," along with Dylan's two other recently released singles, "Murder Most Foul" and "I Contain Multitudes," will all appear on Rough And Rowdy Ways. The LP will be Dylan's follow-up to his 2017 set Triplicate, a 30-song compilation of "classic American tunes." - Billboard, 5/8/20...... Queen guitarist Brian May is nursing an injury that caused him to tear a butt muscle that he attributes to "over-enthusiastic gardening." On May 6, May uploaded a video of himself to Instagram in the hospital wearing a protective mask, adding the caption: "Reality check! For me. No - the Virus didn't get me yet - thank God. Hope you're all keeping extra-safe out there. A decision to relax controls doesn't suddenly make the danger go away..." May, 72, promised that he'd be back soon after he takes a "complete break" to recover. "I managed to rip my Gluteus Maximus to shreds in a moment of over-enthusiastic gardening... So, folks... I need to go dark for a while, getting some complete rest, at home. Please, please don't send me sympathy - I just need some healing silence for a while." Meanwhile, May has told Rolling Stone magazine that there probably won't be a sequel to Queen's Academy Award-winning biopic, Bohemian Rhapsody. May said he and the filmmakers "don't really think there's another movie there" despite having "looked at it pretty seriously." "I think we should look somewhere else. There are other ideas that we had, but I don't think a sequel will happen... Things could change, I suppose, but I think it would be difficult," he said. Althought Bohemian Rhapsody star Rami Malek, who portrayed Queen frontman Freddie Mercury in the film, has suggested a sequel could delve deeper into Mercury's relationship with his longtime partner Jim Hutton, his upbringing, and his battle with Aids, May said "I don't think that would be an uplifting thing to do... there is a great story there, but we don't feel that's the story we want to tell at the moment." - WENN/Canoe.com/NME, 5/8/20......
The original Led Zeppelin debut album artwork designed by English graphic designer/illustrator George Hardie is scheduled to be auctioned off in June, with the iconic cover based on a famous Hindenburg disaster image by photographer Sam Shere expected to bring an estimated $20,000 to $30,000. "In terms of rarity, this is a unique object... I don't think you can get rarer than that," said senior specialist Peter Klarnet of Christie's Auctions, which will conduct the sale between June 2-18 in New York. "(The cover) marked a major turning point in the history of pop music, heralded by the debut of Led Zeppelin. It was louder, bolder than what had come before and would come to define the shape of hard rock for generations." George Hardie produced his take on the photo while studying at the Royal College of Art in London in 1969. His friend, photographer Stephen Goldblatt, had recommended his work to Led Zeppelin, with Jimmy Page later suggesting he use Shere's Hindenburg photo. Led Zeppelin reportedly paid Hardie only £60 for his efforts, though he is said to have discovered a note reading "George's pension fund upon finding the original tracing years later." - New Musical Express, 5/9/20...... The Rolling Stones' recent quarantine anthem "Living in a Ghost Town" has surged on the Billboard rock charts after being released on Apr. 23. It rose 3-1 on the Rock Digital Song Sales chart dated May 9, becoming the band's first No. 1 on that list and selling 16,000 downloads in its first full tracking frame (Apr. 24-30), according to Nielsen Music/MRC Data. On the all-genre Rock Airplay Chart, it jumped 44-34 fueled by its No. 21 debut on Adult Alternative Songs and early airplay on mainstream rock stations. The song becomes the Stones' highest-ranking song on a Billboard airplay chart since "Doom and Gloom," which peaked at No. 10 on the Adult Alternative Songs chart in Nov. 2012. "Living in a Ghost Town" is expected to appear on the band's new album that the legendary rockers have been recording for several years, the follow-up to their 2016's covers set Blue & Lonesome and their first album of newly-written material since 2005's A Bigger Bang. - Billboard, 5/6/20...... In a new interview on Sirius XM/s "Trunk Nation" radio show, Black Sabbath guitarist Tony Iommi says he's "not opposed to doing anything" with his iconic heavy metal band, which hasn't performed since Feb. 2017. "It was great to be able to go out and do a final tour," Iommi said. "I think that it would be good, if we could do [a one-off show]. The hard thing is, certainly with Sabbath, because it's such a big thing, you can't just do an occasional show, because of the crew, and you have the whole setup. It would have to be a year or an 18-month tour... I'm not opposed to doing anything; I just would do it in a different way." In April, Iommi revealed that he's been in touch with Sabbath frontman Ozzy Osbourne on a daily basis during the coronavirus-enforced lockdown "and that people had been keeping an eye on him too." "Neighbours have dropped a note through the door asking if I want any shopping, the guitarist said of being stuck indoors at his home in Worcestershire. "They're looking out for the poor old sod!," he said. - New Musical Express, 5/6/20......

The late Ricky Nelson's sons Matthew and Gunnar Nelson are marking what would have been the 80th anniversary of their dad's birthday on May 8 with a 2-hour documentary called Ricky Nelson Remembered that, according to Matthew, "tells the stories behind the songs, with videos playing behind us with people like Paul McCartney, John Fogerty and Kris Kristofferson talking about our pop, and words from the man himself." "He had this wonderful, silent strength, and a kindness and gentleness," Gunnar mused of his father, who died in a plane crash on Dec. 31, 1985. "We're doing this show not because we have to, but because we want to." The special can be streamed on the Nelson twins' website. - Billboard, 5/8/20...... Betty Wright, a legendary soul/R&B singer known for classics such as "Tonight Is the Night," "No Pain, (No Gain)" and "Clean Up Woman," died on May 10 from cancer at her home in Miami. She was 66. Wright earned a top 10 single in 1972 with "Clean Up Woman," which peaked at No. 6 on the pop chart, and would go on to be sampled by numerous artists, including Mary J. Blige, Afrika Bambaataa and Sublime. By the mid-'70s, Wright had scored big with songs "Tonight Is the Night" and "Where Is the Love," which earned her a Grammy for for best R&B song in 1975. In the 1980s, Wright founded her own record label, Ms. B Records, and released the album Mother Wit, featuring the popular song "No Pain (No Gain)." - Billboard, 5/10/20...... Brian Howe, lead singer in a later incarnation of the English hard rock band Bad Company, died on May 5 at his home in Lake Placid, Fla., from a cardiac arrest. He was 66. The Portsmouth, England native established his reputation as a powerhouse vocalist with bands such as Shy and White Spirit. He came to the U.S. and joined Ted Nugent's band in 1983, singing on Nugent's 1984 album Penetrator but leaving over business issues. Two years later, Howe was recruited by original Bad Company members Mick Ralphs and Simon Kirke to join a rejuvenated version of the band, replacing original frontman Paul Rodgers for an eight-year run that started with 1986's Fame and Fortune. Howe was with Bad Company through 1994, releasing five albums with the group -- one platinum and two gold. He went on to release three solo albums as well as a single, "Hot Tin Roof," in 2017. - Billboard, 5/7/20......

Florian Schneider, co-founder of the German electronic pop band Kraftwerk, died after a short battle with cancer on May 6, just a few days after of his 73rd birthday. Schneider formed the influential group and multimedia project with Ralf Hütter in 1970. With its use of electronic instruments that included homemade and custom-built devices, Kraftwerk has been credited with pioneering the electronic music and influencing several music genres, including including hip-hop, synthpop and rock. Schneider -- who played the synthesizer, vocoder, flute, sax and more, as well as provided vocals -- left the band in 2008 after four decades. The late David Bowie once recognized Schneider and Kraftwerk's influence by titling his mostly instrumental track "V-2 Schneider" on his 1977 album "Heroes" after the musician. Though nominated for the Rock Hall of Fame six times, the influential electronic band has yet to be inducted. Prior to his death, Kraftwerk had announced that the band would be embarking on a summer tour of North America to celebrate the group's 50th anniversary, which unfortunately had to be canceled due to the global coronavirus pandemic. - Billboard, 5/6/20...... Actor/comedian Jerry Stiller, known for his role as cantakerous fathers on the TV sitcoms Seinfeld and The King of Queens, has died at age 92 of natural causes, his actor son Ben Stiller posted on Twitter on May 11. "He was a great dad and grandfather, and the most dedicated husband to Anne for about 62 years. He will be greatly missed. Love you Dad," Ben posted. Jerry Stiller was part of a 1960s comedy team Stiller and Meara with wife Anne Meara, who died in 2015 at age 85. Stiller and Meara worked together in the Compass Players comedy troupe before forming their own team. By the 1960s, they had become a popular comedy duo on U.S. television and appeared 36 times on The Ed Sullivan Show. Their act included skits such as an interview with the biblical Jonah after his encounter with the whale and parodies of TV commercials. Mr. Stiller later did some Broadway work and appeared in films including Airport 1975 and The Taking of Pelham One Two Three. He was in his mid-60s when he got what would become his signature acting role -- Frank Costanza, father of ne'er-do-well George Costanza (played by Jason Alexander) on Seinfeld, a tense, bombastic man always on the verge of apoplexy. The show, one of the most highly regarded in U.S. TV history, was in its fourth season at the time but Mr. Stiller said he had never watched a minute of it and had to ask, "Who's Seinfeld?" Mr. Stiller also had roles in both the 1998 and 2007 versions of the movie Hairspray and appeared in films starring son Ben such as Zoolander and The Heartbreak Kid. He is also survived by a daughter, Amy Stiller, also is an actress. - Reuters, 5/11/20.
Saturday, May 9, 2020
Little Richard, who became a seminal figure in the birth of rock & roll with his wild falsetto and no-holds-barred, piano-pounding style and embodied the new music's gleeful sexuality and spirit of rebellion, died on the morning of May 9 in Tullahoma, Tenn. of bone cancer. He was 87. Born Richard Wayne Penniman on Dec. 5, 1932, in Macon, Ga., Little Richard grew up in a devout Seventh Day Adventist family with two uncles and a grandfather who were preachers, though his father sold bootleg whiskey. Singing gospel and learning piano in his youth, though his parents never encouraged his musical interests, he was ejected from the house at age 13, which he later claimed was because of his homosexuality. He first performed professionally at Macon's Tick Tock Club, then in 1951 scored a contract with RCA Records after playing at an Atlanta radio audition. He recorded such songs as "Every Hour" and "Get Rich Quick" in the next two years which never made any commercial impression, and toured small black nightclubs playing mostly blues and where his rock numbers were not well received. As a last resort, he sent a demo tape to Art Rupe of Specialty Records, who had been looking for a hard-edged voice like his. With "Bumps" Blackwell producing, Little Richard entered the studio on Sept. 14, 1955, and an old between-songs filler piece called "Tutti Frutti," with its sexy-dumb lyrics and wild piano banging set the style for his future hits. Popular with both black and white fans, the influential single went to #17 on the pop chart sold over three million copies by 1968, and was followed by such memorable ravers as "Long Tall Sally" (#6) and "Rip It Up" (#17) in 1956; "Lucille" (#21), "Jenny, Jenny" (#10), in 1957; and "Good Golly, Miss Molly" (#10) in 1958. During this time he also appeared in three early rock & roll movies: "Don't Knock the Rock, The Girl Can't Help It (1956) and Mister Rock 'n' Roll (1957). However at the height of his success in 1957, he suddenly quit his rock career after claiming see a vision of the apocalypse in a dream while on tour in Australia. He later said several spooky events contributed to the decision, including a plane flight during which the overheated engines appeared in the darkness of night to be on fire, a glimpse of the Russian satellite Sputnik, and a plane in which he was scheduled to have flown in crashed. He interpreted these events as divine signs that he should change his ways, and became an ordained minister in the Seventh Day Adventist Church after receiving a B.A. degree from Oakwood College in Huntsville, Ala.
Returning to rock in 1964, Little Richard mounted tours in Europe with the likes of the Beatles, and he tried to resurrect his following with an unsuccessful single called "Bama Lama Bama Loo" after failing to gain a major audience on the evangelical circuit with his gospel recordings. In the early '70s, he signed with Reprise Records and recorded three R&B/rock LPs, which garnered some fair critical reviews and let to some recording sessions with Delaney and Bonnie and Canned Heat. He also performed at the Toronto Pop Festival, and his performance was included in director D.A. Pennebaker's documentary of the event, Toronto Pop. After appearing on some late night talk shows and doing club dates, by decade's end he once again stressed his attachment to the church, and renounced rock & roll, drugs, and his own homosexuality. In 1984, he co-authored his autobiography, The Life and Times of Little Richard, with rock writer Charles White and Blackwell, his longtime manager. The book contained some juicy anecdotes (including a threesome with a stripper and Buddy Holly), and ended with a chapter-long sermon from Richard. In 1985, he launched a formidable comeback with a fieatured role in the hit movie Down and Out in Beverly Hills, and made appearances on such popular TV series as Miami Vice, Martin and Full House. He also became a pitchman for a number of companies, including Taco Bell, McDonald's, and Charlie perfume. Little Richard was among the first ten inductees into the Rock and Roll Hall of Fame in 1986, and in 1993 he received a Lifetime Achievement Award from the Grammy organization, NARAS. He was invited to perform at Pres. Bill Clinton's inaugural in 1993, and his hometown of Macon named a street in his honor, Little Richard Penniman Boulevard. Richard stopped making albums after 1992, although he continued to tour extensively and contribute occasional tracks to tribute albums, including a memorable take on "I Feel Pretty" for 1996's The Songs of West Side Story. Hip surgery in 2009 left him confined to a wheelchair, and in 2013, he declared that he was "done" with performing. "I have been many things and I am many things," he told the Honolulu Star-Bulletin in 2003. "I am a creator, emancipator, inventor, the king, originator, a beauty, the Bronze Liberace, original Georgia peach, a human atom bomb, international treasure, living flame and a Southern child." - The Rolling Stone Encyclopedia of Rock/Billboard, 5/9/20.
Wednesday, May 6, 2020
Los Angeles' legendary The Troubadour nightclub, where the careers of such artists as Elton John, Joni Mitchell, James Taylor and the Eagles were launched in America, could be in danger of shutting down permanently due to the coronavirus epidemic. The Troubadour's managment cites California Gov. Gavin Newsom's recent announcement that under Phase 4 of the state's plans for exiting the lockdown, concerts could be halted in the state until the middle of 2021. "That means the middle to the end of next year to potentially open, and maybe a 25% cap on crowd size," Troubadour general manager Christine Karayan says. "I can't foresee being able to ride this out like that." Karayan, whose father Ed founded the club with Doug Weston, added that "The more I think about it, it's just completely futile... At least a big seated venue has space where they can keep people apart. But I don't know how that works for a general admission venue. Are you going to stop them from using the restroom?" Since closing its doors in March, The Troubadour has set up a GoFundMe page to help its 20 hourly employees, so far raising $11,400 of its $30,000 goal. - The Los Angeles Times/New Musical Express, 5/6/20......

In an interview with Rolling Stone, Stevie Nicks says she's spending her time in lockdown working on a movie inspired by Fleetwood Mac's classic 1975 track "Rhiannon." "Last year, I made a pitch to everybody that when this Fleetwood Mac tour is over, I'm taking next year off because I want to work on my Rhiannon book/movie," says Nicks, who penned the song after being inspired by classic Welsh myths. "And I want to maybe work with some different producers... I don't know what I want to do! I just know that I don't want a tour!," she added. While Nicks says she's been unable so far to meet with producers to discuss the project, she says she's been recording music based on her poetry collection which dates back 30 years. "I have some Rhiannon poetry that I have written over the last 30 years that I've kept very quiet," she explained. "I'm thinking, 'Well here I have all this time and I have a recording setup.' And I'm thinking I'm going to start doing some recording. I'm going to start putting some of these really beautiful poems to music, and I have the ability to record them. So that's on my to-do list." - Rolling Stone/New Musical Express, 5/4/20...... Journey announced on May 4 that they're canceling their 2020 North American tour with openers the Pretenders due to the coronavirus pandemic. In a press release, the band said that restrictions regarding large gatherings "regretfully make it impossible" for the band to tour in 2020. "After carefully reviewing all options, the decision has been made to cancel the entire tour to make it possible for the band's legion of hardworking fans to immediately obtain access to refund options during these unforeseen and extremely challenging times," they said. Journey members Neal Schon, Jonathan Cain and Arnel Pineda also released a joint statement saying "not knowing what the rest of this year or 2021 will bring, we knew the right thing to do was to make sure our fans' health was not put in jeopardy," and also thanked "all doctors, nurses, police, other first responders and essential workers for their heroic efforts; as well as our fans for doing everything possible to stay safe." The Journey/Pretenders tour had been set to kick off May 15 in Ridgefield, Wash., hitting more than 60 U.S. cities before wrapping in Bethel, N.Y. on Sept. 12. - Billboard, 5/4/20...... '70s artists Billy Joel, Sting, Barbra Streisand and Bette Midler will be among the headliners of a "Rise Up New York!" citywide virtual telethon to raise awareness and funds to help New Yorkers impacted by the COVID-19 pandemic. The event, organized by iHeartMedia and New York's largest poverty-fighting organization, Robin Hood, will take place on May 11 at 7 p.m. ET and feature a lineup of some of the city's biggest musicians, actors, comedians, chefs and other celebs including New York Gov. Andrew Cuomo, Chris Rock, Robert DeNiro and Spike Lee. The special -- the latest in a growing list of one-off virtual all-star fundraising events for COVID-19 relief -- will be simultaneously broadcast on all New York City TV stations, iHeartMedia and Entercom broadcast radio stations, News 12, Spectrum News NY1, SiriusXM and nationally on CNBC. - Billboard, 5/4/20...... Bruce Springsteen has shared a surprise new 1981 live album to benefit coronavirus relief efforts. The new album was recorded on the final night of six at the Brendan Byrne Arena in East Rutherford, N.J., on July 9, 1981, as part of his The River Tour. All the money from the album, which is available for purchase on The Boss' live archive website for $9.95, or in lossless quality for $12.95, will go to the New Jersey Pandemic Relief Fund. The 28-song setlist, which includes such tracks as "Thunder Road," "The Promised Land," "Badlands" and "Born to Run," and only a few songs from the set have ever been released before. One of the tracks from the album, "Johnny Bye Bye," can be previewed on YouTube. - New Musical Express, 5/2/20...... An unheard demo by Paul McCartney and Ringo Starr written for Ringo's 1992 album Time Takes Time is set to be auctioned on May 19, with the track expected to fetch as much as £20,000. A quarter of the profits from the song, owned by former Radio Luxembourg DJ Tony Prince, will go to the NHS Charities Together Covid-19. The demo tape features two versions of the track that did not make it onto the Time Takes Time album -- a demo with McCartney on vocals and a fuller take featuring Starr's vocals, alongside additional instruments and backing vocals. A demo of another Ringo track, called "Everyone Wins," also features on the cassette, which is being sold by Omega Auctions on May 19, alongside other memorabilia, including autographs by Paul and his late wife Linda McCartney. - New Musical Express, 5/4/20......

After KISS bassist/vocalist Gene Simmons shared a photo on Twitter of a fan wearing a KISS bandana as a makeshift mask on May 2, a follower named David Watson replied in the comments that cloth masks "don't keep you safe" during the global coronavirus pandemic, a comment that the band's co-founder wasn't going to let slide. But Simmons wasn't about to let the fan get the last word. "You are incorrect and misinformed," Simmons firmly responded. "The idea of cloth masks or any other kind of mask, is not to protect you. It's to protect everybody else around you inn case you cough or talk. It's not about you, David. It's about protecting everybody else. From you." When another follower chimed in to claim that urging people to wear masks is "social pressuring" because masks don't prevent the spread of viruses, Simmons kindly wished them "good health" and urged, "Please wear a mask, to prevent your cough, sneeze or other, from infecting people. Be safe, not sorry." Simmons then kept the conversation going the following day, sharing a CNN video of how far coughs can travel, and reminded his followers to maintain social distancing to help reduce cases of COVID-19. To help keep fans safe, Simmons and KISS have launched a new line of face masks featuring images of the band members. Per the rockers' Instagram post, 100% of the proceeds will benefit Live Nation's Crew Nation, which is providing aid to touring and venue crews as concerts are canceled in the wake of the global health crisis. Meanwhile, Simmons revisited the Nazi concentration camp that once imprisoned his late mother on May 5 to mark the 75th anniversary of the liberation of the camp by Allied forces. Gene's mother, Flora Klein, was the only member of her family to survive at the camp. She died in 2018, aged 93 ."She was strong," Simmons told reporters at the Mauthausen camp in Germany. "She fought all of this on her own... If somebody says that all of this was in the past -- that's not true. It was yesterday. It all happened just now." Simmons claims his mother survived the camp because she learned how to cut hair as a 12-year-old girl, and the SS commander's wife needed someone to do her hair. Simmons said she was also chosen to cut hair and avoid the gas chamber because she spoke little German. "When she was doing the hair, the commander's wife thought she wouldn't understand anything. But she did," he said. - Billboard/Music-News.com, 5/5/20...... Nearly two decades after gracing the stage of the 2001 Emmy Awards to sing Rodgers and Hammerstein's ballad "You'll Never Walk Alone" following the 9/11 tragedy, Barbra Streisand has shared a reworked version of the song to help raise funds for the coronavirus pandemic. "I sang this song almost 20 years ago after 9/11. Today we face another crisis, but I think the words still apply. With love and gratitude, Barbra," the 78-year-old diva posted. Streisand also intersperses archival footage of her Emmy Awards performance before a soothing video of burning candles shines a light on the information for the non-profit pandemic relief organization Direct Relief. The video can be viewed and donations can be made at DirectRelief.org. - Billboard, 5/5/20......

Cher, a longtime nemesis of Pres. Donald Trump, has told Billboard she always thought the 45th president was "an attention-seeking fool." Cher, who has often taken to social media to slam Trump, says her dislike for the former Manhattan real estate tycoon began years before he took office. "I had only heard about him when I lived in New York but I had a place in Aspen and we used go skiing there," Cher says. "I met him a couple of times at a restaurant called Mezzaluna. He was always so starved for attention. Everyone in there was rich or famous, but he kept getting up to get salt or tomato sauce or to go to the bathroom. He made a tour around that restaurant three or four times. And I was thinking, 'Oh my God, do you see yourself or have any awareness about what everyone in this room is thinking?' It's like when he used to call up magazines pretending to be his own press agent. He's a con artist that had a TV show." But Cher adds she'd be willing to tone down her criticism of the president if he only showing a little compassion or really stepped up his game amid the coronavirus crisis. "If his administration would start saving lives, I'd back off for a while," she says. Cher also said she's glad that her "Here We Go Again" ABBA-themed tour was shut down in March because she understood how dangerous the coronavirus outbreak was going to be. "I knew more than most Americans because I had friends in Italy who were doing live shows when it was there, and everybody had to just get out," she says. "We were lucky we didn't all come down with it because my dancers and I were literally two inches away from each other, breathing right into each other's mouths onstage." Cher then retreated to her Malibu home to self-isolate and shortly after began recording a rework of ABBA's classic "Chiquitita" as her first Spanish-language song. The new track will debut on May 8 and the video will premiere as part of UNICEF's COVID-19 Virtual Special. "It's such a beautiful, optimistic experience. It's great when you can see anything positive now because all of the turmoil we are in," she adds. - Music-News.com, 5/6/20...... On May 1, the Rolling Stones announced the launch of "Extra Licks," a six-part weekly series of special online featurettes featuring concert films from across their career. "Extra Licks" began its broadcast on the veteran rockers' official YouTube channel on May 3, and a teaser trailer has been shared on YouTube. "Extra Licks" is the first time any of the footage has been made available digitally, and it includes performances from the band's 1994 "Voodoo Lounge Tour" and 2016 "Latin America Ole! Tour." Meanwhile, Stones frontman Mick Jagger starred in a 1940's style black-and-white public service announcement on NBC's The Tonight Show on May 4 aimed at showing us all how to stay busy during the coronavirus lockdown. Following the advice of the narrator, Jagger does his chores, which include cooking, gardening, animal husbandry and light exercise. At the end, there was a plea to support Save the Children. "Coronavirus -- the biggest global health crisis of our lifetime -- threatens children in every way," read a card at the end of the sketch. "Your support today can help children in unsafe households, help protect and prepare doctors and health clinics in refugee camps and help support distance learning in the face of school closures." Jagger also participated in a 4-hour "iFor India" coronavirus relief concert on May 3, along with the likes of Bryan Adams, Nick Jonas and actor-musicians Jack Black and Will Smith. The concert was broadcast on Facebook and raised money for 100 groups providing food and other essential services in India. - New Musical Express/Billboard, 5/5/20...... In other Stones-related news, guitarist and accomplished artist Ronnie Wood has sent a poignant gift to St George's Hospital in Tooting, south London amidst the current coronavirus pandemic to praise all the NHS workers for their life saving work for the country. The 72-year-old rocker created a painting of a rainbow in the shape of a heart, with the NHS logo at its core. It was also adorned with a hand-painted thank you message. "The NHS are incredibly dedicated, and their commitment to giving support and saving lives is unbelievable. They deserve all the credit people can give them," Wood wrote. "This has all fallen into place since showing our thanks by clapping every Thursday, and our little twins love to see and paint rainbows. There's just so much appreciation from us ... Gratitude, Gratitude, Gratitude is the best prayer and messages for them all. THANK YOU," he added. - NME, 5/5/20......
The surviving members of the '70s cult hard rock band Motörhead are marking the 40th anniversary of their landmark album Ace of Spades with a special day of celebrations on May 8, including the worldwide premiere of a new lyric video of Ace of Spades' famous title track on their Motörhead Day Facebook page at 5:00 p.m. BST, a unique Facebook and Instagram filter to "Warpig your face," and the release of limited edition road crew merchandise, of which proceeds will go to Live Nation's Crew Nation Fund to provide financial support to touring crews affected by coronavirus. Fans can also raise a toast to the legendary rockers with the hashtag #8thofmay with their tipple of choice including late frontman Lemmy Kilmister's favorite drink, a Jack and coke. "We do hope you can join us as part of this celebration of all things Motrhead," surviving band members Mikkey Dee and Phil "Wizzo" Campbell said. "Lockdown may be going on all around us but the world is ours and we were born to raise hell! We look forward to celebrating 40 years of lawn killing, bastard rock'n'roll with you all." - NME, 5/4/20...... A $9.4 million judgement won by producer Quincy Jones in a 2017 royalty lawsuit against Michael Jackson's estate was reversed by a California appeals court on May 5. Jones originally sought $30 million for projects made after Jackson's death including remixes of hit songs as well as the licensing of masters for the This Is It movie. After a trial in 2017, the jury returned a verdict that Jones was entitled to nearly $1.6 million because he didn't get a right to participate in those remixes, an additional $5.3 million in joint venture profits, nearly $2 million more for This Is It and $180K for foreign public performance income. However the appeals court ruled that L.A. Superior Court Judge Michael Stern should never have even allowed the case to go to jury to begin with, and did not correctly interpret the meaning of Jones' contracts. The appeals court also concluded that the producers agreements did not entitle Jones to fees for remixing masters and, alternatively, the remix damages were too speculative. The case has been remanded to the trial judge, who will now need to sharply slash Jones' award based on the decision. - The Hollywood Reporter, 5/5/20...... In 2014, DJ Supermarkt (real name Marcus Liesenfeld) released Too Slow to Disco, a compilation of underappreciated dance floor gems of the '70s. Now DJ Supermarkt has released The Ladies of Too Slow to Disco 2, a 16-track assortment of tracks from 1974-82 that focuses on female musicians. "We released the first one, where there's more male-oriented stuff, and I just realized there's so much more to discover," the Berlin-based DJ Supermarkt says. "Most of the stuff that came to me after (the first one) was written by female musicians. I found that annoying about the situation at that time in L.A., that the recording industry was so macho. I thought it was really interesting to look into the (female) side of things," he adds. DJ Supermarkt estimates he spent four years gathering the tracks for The Ladies of Too Slow to Disco 2, making discoveries via YouTube, social media and fan recommendations. He says that the industry's chauvinism allowed many of the female performers to fly below the labels' radars, but it actually worked to their advantage since many were able to get the rights to their songs back from the major labels. "Maybe it's because they had to struggle so hard at the time, they knew how to fight and actually get their material back, so I could license directly from them," he says. DJ Supermarkt adds he is currently working on two more Too Slow to Disco compilations, though the themes, he says, "are still a secret... And I don't have enough songs yet... When I have them, I'll put (an album) out. It's really that simple." - Billboard, 5/5/20......
Legendary pro football coach Don Shula, the winningest coach in NFL history and the only one to lead a team to a perfect season, died at his South Florida home on May 4. He was 90. Though Mr. Shula spent several seasons in the NFL as a player -- for the Cleveland Browns, Baltimore Colts and Washington Redskins -- and served as head coach of the Colts, he is best known for his quarter century at the helm of the Miami Dolphins. During his time coaching Miami, from 1970 to 1995, Mr. Shula won back-to-back Super Bowls in the 1970s. The first of those, after the 1972 season, set a bar that has yet to be reached by any other team. With the Dolphins' 14-7 win over the Redskins in Super Bowl VII, Shula's squad became the first and only team to go undefeated in a season. The Dolphins defended their title the following year, beating the Minnesota Vikings in Super Bowl VIII after finishing the regular season 12-2. Mr. Shula coached in six Super Bowls during his career. In addition to his two wins, his Colts lost Super Bowl III, while his Dolphins teams came up short in Super Bowls VI, XVII and XIX. Born in 1930 in Grand River, Oh., Mr. Shula played seven seasons in the NFL before beginning his pro coaching career as defensive coordinator for the Detroit Lions. He was inducted by The Pro Football Hall of Fame in 1997, and the Miami Dolphins have honored him with a bronze statue outside Hard Rock Stadium. "Don Shula was the patriarch of the Miami Dolphins for 50 years," the Dolphins said in a statement. "He brought the winning edge to our franchise and put the Dolphins and the city of Miami in the national sports scene." NFL Commissioner Roger Goodell said Mr. Shula's legacy will endure for generations: "He was a remarkable teacher and mentor who for decades inspired excellence and exemplified integrity." Mr. Shula had five children with is first wife, Dorothy, who died from breast cancer in 1991 at 57 years old. Mr. Shula established an eponymous foundation for breast cancer research that same year. - CNN.com, 5/4/20.
Friday, May 1, 2020
A free exhibition in England on the Clash's 1979 acclaimed album London Calling that opened on Nov. 19 now has a new online film guide so that anyone who didn't manage to visit this acclaimed exhibition can now experience it from home. "The Clash: London Calling" was curated by Robert Gordon McHarg III with the Clash and Beatrice Behlen of the Museum of London. It features items from the Clash's personal archive including draft lyrics, stage clothes, photos and films that tell the story of the band's era-defining album, which features music and lyrics that remain as relevant today as they were on release. - Music-News.com, 5/1/20......

Deep Purple frontman Ian Gillan says his band didn't quite intend to put out a song that includes references to the grave danger to humanity caused by the global coronavirus pandemic, but "Man Alive," which has been shared on YouTube and taken from the band's upcoming Whoosh! album, certainly feels appropriate for its time. "It's an abstract concept," Gillan says. "It's a post-humanity scenario. And then all of a sudden something's washed up on the beach, and it turns out to be a man, and it's the only living man -- but it's just a man, so... That's the end of humanity, because what use is one man? That was the idea. If it was a painting, you'd call it impressionistic." The prog-rock flavored song also features passages of spoken narration from Gillan for the first time in his 50 year on-and-off tenure with Deep Purple. "Don (Airey, keyboardist) was experimenting with an oboe to do a haunting, repetitive little piece to illustrate the echoes of emptiness," says Gillan. "So I just started speaking at the microphone and it fit perfectly. It just had to be something that wasn't sung -- it was almost like a voice bubble attached to the song. It just seemed to be the right thing to do." Whoosh!, the follow up to Purple's 2017 set Infinite, drops June 12 and is the band's third consecutive collaboration with producer Bob Ezrin (Alice Cooper, Pink Floyd). As for the album title, Gillan says Whoosh! represents how he feels about the band's longevity. "I look back at the 1970s as if it was yesterday and, whoosh, here we are now." Though Purple's last tour was dubbed "The Long Goodbye," Gillan says the operative word is "long." "We were all a bit under the weather, physically, so we decided on a goodbye tour," he says. "(But) we've got a bit to go yet. I think things are gonna be on the shelf for a while, but then I think we'll be back for a bit of fun." - Billboard, 4/30/20...... The Rolling Stones have debuted a song on the Billboard Hot 200 pop chart for a mind-blowing seventh decade as their new single, "Living in a Ghost Town," enters several Billboard charts for the week ending May 2. "Living in a Ghost Town" debuted at No. 98 on the Hot 100, No. 30 on the streaming-, sales- and airplay-based Hot Rock Songs chart, and No. 3 on the Rock Digital Song Sales chart (marking the Stones' best rank in the chart's decade-long history). Released on Apr. 23, the song made the Hot 100 exactly 56 years after the band's first appearance on a Billboard survey, with "Not Fade Away." The song has been shared by the band on Spotify.com. - Billboard, 4/29/20...... According to a death certificate acquired by the celebrity gossip site TMZ.com, soul star Bill Withers died on Mar. 30 at age 81 after suffering a cardiopulmonary arrest. The certificate shows the singer's immediate cause of death was a cardiopulmonary arrest, with underlying causes listed as chronic obstructive pulmonary disease (COPD) and bradyarrhythmia, or slow heart rate. His passing prompted several tributes by his pals and industry peers, including Brian Wilson, Nile Rodgers, Sheryl Crow, Lenny Kravitz, John Legend and Kid Rock, as well as a singalong to this classic "Lean on Me" by Justin Bieber, Avril Lavigne and Michael Buble as part of a Canadian COVID-19 relief fundraiser. - TMZ.com/Music-News.com, 5/29/20......
Queen + Adam Lambert have shared a new version of their classic 1975 song "We Are The Champions" as a tribute to healthcare workers on the front lines of the coronavirus pandemic. Redone as "You Are the Champions" and shared on YouTube, the song features singer Adam Lambert, guitarist Brian May and drummer Roger Taylor performing the song in quarantine alongside footage of doctors and nurses fighting COVID-19. "We're putting the emphasis on the word 'you' in 'you are the champions', which is what they are," Roger Taylor said during a phone interview. "We're dedicating this song to the people on the front line putting themselves at risk. All the proceeds are going to the World Health Organization to get the right ventilators, PPE, et cetera to the healthcare workers... we're just trying to help a little bit," he added. Taylor noted his daughter is a doctor and he was "very worried" about her not having enough PPE. "We were very slow in this country getting people organized," he says. "Every day she's coming into contact with people with COVID-19 [in London] and I was very worried about her. We talk every day." While he admits some of her stories are "scary," he's proud of her nonetheless, and his daughter is one of the people holding up a "you are the champions" sign at the end of the video. Taylor says he "has his fingers crossed" that Queen can get back on the road in 2021, after being forced to cancel a summer tour and concerts in south America due to the pandemic. - Billboard, 4/30/20...... SiriusXM Radio has announced it is pulling out all the stops to entertain music fans during the virus pandemic lockdown with free access to exclusive content from the likes of David Bowie, the Eagles, Led Zeppelin, the Rolling Stones, Fleetwood Mac, Guns N' Roses, Metallica and Prince. The personally curated channels from these superstar acts will roll out in coordination with SiriusXM's Stream Free period, which has been extended through May 31, allowing anyone to get free access to the streaming network's full lineup of streaming content on the SiriusXM app. On the David Bowie Channel, for example, Bowie fans will hear rare tracks and demo versions of some of Bowie's greatest songs as well as interpretations of his work from artists including Beck, Annie Lennox, Nirvana, Tears For Fears, Barbra Streisand, and more. SiriusXM's Eagles channel, will feature music from the band's extensive career, stories behind the making of their biggest hits, and the band's own "Eagles Pandemic Playlist." Led Zeppelin Radio will feature every song from the iconic band's music catalog, and exclusive access to the sounds and insights from Jimmy Page, Robert Plant and John Paul Jones. - Billboard, 4/29/20...... In related news, Bruce Springsteen said during his latest DJ set on Sirius XM's "E Street Radio" channel that the coronavirus outbreak has highlighted the huge divide between the American Dream and the reality of life in the US. "There was an op-ed a while back in the New York Times that I would advise every American who cares about his country to read. It is called 'The America We Need'," Springsteen said. The Boss referred to former Franklin Roosevelt who strived to help every American make a decent living according to the standard of the time. "Now the current pandemic has laid bare the inequalities in wealth and in health that plague our nation... This pandemic has shown the great divide between our American dream and American reality, between current America versus the ideals enshrined in our founding documents... in Paterson and other New Jersey cities, in Michigan, in rural America, and all across the United States, this reality is so frustrating that, as the great Marvin Gaye said, we should want to holler," he added. After finishing the impassioned quote, Springsteen went on to play Gaye's "Inner City Blues (Make Me Wanna Holler)." Meanwhile, a virtual 24-hour DJ set of Springsteen songs has been announced to help raise money for charity. Hannah Summers and Jon Beck, the brains behind the "Hungry Heart Club Night," will spin 24 hours of nothing but The Boss on May 2 beginning at 1:00 p.m. London time. The duo will divide the event into a selection of festival-style sets, including Springsteen's best known hits, rarities and covers of his back catalogue. "We want everyone from around the world to get involved and join our Springsteen-athon. It doesn't matter what time it is, we will be live streaming our DJ set all day and all night, splitting the hours up into different themes!" the pair said. "We're so pleased that our Hungry Heart house parties have spread some joy at this difficult time -- now let's go one step further and raise what we can for the other people who need our help right now!" Fans who wish to take part can log on at HungryHeartEvents.com. - New Musical Express, 4/29/20......

An excerpt from Peter Frampton's forthcoming autobiography has been released in which Frampton reveals that David Bowie once saved him from a smoking plane. Frampton says Bowie helped save his life on two occasions after they met first at school in Bromley, south east London. The second life-saving moment came when Frampton was on tour with Bowie as his guitar player during Bowie's 1987 "Glass Spider" World Tour, as Frampton tried to launch a major career comeback. As the pair were awaiting take-off in the cabin of a private tour plane, Bowie noticed smoke billowing into the cabin. Frampton recalled that Bowie shouted "smoke, smoke" before springing into action and lifting Peter out of his seat and helping him down the rescue chute. "I will never forget that," Frampton said in an interview with The Sunday Mirror. "He coulda ran out but he wanted to make sure I was okay. That was the kind of guy he was with me, and in general. He was a lovely man." Frampton, who suffers from an incurable muscle disease called inclusion body myositis, is currently undergoing clinical trials for John Hopkins University in a bid to minimize the effects of the condition. He will release his new memoir later in 2020. - New Musical Express, 5/27/20...... In a new interview with Britain's MOJO magazine, Genesis members Phil Collins, Mike Rutherford and Tony Banks say it would be "weird" to have former Genesis members Peter Gabriel and Steve Hackett involved in their upcoming reunion tour. "I think a reunion with Steve and Pete would be uphill. Playing with Mike and Tony is the easy option," Collins told the magazine. Rutherford added: "I know people love the idea that the five of us will get together again, but the songs most people know and love are from the last 40 years. Peter left so long ago. I really don't know what we could do with him now." Banks added that "as much as I love those early albums, it would be weird to just do songs from that period." Genesis will be embarking on its first concert series since 2007, with Collins' 18-year-old son Nicholas covering for his dad on drums (as he did on Collins' 2018 solo tour) because Phil is no longer able to play because of a spinal condition. - Music-News.com, 4/27/20...... Patti Smith serenaded Johnny Depp on May 26 as the pair took part in a digital music festival to mark the 50th anniversary of Earth Day. Smith serenaded the actor/musician with "Nine," a song she wrote for his birthday, followed by renditions of "Grateful," "My Blakean Year," "Because the Night" and "People Have the Power." Depp himself covered John Lennon's "Working Class Hero" and was joined by Cat Power, who played her own version of the Rolling Stones' "(I Can't Get No) Satisfaction" and Bob Dylan's "Kingsport Town." The stream was set up by the nonprofit organization Pathway To Paris, which Smith has supported heavily in the past. - NME, 5/27/20...... Pink Floyd's "Wish You Were Here" was covered by Miley Cyrus as the pop sensation appeared on Saturday Night Live's latest "At Home" episode on May 25. Cyrus performed from beside a campfire bathed in dramatic red lighting and was introduced by Brad Pitt, who also appeared in a sketch as infectious disease expert Dr. Anthony Fauci after Fauci once jokingly said he thought the handsome Hollywood "A-lister" would be the best actor to portray him. Pink Floyd, meanwhile, are regularly uploading full live performances from across their lengthy career to YouTube. They began with 1994's legendary show "Pulse," which appeared online on Apr. 17. - NME, 5/27/20...... During a virtual gay pride event on Apr. 26, Barbra Streisand shared a message of support to LGBTQ+ fans on GLAAD's "Together in Pride: You Are Not Alone" livestream. The Hollywood superstar made a point of highlighting the need for funds to operate local LGBTQ+ community centers during the coronavirus crisis. "Hi everyone, it's Barbra Streisand and I am so thrilled that GLAAD's 'Together in Pride: You Are Not Alone' event is happening tonight to raise much-needed funds to support local LGBTQ community centres all over the country who are being seriously affected by Covid-19," she said. "I know that times are tough but I really hope you'll help save these organizations... give as you can, every bit helps," the 78-year-old songstress went on to say. - Music-News.com, 4/28/20......

Fans of the wholesome 1970s series Little House on the Prairie have noticed that two haunting episodes of the series chillingly foreshadow the current coronavirus crisis in the form of a typhus epidemic, a common occurrence in the mid- to late-19th century when the series was set. The fans say there are striking similarities between the storylines of episodes titled "Plague" and "Quarantine" and the grim reality of today's coronavirus pandemic, which has so far claimed more than 60,000 lives in the US. "I've been preparing for the #Coronavirus since watching the Little House on the Prairie episode "Quarantine" as a kid," one fan posted on Twitter. The social media reaction has been so prevalent that Melissa Gilbert, who played Laura Ingalls Wilder on the show, says she's been thinking a lot about how the series tackled life in isolation while she herself is on lockdown in her converted hunting cabin in the Catskills. "I realized how prescient it was," says Gilbert, 55. "We can all learn something from what happens in that episode." Gilbert revealed she got goose bumps watching real life father and daughter Michael Landon and Etta Landon, the latter who appeared as sick Etta Plum in the "Plague" episode, tell Charles Ingalls she is not afraid to die. "I know I will go to heaven, especially when you die in church," says Etta. "It was beautiful and extraordinary that they got to film that together," Gilbert says. - The New York Post, 4/29/20...... Drummer Hamilton Bohannon, a Motown legend and also a prominent bandleader for such Motown acts as Marvin Gaye, Diana Ross and The Supremes and The Four Tops, has died at age 78 of an as yet undisclosed cause. Bohannon became a drummer for Stevie Wonder after touring with such acts as Jimi Hendrix and Gorgeous George. Leaving Motown when it moved to Los Angeles at the start of the 1970s, Bohannon became a solo artist and producer in Detroit, landing him a legacy as one of the creators of disco. More recently, his work has been sampled by the likes of Jay-Z and Snoop Dogg. Musician Questlove paid tribute to Bohannon on social media: "A drummer with a unique sound of his own. Hamilton Bohannon's unmistakable 4 on the kick AND snare trademark made me think he hailed from Africa when he first started making records. Why his Dakar catalogue isn't available for the public to discover is beyond me." - NME, 5/27/20.
Sunday, April 26, 2020
Several famous New Jersey performers including Bruce Springsteen, his wife Patti Scialfa, Fountains of Wayne, Halsey and SZA participated in a "Jersey 4 Jersey" benefit livestream on Apr. 22 to raise money for the New Jersey Pandemic Relief Fund. The Springsteens performed a version of "Land of Hope and Dreams," then returned later to play a cover of Tom Waits' "Jersey Girl." The event is the latest in a growing number of high profile livestreams aiming to raise money for frontline workers across the world as the coronavirus pandemic continues. - New Musical Express, 4/23/20...... Organizers of an Elvis Presley festival in Presley's hometown of Tupelo, Miss., announced on Apr. 22 that the Tupelo Elvis Festival music event slated to be held in June will now be a virtual gathering due to the coronavirus pandemic. The annual fest honors its most famous son and features performances from musicians, gospel groups, and includes a competition to qualify for the "Ultimate Elvis Tribute Contest" held in Memphis. Organizers are offering refunds for those who do not want to attend a virtual festival. - AP, 4/23/20......

Neil Young revealed on his website on Apr. 25 that he's working on a new archival album based around material from the mid-to-late 1980s. Road of Plenty will consist of music made with his band Crazy Horse during a 1986 US tour, along with tracks recorded in 1989 with the same band he performed with on Saturday Night Live during that time. Road of Plenty's title track is an early version of a song Young went on to release as "Eldorado" on his 1989 LP Freedom. In his website post, Young said "Road of Plenty" dates back to a private reunion in the late '80s with his 1960s group, Buffalo Springfield. "It was my fault that we didn't get together at the time and have a reunion, tour and album," Young wrote. He also noted he and Crazy Horse have a "monster take of the track, recorded at a show in Minneapolis in October 1986 which will be included on the album. "How this song escaped is hard for me to believe," he said. Young did not specify a release date for Road of Plenty, however several archival Young releases are on their way soon. His legendary "lost" 1975 LP Homegrown will finally see daylight after 45 years on June 19, and a 1970s-spanning compilation The Neil Young Archives Volume 2 will be released on Aug. 21, just to name two. Earlier in April, he reworked the video for his song "Shut It Down" from his latest album Colorado in a nod to the the coronavirus pandemic. - NME, 4/25/20...... After Paul McCartney appeared on Howard Stern's Sirius XM radio show earlier in April and agreed with Stern that the Beatles were "better" than the Rolling Stones, Stones frontman Mick Jagger has responded in an interview with Zane Lowe on Apple Music and shared on YouTube. "That's so funny. [Paul's] a sweetheart. There's obviously no competition," Jagger said, laughing when asked for his response. "The big difference, though, is and sort of slightly seriously, is that the Rolling Stones is a big concert band in other decades and other areas when the Beatles never even did an arena tour, Madison Square Garden with a decent sound system. They broke up before that business started, the touring business for real... we started doing stadium gigs in the '70s and [are] still doing them now. That's the real big difference between these two bands. One band is unbelievably luckily still playing in stadiums and then the other band doesn't exist." In McCartney's comments, he noted that the Stones "are rooted in the blues." "When they are writing stuff, it has to do with the blues. We had a little more influences. There's a lot of differences, and I love the Stones, but I'm with you. The Beatles were better," he said. Jagger was speaking to Lowe to promote the Stones' new single "Living In A Ghost Town," a four-minute bluesy and harmonica-driven song released by the band on Apr. 23. "I'm a ghost/ Living in a ghost town/ You can look for me/ But I can't be found," sings Jagger, who wrote it with guitarist Keith Richards. The band has shared the surprise track, its first proper studio single since 2016 and their cover album Blue and Lonesome, on Spotify.com. - NME/AP, 4/24/20......
Billy Joel was sued for copyright infringement on Apr. 22 in Brooklyn federal court -- but not over one of his songs. A contractor is claiming the Piano Man ripped off his architectural designs for renovations of Joel's sprawling Long Island residence by handing them off to another builder. Home improvement contractor Paul Laruccia of Berry Hill Development Corp. claims his company was abruptly fired from renovating Joel's 12,000 square-foot Oyster Bay manse after he was told that a structural engineer found defects in his work. But Laruccia claims he already had architectural designs drawn up, which cost more than $126,700, and a portion of those costs have gone unpaid. Joel moved forward with a different contractor that submitted architectural drawings to the Centre Island Building Department -- which Laruccia alleges are "nearly identical" to the plans he had drawn up. Berry Hill is asking for unspecified damages, and a spokesperson for Joel said his LLC has "had to pay to fix Berry Hill's deficiencies" -- and that the price tag for that work was larger than the amount left on the contract with Laruccia. - Pagesix.com, 4/23/20...... Paul McCartney is among 100 celebrity contributors to a new charity book titled Dear NHS: 100 Stories to Say Thank You, a book paying tribute to the UK's National Health Service. Dear NHS will be published on July 9, and includes personal stories from the likes of McCartney and Ricky Gervais which aim to highlight the outstanding work done by the NHS over the years. Meanwhile, Sir Paul reminded citizens of the world to celebrate Earth Day on Apr. 22 with a post on Twitter. "Take care of this beautiful place," McCartney urged. - NME, 4/17/20...... In other Beatles related news, a sing-a-long version of the Fab Four's animated film Yellow Submarine was hosted by the band on its official YouTube channel on Apr. 25. A remastered version of the 1968 film was released in cinemas in 2018 to celebrate its 50th anniversary, but the new premiere marked the first time it has been available online. Ringo Starr released an invitation for fans to join in the sing-a-long on YouTube on Apr. 22. "Share your photos and videos with us of you singing along at home and tag them #YellowSubLive. Following the film, we'll be sharing your images and videos on Instagram Stories," Ringo said. - NME, 4/22/20...... Ozzy Osbourne is offering fans the opportunity to buy a long-sleeve black T-shirt and matching cloth face mask with the elegant phrase "F--k Coronavirus" below an image of a bat wearing a white protective mask, a nod to Ozzy's legendary history with the creepy flying mammals. The $40 shirt, which Ozzy is promoting on his Instagram account, comes with the free mask, which, Ozzy notes is "not medical grade and are not meant to take the place of the N95 masks." In March, Ozzy announced that he was canceling a planned trip to Switzerland for treatment for Parkinson's disease due to the coronavirus outbreak. - Billboard, 4/23/20......
Filmmaker and photographer Andrew Bennett has published a new book titled Eruption in the Canyon: 212 Days and Nights with the Genius of Eddie Van Halen in which he claims Eddie Van Halen once held a gun to the head of Limp Bizkit's Fred Durst following an ill-fated jam session. In the book, Bennett writes that Durst and Eddie were introduced to each other after Wes Borland had quit Limp Bizkit and the band were seeking a replacement guitarist. Bennett claims that a jam session took place at a house in Beverly Hills, but Eddie was unhappy that Durst was smoking marijuana and left without his guitar and amps, describing it as "like being a scholar amongst kindergartners." The next day, according to Bennett, after being unable to get in contact with Durst for 24 hours to retrieve his gear, Eddie decided to take matters into his own hands, driving to Durst's house in an assault vehicle he had bought at a military auction. "He got out wearing no shirt, his hair in a Samurai bun on top of his head, his jeans held up with a strand of rope and combat boots held together by duct tape. And he had a gun in his hand," Bennett writes. "Eddie Van Halen stood on the front lawn of a residential home in Beverly Hills in broad daylight, smoking a cigarette while holding a gun on Fred Durst as he went back and forth from the house to the assault vehicle, lugging amps and guitars," according to Bennett. Van Halen have previously expressed their dissatisfaction at Bennett's work, and ended up in court over an ownership dispute in 2018. - New Musical Express, 4/24/20...... The Grateful Dead are the latest band to cancel their upcoming live performances due to the pandemic. "Because of the global coronavirus outbreak and to help prevent the spread of COVID-19, we have no choice but to cancel Dead & Company's Summer Tour 2020," the band wrote in a statement. "The well-being and safety of our Deadhead community, venue staff and the band's touring family is of the utmost importance. We also want to get refunds back to our fans while so many are hurting economically. All tickets will be fully refunded at point of purchase." The band added that they "look forward to the day when we can all be reunited... In the meantime, keep the faith and believe in the power of music. We will return. We will get by. We will survive." - Billboard, 4/21/20...... In related news, Queen's Brian May says he believes that live artists will have to face major ethical questions when touring commences once more after the coronavirus pandemic. "We've been able to reschedule our concerts, but I wonder whether we'll be asking the question about whether it's actually appropriate to be using up lots of the world's resources to rush around?," he told New Musical Expess. "And will it be safe to have thousands of fans in one place and take a risk of some kind, unless we have some way of dealing with an outbreak like this? I'm hoping things will be sorted and we'll have the antidote for this horrible disease and we can get back to some kind of normality, and playing live," he added. May's comments come after Queen were forced to push back their 2021 shows, which included a ten night stand at London's O2 Arena. May is currently promoting the release of "Get Up," a new track which sees him lending his talents to upcoming London band King's Daughters. - NME, 4/23/20...... Jeff Beck has announced rescheduled dates for his 2020 UK tour in May which he has been forced to postpone due to the coronavirus. Beck has moved the shows to 2021, beginning with an Apr. 21 gig in Sheffield, followed by shows that month in York, Manchester, Birmingham, Gateshead, Glasgow and Cardiff. On May 1 and 2, 2021, he'll play London's Royal Albert Hall. - NME, 4/23/20......

Legendary R&B singer and producer Babyface (real name Kenneth Edmonds) offered up an intriguing anecdote concerning Michael Jackson during a recent Instagram "live music battle" with pal Teddy Riley on Apr. 20. "One time Michael called me," he began. "Michael said, 'Babyface...! Do you know who Halle Berry is? Do you know Halle Berry?' I said, 'Yeah, I know Halle Berry.' He said, 'Could you do me a favor? I want you to call her, 'cause I wanna take her out on a date.' I said, 'What?' He said, 'Call her -- I wanna take her out on a date.'" Babyface continued, "So I reached out through the agent, 'cause I didn't have Halle Berry's number. So, I called and get the message to her manager, and he said, 'What?' (I said), 'Yeah, he (Jackson) wants to take her out on a date.'" The "Tender Lover" star couldn't recall Berry's exact response, and did not reveal if the actress ever took Jackson up on the date. However, the revelation had MJ fans in awe and they flocked to social media to comment on the story. Berry has not yet commented on the story. - Music-News.com, 4/22/20...... Harold Reid, bass singer for the Grammy-winning country group The Statler Brothers, died on Apr. 24 after a long battle with kidney failure. He was 80. Mr. Reid was a member of the Country Music Hall of Fame and the Gospel Music Hall of Fame, and also a comedian. The Statler Brothers frequently sang backup for country icon Johnny Cash, and some of their biggest hits included 1965's "Counting Flowers on the Wall" and 1970's "Bed of Rose's." "He is and will always be loved by his family, friends and millions of fans," a statement on the band's website said. "His singing, his songwriting and his comedy made generations happy. He has taken a piece of our hearts with him." The Statler Brothers originally sang mostly gospel music before switching to country music in 1964, after meeting Cash and joining his road show. Over the next two decades, the Statlers won three Grammy Awards and were named top vocal groups nine times by the Country Music Association. - AP, 4/25/20...... Ian Whitcomb, an English born entertainer, singer-songwriter, record producer, and actor whose song "You Turn Me On" reached number 8 on the Billboard pop chart in 1965, has died. He was 78 and an apparent victim of coronavirus. At Bryanston, a public school in Dorset, England, Whitcomb started a skiffle group in 1957 and then a rock and roll band in 1959. In the early 1960s, while studying history at Trinity College, Dublin, he became a founding member of Dublin's first rhythm and blues band, Bluesville. During his summer vacation in 1965, Whitcomb went to America to appear on such television programs as Shindig, Hollywood A Go-Go and American Bandstand. Whitcomb played the Hollywood Bowl with the Beach Boys in 1965 and then toured with the Rolling Stones, The Kinks and Sam the Sham and the Pharaohs. Whitcomb often performed at music festivals throughout America, and beginning in Nov. 2007, he hosted an internet radio program at LuxuriaMusic.com. He signed with Premiere Radio Networks in Sept. 2010 to launch The Ian Whitcomb Show on XM satellite radio, Channel 24. He was named as a BEST OF L.A. in 2008 by Los Angeles magazine. - 4/20/20.
Tuesday, April 21, 2020
In a split-screen clip posted to their Instagram account on Apr. 20, Queen + Adam Lambert performed a new take on their iconic 1977 rock anthem "We Are the Champions" from the comfort of their own homes. During the second chorus, Lambert changed the "we" to "you" as a heartfelt message of love and support to fans who are homebound during coronavirus quarantine. "#Youarethechampions," Queen guitarist Brian May captioned the post. "This version is for those of you who like things to be the right way up!" Meanwhile, in an interview with Sky News on Apr. 18, May spoke out on the deaths of the UK's NHS workers on the coronavirus frontline, calling them a "national tragedy and disgrace." "I just wish we were taking better care of them. I wish they had proper PPE (personal protective equipment) and I wish they'd been better equipped. Unfortunately, the NHS was run down for many years before this happened. And this is the price we pay. The actual lives of these wonderful people who are putting themselves at risk every day," said May, who added he "can't believe we've actually lost doctors and nurses, it's a national tragedy and disgrace. Thank God we've woken up and we can give them the proper support they need. I hope they get everything [they need]." Looking ahead to the future, May added: "And I hope at the end of this, they get a decent wage apart from anything else. - Billboard/New Musical Express, 4/20/20......
Former Led Zeppelin frontman Robert Plant has made a "generous" donation towards frontline medical supplies during the coronavirus pandemic. Plant, 71, donated money to the Gofundme page of M.G. Sportswear, a small clothing manufacturer in Kidderminster, England, that makes scrubs for local hospitals. "We're all in our own vacuums within our own homes feeling relatively safe," Plant told the UK's The Shuttle paper. "I'm pleased to be able to support the work that these good people are doing for our frontline nurses, doctors, carers, in providing much-needed scrubs and masks." Kim Calder, M.G. Sportswear's organizer, said Plant's donation was much needed during the health crisis."We thought it was outrageous that these frontline workers should have to give financially as well as risking their lives every day to protect and preserve us all against coronavirus," she said. - Music-News.com, 4/21/20...... On Apr. 18, Tom Jones issued his own rallying plea to his fans, calling on them to heed government advice while also thanking Britain's National Health Service for their efforts during the current crisis. "...I would like to say thank you so much to the National Health for doing what they did for me then and what they're doing right now for everybody else and we have to do our best to stay home to help the National Health," the "She's a Lady" singer said during the One World: Together At Home charity telecast. "We should stay home and follow orders and go along with what we're being told to do. Stick with it, be together and we'll survive," Sir Tom added, after recalling the frightening experience of being isolated when he had tuberculosis as a child. "I thought that was bad then. But the National Health Service helped me then like they're helping all of us right now." Jones and Little Mix kicked off the UK version of the One World special. The Global Citizen-related concert was curated by Lady Gaga and she appeared alongside such artists as The Rolling Stones, Paul McCartney, Stevie Wonder, Elton John and Taylor Swift in both transatlantic Together At Home specials. The Rolling Stones performed an acoustic rendition of their classic "You Can't Always Get What You Want," which was introduced by frontman Mick Jagger who simply said "Here's one I hope you know." Paul McCartney performed a solo rendition of the Beatles' classic "Lady Madonna" after prefacing it with an impassioned shout out to his mother Mary, a midwife and nurse after the second world war. "My mother, Mary, was a nurse and midwife before and during World War II. I have a lot of time for healthcare workers. We love you, thank you," he explained. Sir Paul's quarantined version of the song was virtually unrecognizable as the jaunty 1968 original, stripped down to just Macca and his electric piano, and performed at a slower, more tender pace. Stevie Wonder paid tribute to the late Bill Withers with an emotional cover of Withers' 1972 hit "Lean on Me," as well as his own Songs in the Key of Life cut "Love's in Need of Love Today." The World Health Organization and Global Citizen teamed up for the massive worldwide special to support and applaud healthcare workers in the fight against COVID-19. A live album featuring all 79 performances from the eight-hour, at-home TV concert, which raised almost $128 million, has also been released. Proceeds from its streaming will go directly to support the COVID-19 Solidarity Response Fund for the World Health Organisation. - Music-News.com/Billboard, 4/21/20......
Former Journey frontman Steve Perry has shared a YouTube video of himself singing a gorgeous a capella rendition of the Beach Boys' 1963 classic "In My My Room" as he self-quarantines during the pandemic. "When I was a teenager, isolating in my room, this song gave me comfort," Perry captioned his appropriately titled cover song video. "Stay safe," he added. Perry, who reunited with his former Journey bandmates on stage at the Rock and Roll Hall of Fame induction ceremony in 2017 but he did not perform with the group, returned from a long hiatus from music in 2018 with the release of his solo album, Traces, his first new album in 25 years. - Billboard, 4/18/20...... Celebrated rock guitarist Jeff Beck and actor/musician Johnny Depp have teamed up for a cover of John Lennon's 1970 track "Isolation," a reimagining of the John Lennon/Plastic Ono Band track that marks their first official release together on all streaming and digital download services. Beck says that he and Depp "have been working on music together for a while now and we recorded this track during our time in the studio last year." "We weren't expecting to release it so soon but given all the hard days and true 'isolation' that people are going through in these challenging times, we decided now might be the right time to let you all hear it," he added. Beck and Depp's "Isolation" can be streamed on Spotify.com. Beck went on to say that "you'll be hearing more from Johnny and me in a little while but until then we hope you find some comfort and solidarity in our take on this Lennon classic." - New Musical Express, 4/17/20...... Fans of Bob Dylan who have over $4 million to invest could become the proud owner of the rock bard's original lyric manuscripts for three of his most famous songs -- "The Times They Are A-Changin'," "Subterranean Homesick Blues" and "Lay Lady Lay." Memorabilia company Moments In Time has acquired lyrics, which show Dylan's crossed out verses and words and instrumental notes. But the three handwritten lyric sheets won't come cheap: "The Times They Are A-Changin" is listed for $2.2 million (£1.8m), while "Subterranean Homesick Blues" has a $1.2 million (£961k) price tag. "Lay Lady Lay" is the cheapest of the three, priced at only $650,000 (£520k). Meanwhile, Dylan recently released two new songs, his first new, original material in eight years. "Murder Most Foul" tackled the 1963 assassination of Pres. John F. Kennedy in the form of a 17-minute ballad, while "I Contain Multitudes" referenced Walt Whitman, The Rolling Stones, Edgar Allen Poe and Frank Sinatra. - NME, 4/19/20...... Willie Nelson launched an online variety show titled "Come and Toke It" on Apr. 20 to mark the "4/20" holiday. The country musician and renowned marijuana advocate helped celebrate the unofficial weed holiday by fronting the live-streamed event, "all from the comfort of quarantine," which lasted for precisely 4 hours and 20 minutes. It saw Nelson hosting a show that aimed to "celebrate cannabis in an entertaining and educational environment" in partnership with Nelson's marijuana brand, Willie's Reserve, and Luck Reunion. A trailer for "Come and Toke It" was shared on YouTube and features Nelson, who added in a statement: "Come and toke it with me on 4/20 at 4:20. There will be music and good times. And, it's for a good cause." The live stream raised money for the Last Prisoner Project, which aims to "bring restorative justice to the cannabis industry." - New Musical Express, 4/17/20......
Genesis announced on Apr. 18 they are launching a new live stream series on YouTube. "Introducing the Genesis Film Festival, a celebration of live footage for you to enjoy at home during lockdown," the band announced on its Instagram page. "Over the coming 5 weeks, every Saturday from 12 p.m. PST / 3 p.m. EDT / 8 p.m. BST a new Genesis concert film will be made available to watch on the band's official YouTube channel for 7 days," the band added, with their Three Sides Live film from 1981 kicking off the series on Apr. 18. Upcoming streams include The Mama Tour from 1984 (4/25); Live at Wembley Stadium from 1987 (5/2); The Way We Walk from 1992 (5/9); and When In Rome from 2007 (5/16). Genesis is joining the likes of Pink Floyd in launching a new live stream series, with the Floyd announcing on Apr. 17 it will post unseen, rare and archival footage once a week on its YouTube channel, beginning the series with their 1994 "Pulse" concert in its entirety. The concert was recorded at the now-defunct Earls Court in London as part of a record-breaking 14-night residency in Oct. 1994 and first released as a concert film in 1995. The Grateful Dead also have announced similar plans with a weekly "Shakedown Stream," which will also feature the band's archivist David Lemieux and historian Gary Lambert holding a fan Q&A before each show is aired. - New Musical Express, 4/18/20...... Speaking of Pink Floyd, its former member Roger Waters said in a recent Rolling Stone interview that even though he'd held a "peace summit" with his former Floyd bandmates Nick Mason and David Gilmour, he thinks a Pink Floyd reunion would be "f---ing awful." Waters says that the summit failed and it made him even less keen on the idea of a band reunion. "I wrote out a sort of a plan because we'd come to sort of a 'I don't really want to talk about this' but my plan didn't bear fruit," Waters said. "This was just, 'Can we release the remastered vinyl version of Animals without it turning into the Third World War?' Wouldn't that be nice? I actually suggested going democratic. I said, 'Why don't we just have a vote? There's only three of us' No, no, they wouldn't have that. God knows why. Not that there is a God you know what I mean?," he added. When asked about a reunion, Waters said: "It wouldn't be nice. It would be f---ing awful. Obviously if you're a fan of those days of Pink Floyd, you would have a different point of view. But I had to live through it. That was my life. And I know in the wake of it, I've been cast as something of a villain by whoever, whatever, I can live with that. But would I trade my liberty for those chains? No f----ing way." - NME, 4/18/20...... Musician Matthew Seligman, best known for his tenure on bass for The Soft Boys, has died aged 64. As well as playing on The Soft Boys' 1980 masterpiece Underwater Moonlight, Seligman was briefly a member of 80s pop outfit The Thompson Twins, and played bass for David Bowie at Live Aid in 1985. After The Soft Boys disbanded, Seligman would go on to play with the band's frontman Robyn Hitchcock on his first two solo albums. Robyn Hitchcock announced the news via a lengthy tribute on social media. "I'm profoundly grateful to have played music with him -- you could really see his face light up like a full moon when he listened back to a take he enjoyed," Hitchcock wrote. - NME, 4/18/20......
Six-time Emmy nominated actor Brian Dennehy died on the evening of Apr. 15 of natural causes in New Haven, Conn. He was 81. The "regular-guy" actor whose bulldog build, good-guy demeanor and no-nonsense approach meshed in an array of memorable roles for film, television and the theater, including First Blood (1982), Gorky Park (1983), Silverado (1985), F/X (1986) and its sequel, Best Seller (1987), The Last of the Finest (1990) and Assault on Precinct 13 (2005). At 6 foot 3 and 250 pounds, the former college offensive lineman could also be a gentle giant, as when he portrayed the sympathetic bartender who counsels Dudley Moore in 10 (1979), the friendly alien leader Walter in Cocoon (1985) and Chris Farley's pop in Tommy Boy (1995). Mr. Dennehy won Tony Awards in 1999 and 2003 for playing Willy Loman in Arthur Miller's "Death of a Salesman," and also starred on Broadway opposite Christopher Plummer in a 2007 revival of "Inherit the Wind." Born on July 9, 1938, in Bridgeport, Conn., Mr. Dennehy scored a big break when he was cast in David Rabe's off-Broadway Vietnam War play "Streamers" and won acclaim. After guest-starring roles on shows including Kojak, Police Woman and M*A*S*H, Mr. Dennehy fittingly made his movie debut in the Burt Reynolds comedy Semi-Tough (1977), playing a football player who dangles a woman over the ledge of a terrace. More recently, Mr. Dennehy had recurring TV roles as an Irish mob boss on Public Morals, a sheriff on Hap and Leonard and a KGB agent on The Blacklist. The latter NBC series is expected to pay tribute to Mr. Dennehy in the coming weeks with a card at the end of the show. Survivors include his second wife, a costume designer he wed in 1989, five children and seven grandchildren. "Larger than life, generous to a fault, a proud and devoted father and grandfather, he will be missed by his wife Jennifer, family and many friends," his daughter, actress Elizabeth Dennehy, wrote in tribute on Twitter. - The Hollywood Reporter, 4/16/20.
Thursday, April 16, 2020
Bob Dylan has purportedly barred late night TV host Stephen Colbert from performing a TV parody of his famous 1965 song "Subterranean Homesick Blues." During the Apr. 14 episode of CBS's The Late Show with Stephen Colbert, Colbert told guest Cate Blanchett, appearing remotely, that "I wanted to do a parody of the 'Subterranean Homesick Blues' in response to Bob Dylan putting out this new album, about the death of John F. Kennedy... and he will not let me do it." Colbert then asked Blanchett, who co-starred with Dylan in the 2007 movie I'm Not There, why she thought he wouldn't let him do it. "I think it's the word parody," the Oscar winner mused. "If you'd said you wanna inhabit... Words matter to Dylan!" "Damn poets and their words...!," Colbert responded. "I wanna personally mock you and your entire work!" Dylan recently scored his first-ever No. 1 song on the U.S. pop chart with "Murder Most Foul," a nearly 17-minute song about the assassination of JFK. - Music-News.com, 4/16/20......

Bruce Springsteen has announced a star-studded benefit for The New Jersey Pandemic Relief Fund with performances from himself and other famous current and former Garden State residents including Jon Bon Jovi, Halsey, SZA, Tony Bennett, Charlie Puth, Chris Rock, Danny Devito, Whoopi Goldberg, Chelsea Handler, Kelly Ripa and Jon Stewart. The virtual "JERSEY 4 JERSEY" concert, set for Apr. 22, will help raise funds for NJ residents whose lives have been impacted by the Covid-19 health crisis. Springsteen -- who still lives in New Jersey after relocating from California in the 1990s -- said in a video announcement on ABC's Good Morning America that "New Jersey has been hit especially hard by the coronavirus pandemic. And the people of New Jersey have always stepped up during difficult times... This is out effort to do everything we can for our folks here in The Garden State, and I hope you will join us." The show will be aired on ABC, via Apple Music and E Street Radio on SiriusXM on Apr. 22 from 7:00 p.m. EDT. - Music-News.com, 4/16/20...... As the ongoing coronavirus lockdown deprives music fans of live shows, one man in England has taken it upon himself to recreate late Queen frontman Freddie Mercury's legendary Live Aid performance. Standing on his roof and using a broomstick for a microphone, the unnamed man lip-synced Mercury's now-iconic "day-oh" sequence from Queen's 1985 show at Live Aid. Footage was first uploaded to a YouTube Channel under the name Felicity Griffiths, who captioned the video "This is what my husband has resorted to" during the crisis. Meanwhile, Queen guitarist Brian May said during an interview on Apr. 15 that he believes humanity will "learn some great lessons from the coronavirus pandemic." "If you want to get deep into it, I think we should be looking again at whether we should be eating animals," May said. "That's a central issue here, this pandemic seemed to come from people eating animals and it's becoming more well known that eating animals is not the greatest thing for our health." May went on to explain that he's gone completely vegan since the beginning of 2020, transitioning to a plant-based diet after years as an animal activist. "To go vegan was just a decision, and I haven't been preachy about it, but now we've seen more of the effects of how eating animals has brought us to our knees as a species," May added. "I think it's time to re-examine our world in a way that doesn't abuse other species." - New Musical Express/Billboard, 4/12/20...... In related news, a longtime vegan rock star has called for Chinese "wet markets," which got their name due to their frequently hosed-down floors, to be banned due to the current coronavirus pandemic. In an interview on Howard Stern's Sirius XM radio channel, Paul McCartney said: "I really hope that this will mean the Chinese government says, "OK guys, we have really got to get super hygienic around here. Let's face it, it is a little bit medieval eating bats." The Beatles icon went on to suggest that the unsanitary nature of the markets was responsible for more than just the coronavirus. "It seems like Sars, avian flu, all sorts of other stuff that has afflicted us -- and what's it for?" Macca said. "For these quite medieval practices. They need to clean up their act. This may lead to [change]. If this doesn't, I don't know what will."

Sir Paul, who has been a vegetarian and animal rights activist for many years, added that the markets "might as well be letting off atomic bombs" in terms of the impact they were having on world safety. "I understand that part of it is going to be: people have done it for ever, this is the way we do things," he noted. "But they did slavery forever, too. You've got to change things at some point." McCartney also expressed sadness about the cancellation of the Glastonbury 2020 festival in England, which he was set to headline, due to the pandemic: "What's disappointing for me is the people who bought tickets, who were looking forward to this and thinking here's something groovy to do in the summer, and suddenly the plug is pulled, and we can't come around and play for them. It's sad for us, too...we were looking forward to that." - New Musical Express, 4/13/20...... In other Beatles-related news, a medley of the Fab Four's songs provided the soundtrack for a light show at New York's Empire State Building on Apr. 11. The display coincided with the 50th-anniversary of the band's split on Apr. 11, 1970, and is part of the famous tourist destination's continued run of special events while New York is under a stay-at-home order. The show, produced by iHeartMedia and Empire State Realty Trust (ESRT), featured songs including "Sgt. Pepper's Lonely Hearts Club Band (Reprise)" and "A Day In The Life." The medley was broadcast on New York radio station Q104.3 and synced to the light show at the Empire State Building by lighting artist Marc Brickman. - NME, 4/11/16...... Former Genesis frontman Peter Gabriel is doing his part to entertain fans on lockdown by offering up one of his classic concerts on the "Real World" Vimeo channel. Gabriel says he was recovering from a cold when he performed at the Arena di Verona in Italy with an orchestra in 2010, but he still considers the show one of his favorites, and he asked his daughter, Anna, to film it. Gabriel has now uploaded the rarely seen "Scratch My Back" concert film, urging fans who watch to consider donating to the Italian Red Cross and Italy's Civil Protection Department. "For almost fifty years I have loved Italy, the people, the culture, the food, the history and more recently the island of Sardinia," Gabriel said in a statement. "I speak some Italian -- really badly, but enough for it to feel like our home from home. It really hit us hard as a family, to watch the daily reports of deaths and devastation that this brutal virus has brought... Although I was recovering from a cold and not quite hitting the notes as I wanted, Anna did a wonderful job with her collaborator Andrew Gaston, and a great team, in capturing a very special night." Gabriel concluded by saying he's looking forward to performing for his fans again "when this genie is back in the bottle." - Music-News.com, 4/14/20...... Meanwhile, Tom Johnston and Patrick Simmons of the Doobie Brothers have released a playlist of some of their favorite songs that are keeping them company through the coronavirus shutdown. Their list includes classic soul and blues and nods to two legends who just left us, John Prine ("When I Get to Heaven" and "Long Monday") and Bill Withers ("Lean on Me"). "When it comes to making a playlist for the 'times' we are all going through, I immediately think of sonic 'comfort food,'" Johnston says. "Music that brings out a physical and emotional reaction. We all need something to brighten our day and comfort our soul. These are just a few of the many tunes I would list to give a sampler of what I mean. Music is the one thing that everybody can relate to no matter what style you're into. Truly the international language!" The list also includes songs by Paul Simon ("Wristband"), Mountain ("Never in My Life"), Aretha Franklin ("A Change Is Gonna Come"), Stevie Wonder ("Signed, Sealed, Delivered"), Otis Redding ("Sittin on the Dock of the Bay") and the Eagles ("Life in the Fast Lane"). - Billboard, 4/13/20......

Todd Rundgren isn't just enjoying the environs at his home in Hawaii during the lockdown, he's also been busy with a couple of recording projects. Rundgren has been working on an all-star remake of "Just One Victory," the album-closing anthem from his 1973 LP A Wizard, A True Star. Slated to be offered for free use for Democratic candidates during the 2020 campaign, the video will feature the likes of Daryl Hall, Joe Walsh, Paul Shaffer and Don Was, with more joining on a daily basis. "I've been enduring the same three years that everybody else has, and just the opportunity to do something besides complain appeals," he says. "There's a lot of noise out there, so I wanted to figure out a way to participate without simply making more noise. Simply having an opinion, which of course I do, is not enough. We want to turn that opinion into something that's encouraging a lot of people to become involved," he added. Rundgren says he's planning to announce a full list of participants in May and he wants "very specifically want to defeat Republican candidates." "It used to be that you didn't have to watch (Pres. Trump) lie every day; Now it's like the daily lie or the daily pile of lies. It's mind-numbing in a way. But our real thrust is not even just him. He's the head of the snake, but it's a long snake and we need to chop that snake into little, tiny pieces." Like other musicians, Rundgren had to scrap spring tour plans and hopes to reschedule the shows for summer, but says he also likes the idea of performing separate shows for ticket buyers in different cities to create a virtual tour. "The show can come to your house instead of you having to leave your house and hang out in a crowd of people, which people may be leery about doing even after (concerts) start happening again," Rundgren says. "You can do it in a way that still makes people feel a little bit local and special." - Billboard, 4/15/20...... Sir Andrew Lloyd Webber of "Jesus Christ Superstar" fame joined the cast of NBC's Jesus Christ Superstar Live on Apr. 12 to raise money for The Actor's Fund's coronavirus relief program. Appearing on digital Broadway talk show Stars in the House, the legendary composer reflected on the unique origins of the Biblical musical. "When Tim Rice came up with the idea of writing about the last seven days of the life of Christ, nobody thought that it could remotely work as a theater show," Webber told host Seth Rudetsky. "So we had to record it as if it was kind of like a radio play with music, if you see what I mean. The whole point was that if you were listening to it at home, you had to be able to follow the story with no sets, no costumes, no anything... It never was in that form conceived for the theater." The virtual talk show also reunited cast members Jason Tam, Brandon Victor Dixon, Norm Lewis and Alice Cooper, who played Peter, Judas Iscariot, Caiaphas and King Herod, respectively, in the 2018 live concert special, which was rebroadcast on Easter by NBC. The full episode of Stars in the House can be streamed on YouTube. - Billboard, 4/13/20......
The first footage from the upcoming David Bowie biopic Stardust has been shared on YouTube. Announced in early 2019, the film will follow Bowie (played by Johnny Flynn) on his first trip to the US in 1971, the same visit that is said to have inspired the creation of Bowie's Ziggy Stardust alter-ego. In the clip, Bowie and his publicist Ron Oberman (played by Marc Maron) discuss Bowie's Ziggy Stardust and the Spiders From Mars album. "I think you're gonna be the biggest goddamn star in America," Oberman assures Bowie. "Seriously man, this is a great record." Also set to appear in Stardust is The Hunger Games' Jena Malone, who will play Bowie's first wife, Angie Bowie. It will be directed by Emmy winner Gabriel Range (Death Of A President), with Christopher Bell on scriptwriting duties. - New Musical Express, 4/16/20...... Ozzy Osbourne has announced he'll 10% of the sales from his remaining stock of tour merchandise to The Michael J. Fox Foundation, which funds research into Parkinson's disease. "Past tours exclusive merch last bits of remaining stock available until sold out!" Ozzy tweeted on Apr.15). "April is #ParkinsonsAwarenessMonth so 10% of ALL sales going directly to the @MichaelJFoxOrg for #Parkinsons Research. You can shop for the items now here (stores.ebay.com/ozzfest)." Among the items for sale are a number of Black Sabbath and Ozzy t-shirts, as well as keychains, patches, seat cushions, hoodies, tote bags and polished aluminum drum sticks. - Billboard, 4/15/20...... Willie Nelson's virtual Farm Aid concert held during the second weekend in May raised more than $500,000 to support American family farmers and ranchers affected by the coronavirus crisis. Nelson performed at and hosted the hour-long live "At Home With Farm Aid" event on Apr. 11, along with his sons, Lukas and Micah Nelson. Thanks to a partnership with AXS TV, it featured at-home performances from Farm Aid co-founders Neil Young and John Mellencamp, and board member Dave Matthews. While the show itself was free to watch, Farm Aid says the event helped it cull relief fund donations from all 50 states, and 15 countries. It will use the dollars to offer family farmers and ranchers in need with emergency grants, as well as legal, financial and mental health support resources through its 1-800-FARM-AID hotline. - Billboard, 4/15/20...... The Grateful Dead have launched a new weekly livestream series where they'll stream some of their classic gigs. "Shakedown Stream" will share full concert recordings from the band's history every Friday, and began with a 1989 gig at the Rich Stadium in Orchard Park, New York, which was released in 2005 as live album Truckin' Up To Buffalo. Before every gig in the series, the band's archivist David Lemieux and historian Gary Lambert will hold a fan Q&A. "Shakedown Stream" will continue the following week with a showing of 1977's The Grateful Dead Movie, capturing the band's five-night residency in San Francisco in 1974, featuring never-seen-before footage. - NME, 4/12/20......
In a new interview with Tim Cridland's YouTube series The Greatest Music of All Time, Don McLean revealed that he isn't a fan of a lot of today's music, and some of it "makes you want to hang yourself." "The music doesn't mean anything," the "American Pie" singer told Cridland. "The music reflects the spiritual nature of the society. We have a kind of a nihilistic society now," McLean told the host. "No one believes in anything, no one likes anything, no one has any respect for anything much. The music shows that." Asked about his thoughts on today's hits on the radio and whether he believes music as a whole has deteriorated, McLean said that it "doesn't exist as far as I can see." "Music is not on the radio," McLean continued. "There's some form of music like sound, but it's not music to me. There was a show called Name that Tune back in the 1950s, and by the fourth note, they would say, "Oh, that's "Strangers in the Night.' There's nothing on the radio you can name in 20 notes, almost." He added that he felt many of today's catchy songs involving notes and choruses "repeated over and over again" end up becoming "drummed into your head or makes you want to hang yourself." But McLean said he still had faith in such songwriters as Paul Simon and Paul McCartney, who are still writing melodies." However, he claimed today's musical groups don't know how to write a melody...at all. "They have a lot of riffs. They're very cool and the records are great but they're not melodies and the lyrics are not about anything," McLean explained. "It's very vague and vacant." The full interview can be viewed on YouTube. - New Musical Express, 4/14/20...... Lee Konitz, a celebrated jazz saxophonist and last surviving member of Miles Davis "Birth of the Cool" sessions, died on Apr. 15 due to complications with COVID-19. He was 92. Born 1927 in Chicago, Mr. Konitz studied clarinet early on, then switched to alto, an instrument he mastered like no other. During his seven-decade career, Mr. Konitz recorded for such labels as Atlantic, Prestige, Polydor and Verve. And he was one of the last active musicians to have played all three ever Birdland clubs in New York City. He was also the subject of a biography, written by Andy Hamilton and published in 2007. - Billboard, 4/16/20.
Saturday, April 11, 2020
Sting participated in one of Jimmy Fallon's "classroom instrument concerts" on the Apr. 9 Tonight Show by playing guitar and shaker with Fallon, and members of Fallon's house band The Roots on a rendition of the Police's 1980 hit "Don't Stand So Close To Me." Sting took the center square in the virtual concert which also featured the sounds of hair picks, sneakers, wooden spoons and pot lids, along with some actual instruments (melodica, ukulele, bass and tuba) for the lively, totally unique version of the strangely prescient song. The "at home" version of "Don't Stand So Close to Me" has been shared on YouTube. - Billboard, 4/10/20......
Neil Young has reworked the video for his song "Shut It Down" from his latest album Colorado due to its poignancy during the coronavirus pandemic. "Shut It Down 2020" features clips from the original promo of Young and his backing band Crazy Horse performing the track at Colorado's Studio in the Clouds, interspersed with footage of people around the world in the midst of the health crisis. Among the scenes shown include hospital staff hard at work, people wearing face masks while venturing out in public, boxes of medical supplies being delivered in England, and empty New York City subway stations and streets -- cut together with footage of packed beaches in Florida. On the song, Young warns: "People tryin' to save this earth/from an ugly death/Have to shut the whole system down/all around the planet." In a statement accompanying the video, Young expressed his gratitude for those on the frontlines of the pandemic: "These are uncertain times. I wish you all the best as you care for our sick, the young and old who we love so much." Young says he was inspired by fans' messages requesting an updated video for the track, and was helped by actress wife Daryl Hannah. Young has been keeping busy while in self-isolation, serving up acoustic renditions of rare songs from his archives in his Fireside Sessions online series, shot by Hannah at their Telluride home. - WENN/Canoe.com, 4/10/20...... Songs by late revered singer/songwriter John Prine have been streamed more than 20 million times since his death due to coronavirus complications on Apr. 7, according to Nielsen Music/MRC Data. On Apr. 7-8, songs performed by Prine earned 20.8 million on-demand streams (audio and video) in the U.S., a surge of 1,297% compared to the previous two days. Prine's most-streamed song was "Angel From Montgomery," and on Apr. 8 his songs garnered more streams in one single day than they had in any other week previously. Interest in Prine's music had been on the rise since news of his hospitalization reached the masses on Mar. 29, when his streams began to log more than a million a day. Prine's songs and album sales have also surged with 57,000 copies, up 1,423% compared to the 4,000 sold April 4-6. Meanwhile, the entertainment website Consequence of Sound has announced a livestream tribute to Prine on Easter Sunday (Apr. 11). "Angel from Maywood: A Livestream Tribute to John Prine" will feature cover performances of Prine's catalogue from "friends, collaborators" including Norah Jones, Kevin Morby, Grace Potter and others. The tribute stream will begin at 6:00 pm GMT/2pm EDT on Consequence of Sound's Instagram page. On Apr. 8, Bruce Springsteen took over his SiriusXM E Street Radio show for one morning hour during which he played some of his favorite songs about hope, loneliness and solitude while sharing a few words of wisdom during our nationwide lockdown, also paying homage to the loss of Prine. "Over here on E Street we're devastated by the loss of John Prine," Springsteen said. "He was not only one of our country's greatest songwriters, a real national treasure, but a sweet and lovely man and I was proud to count him as my friend." His set also included some Jersey shore classics, including Bon Jovi's "Livin' on a Prayer," as well as Huey "Piano" Smith & the Clowns' "Rockin' Pneumonia and the Boogie Woogie Flu." The show ended with a song of remembrance and loss in honor of those who've passed during the COVID-19 pandemic, Sam Cooke and the Soul Stirrers' "The Last Mile of the Way." During the coronavirus lockdown Sirius is offering free streaming of Springsteen's and other channels through May 15. - Billboard/New Musical Express, 4/10/20...... During a virtual auction of Beatles memorabilia on Apr. 10 conducted by Julien's Auctions, Paul McCartney's handwritten lyrics for the Beatles classic "Hey Jude" sold for a whopping $910,000, well over its $160,000 estimate. The lyrics were used in studio for the recording of the No. 1 hit at London's Trident Studios in July 1968. In addition, the Beatles' Cow Palace concert drumhead sold for $200,000, a "BAGISM" drawing by John Lennon and Yoko Ono sold for $93,750, a "Hello Goodbye" music video shoot script page sold for $83,200, Ringo Starr's Abbey Road ashtray sold for $32,500, and the stage of the group's first performance sold for $25,600. Julien's staff accepted digital real-time bids via phone and online from remote locations. Meanwhile, Paul McCartney will be among the performers at an "One World: Together at Home" coronavirus benefit concert curated by Lady Gaga and hosted by US talk show hosts Jimmy Fallon, Jimmy Kimmel and Stephen Colbert on Apr. 18. The concert will be broadcast live across US television networks ABC, CBS and NBC, as well as being streamed online. Also performing will be Billie Eilish, Stevie Wonder, Elton John, Eddie Vedder, Billy Joe Armstrong, Keith Urban, John Legend, Lizzo and Alanis Morissette, among others. An adapted version of the concert will be broadcast on BBC One the following day featuring exclusive performances from UK artists and interviews with workers on the frontline. - Billboard/New Musical Express, 4/10/20......

Bob Dylan has scored his first-ever No. 1 song on a Billboard chart with his new hit "Murder Most Foul," a nearly 17-minute chronicle of the 1963 assassination of Pres. John F. Kennedy. "Murder Most Foul," released on Mar. 27, debuted at No. 1 on the Rock Digital Song Sales survey dated Apr. 11, selling 10,000 downloads in its first tracking week ending Apr. 2. Previously, Dylan had reached as high as No. 2 on the Hot 100 pop chart with "Like a Rolling Stone" (Sept. 4, 1965) and "Rainy Day Women #12 and 35" (May 21, 1966), along with a No. 2 best on the Adult Alternative Songs airplay chart with "Things Have Changed" (May 13, 2000). He also hit No. 2 on the Mainstream Rock Songs airplay list three times as part of supergroup Traveling Wilburys in the late '80s and early '90s ("Handle With Care," "End of the Line" and "She's My Baby"). In announcing the release of the piano ballad, Dylan said it was an "unreleased song we recorded a while back." It's the rock icon's first music released since his 2017 covers album Triplicate and his first original material since 2012's Tempest. Radio stations around the country say they have no qualms about playing the song, despite its 16 minutes and 54 seconds length. "It's an instant Dylan epic. We had no concerns about playing it at all," says WXPN program director Bruce Warren. "We play a lot of Dylan, and if a song is great, in our opinions, we'll play it no matter how long it is." - Billboard, 4/8/20...... In a lengthy Facebook post on Apr. 3, '80s hitmaker Christopher Cross revealed has been diagnosed with the coronavirus. "I'm sorry to report that I am among the growing number of Americans who tested positive for the COVID-19 virus," the five-time Grammy winner wrote. "Although I am fortunate enough to be cared for at home, this is possibly the worst illness I've ever had," he added. Cross pleaded with his fans to take the virus seriously and urged them to "make every attempt to stall the spread of the virus." "Wherever you are in the world, let's all be kind to one another," the "Sailing" singer/songwriter wrote. "Only if we work together can we defeat COVID-19." - Billboard, 4/3/20...... Black Sabbath guitarist Tony Iommi has revealed that he's been in touch with his longtime bandmate Ozzy Osbourne on a daily basis during the coronavirus-enforced lockdown. Speaking to the Birmingham Mail, the 72-year-old musician discussed his personal experience in dealing with the current crisis. "Neighbours have dropped a note through the door asking if I want any shopping," Iommi said of being stuck indoors at his home in Worcestershire. "They're looking out for the poor old sod!" Iommi added that he believes the social restrictions implemented to curb the spread of COVID-19 have in fact brought us all closer together. "I m even in touch with Ozzy every day as he gets over his own health problems in LA," Iommi said. - New Musical Express, 4/11/20...... Original Creedence Clearwater Revival drummer Doug "Cosmo" Clifford is releasing a new -- albeit 35-year-old -- solo album called Magic Window he says he recorded with friends while living in Lake Tahoe in the 1980s. Clifford says he got busy with other projects, including the "Neighbors For Defensible Space" initiative to deal with a drought about the same time, and the tapes were put away and moved to his current residence in Reno -- where he unearthed them last year in his garage. "I found all these two-track masters, about 10 of them, probably 100 songs with different artists," Clifford says. "I'm using myself as the first guy out of the shoot 'cause (Magic Window) was my best performance as a singer and a songwriter. It was a complete project for me; I wasn't just the drummer in the band. I was the artist and producer and all those other things." Magic Window will drop Apr. 24 and will be the follow-up to his 1972 solo effort Cosmo (his nickname), which he says he considers "an album for the sake of art... an experiment." Clifford, whose voice has been impacted by cancer treatments, says he has no plans to play live in support of Magic Window, but he does plan to dip into his stash of other recordings he found for eventual release, including some with Bobby Whitlock from Derek and the Dominos on vocals. - Billboard, 4/9/20......
The new Netflix series Ozark has helped send four classic hits by REO Speedwagon back to Billboard's rock charts for the week ending Apr. 11. The songs include "Keep on Loving You" (No. 10); "Can't Fight this Feeling" (No. 13); "Time for Me to Fly" (No. 15); and "Take It on the Run" (No. 16). "We are big fans of Ozark here in the Cronin house, and have been waiting patiently for Season 3," REO frontman Kevin Cronin wrote in a post on REO Speedwagon's official website. "The family will be snuggling up and going on a major Ozark binge this weekend. Be safe and take care." Meanwhile, REO's 1988 collection The Hits, which includes all four songs, has entered the Top Rock Albums chart at No. 49, up 85% to 4,000 equivalent album units. - Billboard, 4/8/20...... Blondie's Debbie Harry and Chris Stein have announced details of their rescheduled "In Conversation" UK tour, after it was postponed due to coronavirus. Harry and Stein say they will now tour in November 2020 instead of April as originally planned. Harry and Stein's tour includes discussions chaired by artist Rob Roth about the five decades of Blondie and their lives as artists and creative partners promised. "Each presentation has its own surprises with new stories," Roth said of the tour. "Plus special guests and previously unseen visuals." - New Musical Express, 4/8/20...... Iggy Pop has shared a previously unreleased version of "China Girl" from his upcoming The Bowie Years deluxe box set. Iggy's version of "China Girl" was originally the second single from his LP The Idiot before it was taken on by Bowie for 1983's Let's Dance. To mark the announcement, an alternate mix of Pop's "China Girl" has been shared on YouTube. The song was originally the second single from The Idiot before it was taken on by Bowie for 1983's Let's Dance. The Idiot and Lust For Life will also be released as standalone 2-CD deluxe editions, which come with bonus live CDs. These performance discs are Live at The Rainbow Theatre and TV Eye Live respectively. - New Musical Express, 4/11/20...... Paul Stanley of KISS has paid tribute to his "awesome" dad who turned 100 years old recently. In identical Twitter and Instagram posts, Stanley wrote alongside a photo of the two of them together: "MY DAD IS ONE HUNDRED YEARS OLD TODAY! He Is An AWESOME Man And I Am So Proud To Be His Son. We Can't Be Together Since It's Not Safe. I Love Him Dearly And Am Asking EVERYONE PLEASE WISH HIM HAPPY BIRTHDAY ON THIS MILESTONE. Thank You. (sic)" Stanley, 68, also recently promised to share his songwriting process with fans as he was going "a little bit crazy" self-isolating at home. "My plan tomorrow is to sit here, get a guitar, maybe tell you some stories, maybe show you how I wrote a song -- show you how I wrote 'Love Gun.' That could be interesting 'cause I need to connect with you 'cause I'm going a little bit crazy," he posted. - Music-News.com, 4/9/20...... Randy Newman has shared a performance video of himself playing "Stay Away," a new song he s written about self-isolating during the coronavirus crisis, on YouTube. Newman introduces his performance video by speaking about social distancing, saying "apparently there s some disease that's going around before telling people to wash their hands, not touch their faces and practice safe distancing techniques." Newman is then seen in the clip performing the jaunty "Stay Away" on his piano in his home studio, with lyrics including "stay away from me/ keep your distance, please and I'm gonna be with you 24 hours a day/ What a lucky man I am." In January, Newman cancelled the Australian and New Zealand legs of his "An Evening With Randy Newman" tour, citing a longer than expected recovery period from a recent hip operation. - NME, 4/9/20......
Willie Nelson will co-host the first ever online version of Farm Aid during the second weekend in April, featuring live-streamed performances by the likes of Nelson, Neil Young and Dave Matthews. "At Home With Farm Aid" will be streamed on Apr. 11 and hosted by Nelson and his sons, Lukas and Micah. Nelson, Young, Matthews and John Mellencamp will all perform remotely during the event, which is being staged as "a virtual show of support and solidarity for family farmers and ranchers." "Farm Aid is working hard to support farmers and ranchers in this difficult time," Nelson said in a statement. "We're making emergency grants to help with household and medical expenses. We're answering calls on our hotline. We're creating lists of resources and working with our partners to advocate for policies that build a more resilient food system for the future." The event will be available to watch as a free webcast stream on both the Farm Aid website and AXS. Meanwhile, Nelson is preparing to release his 70th solo album, First Rose of Spring, on July 3. - New Musical Express, 4/9/20...... British actress Honor Blackman, best known for playing the James Bond girl Pussy Galore in 1964's Goldfinger, has died at the age of 94, her family announced on Apr. 6. Ms. Blackman died of natural causes at her home in Sussex, southern England the family said in a statement to The Guardian newspaper. "As well as being a much-adored mother and grandmother, Honor was an actor of hugely prolific creative talent; with an extraordinary combination of beauty, brains and physical prowess, along with her unique voice and a dedicated work ethic," the statement said. "She achieved an unparalleled iconic status in the world of film and entertainment and with absolute commitment to her craft and total professionalism in all her endeavours she contributed to some of the great films and theater productions of our times," it added. In addition to her famous Goldfinger role, Ms. Blackman also appeared as Cathy Gale in The Avengers, a 1961 spy drama television series. Following news of her death, Bond producers Michael G. Wilson and Barbara Broccoli said Ms. Blackman was a "film icon." "Today we mark the passing of a film icon, Honor Blackman who shall forever be remembered as Pussy Galore in Goldfinger. She was an extraordinary talent and a beloved member of the Bond family. Our thoughts are with her family at this time," they said in a joint statement. - Reuters, 4/6/20...... Film and TV music producer Hal Willner, who worked many years on Saturday Night Live, has died apparently due to coronavirus complications, according to multiple reports. He was 64. Wilner worked on SNL as a music sketch music producer since 1981, and at the time of his death, he was working on a tribute album and documentary project on Marc Bolan and T. Rex, for which he enlisted contributions from U2, Elton John, Joan Jett and Foo Fighters, among others. - The Hollywood Reporter, 4/7/20...... Veteran actor Allen Garfield died on Apr. 7 due to coronavirus complications. He was 80. The New Jersey-born star appeared such famous '70s films as The Conversation, The Candidate, The Stunt Man and Nashville. "RIP Allen Garfield, the great actor who played my husband in Nashville, has died today of Covid; I hang my head in tears; condolences to family and friends; I will post more later; cast and crew, sending love," Mr. Garfield's Nashville co-star Ronee Blakley wrote on Facebook. Known for playing nervy characters, his most famous role came as Bernie Moran in Francis Ford Coppola's paranoid 1974 thriller The Conversation about a surveillance expert, played by Gene Hackman, who finds himself in the middle of a murderous conspiracy. Mr. Garfield suffered a stroke while preparing to appear in Roman Polanski's 1999 thriller The Ninth Gate, and suffered another one in 2004 that confined him to residing in the Motion Picture Country Home and Hospital in Woodland Hills, Calif. - WENN/Canoe.com, 4/8/20...... Willie Wilkerson, who was briefly engaged to Aretha Franklin during 2012 and was an integral part of her touring entourage, died on Apr. 8 in a suburban Detroit hospital from complications of COVID-19. He was 72. With Franklin, Wilkerson was a devoted companion who, in addition to their personal time, organized the sheet music for her orchestras, took care of side-stage and backstage operations such as outfit changes, and serving as a de facto backup bodyguard. He also made a cameo appearance in Franklin's video for "Jimmy Lee," a single from her 1986 album Aretha. - Billboard, 4/10/20.
Wednesday, April 8, 2020

Critically acclaimed singer/songwriter John Prine, a legend in the Americana music scene and two-time Grammy winner, died on Apr. 7 in Nashville due to complications from coronavirus. He was 73. Prine's family first revealed his coronavirus diagnosis on Mar. 29, posting to social media that he had been hospitalized for several days and his condition was "critical." His wife, Fiona, gave an update April 2, stating that he was still "very ill," yet she remained "hopeful." Born on Oct. 10, 1946 in Maywood, Ill., Prine learned guitar from his father at an early age and played the Chicago coffeehouse circuit while employed at the post office. He graduated from the Chicago folk scene with the help of his friend and production cohort Steve Goodman (who penned Arlo Guthrie's hit "The City of New Orleans"), and Paul Anka helped him secure a recording contract after liking some of Prine's Hank Williams-influenced songs. Prine traveled to Memphis in 1971 to cut his self-titled debut LP which featured a memorable track called "Sam Stone," a bleak drug-addicted Vietnam vet's saga that aptly demonstrated the singer's laconic, drawling delivery. Though commercial success eluded him, other artists began recording his songs, including the Everly Brothers ("Paradise"), and Joan Baez and Bette Midler, who both covered "Hello in There." A 1975 album, Common Sense, shocked his folk-oriented fans with hard-rock rhythms and a gutteral singing style. The Goodman-produced Bruised Orange in 1978 returned him to a more acoustic style, and the 1979 album Pink Cadillac saw him experimenting with electric rockabilly and was produced by Memphis legend Sam Phillips and his son at Sun Studios.
German Afternoons, Prine's second album for the Oh Boy Records label he formed in 1983, was more countryish and was nominated for a Grammy for Best Contemporary Folk Recording. Prine released a live album, John Prine Live, in 1988 and won a Best Contemporary Folk Grammy for his 1991 effort The Missing Years, which was produced by Tom Petty and the Heartbreakers bassist Howie Epstein and featured contributions from Petty, Bruce Springsteen, and Bonnie Raitt, who had been covering Prine's "Angel from Montgomery" in concert for years. He made his movie acting debut in 1992 with a small role in John Mellencamp's Falling from Grace. In 1998, doctors removed a cancerous tumor from his throat, taking some of his neck which left him permanently slumped. Prine was honored by the Recording Academy as their 2020 lifetime achievement award recipient and was inducted into the Songwriters Hall of Fame in 2019, where he and Raitt performed "Angel From Montgomery." Highly regarded within the Americana scene, he was named artist of the year by the Americana Music Association in 2017. His last release was 2018's The Tree of Forgiveness, his first set of new music since 2005's Grammy-winning Fair & Square. Prine is survived by his wife, Fiona Whelan Prine, and three sons, Jack, Tommy and Jody. Among those offering tributes to Prine was Bruce Springsteen, who posted to Twitter: "Over here on E Street, we are crushed by the loss of John Prine. John and I were 'New Dylans' together in the early 70s and he was never anything but the lovliest guy in the world. A true national treasure and a songwriter for the ages. We send our love and prayers to his family." - Billboard/Rolling Stone Encyclopedia of Rock, 4/8/20.
Monday, April 6, 2020
A group of about 30 middle-aged Pink Floyd fans in New Jersey defied local police on Apr. 4 by holding an impromptu "corona street party" and playing hits by the famous prog-rock band on a front lawn in Rumson. Two guitarists on a lawn reportedly started up the show, which assembled about 30 aging fans of the classic British rock band in the middle of the street. "Some even brought lawn chairs," the police department said in a good natured account of the incident on Facebook, even though they were treated with obscenities from the fans. "As the old saying goes, in the midst of all this chaos, the band still played on, that is until they were advised in the middle of the 1975 classic 'Wish you were here', that they must stop the show," the department posted. The department even included the iconic cover of the band's Dark Side of the Moon album in its initial social media report. In a subsequent Facebook post, the department said it is "following up with an investigation and charges are pending." - DailyMail.co.uk, 4/5/20......

James Taylor will serve as the "mega mentor" on Season 18 of the reality talent series The Voice, it was revealed on Apr. 6. Taylor will join coaches Kelly Clarkson, John Legend, Nick Jonas and Blake Shelton to mentor the artists remaining from the "Battle Rounds," and prepare each team for the Knockout Rounds, which will begin on Apr. 13 at 8 p.m. EST/PST. Taylor, who recently scored a Top 10 chart position with his latest album American Standard, will also help coach and rehearse with the four artists that were saved by their individual coaches during the Battle Rounds for the first-ever "Four-Way Knockout." - Billboard, 4/6/20...... Stevie Wonder is urging his fellow musicians to keep the legacy of late singer/songwriter Bill Withers alive by "recording one of his song on their projects." "Obviously, it's another heartbreak," Wonder told Billboard as he reflected on the death of Withers, who passed away on Mar. 30 of heart complications. "It seems like we're having them one after the other," referring to the recent deaths of such popular entertainers as Wallace Roney, Ellis Marsalis Jr., Alan Merrill, Adam Schlesinger and Joe Diffie, owing to the coronavirus. Wonder, who helped induct Withers into the Rock & Roll Hall of Fame in 2015, added that "we've got to show a lot of love to his wife and children and keep the legacy of what he left behind going ever strong... I think every artist at some point should record one of his songs on their projects. That's how you keep it going. He deserves that." - Billboard, 4/4/20...... Actress Rita Wilson will host a TV benefit special in honor of late country music star Kenny Rogers. CMT Giants Kenny Rogers: A Benefit For MusiCares will feature several of Rogers' friends and collaborators, including Dolly Parton, Lionel Richie, Vince Gill, Michael McDonald, Rascal Flattsand Lady Antebellum. The special will premiere on U.S. cable network CMT on Apr. 8, with "Hip Hop Hooray (Remix)" available on Apr. 10. Rogers died on Mar. 20 at the age of 81, and Wilson says it's "an honor to be hosting CMT GIANTS Kenny Rogers and to share in an evening of Kenny's songs with so many iconic artists...[his] impact has been indelible." Wilson, 63, appears to be on the road to recovery after she and husband Tom Hanks tested positive for coronavirus after traveling to Australia in March. On Mar. 4, Wilson sang the National Anthem during NASCAR's iRacing Pro Invitational Series Race in a pre-recorded video. - Music-News.com, 4/6/20...... Elton John announced on Apr. 5 that he's launching a new $1 million emergency fund to protect those who have HIV during the COVID-19 epidemic. The fund has been made available by Elton's nonprofit Elton John Aids Foundation, and is currently open to applications. "Today, I m proud to announce that my Foundation @EJAF is launching a $1million COVID-19 Emergency Fund to make sure that our frontline partners can respond to the effects of COVID-19 on HIV care for the most marginalised communities around the world," John posted to Twitter on Apr. 4. "For almost 30 years my foundation has prioritised the most vulnerable people to HIV, to end the AIDS epidemic and we re committed to this during the COVID-19 crisis too," he added. Meanwhile, Elton is also among a number of high-profile music stars taking part in a video posted on Twitter in which celebrities thanked Britain's National Health Service (NHS) frontline workers for their efforts battling the coronavirus. Superstar celebrities including John, Paul McCartney, Mick Jagger, Kate Winslet and Jude Law joined the leaders of NHS England to thank the people fighting to keep Covid-19 victims alive in hospitals and care facilities. Elton kicked off the lovefest by stating, "You are our heroes and we salute each and every one of you. Thank you." There were also videotaped messages from the likes of Daniel Craig, David Beckham, Kylie Minogue, Bill Nighy, Chris Martin, Ray Winstone, Kit Harington, Robbie Williams, Naomi Campbell, Claudia Schiffer, Benedict Cumberbatch, Boy George, Ricky Gervais, Michael Caine and Eddie Redmayne, who all shot their personal salutes from self-isolation as the pandemic continues. - New Musical Express/Music-News.com, 4/5/20......

Singer/actress Marianne Faithfull, who famously dated Rolling Stones frontman Mick Jagger from 1966 to 1970 after scoring her first breakout hit with the Keith Richards and Andrew Loog Oldham composition "As Tears Go By" in 1964, is currently hospitalized with the COVID-19 disease. "Marianne is being treated for COVID-19 in hospital in London. She is stable and responding to treatment, we all wish her well and a full and speedy recovery," her manager, Francois Ravard, told Billboard on Apr. 5. Faithfull's friend, Penny Arcade, says Marianne is "not on a ventilator," but in an earlier post, revealed she had been in contact with Faithfull's ex-husband, John DunbarL, who told the singer "can barely speak." "She has withstood and survived so much in her life - including being Marianne Faithful (sic), that to be taken down by a virus would be such a tragedy," Arcade wrote. "I spoke to her last week and she was hiding out from the virus but she has caregivers..." Faithfull, who was also close with the Beatles and sang backing vocals on their 1966 classic "Yellow Submarine," later suffered from anorexia and drug addictions, and was homeless for a time. She released her 22nd studio album, Negative Capagility, in 2018. - WENN/Canoe.com, 4/5/20...... Meanwhile, the wife of legendary singer/songwriter John Prine, who has been in intensive care for several days after contracting COVID-19, posted a new update on his condition on Apr. 3. "This is John's 8th day in ICU. He is receiving excellent medical care and being treated with kindness and compassion by the entire team looking after him day and night. I cannot be with him which makes this nightmare all the more distressing," Prine's wife Fiona posted. Prine, 73, is currently on a ventilator, has pneumonia in both lungs, and "still needs quite a bit of help with his breathing. He has also developed "peripheral issues that are being treated with meds, including antibiotics," according to Fiona. - New Musical Express, 4/4/20...... In a new intervew with Britain's ITV News that has been shared on YouTube, Queen guitarist Brian May said he believes humanity will learn some great lessons from the coronavirus pandemic. "It's a very hard time for everyone," he said. "This is a tragedy. But there are things to be grateful for. There's a lot of people who are in terrible times, and we're gonna lose a lot of people. It might be me, since I'm an elderly and vulnerable person. But, you know, it's not all bad -- there are good things to look forward to, and this is only for now." May added that "there are joys to be found in isolation... people are getting very creative" and that "When we come out of this, I think there will be some great lessons we have learned. I hope we remember the lessons that we've learned -- that we can work from home, the cars can stop, the planes can stop, the air can get clear. I mean, suddenly we can all breathe again. That's gonna save countless lives. There's no animals being knocked down on the roads anymore, and our wildlife rescue is experiencing a tremendous difference." - New Musical Express, 4/4/20...... In an interview with Entertainment Tonight Live, Ozzy Osbourne's daughter Kelly Osbourne revealed that she and the Osbourne clan almost made a return to television in 2020, but due to the coronavirus pandemic it was put on hold. "This year actually, this is the closest we've ever come, but due to this pandemic, everything is on hold," she told ET Live. "Asked why now would be a good time for the rock 'n' roll family to return, Kelly said: "Jack's got kids, we're grown up. There's another generation of us and I think it's just a retrospective showing where we are now, versus where we [were]. I think people really want to see it." The original series, which starred Ozzy and wife Sharon Osbourne, and children Jack and Kelly, aired from 2002-2005 and paved the way for personality-driven reality TV shows. In related news, Sharon Osbourne recently revealed on her show The Talk that her 36-year-old eldest daughter, Aimee, went under the knife on Mar. 29 to remove her appendix and, although the surgery was a success and she's now recuperating, Sharon was devastated she couldn't be with her because the current coronavirus pandemic prevented her from being able to visit her in hospital. "We've been fine. I mean, you know compared to a lot of people, we're doing just fine. But yesterday, Aimee was taken into hospital. She had an emergency operation to remove her appendix. So, just the worst time to be in a hospital. She's fine, she's fine now, thank God. She's out of pain, and she's recuperating." - NME, 4/3/20...... On Apr. 1, David Bowie's son Duncan Jones used an April Fool's Day to trick fans into thinking an animated series about his late father was in the works. The filmmaker took to Twitter to seemingly confirm that Aardman Animations, the studio behind Wallace and Gromit, had developed a new Bowie TV programme. "Incredibly excited today to be able to announce the release of the FIRST EPISODE of the @aardman animation& BOWIE TV SERIES!," Jones wrote on Twitter before linking to a YouTube video. Upon clicking the URL, his followers were met with the classic "RickRoll'd clip." Jones also attached a mock-up of the would-be plasticine Starman, which reimagines Aardman's Wallace as Bowie's Ziggy Stardust moniker. "This is a very bad and mean joke because THIS WOULD BE PERFECT," said one follower. Another added: "You are literally the only person who could get away with this. You git!" - New Musical Express, 4/1/20......

Blondie frontwoman Debbie Harry tells ES magazine that she kicked her old drug habit that included heroin addiction without going to rehab to get clean because she simply got tired with the effort it took to source the narcotics. "Drugs are a funny thing. The thing that drove me away from taking them was having to acquire them and what a drag that was," Harry says. "It was kind of a full-time occupation and a waste of time. It became unpleasant. Luckily for me I was able to handle the withdrawal," she added. These days Harry, 74, says she's much more health-conscious, working out twice a week and eating a diet of "mainly raw foods" but she thinks getting older is "horrible." Asked if she's happier now than she was in her 20s, she said: "There's [still] some dissatisfaction and hopelessness. It varies by the day." Debbie has never married but she is still "very much" active on the dating scene, though she's struggling to find the "really chemical" attraction she's looking for. Asked if she dates, she said: "Very much so. There are less men around for people my age, though. They're all married with children. What's wrong with them? I think what's going on, there's more extra-marital relationships and maybe that is the right way. I'm looking for something really chemical." - Music-News.com, 4/2/20...... Veteran Canadian actress/activist Shirley Douglas, the mother of actor Kiefer Sutherland and daughter of Canadian medicare founder Tommy Douglas, died from complications surrounding pneumonia. She was 86. Kiefer Sutherland announced his mother's death on Twitter on Apr. 5, saying she succumbed to complications surrounding pneumonia -- but not related to COVID-19 -- on Sunday morning. "My mother was an extraordinary woman who led an extraordinary life," said Sutherland. "Sadly she had been battling for her health for quite some time and we, as a family, knew this day was coming." A native of Weyburn, Sask., Ms. Douglas worked with famed directors including Stanley Kubrick (Lolita) and David Cronenberg (Dead Ringers), and won a Gemini Award for her performance in the 1999 TV film Shadow Lake. Her other screen credits included the film Nellie McClung, in which she played the title role of the famed Canadian activist. Other TV series in which she appeared included Street Legal, Road to Avonlea, Corner Gas, Degrassi: The Next Generation and Robson Arms. She also tirelessly supported a variety of causes throughout her life, including the civil rights movement, the Black Panthers and the fight to save public health care, pioneered by her politician father. In the '60s and '70s, while living in California, Ms. Douglas campaigned against the Vietnam War and protested for various politicial and social causes, and helped to establish a fundraising group called Friends of the Black Panthers. In 1965, Ms. Douglas married Canadian actor Donald Sutherland, with whom she had two children before they divorced -- twins Rachel, a production manager, and Kiefer, who became a film and TV star in his own right. Ms. Douglas also had another son, Thomas, from a previous marriage. Canadian Prime Minister Justin Trudeau was among the dignitaries offering condolences on the news of her passing. "Shirley Douglas was a tremendous talent, a tireless advocate, and a fearless activist who never stopped fighting for what she believed in," he wrote on Twitter. "Her passing is a true loss for our country." - Canadian Press/Canoe.com, 4/5/20.
Saturday, April 4, 2020
Bill Withers, a Grammy-winning singer/songwriter who recorded a string of understated folk/soul hits in the '70s and '80, died on Mar. 30 in Los Angeles from heart complications. He was 81. Mr. Withers, somewhat of a late bloomer in the music scene, scored his first hit, "Ain't No Sunshine," at age 33, followed by other memorable classics including "Grandma's Hands," "Lean on Me," "Use Me," "Lovely Day" and "Just the Two of Us" with Grover Washington Jr. Born on the Fourth of July, 1938, in Slab Fork, W.V., Mr. Withers worked as a mechanic before moving to Los Angeles and taking a job in an aerospace factory. He wrote several demos which got no response and was considering giving up music until he met Memphis musician Booker T. Jones in 1970, who produced and played on Mr. Withers' debut LP on Sussex Records, Just As I Am, the following year using several members of Jones' Booker T. & the MGs as well as Stephen Stills. That album contained the Top 5 single "Ain't No Sunshine," which went gold in 1971 and was awarded a Grammy for Best R&B Song. Mr. Withers then made his performing debut in L.A. and released a followup single, "Grandma's Hands," which went to No. 42 pop/No. 18 R&B and has since been recorded by a number of singers. His 1972 album, Still Bill, was recorded with members of the Watts 103rd St. Rhythm Band and even more successful, containing the pop and R&B chart-topping "Lean on Me," "Use Me" (No. 2 pop & R&B), and "Kissing My Love" (No. 12 R&B). Mr. Withers released two more R&B chart hits, "Let Us Love" and "Friend of Mine," and recorded two more albums for Sussex before signing with Columbia Records in 1975, where he recorded six more albums with mixed success, although 1977's Menagerie became his second gold album and contained the No. 30 pop hit, "Lovely Day."

Mr. Withers sang on The Crusaders' Rhapsody in Blue album, then on Grover Washington Jr.'s 1980 LP Winelight, which featured the No. 2 pop/No. 3 R&B "Just the Two of Us," one of that year's most popular singles. That song won a Best R&B Song Grammy in 1982, and he took home his third Grammy in the same category in 1988 for Club Nouveau's cover of "Lean on Me." After recording another single, "U.S.A.," he basically retired form recording until releasing 1985's Watching You Watching Me, although he continued to tour occasionally. Mr. Withers was a staunch proponent of creative freedom, and at one point destroyed the masters for an album in a standoff with Sussex Records. His legacy only flourished since his '70s and '80s heyday, with the likes of Barbra Streisand, Mick Jagger, Aretha Franklin, Paul McCartney, Maroon 5, John Mayer, Tupac Shakur and John Legend either covering or sampling his songs. In 1985, he was inducted into the Rock & Roll Hall of Fame by Roots drummer Questlove, who noted Mr. Withers was "the closest thing black people have to a Bruce Springsteen." His other honors include a Songwriters Hall of Fame induction in 2005, ASCAP's Rhythm & Soul Heritage Award in 2006. In 2009, he was the focal point for the critically acclaimed documentary Still Bill. A 9-album box set, The Complete Sussex and Columbia Albums, was released in 2012 and won a Grammy for Best Historical Recording. Mr. Withers was married twice, the first time to film and TV actress Denise Nicholas and his second wife, Marcia, who manages his publishing companies, and their two children, Todd and Kori. "We are devastated by the loss of our beloved, devoted husband and father," his family said in a statement to AP. "A solitary man with a heart driven to connect to the world at large, with his poetry and music, he spoke honestly to people and connected them to each other." - Rolling Stone Encyclopedia of Rock/Billboard, 4/2/20.
Wednesday, April 1, 2020
An all-star "living room" concert organized by Elton John on Mar. 29 has raised nearly $8 million to battle the coronavirus. Sir Elton, along with such top performers as Tim McGraw, Dave Grohl, Mariah Carey, and Green Day's Billie Joe Armstrong performed from their homes for the hourlong event that aired on Fox and iHeartMedia radio stations. John, looking dapper in a royal navy jacket and matching blue shirt, kicked off the live broadcast with an uplifting message to viewers. "Here we are, all together at home. You've got your family and loved ones, and I've got mine close too... We're taking care of each other through this crisis," the five-time Grammy winner said. "Let me tell you what's going to keep us together: All the goodness that's happening in the world. There's doctors, nurses and scientists on the front lines. They're living proof that most superheroes don't wear capes," explained John. "And since we're all hunkered down together, until those days greet us again, we thought we'd put together a little show for you... For the next hour, we'll do what we can to lift your spirits... say hi and tell you we love you," he added. Proceeds from the concert, which took place during the time slot that was to belong to the iHeartRadio Music Awards, will go to Feeding America and First Responders Children's Foundation. YouTube is currently streaming the concert on iHeartRadio's YouTube Channel. - AP/Billboard, 3/31/20......
The Material World Foundation, the charity set up by late Beatles guitarist/singer/songwriter George Harrison in 1973, has donated $500,000 to a series of charities providing much needed aid and care during this coronavirus pandemic. On Mar. 26, the foundation announced that it donated the funds to the MusiCares COVID-19 Relief Fund, Save the Children, and Medecins Sans Frontieres (Doctors Without Borders). The Beatles official YouTube page shared the following lyrics from the band's 1968 non-album single "The Inner Light": "Without going out of my door, I can know all things of earth/ Without looking out of my window, I could know the ways of heaven." George's widow, Olivia Harrison, noted that the lyrics "are a positive reminder to all of us who are isolating, quarantined or respecting the request to stay in our homes." "Let's get and stay connected at this difficult time. There are things we can do to help and we invite you to share your Inner Light," Olivia added. She then issued an "Inner Light Challenge," saying the Material World Foundation will donate a further $1 (up to $100,000) for every person who shares their own "Inner Light" moment on social media using the hashtag #innerlight2020. "This can be a verse, a chorus, or a line from the song, sing it, play it, hum it, strum it, paint it, knit it, chant it, plant it, pray or meditate and post it to social media," the statement revealed. George and Olivia's son, Dhani Harrison, also shared his own "Inner Light" moment on YouTube. - New Musical Express, 3/28/20...... Meanwhile in other Beatles-related news, a London municipal crew has repainted the Abbey Road crossing made famous by the cover of the Beatles' 1969 album of the same name, while the city is under lockdown to stem the spread of coronavirus. The pedestrian crossing was designated a site of national importance by the British government in 2010. This means it can only be altered with the approval of the local authorities which would make a decision based on the site s historic significance, function and condition, according to Reuters. - New Musical Express, 3/28/20...... Elsewhere on the Fab Four front, John Lennon's son Julian Lennon has told Observer magazine that he felt "cast aside" when his dad embarked on a relationship with Yoko Ono in the late Sixties. "He and Yoko Ono were deeply and publicly in love. And I felt as if my mum and I had been cast aside," said Julian, now 56. But Julian felt grateful that his dad's bandmate, Paul McCartney, didn't "forget" about him. "Not everyone forgot about us, though. Paul wrote 'Hey Jules' after dropping in to check how my mum and I were doing. (Obviously, the title of the song changed to Hey Jude)." Lennon said that "maybe 10 years passed during which my dad and I barely spoke. I was very angry about how he left the family" but that his mother, Cynthia Lennon helped him to have conversations with his dad. "She was such a gentle soul, never vindictive in any way, shape or form. She always wanted me to have a relationship with him." Julian said he still strives for "forgiveness and understanding" towards his late father and holds his memory "dear," though he can't "forget" John's behavior towards Cynthia. He said: "I try to remember my dad as fondly as possible. I strive for forgiveness and understanding in that area of my life, for the difficult times he put my mum and me through. I loved her more than anything and can't forget how poorly he treated her.... Even now, almost 40 years after he died, I hold my father's memory dear." - Music-News.com, 3/30/20......
Queen + Adam Lambert announced on Mar. 31 they the upcoming European leg of Queen's Rhapsody Tour would be postponed until summer 2021 due to the continued spread of the coronavirus throughout the world. Queen guitarist Brian May said it was a difficult decision, but added that he was glad to see that fans would still get to see the show they paid for, just one year later. "In the present crazy state of the world, it cannot be a surprise to our fans. Those incredible scenes at our concerts just over a month ago now seem like an impossibly distant dream," he said. "The good news is that we do now have a Plan B ready to roll. If you hold on to your tickets they will be valid for the rescheduled shows. God willing, we will be there with bells on!," May added. Queen's tour had been set to launch May 24 in Italy, stretching through the summer and ending July 7-8 with two shows in Madrid. In other Queen-related news, the English prog-rockers' famous 1975 track "Bohemian Rhapsody" has been refashioned as "Coronavirus Rhapsody" with lyrics about the current state of our world. The track, with new lyrics by Dana Jay Bein and vocals by Adrian Grimes is just meant to be "some humor to see us through the COVID-19 crisis," according to the description of the video, which has been shared on YouTube. "Is this a fever?/ Is this just allergies?/ Caught in a lockdown/ No escape from the family..." the parody begins. - Billboard, 3/31/20...... As Queen's "Bohemian Rhapsody" is parodied, the UK's Official Charts Company has compiled the most popular coronavirus quarantine songs. Topping the list is Gerry and the Pacemakers track "You'll Never Walk Alone," which has become the unofficial anthem of solidarity through the current pandemic. The song has seen a 150% increase in streams, and was also played in tandem across a host of radio stations across the UK in the fourth week of March. Coming in second is the all-too-appropriate "Locked Up" by Akon, while The Police's "Don't Stand So Close To Me" is the third most popular. Also in the top 10 is "Reach" by S Club 7, while the R.E.M. tracks "Everybody Hurts" and "It's the End of the World as We Know It" also made the list, as did John Lennon's "Imagine." - New Musical Express, 3/30/20...... Dolly Parton announced on Apr. 1 that she is donating to $1 million to Nashville's Vanderbilt Hospital for ongoing research for a a coronavirus cure. The beloved country star shared on Twitter that her longtime friend and Vandy medical researcher Dr. Naji Abumrad informed her that his team has been "making some exciting advancements towards research of the coronavirus for a cure" and that she hopes her $1 million donation will "encourage people that can afford it to make donations." Dolly also recently announced that she'll be taking part in a new bedtime stories video series Goodnight With Dolly, where the country singer will read bedtime stories to viewers. Meanwhile, Parton's fellow country icon, singer/songwriter John Prine, remains in critical condition after being hospitalized on Mar. 26 with complications from coronavirus. Prine's wife, Fiona, says her 73-year-old husband's condition is "stable," however that was not the same as "improving." "This is hard news for us to share. But so many of you have loved and supported John over the years we wanted to let you know, and give you the chance to send on more of that love and support now," said Fiona. Prine has been on tour across the world recently, though had to cut short a recent Australian tour due to a hip injury. The pandemic has also forced Ozzy Osbourne to cancel his planned trip to Switzerland in early April to undergo the week when many Americans first self-quarantined and other non-essential outlets business closed across the country. "We had to cancel our trip to Switzerland. We were meant to go on the eighth of April for his treatment, but we had to cancel for his treatment," Ozzy's wife Sharon Osbourne said on Mar. 30 on CBS' The Talk. "We're just hanging in like everybody else, you know? Just trying to stay away and be quiet and just hold it in there. I honestly find this such frightening times. I just think it's a really, really frightening time to be alive." - Billboard/NME, 4/1/20......
In a new interview with the UK's The Independent newspaper, Van Morrison said he's been "getting a bit lazy" being at home during the coronavirus pandemic, but he's "trying to get back into writing" during the lockdown. "I was supposed to be doing six gigs in London, so I went from touring to basically just being at home. I am trying to get back into writing," said the 74-year-old Belfast native. Morrison will release a book of his lyrics, Keep 'Er Lit: New Selected Lyrics, on Apr. 14 and says that most of his back catalog of song lyrics is poetry. "Some of my works are just straight poetry, some could be a song or a poem and some are poetry with a music back-up, like 'On Hyndford Street', which was based on my early days, listening to my father's record collection and Radio Luxembourg," Morrison says. "I have a book of Cole Porter's songs and his lyrics are just poetry. I don't think there is a lot of difference," he added. - Music-News.com, 3/31/20...... According to Billboard, album sales have fallen to their lowest in 60 years in the US as the coronavirus pandemic continues to affect the music industry. The equivalent of 1.52 million albums were sold during the week of Mar. 19 according to the music trade publication, which is the lowest album sales have dropped since the mid-1960s. Physical sales of albums have been impacted by the closure of record shops to co-operate with lockdown and social distancing measures, although many are still selling stock online. Amazon has also stopped stocking vinyl to make room for more essential products. Meanwhile, the annual Record Store Day, which traditionally provides a boost of sales to the music industry, has been postponed from April 18 to June 20 because of coronavirus. The global crisis has also seen drops in streaming numbers, with analytics provider Alpha Data revealing figures that show a 7.6 percent drop in streams in the US in the week of Mar. 13-19, the week when many Americans first self-quarantined and other non-essential outlets business closed across the country. - NME, 3/28/20...... David Byrne has written an opinion piece on the coronavirus pandemic on his "Reasons To Be Cheerful" website, calling it an "opportunity to learn how to change our behavior." "It's ironic that as the pandemic forces us into our separate corners, it's also showing us how intricately we are all connected," the former Talking Heads frontman wrote. "It's revealing the many ways that our lives intersect almost without our noticing. And it's showing us just how tenuous our existence becomes when we try to abandon those connections and distance from one another. Health care, housing, race, inequality, the climate... we're all in the same leaky boat," he added. Byrne said that "What is happening now is an opportunity to learn how to change our behaviour," he continued. "For many of us, our belief in the value of the collective good has eroded in recent decades. But in an emergency that can change quickly.... We might be too far down the road to test every asymptomatic person, but a change in our mindsets, in how we view our neighbours, could lay the groundwork for the collective action we ll need to deal with other global crises. The time to see how connected we all are is now." - New Musical Express, 3/28/20......
In a new interview with Mojo magazine, Art Garfunkel said he has always worried that his voice is "too feminine." "I worry that it's too damn sensitive. It's too fragile," the former Simon & Garfunkel star admitted. "What's a man doing being so... feminine, so perfect, gilding the lily on all those notes. Is that manly?" Garfunkel added: "I never knew how to take this joy of singing in the alleyways at seven, nine, 12 years old and see it vocationally. I was never able to go there. I was sure that I'd have to ultimately find a profession; I'm going to be a teacher or something." Garfunkel also said he was attracted to how well his former partner Paul Simon played guitar: "I knew I could sing, but if Paul is available to tilt the singing in to all these harmonies, it's more interesting. And then he played guitar magnificently, never forget that. I was very attracted to how good Paul plays acoustic guitar. He's wonderful - rhythm and subtleties and accents. Charlestons and syncopations fall into place." - Music-News.com, 3/27/20...... Alan Merrill, the co-writer and singer of the original version of the rollicking song "I Love Rock 'n' Roll" later made famous by Joan Jett & the Blackhearts, died on Mar. 29 from COVID-19, according to his daughter Laura. He was 69. The New York native spent time in Japan and the U.K. throughout his music career before forming the Arrows in 1974 in London. They released singles including "Touch Too Much," "My Last Night With You" and "I Love Rock 'N' Roll," which he wrote with guitarist Jake Hooker in 1975. Merrill was lead vocalist on the Arrows' original "I Love Rock 'N' Roll," but the song went on to be recorded and released by Joan Jett & the Blackhearts, the version that climbed to No. 1 on the Billboard Hot 100 pop chart in 1982. Although the Arrows split in the '70s, Merrill later joined the band Runner and worked with such artists as Rick Derringer and Meat Loaf. He released several albums as a solo artist, with 2019's Radio Zero being the most recent, and was playing live shows in New York up through March of this year. - Billboard, 3/29/20.
Friday, March 27, 2020
Def Leppard released a 5-disc compilation of their original albums from 1979-1981, The Early Years 79-81, in remastered versions with rarities and re-mix versions, on Mar. 20. Vocalist Joe Elliot and bassist Rick Savage say they assembled the collection to celebrate the 40th anniversary of their major-label debut, 1980's On Through the Night. In addition to featuring remasters of that album and 1981's High 'n' Dry, the set includes the group's first studio recording, alternate song takes, B-sides and live recordings. "The bottom part of an Apollo rocket gets you off the ground and moves you into another stratosphere, but then it just pulls away and it's gone," Joe Elliot noted about the band's motivation for compiling the new set. "Music's not like that because people can always go and revisit your history. So we dressed it all up in a physical box with a book and included things people never have heard before," he added. Def Leppard is hoping to treat their fans to several tracks from the collection with a stadium tour with Motley Crue with guests Poison and Joan Jett that is tentatively set to begin on June 18 in Jacksonville, Fla. - Billboard, 3/27/20......

Jackson Browne revealed to Rolling Stone magazine on Mar. 24 that he has tested positive for the coronavirus. Browne, 71, said he immediately sought out testing when he developed a cough and started running a fever. Browne did test positive, however he downplayed the severity of his illness. "My symptoms are really pretty mild, so I don't require any kind of medication and certainly not hospitalization or anything like that," he said. Browne said he is pretty certain he picked up the virus on his recent trip to New York for the Love Rocks NYC benefit, which moved forward on Mar. 12 as planned but, for the first time, live-streamed and with no audience because of early coronavirus cautions. "Now I wish I hadn't gone to New York and done this benefit," he admitted. The 2004 Rock and Roll Hall of Fame inductee also encouraged young people to take part in the global response to stop the spread by avoiding unnecessary contact with people. "So many people that have it aren't going to be tested," he said. "They don't have symptoms, but they might have it and might be able to pass it on... you have to assume you have it." - Billboard, 3/24/20...... In related news, Bruce Springsteen is offering hope for those suffering from COVID-19, especially in his native New Jersey, by supporting the launch of New Jersey's Pandemic Relief Fund. "These are uncertain times," Springsteen says in a new video posted on YouTube announcing the fund on Mar. 24. "What is for certain is the pain, the fear, and the real needs of many of our neighbors, our friends, and certainly all of those who are on the front lines of this pandemic." The Boss also confirmed he and his family have been doing their part to stop the spread of the virus: "We are practicing social distancing; we are staying at home." Also appearing in the video are Jon Bon Jovi, Danny DeVite, Whoopi Goldbert, Jon Stewart and Stephen Colbert, among others. - Billboard, 3/24/20...... Fleetwood Mac's Stevie Nicks says that pop sensation Harry Styles is inspiring her to write new music as she listens to his new album, Fine Line, to get through the pandemic crisis. Nicks posted a message to her fans on Mar. 23 urging them to remain positive as coronavirus continues to spread: "Dear Everyone, I know you are doing everything you can to help the situation we are all in. I am staying in with my Goddaughters and my assistant Karen and all our dogs -- Lily, Luna and Mana -- trying to think of creative things to do. I am getting all my paintings and drawings out listening to music (mostly Harry Styles 'Fine Line') and being inspired by him to write some new songs and poetry. Way to go H. it is your 'Rumours'." Nicks added: "My advice for all this free time and terrible news is just dance, this will pass, love will find a way, it always does." - New Musical Express, 3/23/20...... Organizers of the 2020 Rock and Roll Hall of Fame induction ceremony announced on Mar. 24 that the ceremony has been moved from May 2 to Nov. 7 due to the coronavirus. The annual ceremony will still take place in Cleveland and honor acts including the Doobie Brothers, T. Rex, Nine Inch Nails, Depeche Mode, Notorious B.I.G. and Whitney Houston. The event will broadcast live from the city's Public Auditorium at 8 p.m. ET on HBO, marking the first time the ceremony will be broadcast in real time on the network. - Billboard, 3/24/20......
Former The Commodores member and '80s solo hitmaker Lionel Richie says he's considering a new version of "We Are The World" to raise money for the fight against coronavirus. Although Richie said he wasn't expecting to mark the 35th anniversary of the charity track which raised over $63 million in humanitarian aid for Africa in 1985, he now believes that the pandemic has made WATW's message "so clear" once again. "Two weeks ago, we said we didn't want to do too much [about the song] because this is not the time to sell an anniversary, he said... But the message is so clear," Richie explained. He also singled out the significance of WATW's chorus line: "There's a choice we're making, we're saving our own lives." Richie added that he is currently at home, self-isolating with his own family. "We are all hunkered down. Family is the key to this. It is the soother," he explained. Meanwhile, the estate of Michael Jackson, who contributed to the original WATW song, has announced that the Jackson estate will be donating $300,000 (£252,000) to coronavirus response efforts. The donation will be split between the Recording Academy's MusicCares charity, the Three Square Food Bank in Las Vegas, Nevada, and New York's Broadway Cares initiative, with each receiving $100,000 (£84,000). Jackson estate co-executors John Branca and John McClain said the recent death of Cameroonian musician Manu Dibango, whose work helped inspire Jackson's hit "Wanna Be Startin' Somethin'," prompted them to make the donation on behalf of the late King of Pop. "Michael's spirit of generosity and helping others during his lifetime is legendary," the executors added. "These donations are inspired by him." - New Musical Express, 3/23/20...... Elton John announced on Mar. 25 that he will host an all-star benefit special aimed at providing some relief and entertainment for Americans locked down in their homes during the coronavirus pandemic. Fox Presents the iHeart Living Room Concert For America will be a one-hour, commercial-free special airing in the slot originally intended for the 2020 iHeartRadio Music Awards on Mar. 29 from 9-10 p.m. EST -- and on iHeartMedia radio stations nationwide, as well as on the IHeartRadio app. Joining Elton in celebrating the nation's resilience in fighting the COVID-19 virus will be the likes of Billie Eilish, Alicia Keys, Green Day's Billie Joe Armstrong, Mariah Carey, Tim McGraw and Backstreet Boys, among others. The performances will be filmed on the singers' personal cell phones, cameras and audio equipment in order to ensure the health and safety of the participants in this period of social isolation. Fox will offer the event across all its linear and digital platforms, with additional details and performers to be announced soon. - Billboard, 3/25/20......

Two surviving members of '70s New Wave icons The Knack have provided a new take on their No. 1 1979 hit single "My Sharona" by uploading a video to YouTube on Mar. 25 called "Bye Corona." "Some people have asked whether we were going to get around to doing our own 'Sharona' corona parody song, because apparently, there aren't enough of them," Knack lead guitarist Berton Averre mused about the catchy hit that has inspired countless parodies and sung by late Knack frontman Doug Fieger (who died in 2010 after a battle with cancer). "Sadly, our lead singer is no longer with us and trust me, you don't want to hear me croak it out," said Averre, who added he had a better idea and decided to show fans a close-up "instruction video" of the song's guitar solo. Averre masterfully delivers the solo, before Knack bassist Prescott Niles joins him (virtually) for the chorus, where they proclaim: "Bye, corona!" The Knack said they will be donating the recent bump-up of "My Sharona" digital streaming royalties to the Music Heath Alliance (MusicHeathAlliance.com). - Billboard, 3/25/20...... Queen guitarist Brian May has been teaching fans how to play a number of the band's classic tracks on guitar via live-stream from his home. May launched a series he dubbed "MicroConcerto" earlier in March as many continue to self-isolate amid the ongoing coronavirus crisis, writing: "In my living room at home where else?! I seem to have most all my usual channels to entertain you & so maybe here on [Instagram] is the place to perform micro concerts across the ether. Is that a good plan? Responding to fans' requests for tracks, May then offered up tutorials on how to play "Bohemian Rhapsody" and most recently "Keep Yourself Alive." Speaking of his own experience of tackling the current crisis, May said: "I'm taking the whole self-isolation thing very seriously as I think you have to. I think everybody has to cut down on their social interactions as much as they can in order for us to stand a chance of keeping this virus in check.... Be safe and let's be grateful we have a chance here... let's still try to enjoy each day we're given." - NME, 3/25/20...... Rolling Stones guitarist Ronnie Wood is also sharing advice for recovering addicts who are self-isolating during the coronavirus crisis. In a post on Twitter, Wood -- who has been sober since 2010 -- has given advice to any recovering addicts unable to make rehab meetings or keep good practices going while self-isolating at home. In the video, Wood holds up the book Keep It Simple: Daily Meditations for Twelve-Step Beginnings and Renewal, which he calls "one of my books that help me get through every day and proceeds to read a passage from." "I will share my hope for the future with myself, my higher power, and my friends," Wood read. "I will also share this with someone who has lost hope. Now, if anything, we have tended to be people who have wanted it all now. To hope is not to demand. Maybe we were a bit demanding. Maybe we were a bit impatient. Maybe that's why we had such little hope. Hope is believing good will come, even in bad times; hope is knowing that this too shall pass," he added. The Rolling Stones recently announced they were forced to postpone their upcoming "No Filter" tour dates due to the pandemic. - NME, 3/25/20......

Bob Dylan shared a previously unreleased song he composed about the assasination of Pres. John F. Kennedy. The rock bard shared "Murder Most Foul" on YouTube on Mar. 27, a powerful retelling of JFK's last moments on earth, his gruesome assassination and the complicated world of the early '60s. In the almost 17-minute track, Dylan sings: It was a dark day in Dallas, November '63. The day that will live on in infamy. President Kennedy was a-riding high, good day to be living and good day to die." The rock icon seems to currently be in a sharing mood, also adding a message to the new track: "Greetings to my fans and followers with gratitude for all your support and loyalty over the years. This is an unreleased song we recorded a while back that you might find interesting. Stay safe, stay observant and may God be with you." - Billboard, 3/27/20...... As Aerosmith frontman Steven Tyler celebrated his 72nd birthday on Mar. 26, his fellow rocker Alice Cooper wished him a happy birthday in shock-rock fashion by posting a message on Twitterf linging knives at a printed picture of Tyler's face while his own song "Go to Hell" track plays in the background. Throwing knives is Alice's well-known pre-show ritual, and his precision only zeroes in on his affection for Tyler. "Please help me wish a very happy birthday to the Demon of Screamin' - @IamStevenT!," Cooper captioned the 20-second clip on Twitter. Tyler retweeted all his idiosyncratic birthday well wishes, including those from Slash, Def Leppard, Bon Jovi lead guitarist Phil X, and others. - Billboard, 3/26/20...... The Eagles have rescheduled their "Hotel California" tour dates due to the oronavirus outbreak. The band will resume the tour in September with a two-night stand at the Pepsi Center in Denver on Sept. 18 and 19, followed by three nights in L.A. at the Forum (9/25, 26, 29); two nights in San Francisco (10/2, 3); two nights in St. Paul, Minn. (10/16, 17); one night in Dallas on Oct. 21, and wrapping with two nights in Phoenix on Oct. 24 and 25. The band will play the entirety of their 1976 hit album Hotel California with an accompanying orchestra and choir. The performances will also include an additional set of the band's greatest hits. - Billboard, 3/26/20...... David Byrne announced on Mar. 24 that he is adapting his stage play "American Utopia" for the printed page. The former Talking Heads frontman says he's collaborating with the author and illustrator Maira Kalman, who worked on the Broadway show. The book, also called American Utopia, will be published Sept. 8 by Bloomsbury. "Here is the hope and joy that I believe emanates from this show turned into something you can hold in your hand," Bynre said in a statement. - AP, 3/24/20......


The Library of Congress announced on Mar. 25 that songs and albums from '70s artists Village People ("Y.M.C.A"), Glen Campbell ("Wichita Lineman"), Tina Turner (Private Dancer, album) and Cheap Trick (Cheap Trick at Budokan, album) will be among 25 aural treasures as worthy of preservation in the National Recording Registry. The new slate of 25 recordings spans 1920-2008 and brings to 550 the total number of titles preserved under terms of the National Recording Preservation Act of 2000 in conjunction with the Library's Packard Campus for Audio Visual Conservation to ensure availability for future generations. Under the terms of the National Recording Preservation Act of 2000, the Librarian, with advice from the Library of Congress' National Recording Preservation Board, is tasked each year with selecting 25 titles that are "culturally, historically or aesthetically significant" and at least 10 years old. - Billboard, 3/25/20...... The writers of The Simpsons say that Paul McCartney always checks that Lisa Simpson is still a vegetarian every time they run into him, after it became a key condition of his guest appearance on the show in 1995. Sir Paul, with then wife and staunch vegetarian Linda McCartney, guested on The Simpsons in the episode "The Vegetarian," In a new interview with the UK's Radio Times, show consultant David Mirkin -- who is also a vegetarian -- said he was "happy to comply with McCartney's request," but admitted that every time he bumps into the former Beatle, Macca always checks. "And he's always surrounded by nine or ten lawyers so it's quite frightening," Mirkin says. This comes as The Simpsons arrives on Disney+ this week, as the streaming service launches in the UK. The Walt Disney Company is also set to release a new Beatles documentary from Lord of Rings director Peter Jackson, The Beatles: Get Back. - New Musical Express, 3/24/20...... Bill Rieflin, the current drummer of prog-rockers King Crimson has passed away at the age of 59, following a long battle with cancer. King Crimson frontman Robert Fripp announced the news on his Facebook profile and said himself and his wife Toyah Wilcox -- who Bill worked with on her project The Humans -- received a phone call from the late star's wife Tracy from their home in Seattle to let them know he had sadly lost his fight with the disease. In a touching tribute, the 73-year-old Fripp said his life was made "immeasurably richer" for knowing Rieflin. As well as King Crimson, Rieflin had most recently played with R.E.M and Ministry, whilst in the 90s he worked for the late Chris Cornell, Nine Inch Nails, and many more. In 2012, the versatile musician played drums on Robbie Williams' LP Take The Crown. - Music-News.com, 3/25/20.
Sunday, March 22, 2020
Country star Dolly Parton has shared a tearful message on Twitter following the death of her "true friend" and collaborator Kenny Rogers on Mar. 20 at the age of 81. "Well, I couldn't believe it this morning when I got up and turned on the TV, checking to see what the Coronavirus was doing," she says in the clip she shared on Saturday morning. "And they told me that my friend and singing partner, Kenny Rogers, had passed away. I know that we all know that Kenny is in a better place than we are today, but I'm pretty sure he's going to be talking to God some time today, if he ain't already, and he's going to be asking him to spread some light on a bunch of this darkness going on here." The pair first teamed up on 1983's smash (and Billboard Hot 100 No. 1) "Islands in the Stream," and proceeded to record several duets together, their last being 2013's "You Can't Make Old Friends." "I loved Kenny with all my heart," she continues. "And my heart is broken. A big ol' chunk of it has gone with him today. I think that I can speak for all his family, his friends and fans, when I say that I will always love you."

Also remembering his good friend -- and fellow Texas native -- is Eagles co-founder Don Henley. In a statement provided to Billboard, Henley reflected on how Rogers was "a wise mentor to so many of us," and the impact he had on his own musical journey. "Fifty years ago, The Gambler took a gamble on me and my first band from small-town Texas, and his big-hearted support launched many careers, including mine," he wrote. "He also gave me some of the best career advice I ever got: 'You'd better be nice to the people you meet on the way up, because you're going to meet those same people on the way back down.'" Henley concluded that "He fought the good fight for as long as he could, but he was tired, and he was ready to make his exit. I'm just grateful that I got visit with him in the hospital, about six weeks ago, and convey my gratitude to him for all he did for me. RIP, my friend. Thanks for all the gladness you gave us." Before Henley rose to fame with the Eagles, he was in a band called Shiloh. Rogers not only signed the act (to Amos Records) shortly after meeting them in 1969, but produced its first album and brought them to Los Angeles, where Henley met Glenn Frey and his future bandmates. - Billboard, 3/21/2020...... In a newly published John Entwistle biography from rock journalists Paul Rees and Thomas Judd, the late The Who bassist recalls how the Beatles used to sing explicit lyrics live as their fans' deafening screams drowned them out during the heyday of Beatlemania. "It became apparent that The Beatles had figured that since the screaming couldn't be stopped and no one out front in the audience could possibly hear a thing, then they might as well have some fun," Entwistle is quoted in The Ox: The Last of the Great Rock Stars. "Soon, the four of us were crying with laughter at words they were singing and which only we were able to pick up on, 'It's been a hard day's c**k...' 'I wanna hold your c***...'," he added. The Who once opened for the Beatles in Blackpool in 1964. Meanwhile, surviving Who members Roger Daltrey and Pete Townshend have announced that their UK and Ireland tour will now take place in March 2021, after it was delayed by coronavirus. The Who were due to begin their latest arena tour on Mar. 16 at the Manchester Arena, including a special gig at London's Royal Albert Hall on Mar. 28 as part of the annual Teenage Cancer Trust shows. The shows will now take place in March 2021, and original tickets will still be valid. - Music-News.com/NME, 3/20/20......
With his extremely nosy pup by his side, Neil Diamond performed a fireside digital sing-along of his 1969 hit "Sweet Caroline" to help comfort those concerned about the coronavirus pandemic on the evening of Mar. 21. "I know we're going through a rough time right now, but I love ya," the singer/songwriter said, as he shared the performance on Twitter. "I think, maybe if we sing together, well, we'll just feel a little bit better. Give it a try, okay?" Diamond then played "Sweet Caroline," giving its beloved lyrics a new twist encouraging safety precautions and social distancing. Instead of "hands, touching hands," Diamond sang "hands, washing hands," and "reaching out / Touching me, touching you" then became "reaching out / Don't touch me, I won't touch you." One refrain stayed the same, though: "Good times never seemed so good." - Billboard, 3/22/20...... Meanwhile, director Baz Luhrmann posted on Twitter on Mar. 20 that he plans on suspending production of his new Elvis Presley biopic indefinitely due to the global pandemic. "All going well, we have a passionate conviction to be back here on the Gold Coast, picking up where we left off as soon as the time is right," Luhrmann wrote. "In fact, we are not even taking our sets down, simply locking up the creative space over the next few days. We all agree that right now this is the right time for people all over the world, from all walks of life, to be at home, indoors, with their loved ones (washing our hands five times a day)," he added. Principal photography on the movie, which stars newcomer Austin Butler as Presley, Maggie Gyllenhaal as Presley's mother Gladys, and Tom Hanks as Presley's manager Col. Tom Parker, was due to start in late March. Hanks and his wife Rita Wilson posted on Instagram on Mar. 11 that they have tested positive for coronavirus and will remain "isolated for as long as public health and safety requires." - Billboard, 3/20/20...... In related news, Wonder Woman actress Gal Gadot has led a star-studded rendition of John Lennon's "Imagine" as coronavirus continues to spread across the globe. In a video posted to Instagram, Gadot began singing Lennon's seminal track, before the likes of Will Ferrell, Natalie Portman, Lynda Carter, Norah Jones, Jimmy Fallon, Maya Rudolph and Jamie Dornan joined in to lift spirits. Gadot explained that she had been in isolation for six days, and that the global spread of the disease had left her feeling "philosophical." She added that she was inspired by a viral video from Italy -- which remains in lockdown -- showing a man playing Imagine on his trumpet while his neighbors sang along from the safety of their homes. She captioned the video: "We are in this together, we will get through it together." Gadot's rendition of "Imagine" comes as radio stations across Europe including the BBC have joined forces to simultaneously to play Gerry & The Pacemakers's stirring 1963 song "You'll Never Walk Alone" in a show of solidarity against the virus. The song also was broadcast at the same time, 7:45 am GMT on Mar. 20, on hundreds of radio stations in countries across Europe including Luxembourg, Germany, Austria, Belgium, Bulgaria, Finland, Latvia, Slovakia, Romania and Spain. - New Musical Express, 3/18/20......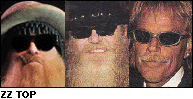 Two classics from ZZ Top have reached the Billboard Hot Rock Songs chart dated Mar. 21 following the release of a new ZZ Top documentary, ZZ Top: That Little Ol' Band from Texas. The Texas trio's "La Grange" collected debuted at No. 12 with 1.4 million U.S. streams, up 16%, and sold 2,000 downloads, a boost of 85%, according to Nielsen Music/MRC Data. Additionally, "Sharp Dressed Man" bowed on the same chart at No. 14, with 1.6 million streams, up 13%, and 1,000 sold, up 42%. The track hit No. 8 on the Mainstream Rock Songs airplay chart and No. 56 on the Hot 100 in 1983. Originally premiered in a limited theater run in 2019 (the 50th anniversary of the band's founding), ZZ Top: That Little Ol' Band from Texas received a home video and digital release on Feb. 28, including on Netflix. - Billboard, 3/19/20...... Posting on his own social media profiles on Mar. 18, Rolling Stones frontman Mick Jagger says the band is "raring to get back on stage" when it's safe to do so. "To everyone who has got tickets to the No Filter Tour, I'm sorry the shows have to be postponed but staying healthy is everyone's priority right now," Sir Mick posted. "We are raring to get back on the stage and as soon as that's possible we will be there! Keep your eyes on RollingStones.com for the latest updates. Stay safe, Mick," he added. The legendary group were due to kick off the the US leg of the tour on May 8 at San Diego's SDCCU Stadium, and conclude at Atlanta's Mercedes-Benz Stadium on July 9. - Music-News.com, 3/18/20...... David Crosby has been keeping busy during the coronavirus outbreak by taking to social media to rate his fans' attemps at rolling a joint. Earlier in March, Crosby tweeted Jeffrey Guterman, telling him "Jeff & I need to show you how to roll a joint after Guterman posted a picture of one of his efforts." Following this, fans from all around the world responded by sending the Byrds and Crosby, Stills & Nash legend pictures of their own creations and soon after, Crosby started to review the attempts. "Looks like a snake who swallowed a bowling ball, and "crumbled and puny," he tweeted to one fan. "Nice work, I would smoke that," he said to another. "It's a calling, Crosby later said of his online reviews system before adding: "I was born to do it." - New Musical Express, 3/19/20......

Also helping to keep his fans entertained during the coronavirus self-isolation is Bruce Springsteen, who shared his London Calling: Live In Hyde Park show in its entirety for free at bspringsteen.lnk on Mar. 17. "Stream 'London Calling: Live In Hyde Park' from the comfort of your own home, now on YouTube & Apple Music in its entirety for the 1st time!," the Boss wrote, before directing fans to a link to the show. The London Springsteen and the E Street Band gig took place on June 28, 2009 as part of the Hard Rock Calling festival at London's Hyde Park. A DVD of the gig was released the following year. - New Musical Express, 3/18/20...... Actor Stuart Whitman, whose Hollywood career spanned five decades, passed away on Mar. 16 in Montecito, Calif. He was 92. Known for his rugged roles and handsome charm, Mr. Whitman was famous for starring in several Westerns alongside John Wayne. He was nominated for an Oscar in 1962 for his leading role in The Mark, and on the small screen starred in the Cimarron Strip Western series as well as having roles on Knots Landing and Murder, She Wrote. Mr. Whitman had reportedly been in and out of the hospital lately due to skin cancer that seeped into his bloodstream. Mr. Whitman, who was married three times, is survived by his current wife, Julia Vadimovna Paradi, and five children from previous marriages. - PageSix.com, 3/17/20.
Saturday, March 21, 2020
Country/pop superstar Kenny Rogers, who charted two pop No. 1's and 20 country chart toppers in the 1970s and 1980s, died of natural causes under the care of hospice in Georgia on Mar. 20. He was 81. "Kenny passed away peacefully at home from natural causes under the care of hospice and surrounded by his family," a representative for the singer said in a statement. Mr. Rogers, who earned three Grammys with a string of sleekly tailored hits with his appealing, sometimes gritty voice, was also inducted into the Country Music Hall of Fame in 2013 and received a Lifetime Achievement Award from the Country Music Association the same year. Born in 1938 and raised in Houston, Mr. Rogers was the fourth of eight children in a poor family and as a teen would sometimes perform with another aspiring local musician, Mickey Gilley. While in high school, he formed a rockabilly group, the Scholars, who recorded for the local Carlton Records label. After a brief stint at the University of Houston, he played bass with the jazz groups of Bobby Doyle and Kirby Stone. After moving to Los Angeles in 1966, he joined the folk-pop unit the New Christy Minstrels, then he and three members (Mike Settle, Terry Williams and Thelma Camacho) founded the rock-leaning group The First Edition in 1967. That group charted two top-10 pop hits: "Just Dropped In (To See What Condition My Condition Was In)" (No. 5, 1968), a version of Mickey Newbury's slice of pop psychedelia, and "Ruby, Don't Take Your Love to Town" (No. 6, No. 1 U.K., 1969), Mel Tillis' downbeat song about the faithless wife of a crippled Vietnam vet. As The First Edition's fortunes began to wane, Mr. Rogers signed a solo deal with United Artists Records in 1976 and had almost immediate success with "Lucille," about a barroom encounter with a disillusioned woman and her estranged husband. The number became Mr. Rogers' first No. 1 country hit and reached No. 5 on the national pop chart. It also scored Mr. Rogers his first Grammy, for best male country vocal performance. He notched five more No. 1 solo country singles by the end of the decade.

The biggest of these were the Grammy-winning "The Gambler" (also No. 16 pop in 1978) and Mr. Rogers' biggest hit, the backwoods narrative "Coward of the County" (also No. 3 pop in 1979). They pushed the albums The Gambler and Kenny to No. 12 and No. 5, respectively, on the pop album charts. Each inspired a popular TV movie in which Mr. Rogers portrayed Brady Hawkes, protagonist of The Gambler, in a series of five telepics that ran through 1994. On the heels of a No. 1 greatest hits set in 1980, Mr. Rogers moved increasingly into pop terrain and focusing on romantic balladry, with "Lady" and "Islands in the Stream" (the latter one of many duets with frequent partner Dolly Parton) solidifying his standing as country's biggest crossover artist. As the "countrypolitan" style began to fall out of favor, "Make No Mistake, She's Mine," a duet with fellow country star Ronnie Milsap, became Mr. Rogers' next-to-last No. 1 country single in 1987. It also scored a Grammy for best country vocal duet performance. Mr. Rogers had sporadic releases on Capitol Nashville and Warner Bros. Nashville in the new millennium, but produced no major hits. However he maintained a busy touring schedule and increasingly turned his attention to various entrepreneurial enterprises, opening a chain of fast-food chicken outlets, Kenny Rogers Roasters, and a Sprint car manufacturing firm, Gamblers Chassis. In 2012, Mr. Rogers released a memoir, Luck or Something Like It, and announced his retirement in Sept. 2015, not long after a widely aired commercial for Geico insurance saw him reprising "The Gambler" for comedic effect. Married five times, Mr. Rogers is survived by his last wife Wanda and five children. Due to the national COVID-19 emergency, the family announced that it is planning a small private service at this time with a public memorial planned for a later date. - Variety.com, 3/21/20.
Tuesday, March 17, 2020
The Rolling Stones announced on Mar. 17 that they're canceling their 15-date North American No Filter Tour due to the global coronavirus pandemic. In a statement, the band said that they are "hugely disappointed" and "sorry to all the fans who were looking forward to it as much as we were, but the health and safety of everyone has to take priority," adding that "we will all get through this together -- and we'll see you very soon. The tour had been set to launch on May 8 in San Diego and wrap on July 9 in Atlanta. Meanwhile, the previous day Elton John postponed the U.S. leg his Farewell Yellow Brick Road tour, with shows from Mar. 26-May 2 have been pushed to 2021. David Lee Roth announced the same day he's postponing the last six shows of his Las Vegas residency, with Alice Cooper postponing his planned spring 2020 headlining North American tour that was slated to run from Mar. 31-Apr. 22 until the fall. On Mar. 12 Styx said they were rescheduling concerts from Mar. 13 to Mar. 28, and the Allman Betts Band canceled the rest of their scheduled shows in March. Saying she was "heartbroken... but the health of my fans comes first," Cher said on Mar. 12 will be postponing the remainder of her ABBA-inspired "Here We Go Again Tour" with new dates from September to December, and organizers of the 2020 Rock and Roll Hall of Fame induction ceremony in Cleveland announced they will be postponing the ceremony until a later date. Also, the 2020 Record Store Day in the U.K. in which hundreds of vinyl and cassette releases were to be sold exclusively through independent record shops for one day only (Apr. 18) has been postponed, which will affect up to 230 independent record shops. - Billboard/NME, 3/17/20......

In related news, '70s disco queen Gloria Gaynor has shared a clip on Instagram calling on people to wash their hands to her classic 1978 break up anthem "I Will Survive" in a bid to combat coronavirus. Gaynor took to Tik Tok to inspire others to properly wash their hands with soap and water for at least 20 seconds by indulging in the action herself. "It only takes 20 seconds to SURVIVE!," she captioned her video, which has already gone viral. Gaynor's clip prompted several Instagram users to post their own clips of themselves washing their hands to the track, which Gaynor has commented on by writing: "I love that people are taking part in the #iwillsurvivechallenge to #washyourhands and are duetting with me on @tiktok. Stay safe and healthy everyone! Wash your hands often every day for 20 seconds or more." - New Musical Express, 3/13/20...... Meanwhile, Neil Young is doing his part to help entertain homebound fans during the emergency by streaming a series of shows filmed by his wife, actress Daryl Hannah. "Because we are all at home and not many are venturing out, we will try to do a stream from my fireplace with my lovely wife filming," Young posted on his Neil Young Archives site. "It will be a down-home production, a few songs, a little time together... we will be soon be announcing the first one right here at NYA in the Times." Young has yet to reveal when the series will begin, but in the meantime, he's also streaming a massive list of premieres of archival films for his NYA subscribers, including Shut It Down, a documentary on the making of his Colorado LP, on Mar. 17. Other debuts are slated on a daily basis through the end of March. Also, Young and My Morning Jacket singer Jim James took part in a digital rally for Democratic presidential candidate Sen. Bernie Sanders on Mar. 16. The online-only Bernie 2020 Digital Rally came one day ahead of voters going to the polls in Arizona, Florida and Illinois. - Billboard, 3/17/20...... While the coronavirus outbreak might have put a damper on Ozzy Osbourne's touring plans in 2020, he and his wife Sharon Osbourne are set to appear in the Mar. 17 episode of ABC's sitcom The Conners. In the episode, titled "Beards, Thrupples and Robots," Ozzy and Sharon guest as themselves alongside leading stars John Goodman, Laurie Metcalf, Sara Gilbert, Lecy Goranson and Michael Fishman. It is said that Sara Gilbert's relationship with Sharon from their time co-starring on the morning show The Talk could lead to some cheeky inside jokes. - Billboard, 3/12/20......

ABBA member Bjorn Ulvaeus has told the Financial Times newspaper that the quartet's forthcoming "comeback tracks" were actually recorded back in 2018. "We recorded them quite some time ago, actually one-and-a-half years ago," Ulvaeus says. Ulvaeus, 74, partnered with a new software program called "Session," which registers contributions to recordings in real time and as a result, it can be used to resolve issues relating to music rights. However, Ulvaeus says "Session" wasn't used for recording the upcoming ABBA songs "because it wasn't quite ready." In February, the group announced they were "aiming" for a September 2020 release for their first new tracks in 35 years. In a clip shared by fan site ABBA Talk, ABBA's Benny Andersson was asked what has happened to the songs that have been promised for such a long time. In his native Swedish, he replied: "They're coming. They're coming this year. I'm guessing after the summer. But I can only guess, because I'm not really sure. But I would think so." Asked if they will be out in 2020, he added: "One shouldn't promise anything but if I were to decide myself, it would be September... I can't make that decision alone. But that's what we're aiming for." - Music-News.com, 3/15/20...... Sales and streams of Talking Heads music have seen a bump after the band's former frontman David Byrne performed on the Feb. 29 episode of NBC's Saturday Night Live. In all, the band's songs drew 5.7 million U.S. on-demand streams in the tracking week ending Mar. 5, a boost of 36%, according to Nielsen Music/MRC Data. Additionally, Talking Heads earned 6,000 equivalent album units, a boost of 50%, with 2,000 of those via album sales. And on the digital download side, it racked up 7,000 song downloads, up 245%. Leading the way on a song level with 2,000 downloads was "Once in a Lifetime," which Byrne performed on SNL while promoting his "American Utopia" show, which after a multi-city tour also enjoyed a Broadway run that will continue this fall. "Psycho Killer" also saw gains, though its rise also came concurrent with its appearance in a trailer for Amazon Video's new series Hunters. With 1,000 downloads, the song debuted at No. 21 on Billboard Rock Digital Song Sales. - Billboard, 3/13/20...... A builder in the U.K. could be about to secure a £2,000 payday after finding the sketches Paul McCartney commissioned for his "psychedelic" piano in a dumpster. Oldham resident Andy Clyne, 54, says he was leading a team at a mill near Manchester in 1999 when he noticed the papers had been thrown out with other waste. After taking them out of the skip, Andy stored the papers in his loft for 20 years before recently deciding to get them valued. The sketches of the Sir Paul's "psychedelic" piano, which was designed in 1967 and he still plays in concert to this day, will now go under the hammer at Omega Auctions on Mar. 24, where they are expected to reach £2,000. "I've had them for 20-odd years. You put things away and forget about them and then something triggers your mind," Clyne said. "I haven't planned what I'll do with the money yet but I was surprised about the value... I Googled 'Paul McCartney's piano' and when I looked at the drawing it was very similar." Meanwhile, a sidewalk performer in London says McCartney tipped her guitar case while she was performing in the city on Mar. 11. Charlotte Campbell says she was performing outside Charing Cross station in the center of the capital when the Beatles legend approached her and tossed some coins her way. "I was absolutely speechless," Campbell told the Evening Standard, when Sir Paul approached her, but she nevertheless managed to thank Macca as he walked away. "When he looked up it was Paul McCartney, like actually Paul McCartney and I was so shocked because I am such a huge fan of the Beatles," Campbell says. "They are such an inspiration I think to any musician ever -- the Beatles are the ultimate -- and to see Paul McCartney and for him to be putting money in my guitar case I was so speechless." - New Musical Express, 3/16/20......
Lyle Waggoner, best known as a member of Carol Burnett's comedic troupe in The Carol Burnett Show in the late Sixties and early Seventies, died at his home in Los Angeles on Mar. 17 after battling an illness. He was 84. The handsome, tall Mr. Waggoner began as an announcer on Burnett's show in 1967, and stayed on with the sketch show through 1974. Some of his most notable sketches include being interrogated by a Nazi and his finger puppet and playing a love-lorn man in "As The Stomach Turns," a slave master in "The Oldest Man," Olympian Mark Spitz to Burnett's Charo, and an alien known as the Jolly Green Thing, in addition to be regularly gushed over by Burnett during her Q&A segments at the beginning of the show. His very first TV role was in Gunsmoke in 1966, and also guested on such series as Lost in Space, Marcus Welby, M.D., The Barbara Eden Show and Maude. Mr. Waggoner also made history by being the first male centerfold in Playgirl magazine, in 1973. After Burnett's show, Mr. Waggoner portrayed Colonel Steve Trevor, Jr. on the 1975 Wonder Woman series, on which he starred for four years, then appeared on such series as Charlie's Angels, Happy Days, Mork & Mindy and The Golden Girls. In 2017, he appeared on CBS' 50th anniversary special for The Carol Burnett Show. In the late 1970s, while still very active as an actor, he launched Star Waggons out of Sylmar, Calif., a company that specializes in leasing custom trailers to studios and production companies for location work. - Variety.com, 3/17/20...... Keith Olsen, a legendary rock producer known for working with a number of rock music icons including the Grateful Dead, Santana, Pat Benatar, Whitesnake, Rick Springfield, Ozzy Osbourne and the Scorpions, among others, died on Mar. 9 at his home in Genoa, Nev., it was announced on Mar. 13. He was 74. Most notably, Olsen produced Stevie Nicks and Lindsey Buckingham's 1973 collection Buckingham Nicks. After Olsen played one of the songs for Fleetwood Mac drummer Mick Fleetwood, Nicks and Buckingham were soon asked to join Fleetwood Mac. Olsen then produced the band's self-titled, chart-topping 1975 album, which included classics like "Rhiannon," "Say You Love Me" and "Landslide." - Billboard, 3/13/20.
Thursday, March 12, 2020
"How Long," a classic No. 3 song from 1975 by the British band Ace, has finally topped a Billboard chart thanks to its use in a new ad for Amazon Prime. "How Long" entered the music industry magazine's Rock Digital Song Sales chart for the week ending Mar. 14 after selling 4,000 downloads, a surge of 2,059%. "How Long" also garnered 831,000 U.S. streams (up 30%) and has placed No. 19 on Billboard's Hot Rock Songs tally. Written and sung by versatile Ace vocalist Paul Carrack, the song was taken from Ace's 1975 LP Five-A-Side (an Ace album). Formed in 1972, Ace released three albums in the mid-'70s prior to disbanding in 1977. Carrack later went on to subsequent success with both solo hits and collaborations with Squeeze and Mike + The Mechanics. - Billboard, 3/11/20......

The Who's Roger Daltrey issued a statement on Mar. 12 announcing the band would be postponing their upcoming UK tour dates following the global outbreak of coronavirus. "After serious consideration, it is with much regret that The Who have postponed their U.K. tour, due to start next Monday March 16 in Manchester at the Manchester Arena and finishing at Wembley SSE Arena on April 8," Daltrey wrote. "The dates will be rescheduled for later in the year. All tickets will be honoured. The fans safety is paramount and given the developing coronavirus concerns, the band felt that they had no option but to postpone the shows as a precaution," he added. Daltrey's bandmate Pete Townshend added that the Who "haven't reached this decision easily, but given the concerns about public gatherings, we couldn't go ahead." The band also said it will be canceling its Mar. 28 charity gig and London's Royal Albert Hall which benefits the Teenage Cancer Trust, with plans to reschedule that show also. A total of 11 shows will be affected by the postponement of the tour, which had been slated to kick off on Mar. 16 at The Arena in Manchester and wrap on Apr. 8 at Wembley Stadium in London. Meanwhile, Queen + Adam Lambert announced on Mar. 7 that they've been forced to reschedule a May 20 concert at the AccorHotels Arena in Paris, France, following a government decree to cancel all indoor events over 5,000 capacity until May 31 in an effort to contain the spread of the virus. Queen said they are "currently working with the promoter to try to reschedule the date" and urged fans to "please keep hold of your tickets, which would be valid for the new date." Although several major rock acts are postponing their concerts in the near future, organizers of the UK's Reading & Leeds Festival announced on Mar. 12 that their festival, set for Aug. 28-30, is still going ahead despite of the coronavirus outbreak. In a statement, they said that they're "closely monitoring official guidance from the World Health Organisation, Public Health England, UK Government, local public health authorities and are working with event promoters and organisers as information evolves." California's Coachella and Stagecoach festivals recently announced their festivals have officially been postponed as state officials take drastic measures to contain the coronavirus, delaying their festivals until mid and late October, respectively. The outbreak has also affected two of Hollywood's most beloved actors personally, as Tom Hanks and his wife Rita Wilson posted on Instagram on Mar. 11 that they have been diagnosed with coronavirus. The couple apparently contracted the disease in Australia, where Hanks is currently filming director Baz Luhrmann's as yet titled Elvis Presley biopic. Hanks said he and Wilson "will be tested, observed, and isolated for as long as public health and safety requires. Not much more to it than a one-day-at-a-time approach, no?" - New Musical Express/Music-News.com/The Hollywood Reporter, 3/12/20...... In related news, disco legend Gloria Gaynor is (literally) taking virus prevention measures into her own hands to inspire TikTok users to efficiently wash their hands (scrubbing with soap and water for 20 seconds). Fittingly, Gaynor is using her 1979 hit, "I Will Survive" to help her do so. In a fresh new take on the already trending #iwillsurvivechallenge on TikTok, Gaynor is seen lip syncing to her song while washing her hands. "It only takes :20 seconds to 'SURVIVE!'" she wrote in the caption. - Billboard, 3/11/20...... Led Zeppelin has once again prevailed in a long-running copyright dispute over whether the band infringed Spirit's "Taurus" to create "Stairway to Heaven." On Sept. 9, the Ninth Circuit Court of Appeals affirmed a trial court's decision of no copyright infringement after a jury in 2016 handed Led Zeppelin a win. The decision comes after the appellate court voted to re-do the trial only to have larger issues re-examined en banc, meaning before a wider panel of judges. A 54-page decision will likely become a new standard in copyright infringement cases and may be presented to the Supreme Court. Among other aspects of the decision, the Ninth Circuit determines it was not in error that the jury didn't get to hear the "Taurus" sound recording at trial. Furthermore, the appeals court elects to ditch the "inverse ratio rule," meaning the higher the degree of access to a work, the lower the bar for proving substantial similarity. - The Hollywood Reporter, 3/9/20......

The Allman Brothers Band staged a 50th anniversary reunion concert at Madison Square Garden on March 10. Billed as "The Brothers: Celebrating 50 Years of The Allman Brothers Band," the show featured the five surviving members of the ABB's last and longest lasting lineup, which played together from 2000 until their final show, at New York's Beacon Theater, on Oct. 28, 2014: guitarists Warren Haynes and Derek Trucks, bassist Oteil Burbridge, percussionist Marc Quinones and drummer Jaimoe, the only founding member on stage. (Dickey Betts is the only other survivor; he has not played with the band since 2000 and was not in New York.) The 4+-hour, 2 set gig had the band playing with urgency, intensity and creativity, with the absence of late ABB members Gregg Allman and Butch Trucks filled by Duane Trucks, Butch's nephew and Derek's brother; organist Reese Wynans; and pianist Chuck Leavell. They started the night with the first two songs on the Allman Brothers' 1969 debut, "Don't Want You No More" and "It's Not My Cross to Bear." Coming back for the encores, Jaimoe took the microphone and said a few words of thanks, before they closed out with "Midnight Rider" and "Whipping Post." A packed arena enjoyed the show, despite many attendees questioning their choice to attend due to the specter of the caronavirus threat, and word of a flood of cheap tickets online. - Billboard, 3/11/20...... Disney executive chairman Bob Iger announced on Mar. 11 that Disney has acquired the worldwide rights to director Peter Jackson's upcoming Beatles documentary, The Beatles: Get Back. The film, which takes a look back at the recording of the band's penultimate album Let It Be, "is a front-row seat to the inner workings of the genius of those creators," according to Iger, who announced the news during Disney's annual shareholder meeting in Raleigh, N.C. Jackson, who says he worked on the film with cooperation from Paul McCartney, Ringo Starr, Yoko Ono Lennon and Olivia Harrison, pulled from 55 hours of unreleased footage of the band filmed by Michael Lindsay-Hogg in 1969 and 140 hours of largely unheard audio recordings from the Let It Be album sessions. The Beatles: Get Back also will feature footage of the band's final live concert as a group, their rooftop performance on London's Savile Row. "Working on this project has been a joyous discovery," Jackson said in a statement. "I've been privileged to be a fly on the wall while the greatest band of all time works, plays and creates masterpieces. I'm thrilled that Disney have stepped up as our distributor. There's no one better to have our movie seen by the greatest number of people," he added. Lindsay-Hogg directed the original Let It Be film, which was shot in 1969 but not released until 1970, after the Beatles had officially broken up. Disney says a fully restored version of the original Let It Be film will be released at a later date. The Beatles: Get Back will be released in the US and Canada on Sept. 4. - The Hollywood Reporter, 3/11/20...... As Linda Ronstadt's Feb. 1980 album Mad Love turns 40 this year, Ronstadt says it was never the intention of her and her producer Peter Asher to put out a New Wave album to compete with the likes of Blondie and The Cars. "I don't think that's how we wanted it to sound like intentionally," Ronstadt said during a phone interview from her home in San Francisco. "I was just trying to find 10 or so songs to do. Back then, I was doing about an album a year, so Mad Love fell into that cycle." Asher noted that "Every Linda record is the same in that we were just looking for great songs that we really liked and Linda felt that she could really sing, and then framing them in the best way we could think of. In Linda's case, it's always been the songs that lead a particular movement or style on one of her records, regardless if it's a Nelson Riddle album with songs from the 1930s or Mad Love with songs from the late '70s. It's all the same for us." Ronstadt's drummer, Russ Kunkel, cited the singer's "uncanny ability to pick songs from the great songwriters, whether it was Lowell George, JD Souther, Jimmy Webb or Elvis Costello." "Her strength was her ability to choose great songs. And even though Mad Love gets its tag as being her foray into new wave, she really only kept true to her roots... it was simply a collection of songs from great songwriters," he added. - Billboard, 3/10/20......
The Boomtown Rats of "I Don't Like Mondays" fame have announced they will release Citizens of Boomtown, their first new album in 36 years, on Mar. 13. Frontman Bob Geldof says the long gap wasn't because the Rats broke up, just that "we paused for 36 years." "There's just a sense that the music we had done and that attitude that produced the music was necessary again," says Geldof, who's released several solo albums during the interim. "The only thing I said was 'I'm not gonna do nostalgia.' This has to be about now, about today... There's nothing really for us to prove," he added. Formed during the mid-70s in Dublin and subsequently relocated to London, the Rats notched five Top 10 U.K. singles, hitting No. 1 with "Rat Trap" and "I Don't Like Mondays," the latter of which was also the group's biggest U.S. hit. The Rats released their last album, Long Grass, in 1984. Geldof is also publishing a lyric book, Tales of Boomtown Glory, that will include an introduction and 28 song stories, on Mar. 13. The Rats begin a U.K. tour behind the new LP on Mar. 14 in Zagreb, with 11 dates wrapping up May 2 in Newcastle, however a U.S. tour is not in the cards. "I don't think we could get arrested in the States," Geldof says. - Billboard, 3/11/20...... Former Sex Pistols drummer Paul Cook says a future live reunion of the legendary U.K. punk band is doubtful. "I've hung up my go-between hat. I don't get involved much any more," Cook told the U.K. publication Daily Record. I'm still close to [Sex Pistols guitarist] Steve Jones, but that's as far as it goes. I can't see it happening again for the Pistols and I don t think anyone wants it to." The iconic punk band originally split in 1978 following the departure of frontman Johnny Rotten. Bassist Sid Vicious died the year after, but the Sex Pistols have since reformed on three separate occasions: 1996-2001, 2002-2003 and most recently from 2007-8. Cook went on to cite rifts between the former bandmates as the reason for a reunion not taking place. Explaining that although he's attempted to prompt a reconciliation in the past, he said it's now not "worth the aggravation." "It's not just Steve and Johnny. There's so much water under the bridge and so much history, I don't think it would work out." Cook added that Glen Matlock still "feels aggrieved at being kicked out," with the musician having been fired ahead of Never Mind the Bollocks... being recorded. Matlock is, however, credited on 10 of its tracks. In 2017, Steve Jones said that the likelihood of any Sex Pistols return seemed slim -- especially as he and Rotten no longer speak, despite both living in Los Angeles. Jones, a beloved L.A. radio station host widely known as just Jonesy, abruptly disappeared from the airwaves late last year after being hit with a sudden bout of Bell's palsy that paralyzed half of his face and left his speech compromised. Midway through last December, he made a quiet return to Los Angeles airwaves, moving out of the studio and into a weekly residency at the famed Viper Room in West Hollywood, where "Jonesy's Jukebox" broadcasts live on Meruelo Media's 95.5 KLOS before a studio audience every Friday at noon. - NME/Billboard, 3/12/20...... Neil Young has posted a lengthy endorsement of Democratic presidential candidate Sen. Bernie Sanders on his Neil Young Archives website. "I support Bernie Sanders because I listen to what he says. Every point he makes is what I believe in. Every one," Young wrote, adding "In 2016, if Bernie had run instead of Hillary Clinton, I think we would not have the incompetent mess we have now." Young, a frequent and verbal critic of Pres. Donald Trump, also took issue with the Democratic National Committee, saying they "pull[ed] every string" to stop Sanders during the last election in favor of Clinton, suggesting that the same is happening again in the battle between Sanders and former Vice President Joe Biden. Young, who recently became a naturalized American citizen, said he's endorsing a presidential candidate for the first time. While he waits for his turn to vote in November's general election, Young has said he's planning to tour North American arenas with his longtime backing band Crazy Horse. - Billboard, 3/10/20......
Founding The Guess Who members Burton Cummings and Randy Bachman have announced they're reuniting for a summer 2020 tour for 24 dates, beginning on June 13 in Huber Heights, Oh. The tour will then play six Midwest U.S. dates before heading north of the border on June 11 in Windsor, Ontario, for the rest of the tour, finishing Aug. 8 in Grand Forks, B.C. The June 27 show in the Guess Who's hometown of Winnipeg will be part of historical celebrations for both the city and the province of Manitoba. will also be releasing The Bachman-Cummings Collection in June via Sony Music Entertainment, a seven-disc box set that features the Guess Who albums Bachman played on as well as subsequent material by Bachman and Cummings. The tour comes alongside the 55th anniversary of the Guess Who's first hit single, a cover of Johnny Kidd & the Pirates' "Shakin' All Over," and the 50th anniversary of the iconic "American Woman". "The timing for this seems right for both of us," Bachman says. "And as time goes by, I find that to me and Burton and all the fans, the songs mean more and more and more. The songs seem more relevant to about four or five decades of fans, from teenage kids to people in their seventies and eighties. That's an amazing thing." The fact that it's Bachman and Cummings singing them makes a difference as well, the duo contends. "There are one or two fake Guess Who bands out there," Cummings notes. "There have been a couple of different aggregations of BTO without Randy. I think it's nice the real guys are going out now." But the duo say they have no plans to write or record any new music -- "There's no record industry or radio anymore," Bachman notes -- and Cummings doesn't view that as a negative in any way. "I'm very content to sing the famous songs for the rest of my career," he says. "Do you know how hard it was to get those hit records? What's wrong with singing them for the rest of your life? There's nothing wrong with that." - Billboard, 3/9/20...... With his latest album American Standard, James Taylor has become the first act in the history of the Billboard pop charts to earn a top 10 album in each of the last six decades. American Standard, which sees the folk-rock icon taking on standards from the American songbook, entered the Billboard Hot 200 at No. 4 with 82,000 equivalent album units earned in the U.S. in the week ending Mar. 5. It also gives Fantasy Records its highest charting album since 1970, when Creedence Clearwater Revival's Cosmo's Factory spent nine weeks at No. 1. With American Standard, Taylor becomes the first act with top 10 albums in each of the last six decades: the 1970s, '80s, '90s, '00s, '10s and '20s, first peaking in the 1970's with Sweet Baby James in 1970. - Billboard, 3/8/20...... As Dolly Parton prepares to hit her milestone age of 75 in Jan. 2021, the "Jolene" hitmaker says she'd love to be on the cover of Playboy magazine one more time. Speaking to 60 Minutes Australia, Parton said: "I don't plan to retire. I just turned 74 and I plan to be on the cover of Playboy magazine again. See, I did Playboy magazine years ago and I thought it'd be such a hoot -- if they'll go for it, I don't know if they will -- if I could be on the cover again when I'm 75." When Dolly appeared on the cover in 1978 -- aged 32 -- she posed in a Playboy bunny costume complete with a black bustier and bunny ears, and she'd be up for wearing the same outfit 45 years later. She laughed: "Maybe! I could probably use it. Boobs are still the same." She added: "The good part with me though, I have my own look. I look kind of cartoonish and cartoons don't really age that much. Even when I'm 90, I'll still probably look about the same way -- just with thicker make-up and bigger hair." Meanwhile, Playboy announced on Mar. 11 that it was ending its "Playmate of the Year" title after 60 years. Speaking to the New York Post's gossip column "Page Six," a representative for the magazine confirmed it will be replaced by "Playmates of the Year," which will "celebrate all twelve diverse Playmates of the Month" from the previous year. "The point of this change was to not exclude anyone and instead of honouring one Playmate they're honouring all 12 diverse Playmates of the Year for each of their unique contributions to the brand," they said. Since 1960, the publication, founded by the late Hugh Hefner, has handed out the award to its favourite "Playmate of the Month" from the previous year, with Jenny McCarthy, Anna Nicole Smith and Victoria Silvstedt all receiving the honour. - Music-News.com/WENN-Canoe.com, 3/9/20......

Veteran actor Max Von Sydow, the tall, tragic-faced Swedish actor whose name was virtually synonymous with the films of Ingmar Bergman, died on Mar. 8 at the age of 90. Mr. Von Sydow, who became Bergman's symbol for the modern man in such films as The Passion of Anna and Shame after making his Bergman debut as the errant knight in The Seventh Seal, also had an unusually prolific career in Hollywood and international films. He made his American debut in the role of Jesus Christ in George Stevens' turgid 1965 epic The Greatest Story Ever Told and went on to make strong impressions with audiences in such films as The Exorcist, Woody Allen's Hannah and Her Sisters, David Lynch's Dune, Three Days of the Condor, Hawaii, Conan the Barbarian and Awakenings. Mr. Von Sydow worked for other Scandinavian directors as well, drawing an Oscar nomination for his role in Bille August's Pelle the Conqueror and starring in Jan Troell's acclaimed two-part epic The Emigrants and The New Land. Most recently, the actor starred in Game of Thrones as the Three-Eyed Raven. He also appeared in Kursk: The Last Mission (2018) and Lego Star Wars: The Force Awakens (2017). In 2014 he was cast in J.J. Abrams' continuation of the Star Wars saga, Episode VII -- The Force Awakens as Lor San Tekka. In 1990, he was nominated for an Emmy in 1990 for his role in the HBO thriller Red King, White Knight. Mr. Von Sydow was married twice, to actress Kerstin Olin in 1951 and to French filmmaker Catherine Brelet in 1997. He is survived by Brelet; his two sons by Olin, Claes and Henrik (who appeared with the actor in the film Hawaii); and two sons, Cedric and Yvan, by Brelet. - Variety.com, 3/9/20.
Saturday, March 7, 2020
It was announced on Mar. 6 that Paul McCartney's 1970 solo album McCartney will be getting a special 50th anniversary release in time for Record Store Day on Apr. 18. Sir Paul released the LP back in 1970, one month before the Beatles' swansong effort Let It Be. McCartney wrote every song and played every instrument on the album, with backing vocals provided by his then-wife Linda McCartney, whom he was married to until her death in 1998. The 50th anniversary Record Store Day limited edition of McCartney was pressed from a master cut by Miles Showell at half speed using the original 1970 master tapes at Abbey Road Studios. It was made as a vinyl specific transfer in high resolution and without digital peak limiting for the best possible reproduction. Meanwhile, an exclusive David Bowie release is also set for Record Store Day. CHANGESNOWBOWIE, which has never been available on record, will be released in limited quantities on LP and CD on Apr. 18. - Music-News.com, 3/6/20......
The Burnt Orange Heresy, a new film featuring Mick Jagger as a devilish art collector who cunningly convinces an art journalist (Bang) to use a rare interview with a reclusive artist (Donald Sutherland) as an opportunity to steal one of his paintings, hit U.S. theaters on Mar. 6. The film Jagger's first since 2001's The Man From Elysian Fields, and, he says, it might be his last. "I wish I had done a lot more acting. I've just done bits and pieces here and there whenever I've been able to," Jagger said in an interview with AP. Then he chuckles, "You know, I have another job. I have several other jobs, really." Jagger added that his role as an art dealer "was in my grasp to do this character." "I thought it would be fun to do," the 76-year-old Rolling Stones frontman said. "He basically charms and threatens him to do what he wants. It's not a lot of screen time but he's the one who sets off the action." One of Jagger's first films remains one of his most celebrated: Nicolas Roeg's hallucinatory 1970 film Performance, in which he played a drug-addled, gender-bending rock star. Critically slammed upon release, it's steadily grown a cult following with Jagger's performance often ranking among the best by a musician in a film. Jagger acknowledges The Burnt Orange Heresy could be his big-screen swan song. "If I don't get offered another decent role, it might be," he says, then adding "It's not planned. If someone offered me something to do in the autumn, I'm sure I'd do it if it was a good part." - AP, 3/5/20...... Officials in Austin, Tex., announced during a press conference on Mar. 6 that the hugely popular South by Southwest Conference and Festival will be canceled this year due to concerns over the coronavirus threat. It is the first time the entire annual festival, which had been scheduled for Mar. 13-22, has been canceled in its 34-year history. "I am proud that we are making decisions that are data driven," Austin Mayor Steve Adler said, adding, "It is really unfortunate to be cancelling SXSW. It is really important to our city." Last November, it was revealed that Pink Floyd co-founder Roger Waters would be the keynote speaker for the 2020 SXSW festival, with Nile Rodgers of Chic and comedic actor Cheech Marin also among the featured speakers. Before the announcement, Ozzy Osbourne, Nine Inch Nails and Beastie Boys had already announced they were cancelling their appearance at this year's SXSW due to coronavirus fears. City officials have estimated that the 2019 SXSW had a $356 million economic impact on the city of Austin. The news came after another day of SXSW cancellations that included longtime presenter BMI, which said it was pulling out of the event this year "out of an abundance of caution." In addition to SXSW, several major live music events have been canceled in the wake of the spreading virus including Tomorrowland Winter in France, Ultra Abu Dhabi and the 21st edition of Ultra's flagship dance music festival in Miami. More than 98,000 confirmed cases of the coronavirus worldwide, and nearly 3,400 people have died from contracting the virus, which has spread to 88 countries since the outbreak began at the end of 2019. - Billboard, 3/5/20...... Speaking of Ozzy Osbourne, the rocker has topped Billboard's Top Rock Albums chart and Hard Rock Albums chart for the first time in nearly a decade as his new album Ordinary Man moved 77,000 equivalent album units for the week ending Mar. 7. Osbourne last ruled both tallies on his own with Scream, which led Hard Rock Albums for two weeks and Top Rock Albums for one in July 2010. In between, he visited the top spot on both charts as the lead singer on Black Sabbath's 13, which led in June-July 2013. Osbourne, who was slated to promote his self-produced documentary Biography: The Nine Lives of Ozzy Osbourne at the 2020 South By Southwest festival, told the Good Morning Britain TV show on Mar. 3 that he "hopes to return to the stage soon." The 71-year-old musician recently cancelled his North American tour to undergo treatments for Parkinson's disease and injuries he sustained during in 2019. "My desire is to get back on stage," he said. "I'm not ready to hang up my mic yet-- that's what I live for. I exercise as much as I can: I have a trainer, I do pilates. But the best medication I can get is being in front of an audience, which is breaking my heart." - New Musical Express, 3/6/20......
Some 4,000 AC/DC fans broke a Guinness World Record for air guitar playing on Mar. 1 during the Perth Festival in Australia. The festival, which this year included several tributes to AC/DC on the 40th anniversary of founding band member Bon Scott's death, opened with a Guinness World Record attempt for the largest air guitar ensemble. The impressive turn out saw the Guinness record broken as 3,722 fans smashed the record for the biggest air guitar gathering. Revellers strummed their hearts out to "Highway To Hell," led by air guitar champion Alex "Jinja Assassin" Roberts. The air guitar tribute can be streamed on YouTube. A stretch of Australian motorway in Western Australia, dubbed the "real life Highway To Hell" due to a series of fatal crashes along the stretch, hosted a rolling tribute gig in memory of Scott during the festival. Scott would travel down the Canning Highway, which was closed between Canning Bridge and Fremantle to play host to the world's longest festival stage, regularly in his youth. - New Musical Express, 3/6/20...... Dead & Company have landed the highest-grossing concert engagement so far in 2020 with their four-day "Playing in the Sand" annual event in Playa Del Carmen, Mexico. The Jan. 16-19 event grossed a massive $18.7 million from 6,127 tickets sold, an 8% improvement over their 2019 Playing in the Sand event. The Eagles came in at second on Billboard's Hot Tours recap ending Mar. 7, earning $8,871,615 during their early February run at State Farm Arena, Atlanta, Ga., with Aerosmith in third place earning $7,953,838 during its Jan. 29-Feb. 15 residency at the Park Theater in Las Vegas. - Billboard, 3/6/20...... Tom Jones is reportedly in talks to join the team working on a stage musical based on one of his most famous songs. The musical, titled "What's New Pussycat?, is based on Henry Fielding's 18th-century novel about a foundling, named Tom Jones, who leaves the West Country and ends up philandering and allowing himself to be seduced by an older woman as he makes his way through London society. Producer Chris Harper says the musical will add a modern twist to the classic tale. "In this version, Tom Jones becomes a famous popstar and is seduced by an older woman -- who in the Fielding tale would have been the Lady Bellaston character," he explained. Co-producer Flody Suarez says Jones has attended workshops for the show, and was pleased with the direction it was taking. "He came to one of the workshops with his son and daughter-in-law, and he told us that what he's happiest about is that it didn't try to take his life story. It's about the book and the songs," Suarez said, adding that the 79-year-old continues to be involved with the project. The musical, which will incorporate 16 of Jones' songs, will begin performances at Leeds Playhouse in England on Sept. 23. If successful, the show is expected to transfer to London in 2021. - Music-News.com, 3/6/20...... Paul Stanley of Kiss paid tribute to late L.A. Lakers great Kobe Bryant during Kiss' show at the Staples Center on Mar. 4 by donning a glittery No. 24 jersey, which was one of the team numbers made famous by Bryant. "None of us would be here if this place wasn't really like a memorial to somebody who was so much more than a basketball player, somebody who's been a role model," Stanley said to cheers from the hometown crowd. "And tonight, I think we dedicate this show not only to Kobe and his daughter Gigi, but to all the people who perished on that helicopter." Footage of Stanley performing in the jersey has been shared on YouTube. - Billboard, 3/5/20......

Genesis announced on Mar. 4 that they will reunite in 2020 for a UK tour, 13 years after they played their last gig. Genesis last performed together in 2007 to mark their 40th anniversary and since then have been in two minds about reuniting due to drummer/vocalist Phil Collins's medical issues. Prior to their reunion, Collins said during an interview that his medical conditions would mean that he wouldn't be able to play the drums for the band if they were to reunite and his son Nicholas, 18, would have to play in his place. He said: "I'm saying this to you... I haven't really said it to Tony [Banks] and Mike [Rutherford] did mention to Tony very quietly if we did anything again it would be with Nic on drums. He kind of didn't say no. But I'm not sure if he heard me or not." It's not believed original Genesis singer Peter Gabriel, 70, will join the trio for this set of shows when they hit the road in November and December to perform in arenas across the UK. The 16-date tour kicks off in Dublin on Nov. 16, also visiting Belfast, Liverpool, Newcastle, Leeds and Birmingham before wrapping in Glasgow on Dec. 12. - Music-News.com, 3/4/20...... Journey guitarist Neal Schon and keyboardist Jonathan Cain have fired their bandmates, drummer Steven Smith and bassist Ross Valory, alleging the two attempted a "coup" in order to gain control of the "Journey" trademark. According to the complaint, which was filed in California Superior Court on Mar. 3, Schon and Cain are seeking damages in excess of $10 million. The suit, which was filed by law firm Miller Barondess, lays out what the plaintiffs allege was an underhanded effort by Smith and Vallory to steal away the "Journey" name, to which Schon and Cain claim they own the exclusive rights per a 1998 agreement signed with former frontman Steve Perry when he left the group. That agreement followed a previous one entered into by Schon, Cain and Perry in 1985 via the corporate entity Nightmare Productions providing the trio with an "exclusive, irrevocable license" over the Journey trademark. Schon and Cain allege the two men held "improper" shareholder and board of directors meetings of Nightmare Productions on Feb. 13, 2020, under the "incorrect" assumption that the company held the rights to the Journey name. They accuse Smith, Valory and unnamed "allies" of voting in those meetings to give Smith and Valory control of the board, with Smith usurping Cain as board president and Valory replacing Schon as secretary. Though both Smith and Valory have been members of Journey on and off since the band formed in 1973, the complaint diminishes their contributions to the group, stating that the two "have very few song credits on Journey's albums." Schon is the only founding member of Journey that remains in the band. Cain joined in 1980, departed in 1987 and returned in 1995 and has played with them ever since. The only other remaining member of Journey is current frontman Arnel Pineda, who joined the group in 2007. - Billboard, 3/4/20......
Kansas has announed it will release its latest prog rock offering, The Absence of Presence, on June 26 and launch a European tour behind the new album in the fall with co-headliners Foreigner and Europe. Founding Kansas member Phil Ehart says the new LP, which was produced by Kansas guitarist Zak Rizvi, sounds like vintage Kansas. "Zak wrote the majority of 'The Prelude Implicit' and this album, and now having [new member] Tom Brislin add a couple of his songs and his keyboard prowess really pushes the band even more toward that original sound, which is not easy to do by any means," Ehart noted. The lyrics to the title track, meanwhile, were written by Brislin from a title and concept suggested by Ehart. "It can mean a couple of different things," the drummer notes, "but what sticks out is when we're at an airport, there's a lot of people there but everybody is staring at their phone or looking at their computer or their iPad or reading a paper or whatever. Someone's sitting across from you looking up, and you can tell they're not engaged at all. People are there, but they're not really there. They're present, but there's an absence of presence." The first single from the new LP is due in early April, and Kansas has just started a U.S. run of "Point of Know Return and Kansas Classics" shows that stretch into May. The European tour will begin Oct. 18 at The Palladium in London and run through Nov. 10 in Amsterdam. - Billboard, 3/2/20...... Queen has teamed with a Swedish sock manufacturer called Happy Socks for a limited-edition collection of Queen socks that are just as vibrant as Queen's music. Released on Mar. 3, the Happy Socks x Queen collaboration features six pairs of cotton crew socks ($16 each) and four pairs of kid's crew socks ($8 each). There's also a 4-pack gift set ($64) and a Collector's Edition 6-pack ($96) that features the band in a concert setting. Happy Socks is known for its artist collaborations, including the Beatles, Pharrell Williams, Andy Warhol's iconic banana print and -- most recently -- Linda Ramone. The Queen socks collection is now available to purchase at select retailers and the brand's official website. - Billboard, 3/3/20...... Iggy Pop has shared a minimal new video for his track "We Are The People" on YouTube. The song, which originally appeared on Iggy's 2019 album Free, makes use of words from a poem written in 1970 by the late Lou Reed, and the video was shared on Mar. 2, what would have been Reed's 78th birthday. "How beautifully contemporary this poem from 1970 is," Pop wrote on Twitter. "How true are the words. We ARE the people," he added. - New Musical Express, 3/2/20...... Barbra Streisand launched a scathing attack on U.S. Pres. Donald Trump in an op-ed in Variety magazine on Mar. 4. Streisand, a vocal critic of Trump's, declared that America "was great before" Trump was elected in 2016. "Every morning I wake up, holding my breath while I turn on my phone to see the latest news," she wrote. "I think to myself, 'It can't be worse than yesterday.' But when the news loads, I think, 'Ohhhhh, yes, it is worse.'" Streisand went on to slam Trump for firing acting Director of National Security Joseph Maguire in mid-February, claiming the move was, "an effort to suppress the truth about Russia interfering in our elections again." "He's purging the government of anyone with any expertise who doesn't bow down before him," Streisand alleged. She then urged fans to vote Trump out of office in the 2020 presidential election. "Since 2016, we've been dragged down into the mud of Trump's swamp. He has demolished our standing in the world with his laughable boasts and breathtaking ignorance.... Every day, he takes another swipe at the pillars of our democracy, but we cannot allow him to irrevocably change this country." - Music-News.com, 3/4/20......
'70s "Welcome Back" hit-maker and '60s pop band Lovin' Spoonful leader John Sebastian participated in a Lovin' Spoonful reunion concert at the Alex Theatre in Glendale, Calif., on Feb. 29. More than 30 Lovin' Spoonful songs were performed over three hours at the annual "Wild Honey" tribute concert, which in previous years has recreated classic songs and albums by the likes of the Beatles, Beach Boys, Buffalo Springfield and the Band. The concerts, organized by founder Paul Rock, raise funds and awareness for the Autism Think Tank. Sebastian, 75, left the New York-based Lovin' Spoonful in 1968 and last reconvened with its original members at their induction into the Rock and Roll Hall of Fame in 2000. "I think the band is a little underappreciated in the big picture of '60s music," said Lovin' Spoonful bassist Steve Boone, 76. "John should be even more credited with being a fantastically versatile songwriter." Joining the surviving Spoonful trio was the Wild Honey Orchestra, led by musical director Rob Laufer, and a cast of gifted singers and soloists, including Dave Alvin, Micky Dolenz, Marshall Crenshaw and Carnie Wilson. At night's end, the entire cast of players crowded onto the stage to perform "Do You Believe In Magic," the Spoonful's first single and a hopeful tune that Sebastian said epitomizes the sound and personality of his former band. "It was something that happened to me. I didn't really write that song," he said. "It happened. And I was so delighted." - Billboard, 3/2/20...... '70s glam-rock stars The Sweet have announced a pre-Christmas tour of the UK that will launch on Nov. 30 in Bury St Edmunds with special guests Limehouse Lizzy, a Thin Lizzy tribute band. The Sweet's 17-date tour will also visit cities including Norwich, Frome, Salisbury, Brighton, London, Cardiff, Manchester, Newcastle, Glasgow and Edinburgh before wrapping in Ulverston on Dec. 19. The Sweet's 2020 line-up features founding member, Andy Scott (lead guitar, vocals), Steve Mann (guitar, keyboards), Bruce Bisland (drums, vocals) Lee Small (bass, vocals) and Paul Manzi (lead vocals). Founded in 1968, the band still tours the world extensively with one of the most dynamic and slick live shows on the circuit. - Noble PR, 3/2/20...... Barbara Martin, an original member of the popular 1960s Motown girl group The Supremes, died on Mar. 5. She was 76. The Detroit-born singer replaced Betty McGlown in 1960 when the founding quartet -- consisting of Wilson, McGlown, Diana Ross and Florence Ballard -- were called The Primettes. The reconstructed girl group went on to sign a record deal with Motown's Berry Gordy as The Supremes in 1961. Martin shared vocals with Ross on the group's early single "(He's) Seventeen." She left the pop girl group in 1962, and the remaining women took off as a trio until 1967, when the group renamed itself again as Diana Ross & The Supremes and Cindy Birdsong replaced Ballard. The Supremes went through numerous trio combinations until dissolving in 1977. "Our hearts go out to Barbara's family and friends. Once a Supreme, always a Supreme," the group posted on its Facebook page. - Billboard, 3/6/20...... James Lipton, the US actor-turned-academic who for decades interviewed Hollywood's biggest A-listers as host of Inside the Actors Studio, died on Mar. 2 after a battle with bladder cancer. He was 93. Mr. Lipton hosted the influential show for nearly 25 years, conducting hour-long interviews with silver-screen legends from Paul Newman to Dennis Hopper to Scarlett Johansson. Inside the Actors Studio was conceived as part of a program for drama students at the New School in Manhattan, but the Bravo cable channel picked up the television rights. Mr. Lipton focused on the craft of filmmaking and avoided straying into celebrity gossip. Nominated for 21 Emmys, the show was praised for its stellar lineup and in-depth discussions, but drew criticism for an approach labeled sycophantic by some viewers. Born in Detroit in 1926, Mr. Lipton embarked on an acting career in the 1940s, and later moved into writing and producing. - Yahoo News, 3/2/20.
Monday, March 2, 2020
Brian Wilson announced on Mar. 2 that he'll take his "Good Vibrations" greatest hits tour to the UK this summer for 11 dates, kicking off on May 31 at The Dome in Brighton. The Beach Boys legend, with former bandmates Al Jardine and Blondie Chaplin supporting, will also visit major cities including London (6/1), Glasgow (6/4), Birmingham (6/8), Manchester (6/10), and Leeds (6/14) before wrapping in Cambridge on June 17. Wilson's career-spanning set will feature songs from his career with the Beach Boys and solo hits. - New Musical Express, 3/2/20......
A tribute concert to founding former Fleetwood Mac member Peter Green organized by Fleetwood Mac drummer Mick Fleetwood was held on Feb. 27 with appearances by Fleetwood Mac's Christine McVie as well as David Gilmour, Pete Townsend, Steven Tyler, Billy Gibbons, Neil Finn, Kirk Hammett and Noel Gallagher. Footage of Gilmour performing "Oh Well (Part 2)" from the event, which benefited the Teenage Cancer Trust, has been shared on YouTube. Gibbons and Tyler also joined forces on "Oh Well," and Finn performed the Fleetwood Mac song "Man of the World." Mick Fleetwood told the audience how Green influenced other bands, including the Beatles: "This is where we do our 'Albatross' thing, like Fleetwood Mac," one of the Fab Four reportedly said during a radio interview, according to Fleetwood. "And that woke the hell out of me [and the rest of the band]... So, our minds were truly blown... To know that this floating, lovely song had inspired just a little bit of something so precious as the band who was talking on the radio," Fleetwood added. Fleetwood then dedicated a performance of "Albatross" to not only Green but to late Beatle George Harrison, whose birthday it happened to be. Peter Green founded the original incarnation of Fleetwood Mac in 1967 and he performed in the band until 1970, when he left the band after struggling with addiction and mental illness issues. He was inducted into the Rock and Roll Hall of Fame with the band in 1998. - New Musical Express, 2/28/20...... Former Talking Heads frontman David Byrne appeared on NBC's Saturday Night Live on Feb. 29 for the first time in more than 30 years. Byrne and his 11-member backing band -- all barefoot and dressed in gray suits -- treated the audience to the TH classic "Once in a Lifetime," then later in the show performed his 2008 collaboration "Toe Jam" with the Brighton Port Authority. Byrne, who last appeared on SNL in 1989 to promote his first solo album Rei Momo, also appeared in a music-filled sketch titled "Airport Sushi," which also featured a cameo by actor Jake Gyllenhaal. Footage of Byrne on the show can be streamed on YouTube. It was recently announced that Byrne's acclaimed "American Utopia" show will be returning to Broadway at New York's Hudson Theatre in September for 17 weeks, with beginning performances starting on Sept. 18 and scheduled through Jan. 17, 2021. An official reopening date will be announced soon. - Billboard, 3/1/20...... Neil Young has posted on his Neil Young Archives website that he plans on reissuing his classic 1970 LP After the Gold Rush as a deluxe 50th anniversary release later in 2020 to celebrate the milestone set. No official release date has been set, however the package will likely include a live concert film (dubbed "Young Shakespeare") from Young's Jan. 22, 1971, performance at Shakespeare Theater in Stratford, Conn. -- which occurred three days after his legendary Massey Hall set in Toronto, Canada. "In fact, today as we listen and compare, [producer] John Hanlon and I both feel 'Shakespeare' is superior to our beloved 'Massey Hall,'" wrote Young on his site. "A more calm performance, without the celebratory atmosphere of Massey Hall, captured live on 16mm film. 'Young Shakespeare' is a very special event. To my fans, I say this is the best ever." Young added that the "Young Shakespeare" show was both "personal and emotional" for him and that it "defines that time." Vintage footage of Young performing After the Gold Rush's title track can be viewed on Spotify.com. - New Musical Express, 3/1/20......

After announcing in late January an ambitious 32-date 2020 North American tour set to kick off in May, Hall & Oates played a sold-out show at New York's Madison Square Garden previewing the upcoming tour on Feb. 28. After sets from tour openers KT Tunstall and Squeeze, Hall & Oates opened the show with lively rendition of their H2O album hit "Maneater." Longtime H&O saxophonist Charles DeChant reminded the 20,000 fans in attendance how crucial the sax is to the duo's music on songs like "Say It Isn't So," during the set, which in addition to H&O hits included a few covers of songs by such acts as Paul Young, The Righteous Brothers and The Dramatics. Just before leaving the stage before the encore, the pair delivered a smooth version of The Dramatics' "What You See Is What You Get" (featured on 2004's Our Kind of Soul), the most R&B-heavy cover of the night. Meanwhile, John Oates has announced he's donating two of his cars, including 1984 Tiga SC84 Sports 2000 race car and a custome Porsche, for auction to benefit the Amelia Island Concours d'Elegance Foundation. Hall & Oates also recently announced they're planning a new album, the first studio set by the duo since their 2006 Home For Christmas album. - Billboard, 2/29/20...... With his contribution to the new Ozzy Osbourne hit "Ordinary Man," Elton John has set a new record on Billboard's Mainstream Rock Songs chart for the longest gap between mainstream rock song entries. Osbourne's ballad, featuring John, has bowed at No. 34 on the airplay tally dated Feb. 29, marking the first time that John has appeared on the survey in over 27 years. The last time Elton made the tally was in Sept. 1992, when his "Runaway Train," featuring Eric Clapton, rolled to No. 10. John now has the record for the longest break between Mainstream Rock Songs appearances in the chart's 39-year history, passing Queen guitarist Brian May, who waited just under 26 years between his solo track "Driven by You" (No. 9, 1993) and his featured appearance on Five Finger Death Punch's "Blue on Black," (No. 1 for five weeks beginning in June 2019). Sir Elton has tallied five top 20 hits on Mainstream Rock Songs from the chart's 1981 inception through 1992, with "Runaway Train" marking his lone top No. 10. "Ordinary Man" is the title track from Ozzy Osbourne's 12th solo studio album, which was released Feb. 21 and is expected to bow in the top 10 of the Billboard Hot 200 album chart dated Mar. 7. Meanwhile, Ozzy says he's relieved that he and Elton never partied together during their drink and drug-fuelled heydays because he's convinced it would have led to an early grave. "I don't think we would have both f--ing made the '90s if we had," the 71-year-old told New Musical Express. "I remember (manager wife) Sharon (Osbourne) taking me to a gig of his (Elton's) years ago, and his f---ing dressing room was like a f---ing bar with every known f---ing spirit (liquor). Then he'd do seven gigs on the bounce. I've said to him, 'How the f--- did you keep singing?' If I even thought about cocaine, my singing would go out the f---ing window." Ozzy is also the focus of a new 8-bit video game called Legend Of Ozzy. The aim of the game is to catch as much blood as you can, keeping your Ozzy-bat alive, while killing monsters and avoiding wolves, devils and other creepy foes will earn you health points. It can be played at LegendOfOzzy.com. - Billboard, 2/27/20......
Deep Purple have announced they'll release their 21st LP, Whoosh!, on June 12 with veteran producer Bob Ezrin once again helming their album project. On working with Ezrin -- who also produced Deep Purple's albums InFinite (2017) and Now What?! (2013) -- for a third time, Deep Purple guitarist Steve Morse said: "We've included everything that made the whole band smile, including Bob Ezrin. We've always enjoyed making music and having the incredible luxury of a loyal audience." Announcing the new LP in a press release, the band made it clear they intend to address the current state of the world and "all generations" on their new collection of songs. The band will tour the U.S. behind the new album beginning on Apr. 15 in Alexandria, Va., also visiting such markets as Los Angeles (4/23), Milwaukee (4/25), St. Louis (4/27), Dallas (5/2) and Nashville (5/7) before wrapping in Cincinnati on May 9. Then they'll launch an extensive European tour that's set to kick off at Moscow's Megasport Ice Palace in Russia on May 31, and wrap at Amsterdam's Ziggo Dome in The Netherlands on Oct. 28. The UK leg sees the group stop off at London's O2 Arena on October 3, with dates also set for Manchester, Leeds, Birmingham, and Glasgow. - Music-News.com, 2/27/20...... Rock 'n' roll pioneer Chuck Berry is being remembered with a new special called Chuck Berry: Brown Eyed Handsome Man which premiered on PBS stations across the US in late February as Black History Month 2020 closes out. Narrated by actor Danny Glover, Brown Eyed Handsome Man is packed with illuminating, full-length performances from Berry and other artists culled from rare and classic footage dating back to 1964. That's when the Beatles performed "Roll Over Beethoven" at the band's first U.S. show in Washington, D.C., while the Rolling Stones, fronted by a gyrating Mick Jagger, played "Around and Around" during a U.K. concert. Among the 90-minute film's other standout moments: Jeff Lynne and Electric Light Orchestra delivering a powerful live mash-up of Berry's "Beethoven" and Beethoven's Fifth Symphony; Linda Ronstadt having fun with "Back in the USA"; and an undeniably reverent Bruce Springsteen and his E Street Band working out alongside the man himself on "Johnny B.Goode." - Billboard, 2/27/20...... A guitar once co-owned by Beatles legends George Harrison and John Lennon has been valued at £400,000 on the British version of Antiques Roadshow. On the Mar. 2 episode, the guitar's current owner, a former session musician, said he was given the guitar because he could play it better than Harrison. Bartell's of California manufactured the prototype fretless instrument for the band in the 1960s, and it was brought to Battle Abbey in Sussex for this week's show. Valuing the guitar at between £300,000 and £400,000, expert Jon Baddeley said of the guitar: "I think in 25 years it's by far the most expensive thing I've ever seen. You know, to a guitar collector it's initially a very rare guitar. Then to somebody who's a Beatles fan, to own a guitar that was once owned by both John Lennon and George Harrison, can you get a better history? Two of the most important rock stars of the 20th century." Blown away by the value of the guitar, the owner admitted that he still plays it regularly. "I never really thought about value, as George being a mate and all that," he said. "I don't know what to say actually, I'm really taken aback by it.... I didn't realise it was worth that much money. It's lucky I don't keep it in the house," he added. The owner also showed the audience a photograph with George and the guitar, adding proof that it had once been a part of his Harrison's impressive collection. - New Musical Express, 3/2/20......

In an interview on CBS's Sunday Morning show on Mar. 1, former supermodel Paulina Porizkova branded her omission from her late husband Ric Ocasek's will an act of "betrayal." Ocasek and Porizkova were in the midst of divorce proceedings at the time of The Cars frontman's death in Sept. 2019, but the stars had still been living together at their marital home in New York City, where Porizkova found him dead following a surgical procedure -- a discovery she claims was the "worst moment" of her life. "It made the grieving process really, really tricky," Porizkova said. "I would love to be able to be sad and miss him and not also feel this incredible hurt and betrayal." The couple had separated more than a year before the Ocasek's demise, but Porizkova -- who was 19 when she met Ocasek, then 40, back in 1984 -- revealed she wasn't the one who wanted a divorce, so she continued to live with the singer, the father of her two sons, in the hopes of maintaining a close bond. "He was still the man that I loved and that I had grown up with. And I couldn't really imagine life without him," Porizkova said. She insists she has no idea why Ocasek chose to cut her out of his will completely, and it's a question she will forever wrestle with: "I'm never gonna get an answer. And that sucks," she added. Porizkova officially filed court papers seeking a share of Ocasek's estate, worth at least US $5.1 million, in December. She wasn't the only family member snubbed in the 75-year-old's will -- Ocasek also appeared to have cut out two of his six sons from a previous relationship. They have yet to formally reveal if they will challenge the decision. - WENN/Canoe.com, 3/1/20...... In a new interview on SiriusXM radio, Dee Snider of Twisted Sister said the next AC/DC album will feature a number of surprises involving the late AC/DC guitarist Malcolm Young. Snider said he previously had dinner with AC/DC vocalist Brian Johnson and the pair discussed the group's plans for 2020. "He told me a lot of stuff, and a lot of stuff that I don't wanna say," Snider said. "But we know from the photos, and Brian confirmed it, they've been in the studio, they've been recording. The original -- I don't say the 'original' guys, because a lot of 'em are gone, but I say the 'classic' line-up is back together and there are some surprises, which I can't talk about, regarding Malcolm Young that just had my jaw on the floor. I will say he will be present. So this is AC/DC as we know and love them," he added. Young, the group's founding guitarist and brother of Angus Young, passed away in 2017 after battling dementia. - NME, 2/29/20...... Malcolm Jones, cofounder and bassist of the '70s pop band Blues Image, reportedly died on Feb. 22. Blues Image, best known for its 1970 hit "Ride Captain Ride, was formed in Tampa, Fla. in 1966 by singer-guitarist Mike Pinera, singer-drummer Manuel "Manny" Bertematti, singer-percussionist Joe Lala, keyboardist Emilio Garcia, and bassist Jones. The band moved to Los Angeles and signed with Atco Records, releasing their self-titled debut album in Feb. 1969. Their second album, Open (Apr. 1970), included the popular hit "Ride Captain Ride." Featuring Kent Henry on guitar solo and fills, and Pinera playing solo at the end, the song was co-composed by Pinera and Konte. This disc sold over one million copies, and earned a gold record from the R.I.A.A. in August 1970. It was Blues Image's only charting hit, making the group a one-hit wonder. Pinera left the band to join Iron Butterfly in the fall of 1969, during the recording of Open, and was replaced by singer Denny Correll and guitarist Henry. The band later broke up after the release of their third album, Red White & Blues Image, in May 1970. - 2/24/20...... Actor Ben Cooper, who starred in the 1954 western drama Johnny Guitar and also had roles in such TV series as Gunsmoke and Bonanza, died on Feb. 24 in Memphis, Tenn., after a long illness. He was 86. Mr. Cooper starred opposite Joan Crawford in the 1954 western Johnny Guitar, which saw him play the bandit Turkey Ralston. Throughout his career, Mr. Cooper also appeared in a variety of western films and TV shows, including Gunsmoke, Bonanza and Gunfight at Comanche Creek. - DailyMail.co.uk, - 2/25/20.
Wednesday, February 26, 2020
As Cher graces the latest cover of CR Fashion Book magazine alongside Kim Kardashian and Naomi Campbell as a "fantasy biker gang," the 73-year-old diva told the publication that her concerts may not be quite as good as they were five years ago. "I can still put on my show. It might not be as great as it was five years ago, but it's still pretty damn good," she said, adding that she "never expected" to still be famous at her age. "Now when I go on stage, I see such different groupings: really old people beside really young children. That's something really special. I know that I still make people happy, and that's my gift." Cher also commented on her reputation as an opinionated Twitter user, saying she likes the social media platform "because I like to say what I think and I don't have to worry about that kind of thing. Sometimes I get my a*s kicked on Twitter, but I still speak my mind... Don't f**k with me but also, I'm very gentle and very loving and I have a really good moral compass." Cher also said she's not very keen on selfies requests from her legion of fans: "People ask me all the time for them, and I almost always say no -- except for Naomi (Campbell)." - Music-news.com, 2/25/20......
The Liverpool City Council and the estate of George Harrison have announced a new woodland memorial dedicated to the late Beatle will be created in the city in 2021 to mark what would have been the legendary musician's 77th birthday. The George Harrison Woodland Walk will be located in the Liverpool suburb of Allerton, close to where Harrison was born and spent his formative years. Upon its completion, it will feature a selection of artistic installations directly inspired by Harrison's seminal lyrics and his life, as well as a "nature classroom" to help school children learn about the natural world. Local artists are already being solicited to submit ideas for their own artwork at CultureLiverpool.co.uk. Olivia Harrison, George's widow, noted that her late husband "was an avid gardener who found solace and joy in being in the outdoors." "I don't think there is any better way to commemorate him in Liverpool than with a garden which can become a place of tranquility and reflection for everyone. I am really looking forward to watching it change and grow over the coming years," she added. Liverpool mayor Joe Anderson called Harrison "one of our most-loved sons" and that "the site is beautiful and the plans for the area in the coming months are really exciting." - New Musical Express, 2/25/20...... The family of late Rush drummer have announced Rush fans will have the chance to participate in a Neil Peart tribute event for charity set for May 16 in Ontario's Meridian Centre. The venue is located in St. Catharines, Peart's hometown. The event, which is being coordinated with Peart's family, will benefit St. Catherines Hospital and Walker Cancer Centre, the Juravinsky Hospital and Cancer Centre, the Royal Victoria Regional Health Centre, as well as Overtime Angels, a non-profit charity that is also helping to put the event together. "We are especially pleased to be able to support this charity event that will benefit some much needed organizations that are close to our hearts," Peart's parents, Glen and Betty Peart, said in a statement. Peart died at age 67 on Jan. 7 after a three-year battle with brain cancer. "A Night for Neil" will feature musicians, guest speakers, and production professionals. The artists and speakers will be announced at a later date. - Billboard, 2/24/20......

Carlos Santana and Earth, Wind & Fire announced on Feb. 25 they'll kick off a "Miraculous Supernatural 2020 Tour" together on June 19 at the North Island Credit Union Amphitheatre in Chula Vista, Calif. The 32-city trek, which also visits such cities as Los Angeles (6/20), Salt Lake City (6/30), Dallas (7/3), Cincinnati (7/8), Syracuse (8/19) and Nashville (8/25) before wrapping on Aug. 29 in Tampa, will be the first time the two superstar acts have ever toured together. The tour is a continuation of Santana's 2019 "Supernatural" swing, with the band slated to perform songs from the guitarist's landmark 1999 comeback album, classic tunes and selections from his 2019 release Africa Speaks. "It is a great joy and honor to co-share music with the magnificent elements of Earth, Wind & Fire. We look forward to delight, joy and ecstasy!" said Santana in a statement. EWF lead vocalist Philip Bailey said he and his band "are excited to rock the USA alongside our friend Carlos Santana and his band with their off-the-chart musicianship and high energy show." "We're going to bring the mighty elements of the universe to the stage and take fans on a journey they'll never forget. This is gonna be a blast!," he added. - Billboard, 2/25/20...... In other tour news, Neil Young recently posted on his Neil Young Archives site that he wants to tour historic venues on his upcoming "Crazy Horse Barn Tour" but is struggling to find many still in operation. "Many of the old places we used to play are gone now, replaced by the new coliseums we have to book year in advance and we don't want to go to anyway," he wrote. Young added that it is a "real job if you have to book it and wait a year" and a large number of new arenas feel "soulless" to him. He included a long list of venues that he s played over the years, listing the buildings that have been demolished and those still existing. "We wanted to play in a couple of months because we feel like it. To us it's not a regular job. We don't like the new rules. If you are looking for us on our Crazy House Barn Tour, we will hopefully be in one of the existing arenas," he said. - New Musical Express, 2/23/20...... Herb Alpert Is.., a documentary chronicling the ife and career of the legendary trumpeter and A&M Records co-founder, Herb Alpert, will kick off a spring threatrical release with a world premiere at the Grammy Museum in Los Angeles on May 5. In a Herb Alpert Is.. trailer shared on YouTube, fellow artists from Quincy Jones to Sting expound on Alpert, who admits he could not enjoy his success in its height because he felt like just a number. "We were selling out these huge arenas in three minutes and at that point I realized, man, I'm rich, I'm famous, but I'm miserable," he says. At A&M, Alpert, now 84, discovered and/or worked with artists as diverse as The Carpenters, The Police, Janet Jackson, Peter Frampton and Cat Stevens. The film also explores Alpert's work as an abstract painter and sculptor and his philanthropic support of arts programs nationwide. - Billboard, 2/25/20......
Alice Cooper made a guest appearance on Duncanville, the new animated FOX series from Saturday Night Live alumni Amy Poehler, on Feb. 23. Titled "Read Head Redemption," the episode saw Cooper make a guest appearance in one of dad Jack's (played by Ty Burrell) flashbacks. Tasked with decluttering the garage, Jack struggles to part with a guillotine that was once owned by the rock icon. In a flashback, viewers learn how he came into possession of the stage prop. Sharing the clip on Twitter, Cooper tweeted: "I've been animated! Don't miss Alice on tonight s episode of @duncanvillefox at 8:30/7:30c after the Simpsons on FOX." Duncanville was created by Poehler along with The Simpsons alums Julie Thacker Scully and Mike Scully. - New Musical Express, 2/24/20...... With his new album Ordinary Man in the stores on Feb. 21, Ozzy Osbourne says he's already planning on returning to the studio to record a follow-up. "I'm starting another one next month," Osbourne says, but also expressed his fear of touring, which he doesn't "like to think about" because "I can't even f---ing walk properly yet." Ozzy has credited Ordinary Man with pulling him out of a downward spiral caused by his health woes, including battling pneumonia and suffering a fall at his home last February, and last month, revealed he had been living with Parkinson's disease. And he also thanked the producer, and rapper Post Malone, who got them together by asking him to appear on his track "Take What You Want." "I've never been laid up for a year in my life and still been in so much pain at the end of it, but Andrew Watt and f----ing Post Malone and my daughter Kelly got me going in the right direction. If it's not a big hit that's fine, but this album is quite possibly one of the most important albums I've ever made because it saved my life." - Music-news.com, 2/22/20...... At 86, Willie Nelson's age is only 17 years higher than the number of albums he's released throughout his long and venerable career. On Feb. 23, Nelson announced his 70th studio album, First Rose of Spring, will drop on Apr. 24 and feature covers of songs from the likes of Toby Keith, Chris Stapleton and Billy Joe Shaver alongside a series of co-written Nelson originals. Nelson has also shared the title track of the new LP on YouTube. - NME, 2/23/20......

Songwriter Paul Williams is set to receive the prestigious Johnny Mercer Award at the 51st Annual Songwriters Hall of Fame induction ceremony on June 11 at the Marriott Marquis Hotel in New York City. "Paul Williams is a songwriter's songwriter," said SHOF chairman Nile Rodgers. "He's one of the most wonderful and colorful creators of our time and a man who has given the world so much love through songs like 'Just An Old Fashioned Love Song,' 'We've Only Just Begun' and 'Rainbow Connection.'" Williams, 79, received three Grammy nominations for song of the year, for "We've Only Just Begun" (1970), "You and Me Against the World" (1974) and "Evergreen" (1977). He wrote all three songs with different composers -- Roger Nichols, Kenny Ascher and Barbra Streisand, respectively. He has also received three Oscar nominations for best original song, for "Nice to Be Around" from Cinderella Liberty (1973), "Evergreen" from A Star Is Born (1976) and "The Rainbow Connection" from The Muppet Movie (1979). Williams won an Oscar for writing the lyric to "Evergreen," and is just the fifth recipient of the Johnny Mercer Award who has won both an Oscar for best original song and a Grammy for song of the year. Williams is also passionate about recovery and works tirelessly to destigmatize alcoholism and addiction. His career, life, and work in recovery were chronicled in the 2011 documentary, Paul Williams Still Alive. - Billboard, 2/25/20...... In a new interview with The Wall Street Journal, Clint Eastwood said he thinks former New York City Mayor Mike Bloomberg should be the next president and that he wishes Pres. Donald Trump would change his behavior. The 86-year-old Dirty Harry actor, a self-described libertarian, says although he agrees with some Trump policies he thinks the president should act "in a more genteel way, without tweeting and calling people names." "I would personally like for him to not bring himself to that level," the Academy Award-winner told the paper, before adding "The best thing we could do is just get Mike Bloomberg in there." Eastwood also weighed in on the sensational trial of disgraced movie producer Harvey Weinstein, saying the #MeToo movement has undercut the "presumption of innocence" and rejected accusations of sexism related to his latest film Richard Jewell, which was criticized for suggesting a female reporter traded sex for tips about case. - Dailymail.co.uk, 2/21/20...... As Eastwood endorses Bloomberg, small-screen icon Dick Van Dyke has come out for Democratic presidential candidate Sen. Bernie Sanders. "I can't wait to see Bernie debate Mr. Trump," the 94-year-old Van Dyke said in an endorsement video released on Feb. 21. "The age question keeps coming up," Van Dyke noted. "I know that I'm 20 years older than Bernie. I have all my marbles. I could run for office if I wanted to. So I don't think age... it really doesn't matter, except for his experience and the years he's put in." The actor also said he's struggled understanding why Sanders had difficulty appealing to those from the older generations. "Why wouldn't an older citizen vote for somebody with that kind of a record and with that kind of experience and honesty and trust? It just doesn't make sense to me that he's not getting my generation. And I want to urge my generation to get out and vote for him, please." The Mary Poppins star also declared that the November election would be the most important one held since the end of World War II. While not mentioning Trump by name, Van Dyke did suggest that democracy was doomed if his administration had "another four years." "We must get him out of there. Democratic principles are flying out the window. He has assumed authority beyond what the president is allowed and he's going to get worse," he concluded. Dailymail.co.uk, 2/21/20.
Friday, February 21, 2020
Rod Stewart closed the 2020 Brit Awards at London's O2 Arena on Feb. 18 with a reunion with two of his former Faces bandmates -- guitarist Ronnie Wood and drummer Kenney Jones. Stewart first performed a solo rendition the Crazy Horse song "I Don't Want to Talk About It," which he dedicated to the mother of Brit Awards host Jack Whitehall, joking that she was "throwing herself" at him earlier in the night. Rod then said, "This show may be 40 years old, but the Faces are 50 years old," referring to the bluesy hard rock outfit that formed out of Small Faces decades ago in the U.K. "There used to be five of us, and now there's three," he said, before inviting out the fellow two surviving members -- Wood and Jones -- for a little reunion in the form of the Faces' scuzzy booze-blues classic "Stay With Me." The 74-year-old Stewart also contributed some dance moves that stole the finale. - Billboard, 2/18/20......

A rare David Bowie album called I'm Only Dancing (The Soul Tour 74) has been announced for release for Record Store Day (Apr. 18). The LP collects previously unreleased tapes from Bowie shows in Nashville and Detroit in 1974 and will be released on 2LP and 2CD format, and joins a previously announced Bowie album, ChangesNowBowie, which will also be released on Record Store Day. In a press release, Parlophone Records said I'm Only Dancing (The Soul Tour 74) "was recorded mostly during David's performance at the Michigan Palace, Detroit on 20th October, 1974, with the encores taken from the Municipal Auditorium, Nashville on 30th November, 1974." ChangesNowBowie, a 9-track album culled from a 1996 session with longtime Bowie bassist Gail Ann Dorsey, guitarist Reeves Gabrels and producer Mark Plati during rehearsals for a 50th birthday gig at Madison Square Garden, was previously announced for Record Store Day release in January. - Billboard, 2/20/20...... A remastered version of the classic live Elvis Presley film That's The Way It Is will be screened in select cinemas in the UK, Ireland, Germany, Austria, Switzerland, Sweden, Denmark, Finland, Norway, Estonia, Latvia, Lithuania, Australia and New Zealand for one night only on Apr. 22. Originally released in Nov. 1970, the Denis Sanders-directed documentary was filmed during a series of shows the King played in Las Vegas in 1970. Tickets will go on sale on Feb. 26. Meanwhile, a Baz Luhrmann-directed biopic of Presley is currently in the works, with Tom Hanks set to play the late singer's manager Colonel Tom Parker. - New Musical Express, 2/20/20...... Ozzy Osbourne attended an album release party for his new solo album Ordinary Man at L.A.'s Rainbow Bar and Grill on the Sunset Strip on Feb. 20. With wife Sharon Osbourne, daughter Kelly Osbourne, and others in his sizable entourage including Red Hot Chili Peppers drummer Chad Smith also in attendance, Ozzy held court in the back booth for two full hours as tracks from the new LP played at top volume, the walls of the venue papered with photos from all different phases of his career. Osbourne, who was walking with the help of a cane and holding onto the arm of a male friend as he entered and exited the venue, recently told the UK tabloid The Sun that he is in "unbelievable pain 24/7" after a fall at his home in Feb. 2019 aggravated an old neck injury. In January, he revealed he had been diagnosed with a type of Parkinson's disease known as PRKN 2, a milder form of the progressive nervous system disorder. His health issues caused him to announce on Feb. 20 that he's postponing planned U.S. and Canadian dates on his "No More Tours 2" while he seeks treatment overseas. "I cannot go out on the road, until I'm 100 percent confident that I can pull it off," Ozzy said in an interview with Radio.com. "If I go out now and I can't carry on, people are gonna think I've lost the plot, ya know. So I'm not gonna go out there until I can give them the show that I want to give them, because it's not fair to them. I mean I've waited this long. I'm intending on going back out on the road," he added. The 27-date tour, with Marilyn Manson supporting, had been slated to kick off in May. Ordinary Man is currently available for streaming on Spotify.com. - Billboard, 2/21/20......
After becoming an official American citizen in January, Neil Young is already exercising his First Amendment rights with a scathing open letter to US Pres. Donald Trump that begins with the phrase: "You are a disgrace to my country." Young posted the lengthy screed on his Neil Young Archives Times-Contrarian website on Feb. 18 with a featured cover image of an angry young boy riding a bike with the American flag waving behind. "Your mindless destruction of our shared natural resources, our environment and our relationships with friends around the world is unforgiveable," the singer/songwriter wrote. "Your policies, decisions and short term thinking continue to exacerbate the Climate Crisis.... The United States of America, my country, is not a green on one of your branded gold courses that you can ride around on and damage so that other players cannot shoot straight," he added. Young also slammed the president for using Young's Grammy-winning classic rock anthem "Rockin' in the Free World" after kicking off his 2016 Republican presidential candidate announcement with the track, a song Young says he wrote back in 1989 as a critique of former Pres. George H. W. Bush's administration and his lack of care toward the poor in America. "'Keep on Rockin' in the Free World' is not a song you can trot out at one of your rallies," Young wrote. "Perhaps you could have been a bass player and played in a rock and roll band. That way you could be on stage at a rally every night in front of your fans, if you were any good, and you might be... Every time 'Keep on Rockin' in the Free World' or one of my songs is played at your rallies, I hope you hear my voice. Remember it is the voice of a tax-paying US citizen who does not support you. Me." Before ascending to the presidency, Pres. Trump attended multiple Young concerts over the years and even sat next to Patti Smith in the first couple of rows at a 2006 Crosby, Stills, Nash & Young reunion show at The Theater in Madison Square Garden in New York City. "He's got something very special," Trump said in the interview at the time of the concert. "I've listened to his music for years." - Billboard, 2/19/20...... As he grants new interviews to help publicize his latest album American Standard, James Taylor told the UK paper The Guardian that his good friend Joni Mitchell is "coming back" with new music soon as she recovers from a brain aneurysm she suffered in March of 2015 and was found unconscious at her home. Taylor revealed the two have recently reconnected and that he "recently sort of re-engaged with Joni, and that's been wonderful." "She came to a show of mine recently, at the Hollywood Bowl, which was an unusual thing for her to do," Taylor said. Going on to seemingly reveal a comeback for the iconic folk singer, he added: "She's recovering, she's coming back -- which is an amazing thing to be able to do -- and I wonder what she has to tell us about that… I think she's coming back musically… It's amazing to see her come back to the surface." Mitchell's most recent album, 2007's Shine, is set to be released on vinyl later in 2020. Taylor also told The Guardian that he fears he may have played a role in the demise of the Beatles by giving John Lennon hard drugs. Lennon's issues with heroin have long been rumoured to have contributed to the band deciding to break-up in 1969, a year after they met Taylor, who was at the time battling his own opioid addiction, and signed to their Apple Records label. Describing his drug use, he said: "You used to be able to buy something called Collis Browne's Chlorodyne, which was an old-fashioned medication. Essentially, it was a tincture of opium, so you'd drink a couple of bottles and you could take the edge off." But Taylor added he isn't absolutely sure it was he who introduced Lennon to hard drugs. "They were leaving as I was coming in. I often came in early and would sit in the control room and listen to them recording -- and hear playbacks of what they had just cut." Asked whether the band was "unravelling" at that stage, he adds: "Well, it was a slow unravelling, but it was also an extremely creative unravelling." Taylor subsequently left Apple Records, beat his addictions in rehab and moved to Los Angeles, where he recorded his breakthrough record Sweet Baby James featuring vocals from Carole King. - New Musical Express/WENN, 2/17/20...... Speaking of the Beatles, the Fab Four's Apple Corps and Subafilms, which owns the Yellow Submarine trademark, have been granted a $77 million default judgement over fake band merchandise. A Florida judge fined the 77 defendants in the case each $1 million in damages for trademark violations. London-based Apple Corps and Subafilms, which are owned by the former Beatles members, brought the federal lawsuit against the individuals in Nov. 2019 asking a judge to not only prohibit them from selling the counterfeit merchandise, but to also hold them accountable for any commercial sales made that infringed on the trademark. Apple Corps was also granted a permanent injunction against the defendants prohibiting them from "manufacturing, importing, advertising, or promoting, distributing, selling or offering to sell counterfeit and infringing goods using" the bands' trademarks. Defendants in the lawsuit were listed only through their domain names, seller IDs, URLs and email addresses. An attorney familiar with the case says the lawsuit was likely filed by Apple Corps "to send a message; protect its legitimate licensees; build its case against future infringers and hopefully, just hopefully, catch a few bad actors in the act, seize their assets and put them out of business." - Billboard, 2/18/20......

A charity founded in honor of late Black Sabbath and Rainbow vocalist Ronnie James Dio, who died on May 16, 2010, will remember the musician with a 10th anniversary Ronnie James Dio Stand Up and Shout Cancer Fund concert and memorial awards gala at The Avalon in Hollywood on Feb. 20. Metal media maven Eddie Trunk will host the second annual gala, which will feature a performance by the current edition of the Dio band, which has been touring with a hologram of the late singer. Presenters will include Ahmet Zappa, Sebastian Bach, Motley Crue's Tommy Lee, Cinderella's Fred Coury, Quiet Riot's Frankie Banali, Glenn Hughes (Deep Purple, Black Sabbath) and Jeff Pilson (Foreigner, Dokken). Among the evening's honorees will be Rhino Entertainment/Warner Music Group (which will receive the Holy Diver Award), T.J. Martell Foundation CEO Laura Heatherly (the Killing the Dragon Award), and Dio hologram creator Jeff Pezzuti of Eyellusion (the Stand Up and Shout Award). Dio's widow Wendy Dio says she hopes to have a new Dio hologram out later this year with the Dio road band, which went on tour during 2019. "We're developing a new one because technology changes every day," she explains. "I was happy with the one we just did last year in the U.S., but now we can make it even better. It's something I think Ronnie would have wanted to do. He loved going to Disneyland and seeing the holograms there and always was very interested in developing one." Meanwhile, a new RJD documentary is on the way. BMG Music announced on Feb. 18 that the film will be the first documentary to be fully authorized by his estate and include never-before-seen archival footage and photos from his personal archives, as well as scenes with his closest peers, friends and family. The film will complete Dio's unfinished autobiography, which he was working on before his untimely death from stomach cancer in 2010. In conjunction with the film, BMG will release on Mar. 20 a remastered collection of Dio's acclaimed 1996 - 2004 studio albums Angry Machines, Magica, Killing The Dragon, and Master Of The Moon with rare and unreleased bonus tracks. - Billboard, 2/19/20...... The estate of late funk singer Rick James is being sued for $50 million by a woman who claims James raped her when she was only 15 years old. The unidentified plaintiff says James raped her while she was staying at a group home in Buffalo, New York, in 1979. The lawsuit was filed on Feb. 13 against the James Ambrose Johnson Jr. 1999 Trust, which is run by the singer's estate. The suit was filed under the Child Victims Act, which opened a one-year litigation window for victims who were once blocked by the statute of limitations. In the lawsuit, the woman said James was visiting one of the parents at the group hope. She said he came into her room after dinner and raped her. "He grabbed my hair and pushed my head into the pillow," she said in the suit. "I tried to fight him off, but he told me to 'shut up and quit moving or I'll cut you.'" The woman says she has suffered "physical, psychological and emotional injury" due to the alleged assault. James was convicted in 1993 of assaulting two women. The first case occurred in 1991, when prosecutors said James and his girlfriend tied a woman to a chair, burned her with a hot crack pipe and forced her to perform sex acts during a cocaine binge at his West Hollywood home. He was free on bail when the second assault occurred in 1992 in James' hotel room. He served more than two years in prison. He was found dead in his Los Angeles home on Aug. 6, 2004. - AP, 2/18/20...... Debbie Harry of Blondie, John Fogerty, Herbie Hancock, Chick Corea and Sheryl Crow are among the headliners at the 2020 Jazz Plus concert series at the Hollywood Bowl which will begin on July 29 and run through Sept. 23. Corea and the Spanish Heart Band are set to open the series on July 29; Harry will participate in a Peggy Lee tribute on Aug. 5; Fogerty will headline on Aug. 19; Crow will perform on Sept. 16, and Hancock will close out the series on Sept. 23. Other headliners include Charlie Wilson (8/12) and Hiatus Kaiyote (9/9). - Billboard, 2/18/20......
A new musical inspired by the life and music of late '70s reggae legend Bob Marley will debut at London's Lyric Theatre from Feb. 6, 2021, on what would have been the seminal musician's 76th birthday. "Get Up, Stand Up!" will chronicle Marley's rise to superstardom, with Kene tackling the role of Marley. "I feel absolutely honoured to be able to take on this role," Kene said in a statement. "It is not only an honour to be able to spread Bob Marley's message further, but to get to be him for a little while is a lifelong dream come true. I grew up on his music and his mantra and he has been one of my role models since I was a child. I feel as if he's in my DNA. He's the man, I love him." - New Musical Express, 2/16/20...... Elton John canceled the two remaining New Zealand shows on his Farewell Yellow Brick Road tour on Feb. 18 as he continued to suffer from a bout of pneumonia. The shows have been rescheduled for next year. Earlier in February, John was forced to cut short a performance in Auckland after he lost his voice and needed medical help on stage. In a statement, Elton said he was "incredibly disappointed" and sent his sincerest apologies to his fans. It was not immediately clear if his illness would affect other dates on his tour, which next moves to Australia. John had just returned to New Zealand after performing at the Academy Awards in Los Angeles on Feb. 9. He won an Oscar for best original song for his theme song for the movie Rocketman. - AP, 2/18/20...... The Who are set to join an all-star group of performers for the 2020 Teenage Cancer Trust benefit shows at London's Royal Albert Hall in March. The Who's Mar. 28 show will feature Who frontman Roger Daltrey and guitarist/singer Pete Townshend performing with a full orchestra as part of a week of gigs (Mar. 23-29) in support of the only UK charity dedicated to meeting the needs of young people (13-24) battling cancer. The TCT shows, conceived and curated by Daltrey, have traditionally featured all-star lineups, including the likes of Paul McCartney, Oasis and The Cure. The 2020 shows will feature such artists as Stereophonics (3/25), Groove Armada (3/27) and Nile Rodgers and Chic (3/29). This year's gigs will celebrate the 20th year of TCT shows at Royal Albert Hall and the organization's 30th anniversary. - Billboard, 2/18/20...... "American Utopia," the critically acclaimed theatrical concert from former Talking Heads frontman David Byrne, is set to begin a return Broadway engagement at New York's Hudson Theatre for a 17-week run this fall, with beginning performances set for Sept. 18 and scheduled through Jan. 17, 2021, and an official reopening date to be set. The "American Utopia" production combines songs from Byrne's Talking Heads heyday with selections from across his eclectic solo output, and calls for his fellow humans to "rewire their brains and connect with our ailing planet." A filmed version of "American Utopia," directed by Spike Lee, has been shot, with a release date to be announced for later in 2020. Meanwhile, Byrne and his backing band will be the musical guests on the Feb. 29 edition of Saturday Night Live. - The Hollywood Reporter, 2/17/20...... A video of a KISS cover band musician has been posted on Twitter with the hair of Bobby Jensen, who portrays Gene Simmons in the cover band Hairball, accidentally catching fire as he keeps on rock 'n rolling. Jensen was performing in Sioux City, Iowa, dressed in full KISS make-up and costume, when his long hair accidentally caught fire from the onstage pyro spark. He kept it totally cool, not missing a chord, or even really reacting at all, as the fire spread up his head while two crew members raced over to put out the flames. The crowd burst into cheers once the scary moment was over and Jensen was alright. See it all go down below via a fan on Twitter, who fittingly titled the clip: "The most rock and roll thing you will ever see." - Billboard, 2/18/20......
Actress Ja'net Dubois, best known as Willona Woods on the classic 1970s sitcom Good Times, apparently passed away in her sleep in her home in Glendale, Calif., on Feb. 18. She was 74. In addition to famously portraying the exhuberant neighbor Woods on Good Times, Dubois also co-wrote and performed "Movin' On Up", the theme tune for another All in the Family-related spinoff, The Jeffersons. Prior to her Good Times fame, Dubois made TV history with her role as Loretta Allen on soap opera Love of Life in 1970, when she was cast as the first African-American female regular on a daytime serial, and she went on to win two Emmy awards for her voice work on animated series The PJs, which ran from 1999 to 2001. Her other screen credits included films like 1988's I'm Gonna Git You Sucka, and Charlie's Angels: Full Throttle in 2003, while on TV, she appeared in Shaft, Kojak, ER, Home Improvement, Moesha, The Steve Harvey Show, and A Different World. The actress was also known for her roles on Broadway, where she began her career in plays like "A Raisin In The Sun" and 1956's "Golden Boy", which also featured Sammy Davis Jr. and Louis Gossett Jr. She reunited with Good Times co-star Janet Jackson in 1987 to play the R&B icon's mother in the video for her single "Control." "I am so very saddened to hear my longtime friend Ja'net DuBois has passed away," Janet Jackson posted online as news of Dubois' death broke, alongside a slideshow of snapshots of the pair taken over the years. Good Times producer Norman Lear also posted a tribute to the late actress and singer, sharing on Twitter, "Ja'Net DuBois was all light and will be missed. I love that she wrote the theme song for her passing, 'Movin' on Up'," referencing the theme song to The Jeffersons, which DuBois wrote and performed." - WENN/Canoe.com, 2/19/20...... Actress Kellye Nakahara, who portrayed Lieutenant Nurse Kellye on the hit wartime sitcom M*A*S*H died on Feb. 16 in Pasadena, Calif., following a battle with cancer. She was 72. The Hawaii native, who moved to San Francisco before landing the role as Nurse Kellye on M*A*S*H, also appeared in the films Clue and Black Day Blue Night, and was an accomplished watercolour artist. "Kellye Nakahara was a beautiful person and a natural as an actor," M*A*S*H star Alan Alda told Fox News in a statement. "She began as a background performer and worked her way up to playing the lead in an episode I wrote for her. She was adorable and brilliant in the part. But, you couldn't beat what she was as a person, funnier and warmer and kinder than most people I've known. We all loved her on 'M*A*S*H,' and we're all heartbroken to know she's gone. Kelley was a treasure." Alda's M*A*S*H co-star Loretta Swit also offered her condolences, calling Nakahara a "jewel" [who] radiated sparkle and goodness and joy. The light that her presence brought will be deeply and forever missed." - WENN/Canoe.com, 2/18/20.
Sunday, February 16, 2020
Paul McCartney was among the celebs tweeting happy Valentine's Day wishes on Feb. 14. "Let's all have a loving #ValentinesDay! Love Paul," the former Beatle posted on his Twitter page alongside a cheeky picture of himself posing with a heart-shaped bouquet of red roses. - Billboard, 2/14/20......

Queen + Adam Lambert performed the same setlist from their 1985 Live Aid concert for the first time since that legendary performance during a massive Australian bushfire benefit concert at ANZ Stadium in Sydney, Australia on Feb. 16. Queen noted earlier in a social media post that it was the current incarnation of Queen's first time performing the original 22-minute set "for the first time in its history." At the Fire Fight Australia benefit, Queen even broadcast footage of late frontman Freddie Mercury to replicate how Mercury encouraged the 1985 Live Aid audience at Wembley in an energetic singalong, only to light-heartedly tell them "F--- you" afterwards. Queen guitarist Brian May had previously described Fire Fight Australia as a benefit concert "a bit like Live Aid" when he initially revealed that Queen had been approached to play the event. Other artists performing at FFA included Alice Cooper, k.d. Lang and Michael Buble along with native Aussies Olivia Newton-John, Daryl Braithwaite, Hilltop Hoods, Icehouse and Amy Shark, among others. - NME, 2/16/20...... Elton John was forced to end a Feb. 16 concert in Auckland, New Zealand earlier than normal after he began to lose his voice and was escorted from the stage, performing the show despite being diagnosed with walking pneumonia earlier in the day. Before the end of the gig at Mount Smart Stadium, Elton was seen visibly crying on stage and later told fans on Instagram that despite his illness "...I was determined to give you the best show humanly possible. I played and sang my heart out, until my voice could sing no more." John, 72, concluded his apology with "I'm disappointed, deeply upset and sorry. I gave it all I had. Thank-you so much for your extraordinary support and all the love you showed me during tonight's performance. I am eternally grateful. Love, Elton xx." Elton's "Farewell Yellow Brick Road" tour began in 2018 and is set to end in 2021. In other Elton news, John was awarded a Best Book award at the 2020 New Musical Express Awards on Feb. 12 for his 2019 autobiography, Me, triumphing over books written by or about such artists as Debbie Harry, Prince, Brett Anderson and Tegan & Sara. - New Musical Express, 2/16/20...... Authorities in Atlanta, Ga. have revealed they are evaluating new evidence and considering opening a formal investigation into the circumstances surrounding the 2006 of late Godfather of Soul James Brown. Paul Howard Jr. of the Fulton Co. D.A.'s office says on Feb. 12 prosecutors met with a woman named Jacque Hollander who said she had relevant evidence. Hollander reportedly told the DA that she believes Brown died under suspicious circumstances and was possibly murdered. She also was said to have handed over a bin containing some items relevant to the case that she had collected in the years since Brown's passing to the DA's office. "We told her that we would take the information, take the items, and we would review it," said DA spokesperson Chris Hopper. Hopper added that the DA said his office would also attempt to interview some individuals whose names Hollander provided them to determine whether there are facts to back up her assertions regarding Brown's death. The DA plans to make an evaluation in the next six months whether or not to move forward with any kind of official death investigation, according to Hopper. Brown's cause of death in 2006 at age 73 was listed on his death certificate as a heart attack and fluid in his lungs. - Billboard, 2/13/20......
Two years after being fired from Fleetwood Mac and a year after suffering a vocal cord injury which required emergency open heart surgery, Lindsey Buckingham announced on Feb. 11 that he's ready to hit the road again in 2020. Buckingham's trek will kick off at Reynolds Hall in Las Vegas on Apr. 25, also visiting Boulder, Co. (4/28), Kansas City, Mo. (4/30), St. Louis (5/1), Memphis (5/3), Atlanta (5/5), Knoxville, Tn. (5/6), Huntsville, Ala. (5/7), Wichita, Ks. (5/9), Oklahoma City, Ok. (5/10) and Tuscon, Ariz. (5/12) before wrapping at the Magnolia Performing Arts Center in El Cajon, Calif. on May 13. Buckingham, who had been forced to postpone some planned 2019 dates due to his medical issues, was kicked out of Fleetwood Mac in 2018 after more than four decades with the band after some differences with his former bandmate and girlfriend Stevie Nicks. He later settled a civil lawsuit against the band after he was cut from a run of concerts in North America which he said cost him millions in lost earnings. - Billboard, 2/12/20...... Rock & Roll Hall of Fame Class of 2019 inductees Def Leppard have announced a slate of 16 fall dates for their "20/20 Vision" tour that will immediately follow their summer stadium tour with Motley Crue, which has already sold more than 1.1 million tickets. With openers ZZ Top, the fall leg is set to launch on Sept. 21 at Times Union Center in Albany, N.Y., and run through Tennessee, Virginia, Alabama, Louisiana, Nebraska, Michigan and more before wrapping on Oct. 18 in Spokane, Wash. "What a year this is going to be!," Def Leppard frontman Joe Elliott said in a release. "First, sold out stadiums, then we get to go on tour with the mighty ZZ Top! Having been an admirer of the band for a lifetime it's gonna be a real pleasure to finally do some shows together...maybe some of us will get to go for a spin with [ZZ Top front man] Billy [Gibbons] in one of those fancy cars..." Gibbons responded in his own statement: "We're excited about hitting the road with Def Leppard this fall; we've been fans of theirs since forever... Joe Elliott is always welcome to ride 'shotgun' with us and we won't even ask him to pay for the gas." - Billboard, 2/13/20...... Neil Young, Willie Nelson and Stephen Stills will be the headliners at the sixth annual Light Up The Blues benefit concert in Los Angeles, set for May 30 at the Greek Theatre. "With this year's stellar lineup -- and a meaningful venue in the Greek Theatre, our hometown favorite -- I am itching to get on stage with this crew and support the efforts of Autism Speaks. It's going to be another exciting and marvelous show!" said Stephen Stills in a release. Also on the bill for the show will be Lukas Nelson & Promise of the Real, Lucius, Fantastic Negrito, Chris Stills and Oliver Stills. Actor/comedian Jack Black will serve as the concert's emcee, with additional special guests expected to appear. - Billboard, 2/12/20......


"Karn Evil 9," the almost 30-minute centerpiece of prog-rock trio Emerson, Lake & Palmer's 1973 album Brain Salad Surgery, is being turned into a science-fiction movie. The track, which takes up part of side 1 and all of side 2 of the album, is divided into four "impressions" and basically tells the story of a battle between humans and computers. The film will be executive produced by Radar Pictures, the group behind the hit Jumanji series, and written by Robopocalypse author Daniel H. Wilson, who'll adapt a screenplay based on the concept laid out by the ELP song. The movie will reportedly focus on "a society that has drained all its blood with a dependence on technology" and "explore the world controlled by a pervasive and dictatorial technocracy." The song's famous refrain -- "Welcome back my friends, to the show that never ends / We're so glad you could attend, come inside, come inside" -- will most likely be represented by a carnival of exhibits that feature 20th-century "oddities," ranging from blades of grass to Dixieland music, that have been wiped out by technology, according to Radar's Ted Field."Our team at Radar looks forward to bringing this vision of where things may be headed to the big screen and beyond," Field said. While "Karn Evil 9"'s epic length prevented it from being released as a single, the second movement's rousing introduction and radio-ready melody made it a popular album track on FM radio for decades. The song's lyrics even inspired the title of Emerson, Lake & Palmer's Top 5 1974 live album, Welcome Back, My Friends, to the Show That Never Ends. No cast or release date has been announced so far. Drummer Carl Palmer is the only surviving member of the band; keyboardiest Keith Emerson died in March 2016, and vocalist/guitarist Greg Lake died in December of the same year. - Deadline.com, 2/13/20..... In an interview published in the March edition of Esquire magazine, former child star Macauly Culkin says that he never saw any abuse of children by his late friend and King of Pop Michael Jackson. "Look, I'm gonna begin with the line -- it's not a line, it's the truth: He never did anything to me," Culkin told the magazine. "I never saw him do anything. And especially at this flash point in time, I'd have no reason to hold anything back. The guy has passed on. If anything -- I'm not gonna say it would be stylish or anything like that, but right now is a good time to speak up. And if I had something to speak up about, I would totally do it. But no, I never saw anything; he never did anything." Culkin and Jackson spent a fair amount of time together in Culkin's youth, and Culkin also famously testified in defense of Jackson in 2005 when the singer was charged with molesting a 13-year-old boy who had cancer. Jackson was eventually acquitted. Culkin says the last time the two talked was in that courthouse during a recess and he was in the restroom when Jackson happened to enter. "We better not talk. I don't want to influence your testimony," Jackson said, according to Culkin, who added they then laughed at the moment. Culkin, 40, is the godfather of Jackson's daughter, Paris Jackson. The two talk often, he said, and have matching tattoos. - The Hollywood Reporter, 2/11/20...... Aerosmith reunited with their estranged drummer Joey Kramer on Feb. 10 during a show at the group's "Deuces Are Wild" residency at Park Theater Las Vegas at the MGM Grand. Kramer, 69, sat in with the group after getting iced out of rehearsals and a performance by Aerosmith at the Grammy Awards show on in Los Angeles on Jan. 26. Kramer had been sidelined by the group amid an ongoing lawsuit he filed against them for breach of contract after he suffered an ankle injury in 2019 which caused him to miss most of Aerosmith's recent Vegas residency. It was Kramer's first gig with the band since a shoulder injury caused him to quit performing in April 2019, at which point he was replaced by his drum tech. Aerosmith has yet to post any comments on social media about the reunion, and Kramer's future with the band. - Billboard, 2/11/20......
A 1962 vintage amplifier that helped former Rolling Stones bassist Bill Wyman clinch his audition for the iconic British rock band is among more than 1,000 items being auctioned by the musician from his more than 50-year career. "Collecting and archiving has been one of the greatest pleasures of my life and will undoubtedly be one of my legacies," the 83-year-old Wyman, who quit the band in 1993, said in a statement. "It feels like the right time to share my archive with the world. I hope people will get as much joy from my collections as I have," he added. One of the most interesting items in the May 29-31 auction conducted by Julian's in Beverly Hills, which also includes stage clothes and other Stones memorabilia, is the 1962 Vox AC30 amplifier that then 26-year-old Wyman brought to his audition for the Stones at a London pub in 1962. According to Wyman, band members Keith Richards and Mick Jagger were impressed with the amp. "They had horrible amps so they were very happy about that. I bought a round of drinks for everyone and offered cigarettes and of course they jumped immediately because they all smoked but couldn't afford them," Wyman recalled in a 2008 interview. The amp carries a pre-sale estimate of $80,000 - $100,000. Wyman, who now fronts his own band Rhythm Kings, is also selling off several of his other bass guitars, including a 1969 Fender Mustang bass that he played at concerts and on Stones recordings in 1969 and 1970 that is expected to sell for up to $500,000. A portion of the auction proceeds will go to the Macmillan Cancer Support, the British-based youth charity Prince's Trust and the Central Caribbean Marine Institute. Some of the items will go on public display at the Museum of Style Icons in Ireland from March 10-April 20, and in Beverly Hills immediately before the May auction. - Reuters, 2/13/20...... Newly released footage has emerged of Rod Stewart appearing to give a Nazi salute and assaulting a security guard in a New Year's Eve incident at Palm Beach's The Breakers hotel. The scuffle took place as Stewart, 74, was vacationing in Florida with his family and he and his entourage were said to be denied access to a private party outside of the resort's children's area. Sean Stewart -- Rod's son whom he shares with first wife Alana Hamilton -- was accused of shoving the guard after being told to back up, according to a police report. This was allegedly followed by Rod stepping toward the guard and throwing a punch, striking the guard "in his left ribcage area." Footage from the night has now emerged, which shows what appears to be Stewart striking the security guard and performing a Nazi salute. Stewart is set to launch a North American summer tour with openers Cheap Trick on July 1 in Cuyahoga Falls, Oh. - New Musical Express, 2/16/20......
Former Eagles guitarist Don Felder has proposed to his girlfriend Diane McInerny, who anchors the syndicated TV celebrity show Inside Edition. Felder, 72, proposed to McInerny, 48, during a sunset stroll in Malibu in January, according to People magazine. It was the same spot where Felder says he wrote music for the Eagles' iconic 1976 album, Hotel California. "Diane is beyond excited to be engaged to the love of her life," a source close to the couple told People. "Their friends and family are thrilled for their happiness." McInerney showed off her engagement ring in an Instagram post on Feb. 10 -- a custom design featuring a five-carat round brilliant cut diamond -- and following the proposal Felder reportedly whisked his bride to be away for a luxury vacation in Mexico. The marriage is a second one for both. Felder has four children with ex-wife Susan Pickersgill, from whom he split in 2000 after three decades of marriage. McInerny was previously married to criminal defense lawyer, Edward Palermo, with whom she has two daughters. The New York-born journalist has been at Inside Edition since 2003. - DailyMail.co.uk, 2/11/20...... Paul English, the longtime drummer for Willie Nelson's band Willie Nelson & Family, died on Feb. 11 in Dallas following a recent battle with pneumonia. He was 87. Mr. English had been a beloved member of Nelson's fand since the 1960s, first playing with the Grammy-winning country star in 1955 before becoming his full-time drummer in 1966. He was a member of Nelson's band until his death. The Vernon, Tex. native served as part of the inspiration behind Nelson's famous 1971 road song "Me & Paul." The nearly four-minute track includes Nelson lamenting of their troubled travels in Nashville, being "almost busted in Laredo, but for reasons that I'd rather not disclose," and a Milwaukee airport not allowing them on the plane. "They said we looked suspicious/ But I believe they like to pick on me and Paul," Nelson sings on the song. In addition to his role as a drummer, Mr. English sometimes served as Nelson's bodyguard, and also credited Nelson for saving his own life. "If I hadn't gone with Willie, I would be in the penitentiary or dead," Mr. English told Rolling Stone in 2014. "I was running girls and playing music at the same time." Mr. English was reportedly surrounded by friends and family at a hospital near his home as he died. - Billboard, 2/12/20.
Tuesday, February 11, 2020
As was hinted by the band on Instagram a week earlier, the Rolling Stones announced on Feb. 6 that they'll return to North America for a 15-city stadium tour starting May 8 in San Diego. The fourth leg of the band's No Filter Tour will also hit Vancouver, B.C. (5/12), Minneapolis (5/16), Nashville (5/20), Austin, Tex. (5/24), Dallas (5/29), Buffalo, N.Y. (6/6), Detroit (6/10), Louisville (6/14), Cleveland, Oh. (6/19), Pittsburgh (6/23), St. Louis (6/27), Charlotte (7/1) and Tampa, Fla. (7/5) before wrapping on July 9 in Atlanta. Meanwhile, in a new interview with New York radio station Q104.3, Stones guitarist Keith Richards revealed that he has finally given up his longtime smoking habit. Richards told host Jim Kerr that he has not touched a ciggie since October 2019. "Done that, been there," Richards replied when asked about his decision to quit smoking, which he first announced in 2019. "Quitting heroin is like hell, but it's a short hell. Cigarettes are just always there, and you've always done it. I just pick 'em up and light 'em up without thinking about it," Keef told Mojo magazine at the time. "Lately, in fact -- spread the news -- I've managed to cut it down by a substantial amount every day," he added. - Billboard/New Musical Express, 2/6/20......
Elton John became the second-oldest winner in the history of Oscar's best original song category when he and songwriting partner Bernie Taupin picked up the award during the 92nd Annual Academy Awards on Feb. 9 at the Dolby Theatre in Hollywood. John and Taupin's rousing, life-affirming "(I'm Gonna) Love Me Again" from the Elton biopic Rocketman was Elton's second Oscar win in that category, and Taupin's first. "Thank you to Bernie who has been a constant in my life, when I was screwed up, when I was normal, he's always been there for me," John said, after Taupin remarked, "Being here with this guy, I don't have words for it. This is justification for 53 years of just hammering it out and doing what we do." The win enabled John to set a new record as the songwriter with the longest span of wins in the best original song category -- 26 years. He took the 1994 award for "Can You Feel the Love Tonight" from the original The Lion King. The old record for the longest span of best song winners was held by James Van Heusen, whose wins spanned 20 years--from "Swinging on a Star" (1944) through "Call Me Irresponsible" (1963). The 72-year-old superstar also becomes the second-oldest winner in the history of the category. The oldest is Gulzar, who was 74 when he won for writing the lyrics to "Jai Ho" from Slumdog Millionaire (2008). Taupin, 69, becomes the third-oldest winner in the history of the category. Guests, including Heidi Klum, Diane Lane and Eric McCormack, were welcomed to the party with cocktails, followed by a gala dinner and viewing of the broadcast of the ceremony, after Elton took to the stage to share a few words. "What a night. It is so special to celebrate our Foundation's 28th annual Oscar Party with the Fab Five (cast members of Queer Eye) and Sam Fender and to top it off, another Oscar win!," Elton said. "But most importantly, tonight we have come together to raise urgently needed funds and awareness for the LGBT community at risk or living with HIV in the U.S. and around the world." - Billboard, 2/9/20...... In other Oscars news, Randy Newman performed his Toy Story 4 composition "I Can't Let You Throw Yourself Away" during the ceremony, which was a best original song nominee. Performing at a Steinway piano in a black suit, the Rock and Roll Hall of Famer offered a spirited version of the jaunty Toy Story contribution --- with puffs of cloud-like smoke occasionally getting in the way. It was the 13th Newman-written song to be nominated for an Academy Award -- including songs from all four Toy Story movies, with "We Belong Together" from Toy Story 3 winning in 2010. Newman was also nominated for best original score for his work on the drama Marriage Story, while Toy Story 4 reigned victorious earlier in the evening for best animated feature. - Billboard, 2/9/20......
Heavy metal star and tattoo afficianado Ozzy Osbourne is asking fans to celebrate the Feb. 21 release of his highly anticipated new solo album Ordinary Man by sponsoring tattoo sales and Ordinary Man listening events at more than 50 cities globally on Feb. 20. Attendees can choose from a collection of Ozzy-inspired ink designs while they listen to Ordinary Man before anyone else. Participating cities include NYC, Paris, Athens, Las Vegas, London, Honolulu, Istanbul, Rome, Sydney and Toronto, among many other cities. On the actual day of release (Feb. 21), Ozzy will be hosting his first in-store appearance in a decade, which will take place at Amoeba Records in Hollywood, Calif. at 5 p.m. PST. In order to attend, fans must purchase Ordinary Man in-store at Amoeba on the day of release. There is a two-copy purchase limit per person. - Billboard, 2/6/20...... '70s artists and outspoken Pres. Donald Trump foils Cher and Bette Midler were among the celebs to criticize the recent acquittal of Pres. Trump on abuse of power and obstruction impeachment charges by the U.S. Senate on Feb. 4. "Run, #Mitt, RUN!!," Bette Midler posted on Twitter after Sen. Mitt Romney was the sole GOP senator to vote to convict the president on the abuse of power charge. She also praised House Speaker Nancy Pelosi for tearing up the Pres. Trump's speech following his State of the Union address on the evening of Feb. 4. "Last night? Too bad Nancy didn't tear that speech into little, teeny, tiny pieces and throw that blizzard of lies right back in his face!," the Divine Miss M posted. Cher went more directly at the president, saying that he is "the most vengeful illiterate, limp, imitation of a man ever." Star Wars movie actor Mark Hamill also weighed in, claiming that the outcome of the trial would have been different if the vote was secret, and praised Sen. Romney for putting "country over party." - DailyMailUK.com, 2/5/20......
Rod Stewart has been confirmed to close out the 2020 BRIT Awards show, which is set for Feb. 18 at the O2 Arena in London. "Happy to be asked to close out The BRITs on their 40th show celebrations," Sir Rod, 75, said in a statement. It will be the second time Stewart has performed at The BRITs, having first performed at the 1993 show where he also picked up an honorary award for outstanding contribution to music. It is not known if Stewart will receive an honorary award this year. It will be the 40th edition of the annual pop music awards sponsored by the British Phonographic Industry, with hot rising artists Billie Eilish and Lizzo also set to perform. The BRIT Awards 2020 will air live on Feb. 18 at 8:00 p.m. GMT, 3:00 p.m. ET, 12:00 p.m. PT. Viewers in the UK can watch on ITV and STV. International fans can watch via YouTube.com/BRITs. - Billboard, 2/20/20...... Former Talking Heads frontman David Byrne is set to make his first Saturday Night Live appearance in 31 years on Feb. 29. Byrne's appearance on SNL will come just two weeks after his acclaimed "American Utopia" show ends its five-month long residency on Broadway. Byrne last appeared on the venerable comedy show in 1989, performing two songs from his debut solo album Rei Mono. - New Musical Express, 2/8/20...... Collectors of newly released vinyl LPs are said to be in for a probable "vinylgeddon" after a plant in California -- one of only two in the world that manufactures the lacquers used for making vinyl master discs -- suffered massive damage during a fire on Feb. 7. "To all of [our] wonderful customers. It is with great sadness we report the Apollo Masters manufacturing and storage facility had a devastating fire and suffered catastrophic damage," a statement by company on its official website read the following day. "The best news is all of our employees are safe. We are uncertain of our future at this point and are evaluating options as we try to work through this difficult time. Thank you for all of the support over the years and the notes of encouragement and support we have received from you all." Luckily, no employees were injured in the fire, although several were present in the building when the fire broke out. The fire comes as a difficult blow to the booming vinyl record industry, as Billboard reported in January that 26% of all physical albums sold in the U.S. in 2019 were vinyl. - Billboard, 2/7/20......
Dead & Company have announced dates for a 17-date summer 2020 North American tour that will launch with two datesat Folsom Field in Boulder, Col. on July 10 and 11. The tour will also hit three other major league fields -- two-show stops at Chicago's Wrigley Field on July 24 and 25, and a tour closer at Boston's Fenway Park on Aug. 7 and 8. Other stops include Maryland Heights, Mo. (7/13), Noblesville, Ind. (7/15), Atlanta (7/18), Cincinatti (7/20), Clarkston, Mich. (7/22), Cuyahoga Falls, Oh. (7/27), E. Rutherford, N.J. (8/1), Saratoga Springs, N.Y. (8/3) and Bristow, Va. (8/5). The Grateful Dead spinoff band is currently led by original GD members Bob Weir, Mickey Hart and Bill Kruetzmann, along with Jeff Chimenti, Otiel Burbridge and John Mayer. - Billboard, 2/6/20...... Lyle Mays, a jazz keyboardist whose work, chiefly with the Pat Metheny Group, won nearly a dozen Grammy Awards, died pm Feb. 10 in Los Angeles. He was 66. Mays had a "long battle with a recurring illness," according to Pat Metheny's website. Mays joined the guitarist group Metheny in the 1970s, where he was a performer, composer and arranger. The group's endlessly innovative fusion style incorporated everything from rock and contemporary jazz to world music. Mays, who also was a sideman for such artists as Joni Mitchell, Rickie Lee Jones and Earth, Wind & Fire, also helped compose movie soundtrack music for several movies, including 1985's The Falcon and The Snowman. Pat Metheny praised Mays as "one of the greatest musicians I have ever known" and added "every moment we shared in music was special." - AP, 2/11/20...... Steven Cagan, a composer and conductor who worked with the likes of Bette Midler, Melissa Manchester and Olivia Newton-John, died Feb. 1 in Los Angeles at age 77. Cagan scored numerous TV series and specials, including those starring Spinal Tap, Robert Klein, Michael Keaton and Rob Reiner. He also worked with such theatrical giants as Michael Bennett, Lester Wilson, Michael Peters, Bob Avian and Joe Layton. His original songs included "I Will Touch You," recorded by Olivia Newton-John in 1972; "Dinah! I've Got a Song," recorded by Dinah Shore for a 1979 Sesame Street album, and "Such A Morning" recorded by his sister-in-law Melissa Manchester for her 1978 album, Don't Cry Out Loud. - Billboard, 2/11/20...... Orson Bean, the witty actor and comedian, died on Feb. 7 in Los Angeles after being hit and killed by a car in a traffic accident, according to the L.A. County coroner's office. He was 91. According to a police report, Mr. Bean was walking in the Venice neighborhood when he was clipped by a vehicle and fell, with a second vehicle then striking him which was fatal. Mr. Bean enlivened such TV game shows as To Tell the Truth, appeared in the title role of "Mr. Bevis" in an episode of The Twilight Zone,, and played a crotchety merchant on Dr. Quinn Medicine Woman. He also appeared in a number of films, notably, Anatomy of a Murder and Being John Malkovich, and starred in several top Broadway productions, receiving a Tony nod for the 1962 Comden-Green musical "Subways Are for Sleeping." He continued working into his 80s, with guest roles on TV series such as Hot in Cleveland and Modern Family. Survivors include his third wife, actress Alley Mills, who played the mother on the TV series The Wonder Years. - AP, 2/8/20......
Actor Robert Conrad, the star of such TV series as Hawiian Eye, The Wild Wild West and Baa Baa Black Sheep, has passed away in Malibu, Calif., a member of his family confirmed to People magazine on Feb. 8. He was 84. The rough and tumble actor had toplined at least one TV series in the 1950s, '60s, '70s, '80s and '90s, a rare feat of longevity for a TV star. Born Konrad Robert Falkowski in Chicago on Mar. 1, 1935, Mr. Conrad made his big screen debut in 1958, playing a pilot in Thundering Jets, and would go on to make credited appearances in some 15 additional films, notably the 1975 heist pic Murf the Surf and as John Dillinger in 1979's The Lady in Red. However he made a far bigger presence on the small screen after signing with Warner Bros. in 1959 to star in the Honolulu-set detective show Hawaiian Eye, which ran for four season. Mr. Conrad played the half-Hawaiian P.I. Tom Lopaka and guested as that character on three episodes of 77 Sunset Strip. He was perhaps best known as charming Secret Service agent James T. West in the 1965-69 series The Wild Wild West. An innovative bland of Western and sci-fi stories, the series also starred Ross Martin as West's partner Artemus Gordon as the pair rode a gadget-ridden personal train around the Old West, fighting supervillains in 19th century James Bond style. After the show, which wasd known for its well-choreographed fight sequences in which Conrad's West almost always outlasted a large number of foes, was canceled in 1969 for being too violent, Mr. Conrad starred in the telepic D.A.: Murder One, which led to a follow-up film and a brief 1971-72 series called The D.A. The actor played a spy in another short-lived series, ABC's Assignment Vienna, during the 1972-73 season. He had more success with NBC's Baa Baa Black Sheep (later known as Black Sheep Squadron), which fictionalized the experiences of Second World War ace Major Gregory "Pappy" Boyington (whom Conrad played) and the fighter squadron he led in the South Pacific. The series ran for two season from 1976-78 but has aired repeatedly in syndication and on outlets such as the History Channel. During the 1970s he was arguably most well known famous for a series of commercials for Eveready Batteries in which he dared viewers to "knock this battery off" his shoulder. In 2003, Mr. Conrad was convicted of DUI after a car accident that left him partially paralyzed and seriously injured the other driver. He was sentenced to six months of house arrest in a plea agreement. In later years he began hosting a show on CRN Digital Talk Radio in 2007. Mr. Conrad, who was married and divorced twice, the second time to actress LaVelda Fann, is survived by 8 children and at least 19 grandchildren. - Variety, 2/8/20.
Thursday, February 6, 2020
Patti Smith has been tapped to receive the PEN America Literary Service Award during the organization's Literary Gala on May 19 at the American Museum of Natural History in NYC. "In all of Patti Smith's thrilling incarnations -- rock goddess, poet, eloquent witness to the bohemian New York of her youth -- she has testified to the transformative power of literature in her own life, and used her stardom to encourage reading and writing in the legions who revere her," PEN President Jennifer Egan said in a press release. "A polestar of my own teenage years, she set an example of badass female artistry, coupled with deeply principled humanity, that I'm still trying to live up to." The annual gala celebrates "freedom of expression through writing and its power to shape humane values." Meanwhile in other Patti Smith news, one of the punk poetess's former guitarist/producers has died at age 72. Ivan Kárl, a Czech musician who joined Smith's Patti Smith Group in the '70s as a bassist and guitarist and who co-wrote Smith's iconic 1979 track "Dancing Barefoot," passed away after a bout with cancer on Feb. 3 in his Michigan home. Kárl also worked with the likes of Blondie, Iggy Pop, John Waite and Shaun Cassidy after his short-lived band Luger broke up in 1973. His latest solo album, Smile, has been scheduled for release on Feb. 28. - Billboard/New Musical Express, 2/5/20......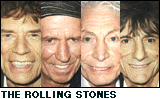 On Feb. 5 the Rolling Stones teased they could be hitting the road Stateside in 2020 with a post on Instagram featuring a cartoon of their iconic "lips logo" being projected into the night sky, alongside the caption: "Feeling restless." While the vague post prompted plenty of speculation among fans, a variety of U.S. media outlets are reporting that a North American tour will be announced soon sometime in February, with ABC News pointing out, "their lips logo has been spotted on sidewalks in downtown Tampa, Florida, as well as Buffalo, Cleveland, Charlotte and other major US cities." Other cities rumoured to be on the list of American tour dates includes San Diego, St. Louis, Louisville, Nashville, Atlanta and Pittsburgh. The Stones previously toured the U.S. in 2019, but were forced to reschedule a string of dates after frontman Mick Jagger underwent heart surgery. Jagger underwent successful surgery in March 2019 to replace a faulty heart valve, before resuming the tour at Chicago's Soldier Field in June. Meanwhile, actress Rae Dawn, best known for her roles in Commando and The Color Purple, is alleging that she once slept with Mick Jagger when she was only 15. In a new interview with the U.K. paper The Daily Mail Dawn, now 58, claims she and Jagger spent the night together one time in New York in 1977, and that Jagger was unaware of her age but didn't ask. "He never asked me how old I was and I never told him. It never came up. I remember thinking he was really cute. He had tousled hair. I thought, 'Oh man, he is beautiful'," she said. The pair reportedly spent a subsequent day together in the recording studio, before heading to a Fleetwood Mac concert at Madison Square Garden. But Rae, who later appeared in the video for Jagger's 1985 track "Just Another Night," says the rendevous took place in "a different era" and stressed that Jagger should not be vilified. "It was the 1970s, a different era. I wasn't a victim," she said. "I don't want him to get into trouble about this. It wasn't traumatising. I knew what I was doing. I wasn't an innocent schoolgirl. I always acted a lot older than I was. I was a grown-up at 15." While the age of consent was 17 at the time, Jagger cannot face criminal charges as the statute of limitations for reporting second-degree rape lasts 20 years. She added: "He did nothing wrong. He didn't make me do anything I didn't want to do. Jagger was married to Nicaraguan model Bianca Jagger from 1971-78. - New Musical Express, 2/5/20...... Country stars Willie Nelson and Hank Williams Jr. will headline the inaugural Born & Raised Music Festival, set for the Pryor Creek Music Festival Grounds in Pryor, Okla., on June 6 and 7. Also performing at the music and camping experience, which will celebrate "Outlaw, Texas and Red Dirt country music" according to a press release, will be Shooter Jennings, Jamey Johnson, Whiskey Myers, Blackberry Smoke and Margo Price, among others. - Billboard, 2/5/20...... The family of late '70s reggae legend Bob Marley commemorated what would have been Marley's 75th birthday on Jan. 31 at the newly opened 1 Hotel in West Hollywood. A group of family, friends and industry dignitaries gathered for one in a series of Marley 75th birthday events in 2020, including 23-year-old Skip Marley, currently signed to Island Records, and free agent football player Nico Marley. "This family celebrates individuality," explained Mystic Marley of the family's legacy at the panel. "I feel like that comes from learning about freedom. We are all so different. If we all make a song, it will sound completely different (person to person). If we (want to) say something, it would never sound the same." On Feb. 5, Marley's daughter Cedella Marley dropped a revamped 40th anniversary video for Bob's trademark "Redemption Song." "I think it came out amazing," says Cedella of the song, which was originally released on Marley's twelfth album Uprising and written after he was diagnosed with the cancer. "When I watch it, it still gives me goosebumps." Marley died in 1981 of cancer at age 36. - Billboard, 2/5/20......

Founding Beach Boys members Brian Wilson and Al Jardine are calling for a boycott of a Beach Boys concert fronted by Mike Love and featuring Bruce Johnston set for Feb. 5 at the Safari Club International Convention in Reno, Nev., due to the organization's support of trophy hunting, which Brian Wilson says he and Jardine are opposed to. According to a petition calling for a boycott of the show posted on Change.org, which has amassed more than 64,000 signatures, the convention "glorifies the killing of bears, lions, bald eagles, chimpanzees, parrots and turtles as 'trophies' for hunters." It also urges Beach Boys fans to "pledge to stop buying or downloading all Beach Boys music, going to Beach Boys concerts, and purchasing any Beach Boys merchandise until the Beach Boys withdraw from the SCI Convention and publicly state their opposition to this sick 'sport' of killing animals for 'fun'." The Beach Boys currently tour with two longtime members, Mike Love and Bruce Johnston. Brian Wilson and Al Jardine have endorsed the petition. "This organization supports trophy hunting, which Both Al and I are emphatically opposed to," Wilson tweeted on Feb. 3. "There's nothing we can do personally to stop the show, so please join us in signing the petition." - Billboard, 2/3/20...... A niece of Aretha Franklin says she's quitting as representative of the late singer's estate, citing a rift in the family since handwritten wills were discovered last year. "Given my aunt's love of family and desire for privacy, this is not what she would have wanted for us, nor is it what I want," Sabrina Owens stated in a letter filed on Jan. 30 in a suburban Detroit court. Franklin died without a known will in Aug. 2018, and Owens, an administrator at the University of Michigan, says she became manager of the estate at the request of Franklin's four sons. Nine months later, Owens reported that three handwritten wills had been discovered in Franklin's home, including one under cushions in the living room. One document seems to indicate that Franklin wanted a son, Kecalf Franklin, to serve as executor or representative. After a judge agreed to let a handwriting expert examine the documents last August, another son, Theodore White II, asked the judge to make him co-representative of the estate with Owens. Meanwhile, court filings show a mediator has been privately working with the parties. "I hope that my departure will allow the business of the estate to continue, calm the rift in my family and allow me to return to my personal life," Owens said. "I love my cousins, hold no animosity towards them, and wish them the best." Franklin's estate reported assets of $17 million at the end of August, including master recordings and publishing rights worth an estimated $10.5 million. The Internal Revenue Service in October filed tax claims against the estate of more than $6 million. - AP, 2/3/20...... Don Powell, a drummer in the UK hard rock group Slade, revealed on Feb. 6 that he's been fired from the band after over 50 years. "It is with great sadness and regret that Don needs to inform his fans that he now is no longer a member of Dave Hill's Slade," a post on his website reads. "Dave has sent Don a cold email to inform him that his services are no longer required, after working together and being friends since 1963." The message goes on to reveal that Powell is set to return to playing Slade songs with his new band, the suitably named Don Powell's Slade, which he has formed with ex-Slade bassist Craig Fenney. The post also says Powell is recording a debut solo album, and has completed a new record with his other band, Don Powell's Occasional Flames. "Don hopes that all his loyal fans will support his new ventures which he is very excited about," the message concludes. Hill responded to Powell's post on his Facebook page, wishing Powell "every success in his future" and adding that his announcement of how he was fired "is not accurate." Powell's departure means that Slade have effectively now split up, with Hill the only remaining member. Slade formed in 1963 with founding members Noddy Holder, Jime Lea, Hill and Powell. - New Musical Express, 2/6/20......
ABBA member Benny Andersson has said in a new clip shared by the ABBA fan site Talk that the Swedish quartet is "aiming" to release new music this September. "They're coming. They're coming this year. I'm guessing after the summer. But I can only guess, because I'm not really sure. But I would think so," Andersson said of their first new songs in 35 years that ABBA first announced in 2018 they were planning on recording. Asked if they will be out in 2020, he added: "One shouldn't promise anything but if I were to decide myself, it would be September. I can't make that decision alone. But that's what we're aiming for." In 2018, Andersson, Bjorn Ulvaeus, Agnetha Faltskog and Frida Lyndstad announced they had recorded two new songs, "I Still Have Faith in You" and "Don't Shut Me Down" to tie in with a proposed ABBA avatar tour. They said in a statement at the time: "The decision to go ahead with the exciting ABBA avatar tour project had an unexpected consequence. We all four felt that, after some 35 years, it could be fun to join forces again and go into the recording studio." However, the tracks have yet to materialise and Bjorn later explained the plans had been delayed until at least 2020 due to the complex technical nature of the show they are creating. ABBA split in 1982 and performed together for the first time in decades in 2016 at a private event, which marked the 50th anniversary of the first meeting between songwriters Bjorn and Benny. - Music-News.com, 2/4/20...... John Lennon's eldest son Julian Lennon was recently rushed to hospital for an emergency cancer operation after a suspicious-looking mole was discovered during a routine appointment with is dermatologist. Julian, 56, told the U.K. paper The Sun that the mole was discovered during a routine appointment with skin expert Dr. Tess Mauricio. "The trouble is... you think you have time...," Julian noted. "A few days ago, I went to visit my dermatologist, here in LA, when she noticed a little bump on my head that was actually a mole that had been there, along with a birthmark, for the last 57 years. But this time, it looked & felt a little different," he explained. After a biopsy he had several days ago revealed that it was "malignant/cancerous" and needed to be removed immediately, Julian underwent the operation. "Hopefully we managed to remove all that was cancerous, but the mole is being sent off again, for a further/deeper analysis, and I'll have those results next week," he said. "I cannot tell you how I felt, from one moment of joy, to the fear of feeling that I may be gone, at any given moment. I'm still shaking inside... but my faith is strong." In a post on his Facebook page on Feb. 2, Julian urged his fans to also get checked out and "do every health check possible." "Life is too short & Don't make it shorter by being ignorant about your own health," he posted. Julian's latest album, Everything Changes, was released in 2011. Since then, he has released a handful of standalone singles, including 2016's "Saltwater 25." - Music-News.com, 2/4/20......

Director Spike Lee is set to direct a movie adaptation of former Talking Heads member David Byrne's "American Utopia" tour. The Do The Right Thing director will helm the feature-length adaptation of Byrne's well received tour, which features songs that are described as "forthright pleas and musings on a country that might one day build a better home for everyone in it." A Broadway adaptation of Byrne's "American Utopia" tour was also staged, and Byrne also released a live EP of the tour. Speaking about the film in a statement, Byrne said: "Pinch me. This couldn't have worked out better for this project. Spike Lee directing and Participant producing two socially engaged teams, well, three if you count us in the band, coming together in what I feel will be something moving, important, and unlike anything anyone has seen before." - NME, 2/2/20...... Blues rock artist Mike Zito has announced a spring 2020 U.K. tour behind his latest album, Rock 'n Roll: A Tribute to Chuck Berry. The tour will kick off in Kinross on Apr. 2, followed by shows in Hartlepool (4/3), Devizes (4/4), Sutton (4/5), Chislehust (4/7), London (4/8), Pershore (4/9) and Sheffield (4/11). The new album consists of 20 Chuck Berry classics performed by Zito and an impressive array of 21 guest guitarists, among them Joe Bonamassa, Walter Trout, Eric Gales, Robben Ford, Sonny Landreth, Luther Dickinson, Albert Castiglia, Anders Osborne and, significantly, Chuck Berry's grandson, Charles Berry III. "This was a very special project for me," Zito says. "I lived in Chuck's hometown of St. Louis for 32 years... Chuck Berry was a tremendous influence on my career, and, of course, on many other musicians' as well." - Noble PR, 2/3/20...... Andy Gill, guitarist and founding member of legendary U.K. punk band Gang of Four, has died following a short respiratory illness. He was 64. Gill played guitar for Gang of Four since the Leeds band's inception in 1976, alongside original members Jon King, Dave Allen and Hugo Burnham. Though the band's line up changed several times over the years, Gill remained the sole original member of Gang of Four throughout -- a career ranging from 1978 debut single "Damaged Goods" to 2019's Happy Now, their most recent studio album. Gill was also a highly respected producer, not only on much of Gang of Four's work, but several high-profile bands including Red Hot Chili Peppers, The Stranglers, Michael Hutchence, Killing Joke, Therapy?, The Jesus Lizard and The Futureheads. The news was announced in a post on the Gang of Four's Twitter account on Feb. 1. "This is so hard for us to write, but our great friend and Supreme Leader has died today," the statement begins. "Andy's final tour in November was the only way he was ever really going to bow out; with a Stratocaster around his neck, screaming with feedback and deafening the front row... to us, he was our friend -- and we'll remember him for his kindness and generosity, his fearsome intelligence, bad jokes, mad stories and endless cups of Darjeeling tea. He just so happened to be a bit of a genius too." - NME, 2/2/20...... Veteran director/producer Gene Reynolds, a six-time Emmy winner best known for directing and producing for the lauded socially conscious 1970s TV shows M*A*S*H and Lou Grant, died on Feb. 3 in Burbank, Calif. He was 96. Born in Cleveland, Oh. as Eugene Reynolds Blumenthal, Mr. Reynolds began as a child actor, making his big screen debut in a 1934 Our Gang short. His first significant non-acting work came in 1957 for the TV series Tales of Wells Fargo, which he created with James L. Brooks and Frank Gruber. Over the series' multiseason run, Reynolds wrote and directed several episodes. He had a solid run as a director on My Three Sons and stints on Alfred Hitchcock Presents, Leave It to Beaver, The Andy Griffith Show, The Donna Reed Show, Gidget, The Munsters and F Troop. Over the course of his career, Mr. Reynolds drew 24 Primetime Emmy nominations, winning six times, including for outstanding series for M*A*S*H and, twice, for Lou Grant. He won his first Primetime Emmy in 1970 as a producer for Room 222. M*A*S*H remained in the top 10 for its entire run, and its final episode was at the time the most-watched program in history, with more than 50 million families tuning in. Mr. Reynolds described his later career as "freelance directing," and helmed several TV movies and episodes of such TV series as Life Goes On, Lois and Clark: The New Adventures of Superman and Touched by an Angel. His last directing effort was the 1999 telepic How to Get There. Starting in 1993, Mr. Reynolds served four years as president of the Directors Guild of America, which confirmed his death. He also won a Humanitas Prize for Lou Grant and DGA awards for direction of a comedy series for M*A*S*H twice and for direction of a drama series for Lou Grant once. In 1993, Mr. Reynolds received the DGA's Robert B. Aldrich Achievement Award for extraordinary service to the guild. - Reuters, 2/4/20......
Legendary Hollywood actor and producer Kirk Douglas, one of the first box office stars of the silver screen, died at his home on Feb. 5, according to his son, actor Michael Douglas. He was 103. "It is with tremendous sadness that my brothers and I announce that Kirk Douglas left us today at the age of 103," Michael Douglas told People magazine. "To the world, he was a legend, an actor from the golden age of movies who lived well into his golden years, a humanitarian whose commitment to justice and the causes he believed in set a standard for all of us to aspire to." With over 92 acting credits, including some 75 movies, seven of which co-starred his friend Burt Lancaster, Mr. Douglas became a superstar even before the term was coined. Born Issur Danielovitch Demsky, the poor son of an illiterate Russian-Jewish immigrant, in Amsterdam, N.Y., on Dec. 9, 1916, Mr. Douglas was known as Izzy as a child and had some 40 jobs growing up including newsboy, before acting in high school plays sent him on the course that would eventually make him a household name. He studied at Manhattan's American Academy of Dramatic Arts alongside classmate Lauren Bacall, who later helped get him a screen test that led to his first movie role, opposite Barbara Stanwyck, in 1946's The Strange Love of Martha Ivers. He received his first Academy Award nomination in 1950 for Champion, and was nominated again in 1953 for the Hollywood expose The Bad and the Beautiful, and once more in 1957 for his performance as Vincent Van Gogh in the biopic Lust for Life. A man of heartfelt conviction, Mr. Douglas hired blacklisted screenwriter Dalton Trumbo -- and giving him full-screen credit -- to write the 1960 epic Spartacus, in which Mr. Douglas starred and served as executive producer. In 1996, he was awarded an honorary Oscar for 50 years as a creative and moral force in the motion picture community, and in 2018, he received a star on the Hollywood Walk of Fame. The legendary actor had been in good health since suffering a stroke in 1996, and spent the last years of his life surrounded by his loved ones including Michael's son Cameron, who was released from prison in 2016 after being convicted on drug charges. He celebrated his 103rd birthday on Dec. 9 with his family -- and several tributes from his relatives including Michael and his wife, actress Catherine Zeta-Jones. He survived by his wife of 65 years, Anne, and his sons Michael, Joel, and Peter. - People.com/TheBlast.com, 2/6/20.
Saturday, February 1, 2020
After former Pink Floyd member Roger Waters announced on Jan. 23 he'll launch a summer North American tour in July, the Jewish advocacy organization B'nai B'rith International is pushing back on one of the tour's ticket presale sponsors, Major League Baseball. In a letter to MLB commisioner Rob Manfred, B'nai B'rith charged that Waters "is an avowed anti-Semite whose views on Jews and Israel far exceed the boundaries of civil discourse" and they were "saddened and outraged that baseball ... would use its online resources to publicize an individual with an alarming history of anti-Semitic hatred. We call on MLB to cease providing Roger Waters a platform." MLB said in a statement the promotion was part of an ad buy by AEG/Concerts West for multiple concert tours and that the league "will respond to B'nai B'rith privately." Waters' tour is slated to begin July 8 in Pittsburgh and wrap on Oct. 3 in Dallas. - AP, 1/31/20......
Footage from an upcoming Beatles documentary from director Peter Jackson about the fractious Let It Be recording sessions was previewed at a Universal Music showcase on Jan. 28, and indications are it could change the way the Fab Four are viewed forever. Jackson (The Lord of the Rings) has been has been working on the film for a year, remastering hours of unused footage from Michael Lindsay-Hogg's 1970 documentary film Let It Be and editing previously unreleased footage into a film that appears to bust the myth that the sessions were fraught with tension between band members John Lennon, Paul McCartney, George Harrison and Ringo Starr. One clip reportedly showed the quartet in Let It Be recording sessions "joking around, making fun of each other, singing in silly accents and generally indulging in vintage Moptop hijinks," according to Variety. The footage was presented by Apple Records president Jeff Jones, who said: "We have created a brand-new film that will attempt to bust the myth that the Let It Be sessions were the final nail in the Beatles' coffin." With rehearsals of songs that would appear on the 1970 Let It Be album and early demos for songs that would crop up on solo records, Variety says that Beatles fans "will lose their minds over this film." Both the original Let It Be film and LP of the same name were released in May 1970, a month after the band officially announced their split. However, they had released Abbey Road, recorded during the band's final ever studio sessions together as a four-piece unit, in 1969. It was recorded after the notorious Let It Be sessions. The new Let It Be film is being prepped to coincide with its 50th anniversary this May, and will reportedly be followed by a remastered rerelease of the original film. - Yahoo Movies UK, 1/29/20...... In an interview with the UK music publication Kerrang, Ozzy Osbourne says he doesn't think he'll be around for "too much longer" after he was recently diagnosed with Parkinson's disease and that he thinks about when his time will come, but "I don't worry about it." "It's gonna happen to us all," Osbourne says. "Am I happy now? No. I haven't got my health. That thing knocked the shit out of me, man, but I'm still here." Ozzy's battle with PRKN 2, a form of Parkinson's, comes after he fell in the middle of the night while going to the toilet in Feb. 2019, which impacted metal rods that were implanted after a motorbike accident in 2003. He added that he "feels better now" after owning up to his fans about having Parkinson. "To hide something is hard -- you never feel proper. You feel guilty. I'm no good with secrets. I cannot walk around with it anymore. It's like I'm running out of excuses," he said. Ozzy says he's now on the mend though and will release Ordinary Man, which features a title track collaboration with Elton John, on Feb. 21 and launch a UK tour of rescheduled arena shows behind the new album in October. Meanwhile in other Ozzy news, the shock rocker is featured in a new cat anti-declawing video by the animal rights group PETA. In the video, Osbourne shows the bloody stumps of his fingers to decry declawing cats. The musician nearly lost some of his own fingers in late 2018 as a result of an infection, and said in a statement that "amputating a cat's toes is twisted and wrong." "If your couch is more important to you than your cat's health and happiness, you don't deserve to have an animal! Get cats a scratching post -- don't mutilate them for life," he added. Veteranarians say declawing cats is like cutting off the end of human fingers, and the animals have to relearn how to walk because of the impaired balance, and are more likely to bite as a means of self-protection since they've lost their first defense mechanism. New Musical Express/Billboard, 1/30/20......
Sammy Hagar and his backing band the Circle have announced they'll kick off a 30-city U.S. summer tour with openers Whitesnake and Night Ranger on July 9 in West Palm Beach, Fla. "I love some friendly competition on stage and that's exactly what this is going to be," said Hagar in a release. "David [Coverdale] and I have nothing but the highest respect for one another, but we would also like to blow the other guy off the stage! Add in Night Ranger and the fans will have one hell of a night of music," he added. Hagar's band the Circle also includes former Van Halen bassist Michael Anthony, drummer Jason Bonham, and guitarist Vic Johnson. The tour is set to run through Georgia, Virginia, New York, Michigan, Texas, and more before wrapping on Sept. 20 in Chula Vista, Calif. Hagar says his setlist will include career-spanning hits from his former bands Van Halen and Montrose, along with several solo career tracks. - Billboard, 1/27/20...... Boston-based groups Aerosmith and New Kids on the Block have announced they'll headline two shows at Boston's Fenway Park, the home of baseball's Red Sox, on Sept. 18 and 19, respectively. Aerosmith's gig is being billed as a "50th anniversary celebration" and will feature support from Extreme. Aerosmith were recently honored as the MusiCares Person of the Year during Grammy week before taking the stage at the Jan. 26 Grammys show to perform "Walk This Way" with Run-D.M.C.. - Billboard, 1/27/20...... Elton John was forced to abandon a concert in Australia on Jan. 31 after a downpour occurred during the show. As John was in the middle of playing his 1973 single "Funeral For a Friend," a torrential rain and hailstone storm began to flood the stage and instruments were damaged. Three assistants ushered Sir Elton off the stage in Victoria more than 95 minutes into his concert at Rochford Wines in Yarra Valley. He was unable to return to the stage because the bad weather continued. At the beginning of the concert, John remarked how "f---ing hot" it was in Australia. "Thank you for buying a ticket to the show. We love doing it, even though it's hot," he said, to widespread applause. The concert was the first of two shows John played in Victoria. - New Musical Express, 1/31/20...... Queen + Adam Lambert have added two final dates to their upcoming U.K. "Rhapsody Tour." The two new shows in Birmingham on June 14 and 15 come after six shows at The O2 in London between June 2 and 9, and before four additional shows at London's O2 between June 17 and 21. The band will kick off the European leg of the tour in Bologna, Italy on May 24. Meanwhile, it has been reported that Queen guitarist Brian May's company Brian May Guitars has begun selling sports bras. - NME, 1/29/20...... Tom Jones and Lionel Richie will be among the headliners of the UK's Edinburgh Summer Sessions 2020 festival, which runs from Aug. 8-20 at Princes Street Gardens. The two-week event kicks off with Jones performing on Aug. 8 and Richie headlining the following evening's show, with additional headliners on other nights including such acts as The 1975, McFly, Simple Minds and Travis. ionel Richie, who will be making his Edinburgh Summer Sessions debut, said in a statement: "I'm really looking forward to heading back to Scotland next summer, the crowds are some of the best in the world and I can't wait to get back over there to see you all." - NME, 1/29/20......
In a new interview with Rolling Stone magazine, Fleetwood Mac founder Mick Fleetwood says his band will never reunite with former member Lindsey Buckingham, who was fired from the band in 2018. "No," Fleetwood said when asked about the prospect of Buckingham rejoining the group. "Fleetwood Mac is a strange creature. We're very, very committed to [new members] Neil [Finn] and Mike [Campbell], and that passed away a time ago, when Lindsey left. And it's not a point of conversation, so I have to say no." Fleetwood continued: "It's a full drama of Fleetwood Mac, no doubt. [Buckingham's] legacy is alive and well, and as it should be. A major, major part that will never be taken away, and never be down-spoken by any of us. Neil and Mike have tremendous respect for Lindsey. The situation was no secret. We were not happy. It was not working, and we parted company. And that really is the all of it." Band frontwoman Stevie Nicks has cited Buckingham wanting too much time off to concentrate on his solo work as the reason for his being kicked out of the band. Buckingham has denied that was the case, and says he was given a list of things that "Stevie took issue with" in a phone call with the band's manager Irving Azoff, including how he had "smirked" during her thank you speech at a MusiCares concert and that he had had an outburst over the band's intro music, "Rhiannon." - NME, 1/28/20...... Film and TV character actor Robert Sampson, veteran of such shows as The Twilight Zone, That Girl, Green Acres, Bridget Loves Bernie and Star Trek, died peacefully of natural causes on Jan. 18 in Santa Barbara, Calif., it was reported on Jan. 31. Mr. Sampson enjoyed a 50-plus-year acting career spanning over 150 movie and television productions, including Re-Animator, The Dark Side of the Moon, Robot Jox, and many theatre and commercial productions. Mr. Sampson worked steadily from the 1960s to the 1990s and held regular roles in five short-lived television series, acted in about thirty-five movies, and guest-starred in about eighty television series, primarily in the 1960s and 1970s. He starred alongside David Birney in the 1970s series Bridget Loves Bernie, playing Bridget's older brother, a priest. In the original Star Trek series, he portrayed Sar 6 in the first season episode "A Taste of Armageddon." He is survived by a partner, Richard Witt, and a daughter, Rebecca. - TheLifeandTimesofHollywood.com, 1/31/20......
Fred Silverman, a legendary network TV programmer who greenlit such influential projects as All in the Family, Roots and Hill Street Blues during tenures at CBS, ABC and NBC, died on Jan. 30 at his home in Pacific Palisades, Calif. He was 82. Known as "The Man With the Golden Gut," Mr. Silverman gave David Letterman his first TV show; orchestrated such popular spinoffs as The Jeffersons, Rhoda, Laverne & Shirley, The Bionic Woman and The Facts of Life; and brought "Jiggle TV" series like Charlie's Angels and Three's Company to the airwaves (and suggested Suzanne Somers play Chrissy on the latter). Known as a genius of counterprogramming, Mr. Silverman honed his skills working on kids shows (he came up with the idea for Scooby-Doo), game shows (he resurrected The Price Is Right and launched Family Feud) and daytime TV (under his watch, All My Children and General Hospital aimed for younger viewers). At CBS, Mr. Silverman jettisoned rural comedies like The Beverly Hillbillies and Petticoat Junction in favor of smarter shows like All in the Family and M*A*S*H, then took the beleaguered ABC network to No. 1 in primetime. He shifted to NBC in 1978 with oversight of the entire company, reporting only to the chairman of RCA. Born on Sept. 13, 1937, in New York City and raised in Queens, Mr. Silverman's father was a TV and radio repairman for Sears and his mom a housewife. He made a hobby of collecting radio scripts, getting them from the porters who worked at the radio networks; he said that at one point that he had about 5,000 of them. He earned his master's degree at Ohio State, where he recalled an adviser suggested he get into programming instead of his first choice of directing because programming "requires a real knowledge of the business, and it is kind of creative, because you're picking the shows." His first job was editing commercials at Tribune's WGN-TV in Chicago in 1961, where he oversaw Bozo's Circus, a live program that was a hit at noon, then found unlikely success with a repackaged, recut and heavily promoted block of Bomba, the Jungle Boy films. In 1970, Mr. Silverman was put in charge of everything on the air at CBS. "We had an old schedule that was directed at old people in rural areas," he once said. "Our company-owned stations in cities like New York, Chicago and Los Angeles were dying with this schedule. Something had to be done." He convinced CBS president Bob Wood to put All in the Family on the air, after ABC twice passed on it. Soon, the network was thriving, helped by Maude, The Jeffersons, Good Times and One Day at a Time -- all from producer Norman Lear. In 1978, Mr. Silverman jumped to NBC as president and CEO, where he guided David Letterman's talk shows and came up with the idea for Hill Street Blues, but exited the network in 1981 after it finished with its worst season in history. Mr. Silverman was inducted into the Academy of Television Arts & Sciences Hall of Fame in 1999. He married his secretary at CBS, Catherine Ann Kihn, in 1971, and they had two children, Melissa and Billy. They survive him, as does his daughter-in-law, Anna. - The Hollywood Reporter, 1/30/20.
Monday, January 27, 2020
Elton John has reportedly snapped up a batch of actress Gwyneth Paltrow's sensational new scented candles, irreverently titled "This Smells Like My Vagina" candles. Perfumer Douglas Little, who came up with the wax wonder with the Shakespeare In Love Oscar winner, says Sir Elton is "a fan" and has bought a "ton of them." Paltrow and Little unveiled the cheeky candle earlier in January, revealing the idea started out as a joke. "We were kind of messing around and I smelled this beautiful thing and I was like, 'This smells like my vagina'," Paltrow said in a recent interview. "I was kidding, obviously. It was really funny to us." Paltrow's "This Smells Like My Vagina" candle retails for $75, and is available via the Oscar-winning actress' online Goop wellness store. - WENN/Canoe.com, 1/24/20...... '70s singer/songwriter legend John Prine was honored with a Lifetime Achievement Grammy during the 62nd Annual Grammy Awards at L.A.'s Staples Center on Jan. 26. Bonnie Raitt paid tribute to Prine with an abbreviated acoustic version of Prine's classic "Angel From Montgomery," after which she pointed to Prine in the audience and said he "wrote 'Angel From Montgomery' and so many other songs that changed my life... I love you John." Prine released his highest-charting album ever in 2018, The Tree of Forgiveness, which peaked at No. 5. - Billboard,......
In other Grammys news, Aerosmith re-teamed with rap act Run-D.M.C. for a rendition of their 1986 remake of "Walk This Way." Rev. Run of Run-D.M.C. busted through a fake brick wall to join Aerosmith frontman Steven Tyler and guitarist Joe Perry on the first true rap-rock hit, trading verses with Tyler as Perry ripped off solos on a white custom electic guitar. As the performance wound down a member of Run-DMC's crew held up a No. 24 Los Angeles Lakers jersey in honor of late hometown basketball legend Kobe Bryant, who was among eight people killed in a tragic helicopter accident earlier in the day. The night before, Aerosmith was honored at a MusiCares Person of the Year gala, which raised over $6 million for musicians and other industry professionals in medical, emotional and financial need. Aerosmith was honored with performances from a range of artists including Alice Cooper, Johnny Depp, Foo Fighters, John Mayer and John Legend. Earlier in Grammy Week, co-founding Aerosmith drummer Joey Kramer said he was "disappointed" after a Massachusetts Superior Court judge dismissed his legal bid to rejoin the group for their Grammy Awards performance. Kramer, who suffered an ankle injury in 2019 which caused him to miss most of Aerosmith's recent Las Vegas residency, sued the band and argued breach of contract. The 69-year-old says the band told he he was required to re-audition for his place, and apparently failed to prove he could perform "at an appropriate level." Celebrity gossip website TMZ.com captured footage of Kramer being turned away from Aerosmith's rehearsals for the show by security guards. "I'm sorry, we're just asking you not to come into the property right now," one security guard told him. "We've been hired by the other four members of the band to ask that you don't come in today." When he was asked if that was alright, Kramer responded: "Well, you're just doing your job," then thanked the guards and walked away. In an interview with Rolling Stone magazine after the judge's decision, Kramer said: "The truth speaks for itself. Ever since I injured my foot last August and went through many hours of physical therapy to heal, not once did the band in its entirety offer to rehearse with me. That is a fact." - Billboard/New Musical Express, 1/26/20...... In more Grammy news, Willie Nelson was paid a pre-Grammy salute on Jan. 25 at The Troubadour in Los Angeles by the Americana Music Association's 7th annual pre-Grammy concert. Although Nelson, 86, was not present for the tribute at the Troubadour, his songs were showcased by several artists he has influenced, including John Prine, Shooter Jennings, Joe Henry, Amos Lee and others. On Grammy night, Nelson was named winner of a Best Country Solo Performance Grammy for his 2019 single, "Ride Me Back Home," beating out the likes of Blake Shelton and Tanya Tucker. - Billboard, 1/26/20...... What would have been the 75th birthday of late '70s reggae legend Bob Marley was celebrated during a pre-Grammys brunch on Jan. 24 in Los Angeles, about two weeks before his Feb. 6 birthdate. The event was attended by his children, including Cedella Marley, Julian Marley and Rohan Marley, and several of his grandchildren. Cedella Marley, a three-time Grammy winner, said her father, who died in 1981, taught his children important lessons about perseverance. "Daddy was a fitness guru... and there were times when we would do these relay races and a lot of parents just want their children to win, win, win. No, we had to really win," she said. "And he was not the one that was just going to let you win just because, and I think that's an important lesson. Nothing is handed to you, you have to go out there (and work hard)." - AP, 1/25/20......
Former founding Pink Floyd member Roger Waters announced on Jan. 23 that he'll kick off a "This Is Not a Drill" North American tour this summer, playing in the round for the first time ever. Waters is promising the tour, which launches on July 8 in Pittsburgh, will be an entirely new show that pulls from his 50 years of experience in rock music. Other cities on the 31-date jaunt include Detroit, Philadelphia, Toronto, Boston, New York, Miami, Denver, Las Vegas, Vancouver and more, before wrapping on Oct. 3 at American Airlines Center in Dallas. The tour marks Waters' return to the U.S. following his extraordinary performances at the 2016 Desert Trip music festival and his worldwide "Us + Them Tour" in 2017 and 2018. Waters announced the tour on his Facebook page on Jan. 23, posting a video of his previous shows and footage of him in the rehearsal studio with his band. "As the clock ticks faster and faster and faster down to extinction, it seemed like a good thing to make a fuss about it, so that's why I'm going on the road," he says in the clip. - Billboard/NME, 1/23/20...... Jeff Lynne's ELO announced on Jan. 24 they'll launch a 15-date tour of the UK and Europe this fall. Supporting their 2019 release From Out of Nowhere, the tour is set to kick off Sept. 19 in Oslo, Norway, also visiting Stockholm (9/21), Herning, Denmark (9/23), Hamburg (9/26), Berlin (9/27), Cologne (9/29) and Munich (9/30). October shows include Amsterdam (10/2), London (10/5, 6), Birmingham (10/11), Manchester (10/16), Belfast (10/18), Dublin (10/19) and Glasgow (10/21). "The audiences in the UK and Europe were so good," frontman Jeff Lynne said in a statement. "We're looking forward to bringing a new show and some musical surprises this fall. I can't wait." - New Musical Express, 1/24/20...... Neil Young was granted official U.S. citizenship on Jan. 23 at Tom Bradley Hall at the L.A. Convention Center. Young, 74, previously announced he had decided to apply for dual U.S./Canadian citizenship so he can vote in the 2020 presidential election, presumably for the opponent of the target of his many criticisms, U.S. Pres. Donald Trump. Young was cheered and congratulated by fans as he walked by alongside his wife Daryl Hannah and waved his paperwork and a small American flag. In an update on his NeilYoung.com website, Young posted "I'm Happy to Report I'm In!!" as he saluted next to a voter registration table that reads, "Democrats register to vote here." - Billboard, 1/23/20...... Brian Eno and his brother Roger Eno have announced they will release a joint album together entitled Mixing Colours. It will be the ambient music pioneer's first studio effort since 2017's Reflection. Eno says the latest album with his brother, who has also developed a career in the same genre, has been in the works since 2005. The album is due March 20 via Deutsche Grammophon, and the first single, "Celeste," has already been shared. In December, Eno released a satirical new track, "Everything's on the Up With the Tories," in the U.K. prior to the general election which was won by the Conservative party. All proceeds made from the two-minute, sing-song track went towards aiding the homeless, according to Eno. - New Musical Express, 1/26/20......

James Taylor announced on Jan. 23 that he'll release his first new album in five years, American Standard, on Feb. 28 via Fantasy Records. Taylor's 19th studio LP, American Standard features reimagined versions of such timeless 20th century songs as "The Surrey With the Fringe on Top" from the musical "Oklahoma!," Bing Crosby's "Pennies From Heaven," Audrey Hepburn's "Moon River," and many more. "I've always had songs I grew up with that I remember really well, that were part of the family record collection -- and I had a sense of how to approach, so it was a natural to put American Standard together," Taylor said in a press release. "I know most of these songs from the original cast recordings of the famous Rodgers and Hammerstein musicals, including My Fair Lady, Oklahoma, Carousel, Showboat and others.... we were interested in doing something new, and in bringing something new to it, we've reinterpreted the songs, that's what makes it worth doing." Taylor also announced he'll mount a 28-city tour with opener Jackson Browne behind the new album beginning on May 15 in New Orleans, also hitting such markets as Houston (5/16), Portland (5/25), San Francisco (5/27), Anaheim (5/28), San Diego (5/29), Chicago (6/10), Detroit (6/13), Boston (6/21), Louisville (6/26), Atlanta (6/29), Nashville (6/3) and Holmdel, N.J. (7/7) before wrapping on July 10 in Camden, N.J. - Billboard, 1/23/20...... Multiple songs by Rush have dominated Billboard's Hot Rock Songs chart for the week ending Jan. 25 following the death of Rush drummer Neil Peart on Jan. 7 after a battle with glioblastoma. Rush's 1981 track "Tom Sawyer" leads the list at No. 3 with 4,000 digital downloads, followed by "Limelight" at No. 10 (1.6 million streams, 2,000 sold), "The Spirit of Radio" at No. 13 (1.3 million streams, 2,000 sold), and "Subdivisions" at No. 24 (1.1 million streams, 1,000 sold). In all, Rush's song catalog drew 34.2 million on-demand streams, a jump of 622%, and moved 42,000 album units, up 701%, in the tracking week. - Billboard, 1/22/20...... Former Happy Days star Henry Winkler has denied he and Tom Hanks are still feuding over Winkler's firing from the movie Turner & Hooch. Winkler was dismissed as the director of the 1989 Disney dog film, with rumours swirling for years that he and Hanks had clashed on set. This made for an awkward moment during the Jan. 19 SAG Awards as a camera cut to Winkler when a clip from Turner & Hooch was shown during a career spanning montage celebrating Hanks receiving the Cecil B. DeMille Award. Denying they are at odds, Henry told TMZ: "I don't have a feud with Tom Hanks." Winkler, 74, also said that "sure," he would want to work with Hanks again, despite the fact that teaming up on Turner & Hooch did not work out for him. Winkler said that he and Hanks had in fact been friends for "years" and that he had also enjoyed working with the two-time Oscar-winner's wife, Rita Wilson. - WENN/Canoe.com, 1/22/20......

Mick Jagger is set to act in his first significant film part since 2001's The Man From Elysian Fields when he appears in the forthcoming movie The Burnt Orange Heresy. In the movie, the Rolling Stones frontman plays shady art dealer Joseph Cassidy who tries to persuade an art critic (played by Claes Bang) to steal a painting from a reclusive artist Jerome Debney (Donald Sutherland). According to a synopsis, "Soon, James' greed and ambition get the better of him, and he finds himself caught in a web of his own making." A clip from the movie, which hits U.S. theaters on Mar. 6 (no U.K. release date has been set), can be viewed on YouTube. - NME, 1/25/20...... Longtime PBS NewsHour anchorman Jim Lehrer reportedly died "peacefully in his sleep at home" on Jan. 23 at age 85. Mr. Lehrer anchored NewsHour, the flagship newscast on public television in the United States, for 36 years until his retirement in 2011. Mr. Lehrer was also noted for hosting several U.S. presidential debates, once stating he always tried to keep the focus on the candidates and not on himself. "I'm heartbroken at the loss of someone who was central to my professional life, a mentor to me and someone whose friendship I've cherished for decades," said Judy Woodruff, who replaced Mr. Lehrer at the NewsHour anchor desk. "I've looked up to him as the standard for fair, probing and thoughtful journalism and I know countless others who feel the same way," - CNN.com, 1/23/20.
Wednesday, January 22, 2020
Aerosmith drummer Joey Kramer filed a lawsuit against his bandmates on Jan. 17, charging they violated his contract by not allowing him to perform with the band on the upcoming 2020 Grammy Awards on Jan. 26. Kramer, who says he's fully recovered from several injuries he suffered in the spring of 2019, says the band unfairly blocked his return for the Grammys performance. Aerosmith responded to the suit in a statement devoid of animosity: "Joey Kramer is our brother; his wellbeing is of paramount importance to us. However he has not been emotionally and physically able to perform with the band, by his own admission, for the last 6 months. We have missed him and have encouraged him to rejoin us to play many times but apparently he has not felt ready to do so." The statement goes on to say Kramer "has now waited until the last moment to accept our invitation, when we unfortunately have no time for necessary rehearsals during Grammys week" and the band would "be doing a disservice to him, to ourselves and to our fans to have him play without adequate time to prepare and rehearse." Kramer says that Aerosmith, which is being honored with a Lifetime Achievement Grammy as well as being named MusiCares Person of the Year in another Grammy week event, is depriving him "of the opportunity to be recognized along with my peers for our collective lifetime contributions to the music industry... Neither the MusiCares' Person of the Year Award nor the Grammys' Lifetime Achievement honors can ever be repeated." - Billboard, 1/22/20......

In an interview with the ABC's Good Morning America on Jan. 21, Ozzy Osbourne revealed that his been struggling with a form of Parkinson's disease called PRKN 2 after he suffered a fall in February 2019. "It's been terribly challenging for us," Ozzy told GMA, which posted the interview on their Twitter feed. Osbourne continued: "I did my last show New Year's Eve at The Forum. Then I had a bad fall. I had to have surgery on my neck, which screwed all my nerves. A year ago next month I was in a shocking state. I'm on a host of medication, mainly from surgery. I've got numbness down this arm from surgery, my legs feel like they're going cold, I don't know if that's from the Parkinson's." Ozzy's wife Sharon Osbourne, also present for the interview, stressed Ozzy's diagnosis "is not a death sentence by any stretch of the imagination" and that the couple "will travel to a doctor in Switzerland in April in a bid to secure further treatment for the condition." Ozzy added how he's determined to hit the road again in October for a planned UK tour, and that 2019 was the "longest, most painful and miserable" year of his life. The following day, Sharon thanked fans for their "outpouring of love" after Ozzy's revelation on her daytime show The Talk. "...Just to have all this outpouring of positive reaction from everyone that watches the show, and our friends, it's heartwarming. And I know that Ozzy will be just over the moon. He will be taken aback." Ozzy will release his latest solo LP, Ordinary Man, on Feb. 21. - New Musical Express, 1/21/20...... The estate of Michael Jackson renewed its partnership with music rights management company BMI on Jan. 21, in an agreement that dates back 41 years. BMI announced it will continue licensing the King of Pop's songwriting catalog for public performance, renewing a pact first signed in 1979 and last refreshed in 2014. According to BMI, 17 of Jackson's songs have exceeded over one million plays on radio, with some exceeding five million spins. "The influence of Michael Jackson's revolutionary music is undeniable," said BMI president/CEO Mike O'Neill "We are extremely pleased that his estate continues to entrust BMI to represent his extraordinary catalog." - Billboard, 1/21/20...... Hall and Oates announced a massive 32-date 2020 North American tour on Jan. 21 that will see the popular rock/R&B duo visit cities across the entire US, from Hawaii to New York. With openers Squeeze and KT Tunstall, Hall and Oates will launch the trek with a two-night stand at Foxwoods in Mashantucket, Conn. on May 15 and 16 and continue through Los Angeles (5/29), Denver (6/14), Austin (6/19), Toronto (7/10), Cleveland (7/14), Atlanta (8/13), Tampa (8/15) and more. The tour is currently scheduled to close out on Sept. 2 at Bank of New Hampshire Pavilion in Gilford, N.H. "I'm really looking forward to a big time 2020 tour!" said John Oates in a release. "Having KT Tunstall and Squeeze on the bill with us is just gonna make for an amazing night of music. Can't wait to see you all on the road." Warm ups before the tour begins in earnest in May will include shows at Giant Center in Hersey, Penn., on Feb. 26; Madison Square Garden in NYC on Feb. 28; and two shows in Hawaii on March 27 and 29. - Billboard, 1/21/2020......

AC/DC are reportedly planning to make a live comeback in 2020 with former frontman Brian Johnson handling vocal duties for the legendary Australian hard rockers. Australian radio personality Eddie McGuire, on his "Triple M Melbourne" show, says Johnson will return to the group after hearing loss forced him to leave the band in 2016, and that the band is planning a new album "in February/March this year... and [will be] touring Australia in October/November 2020." "And after a lot of work and a lot of technical research, they have been able to get a hearing aid for Brian Johnson, who will be out front," McGuire added. He also raised the possibility of former AC/DC drummer Phil Rudd, who left the band in 2015 after being convicted of drug possession and threatening to kill a former employee, returning to the band "after the issues that he's had in recent times. Rumors of a full AC/DC reunion date back to 2018, when there were reports the band was working after a lot of work and a lot of technical research, they have been able to get a hearing aid for Brian Johnson, who will be out front." Rumors of a full AC/DC reunion date back to 2018, when there were reports the band was working on a new album that would feature the work of their late rhythm guitarist Malcolm Young on "every track," and Rudd and Johnson were spotted together in Vancouver in 2019, where the band has recorded all their albums over the last two decades. - New Musical Express, 1/20/20...... Family members of Prince have apparently reached settlements in their wrongful death lawsuit against a slew of defendants who they originally sued in April 2018, two years after the funk-rock icon died of died of an accidental fentanyl overdose on April 21, 2016, without leaving a will. The defendants include the Minnesota doctor who saw Prince in the weeks before his death and the Illinois hospital that treated him for an opioid overdose seven days before he died. Prince's heirs alleged the parties had the duty and opportunity to diagnose and treat Prince's addiction and prevent his death, but failed to do so. But as early as summer 2019, the family has quietly dismissed the suits. Claims against Dr. Michael Schulenberg -- a doctor who treated Prince in the weeks before his death -- were permanently dismissed in November, along with claims against Schulenberg's former employer. Both sides agreed to the dismissals. Claims against Walgreens, which filled prescriptions for Prince, and Trinity Medical Center, the Illinois hospital where Prince was treated for an opioid overdose a week before he died, were also permanently dismissed in August by agreement. Meanwhile, Prince's siblings are still waiting to learn how much his estate is worth. Court filings several months after Prince's death suggested the estate was worth around $200 million before taxes. More recent filings suggest the estate and Internal Revenue Service have not yet agreed on its value. - AP, 1/20/20......

Former The Police frontman Sting is adamant against being the subject of a Rocketman-like biopic treatment, according to a new interview with The Hollywood Reporter. "Absolutely not," the 68-year-old Grammy-winner told the publication. "I'm telling my story in an artistic way." That way is Sting's musical "The Last Ship," which is currently being presented at Broadway's Ahmanson Theatre through Feb. 16, a different version from the one that ran on Broadway for four months in 2014. Sting wrote the music and lyrics and plays the foreman of a Newcastle shipyard in the show, which draws from his early years growing up in a grim, ship-building town in Northern England. "It's really the story of my town," Sting says. "I come from a little town in the Northeast of England. It was a famous shipyard town. We built the biggest vessels ever constructed on the planet, right at the end of my street. So it was a kind of epic, surreal industrial environment, which I didn't appreciate as a kid. It was a very frightening idea that I would end up in the shipyard as my ancestors had done. I'd pass thousands of men every morning, thinking, 'I don't want this.'" Other topics Sting weighed in on included the demise of the Police ("Everything we set out to do as a band we achieved 100 fold. After you've done that it becomes diminishing returns in terms of satisfaction") and Prince Harry and Meghan Markle leaving the Royal Family ("I think the press are making more of it than even the royal family are. I mean, he has every right to make his own life... It's ridiculous what they're making of it. Poor lad."). - The Hollywood Reporter, 1/20/20...... Debbie Harry and Chris Stein of Blondie announced on Jan. 21 that Blondie will embark on an "In Conversation" book tour of the U.K. in April centering around Harry's and Stein's respective books, Harry's best-selling autobiography Face It and Stein's two photo books, Negative and Point of View. The conversations will, according to a press release, be further "illuminated with seminal images of the band and New York City from Debbie's autobiography and Chris Stein's two books, as well as film clips, fan art, book readings and audience Q&As." "I've always loved the way Chris tells stories," Harry said in the statement. "I think you will too." The tour will begin on Apr. 22 in Glasgow, then visit Birminham on Apr. 24, Manchester on Apr. 26 and London on May 28. - NME, 1/21/20...... Bruce Springsteen surprised fans on Jan. 19 with three separate performances at the Light Of Day Parkinson's disease charity at the historic Stone Pony venue in Asbury, N.J. The Boss first took the stage during a set by Jesse Malin as part of the Light of Day week of fundraising shows for contributions to two of Malin's songs, then later joined Willie Nile to play "One Guitar" before joining Joe Grushecky and the Houserockers for a full ten-song set. The crowd was also treated to versions of his own classics, "Darkness on the Edge of Town," "Atlantic City" and "The Promised Land." Springsteen made a similar surprise appearance at the event in 2015. - NME, 1/20/20......
Britain's Royal Mint announced on Jan. 20 that they will release a new Queen 5 coin beginning on Jan. 24, the first in a series of "Music Legends" collection by the mint. The coin commemorates all four members of the band through the portrayal of each member's instrument, including Freddie Mercury's Bechstein grand piano which he played on the Queen classic "Bohemian Rhapsody." Queen's logo is placed at the center of the design and is underscored by Mercury's signature mic stick. In a statement when the coins were first announced in May 2019, Queen guitarist Brian May said, "This is a big 'Who could have imagined it?' moment for us. When we began as Queen, even the first rung of the ladder to recognition seemed remote and unreachable. To have our band recognised and our music celebrated in this way is very touching -- a real honour." The commemorative coins are priced at £13 for an uncirculated coin right up to £2,100 for a gold proof coin, and can be viewed and purchased at the RoyalMint.com website. Queen recently announced plans to perform at a benefit concert for Australian bushfire relief at Sydney's ANZ Stadium on Feb. 16. - New Musical Express, 1/20/20...... A longtime friend of Rush says some of the rumors surrounding Rush drummer Neil Peart's final days are inaccurate. Donna Halper, the woman credited with discovering Rush while working at an Ohio radio station back in 1974, says rumors currently circulating on social media that the musician was in a wheelchair and unable to speak in the months prior to his death after a three-year battle with glioblastoma, an aggressive form of brain cancer, are "inaccurate." "The vast majority are inaccurate," Halper says. "As for me, I choose to remember Neil as he was, and I want to respect his family's privacy during this difficult time." Also in her Twitter feed, Halper said: "Normally, I would remain silent and let people say what they want to say, but this is different. My friendship with Rush is something I take very seriously, and I will defend the truth as much as I can. It's the least I can do. But it ended the way he wanted, surrounded by his family & best friends. (By the way, he was able to speak, almost till the very end, I am told.) Anyway, I'm just sorry there is no cure for the kind of cancer he had. May he rest in peace." - NME, 1/19/20...... Parlophone Records has shared a video for another previously unreleased David Bowie track, "I Can't Read '97," on YouTube. The track is one of six on the new Record Store Day Bowie EP Is It Any Wonder? The original version of "I Can't Read" appeared on the self-titled debut album of Bowie's short-lived supergroup Tin Machine in 1989. Bowie re-recorded the track during the mixing stage of his 1997 LP Earthling, but it was cut from the album at the last minute to be replaced by "The Last Thing You Should Do." - NME, 1/17/2020......
In an interview with the UK's Mail on Sunday, former Rod Stewart girlfriend Britt Ekland claimed Rod was tight with his money and made her pay rent to him during their two-year relationship. Ekland, 77, who dated Stewart from 1975 until 1977, also made the sensational claim that the 75-year-old "Maggie Mae" singer also used to like wearing her satin knickers. "People thought he bought me Chanel suits but I bought copies of Chanels with my own money," said Ekland, adding scathingly that Rod gave her "nothing." Ekland said that Stewart, who was famously once branded as "tight as two coats of paint" by his former Faces bandmate and current Rolling Stones guitarist Ronnie Wood, added she "had to pay $100 a month board and lodgings when I was living with him... I would go shopping with him and watch him buy clothes from Yves Saint Laurent but nothing for me." Britt went on to claim Rod used to borrow her underwear: "He did used to like to wear my underwear though," she said. "He would wear these baggy satin trousers and needed little satin pants. Rod would wear my knickers. He liked them." In addition to her courtship with Stewart, the Swedish born Ekland is known for being a Bond girl, starring as Mary Goodnight in the 1974 film The Man with the Golden Gun alongside Roger Moore. In an odd twist, Ekland briefly dated actor George Hamilton before her relationship with Rod, and Hamilton's wife, Alana Hamilton, would later leave him for Rod -- when the singer was dating Britt. Describing the moment she found out Stewart had been unfaithful, she said: "George Hamilton told me, 'Oh how funny, [Alana] has just left me for your ex-boyfriend.'" "Suddenly a light went on and I thought 'Rod'," Ekland says. "I got in the car and drove home. I wanted to throw up. He never said sorry. Never. I wish he had. I think that would have brought it to an end. I think it is only fair to do that." - DailyMail.co.uk, 1/20/20..... Mic Gillette, first trumpet and founding member of the '70s Oakland funk outfit Tower of Power, has died at age 64 after suffering a heart attack. Gillette played a bevy of brass instruments alongside trumpet throughout his tenure in Tower of Power, including trombone, flugelhorn and tuba. Along with Tower of Power, Gillette was a member of two Bay Area funk bands, Cold Blood and the Sons of Champlin, and for a time played with Blood, Sweat and Tears. Both on his own and as a member of the Tower of Power horn section, he recorded with an array of artists including the Rolling Stones, Elton John, Santana, Sheryl Crow and Rod Stewart. After years of touring, he left Tower of Power in the mid-'80s to focus on raising his family, but continued to work as a session musician and record solo material with his own Mic Gillette Band. While Gillette rejoined Tower of Power for a reunion tour in 2009, he continued to focus on teaching music to East Bay middle and high schoolers. - The San Francisco Chronicle, 1/19/20...... David Olney, an underappreciated Nashville singer/songwriter whose work was recorded by the likes of Linda Ronstadt, Emmylou Harris, Del McCoury and others, died of an apparent heart attack while performing onstage at the 30A Songwriters Festival in Santa Rosa Beach, Fla., on Jan. 18. He was 71. The Rhode Island native moved to Nashville in 1973 and later formed the rock group The X-Rays. He released the first of over two dozen solo albums, Eye of the Storm, in 1986. "Olney was in the middle of his third song when he stopped, apologized and shut his eyes," his singer/songwriter friend Amy Rigby wrote in a Facebook post. "I just want the picture to be as graceful and dignified as it was, because it at first looked like he was just taking a moment," she added. - Billboard, 1/19/2020.
Friday, January 17, 2020
Music streams of Rush songs are up 776% after the death of drummer Neil Peart, according to Nielsen Music/MRC Data. After Peart's death was first reported on Jan. 10, on-demand audio and video stream's of the band's back catalog increased to a combined 24.54 million -- up 776.4% as compared to the previous four days (2.8 million on Jan. 6-9). Rush's most-streamed tunes during the Jan. 10-13 period was the 1981 hit "Tom Sawyer," with 2.82 million streams (up 305% as compared to the 698,000 streams it registered Jan. 6-9). Sales of Rush songs grew by 2,304% to 19,000 (from 1,000), while the group's album sales gained 1,820% to 6,000 (up from a negligible figure). It is expected that Rush's The Spirit of Radio: Greatest Hits 1974 - 1987 will also re-enter the Billboard Hot 200 album chart for the week ending Jan. 25. Rush also dominates the LyricFind U.S. and global chart dated Jan. 18, led by "Tom Sawyer," which bows at No. 1 on both lists. The band is responsible for 23 of the 25 positions on the Global survey and 18 of the 25 spots on the U.S. ranking. The LyricFind charts rank the fastest-momentum-gaining tracks in lyric-search queries and usages globally and in the U.S. Peart, 67, died on Jan. 7 after a 3-year battle with cancer. - Billboard, 1/16/20......

Seventies acts T. Rex and the Doobie Brothers are among the six artists inducted into the Rock & Roll Hall of Fame on Jan. 15, the Cleveland-based hall and museum announced on Jan. 15. T. Rex producer Tony Visconti, who helmed the group's key albums between 1970-73, noted that T. Rex frontman Marc Bolan and his band "have inspired hundreds of bands and record production over the years" and the legendary glam-rock outfit" is still loved by millions of fans and their music will still continue to inspire future musicians." Tom Johnston of the Doobie Brothers, who kick off a 50th anniversary tour on May 23 in Los Cabos, Mexico, says that "everybody's pretty jazzed" about the RRHOF induction news, especially since it was the Doobies' first time on the ballot after being eligible since 1971, while later Doobies recruit Michael McDonald added "everybody's really excited about this and looking forward to getting together with all the other guys and having that evening together to celebrate." Also selected were Depeche Mode, Whitney Houston, Nine Inch Nails and The Notorious B.I.G. Of the six acts, only Depeche Mode and NIN were previously nominated, who were inducted on their respective third nominations. The rest are first-time nominees, with all but Notorious B.I.G having been eligible for many years. Longtime Bruce Springsteen manager Jon Landau, who guided the Boss's career in its early days, and longtime Eagles manager Irving Azoff, were also chosen to be honored with an Ahmet Ertegun Award. Those nominated but not inducted include Pat Benatar, Dave Matthews Band, Judas Priest, Kraftwerk, MC5, Motorhead, Rufus featuring Chaka Khan, Todd Rundgren, Soundgarden and Thin Lizzy. The latest inductees will become official on May 2 at the 35th Annual RRHOF induction ceremony, which for the first time ever will be broadcast live on HBO. This year's ceremony takes place at the Public Auditorium in Cleveland. Tickets go on sale Feb. 27 and participating performers and inductees will be announced at a later date. - Billboard, 1/15/20...... In other awards news, Aerosmith will be honored during Grammy Week in April as the 2020 MusiCares Person of the Year during The Recording Academy's 30th-anniversary benefit gala. The Rock & Roll Hall of Fame inductees will be honored for their philanthropic achievements and join an elite group of past award recipients that includes Dolly Parton, Fleetwood Mac, Tom Petty, Lionel Richie, Bob Dylan and Carole King. Aerosmith is being honored for its philanthropic organization Janie's Fund, which frontman Steven Tyler established in 2015 to coincide with the song's 26th anniversary. The charity is dedicated to helping emotionally and behaviorally troubled children across America. The band, which is celebrating its 50th anniversary in 2020, will continue the second year of its Las Vegas "Deuces Are Wild" residency through this June, followed by an arena/stadium tour of Europe. - Billboard, 1/14/2020......
The Steve Miller Band will be among the headliners at the second annual BeachLife Fest 2020, set for L.A. County's South Bay beach area on May 1-3. It will be SMB's only Southern California appearance of 2020. Also performing will be Counting Crows, UB40 and The Marley Brothers. This year's BeachLife will include a Yacht Rock Brunch starring Ambrosia and Friends with special guests Stephen Bishop ("On and On"), John Ford Coley ("I'd Really Love to See you Tonight"), and Elliot Lurie ("Brandy You're A Fine Girl"). Sugar Ray will also host a weekend brunch set against a backdrop of raised mimosas and palm trees and the laid-back oceanside event. Tickets can be acquired at Beachlifefestival.com. - Billboard, 1/16/20...... Meanwhile, Steve Miller is among the inductees of the 2020 Songwriters Hall of Fame, it was announced on CBS This Morning on Jan. 16. Miller was present during the announcement, saying it "feels delightful... it's really a great, great honor." Explaining why the nod was so important to him, the 76-year-old singer and guitar wizard said, "the songs are the most important part of everything. To be honored this way is unexpected." Also inducted into the SHOF were Mariah Carey, The Isely Brothers, The Eurythmics, and songwriter Rick Nowels, who has penned hits for Madonna, Dido, Adele and Lana Del Rey. - Billboard, 1/16/20...... Legendary singer José Feliciano will release his latest album, Behind This Guitar, on Jan. 31. Produced by Rick Jarrard, the album features a rendition of Fleetwood Mac's "The Chain," and Feliciano has shared a video of his version of the song on YouTube. The eight-track Behind This Guitar, which also includes a new recording of José's classic holiday hit "Feliz Navidad," marks the first time the musician has recorded in Nashville. "Once the (instrumental) tracks were done in Nashville I went to my sound tech's studio in Connecticut and did the vocals and we put it together and I'm really happy with how it came out," Feliciano noted. "I think it has real hit potential." Feliciano is set to appear at a special event Feb. 11 at the Grammy Museum in Los Angeles. The musician, who this year marks the 55th anniversary of his first album release, is also working on a memoir as well as a documentary about his life and career. - Billboard, 1/16/20...... Bruce Springsteen and wife Patti Scialfa were proudly on hand to see their 25-year-old son, Sam Springsteen, sworn in as one of 15 new firefighters with the Jersey City Fire Department on Jan. 14. The Boss and Scialfa sat in the front row as their 25-year-old son was sworn into the newest class. "We're very proud," Bruce told reporters at the ceremony. "We're just excited for him today." - AP, 1/14/20......
Steely Dan and Steve Winwood have announced a co-headlining 2020 summer tour set to kick off June 2 in Portland, Ore. Their 23-date "Earth After Hours" tour will also visit such cities as Auburn, Wash. (6/4), Los Angeles (6/8), Phoenix, Ariz. (6/11), Atlanta, Ga. (6/19), Memphis, Tenn. (6/20), Toronto, Ont. (6/23), Cincinnati, Oh. (6/28), and Holmdel, N.J. (7/10) before wrapping on July 11 at the Bethel Woods Center for the Arts in Bethel, N.Y. Steely Dan lead vocalist and keyboardist Donald Fagen has continued to perform live under the Steely Dan name since the band's co-founder, multi-instrumentalist and backing vocalist, Walter Becker, died of complications from esophageal cancer in 2017. - Billboard, 1/15/20...... An ambitious 40-city Foreigner summer tour with openers Kansas has been announced to launch on July 9 in Albuquerque, N.M. Hitting such major markets as Indianapolis, St. Louis, Detroit, Chicago, Cincinnati, Pittsburgh, Boston, Toronto, Birmingham, Jacksonville and Nashville, the band's "Juke Box Heroes" tour will close out in September with three shows in Texas. "We can't wait to hit the road with our good friends Kansas and Europe and bring all our biggest hits to cities across the country," Foreigner founding member Mick Jones in a release. "We always have such a good time together, and combined we share some of the greatest songs in rock and roll. We are so excited to see our fans from coast to coast, and plan to make this summer our most epic tour yet!" Prior to the tour, Foreigner will launch 2020 with a three-day run at the Schermerhorn Symphony Center in Tennessee with the Nashville Symphony Orchestra from Jan. 16-18 before the group's residency at The Venetian in Las Vegas, which kicks off Jan. 24. Meanwhile, tourmates Kansas also plan to release their 16th studio album this summer. - Billboard, 1/13/20...... Randy Newman issued a statement on Jan. 15 saying he's been forced to cancel his upcoming tour of Australia and New Zealand due to a longer-than-expected recovery period from recent surgery. Newman had been set to kick off his seven-date tour on Feb. 2 at Melbourne's Hamer Hall, then play shows in Sydney, Canberra and Brisbane, then head east for his first ever New Zealand trek, taking in Auckland, Wellington and Christchurch. "I couldn't be more sorry, I really couldn't," said Newman in a statement. "I had a hip operation, and I thought I was going to get better, but I'm not. And I'm losing feeling in three fingers on my left hand. Not that I ever had a great left hand in the first place, but it's hard to play." Newman was recently nominated for a best original song Oscar (his 13th) for "I Can't Let You Throw Yourself Away" from Toy Story 4, and for best original score for Marriage Story. Elton John and Bernie Taupin, fresh off their Golden Globe win for best original song for "(I'm Gonna) Love Me Again" from Rocketman, were also nominated for an Oscar in the best original song category. - Billboard, 1/15/20...... Meat Loaf has filed a lawsuit against a hotel at Dallas-Fort Worth International Airport and organizers of a horror convention held there, blaming them for negligence when he fell from a stage while answering questions from convention goers last May. Meat Loaf, whose real name is Michael Lee Aday, and his wife Deborah filed the suit on Jan. 13 in a state district court in Fort Worth, Tex., against the Hyatt Corp. and Texas Frightmare Weekend LLC. The lawsuit alleges the defendants hung curtains at the back edge of the stage at the Hyatt Regency DFW hotel that hid where the stage ended, creating a "hidden hazard." Meat Loaf, 72, incurred severe neck, collarbone and shoulder injuries that have prevented him from performing since, according to the complaint. It says he spent 42 days hospitalized after the fall and required him to undergo physical therapy. - AP, 1/14/20......
Legendary guitarist and longtime cannabis advocate Carlos Santana has announced he's getting into the marijuana business. On Jan. 15, Santana announced a partnership with Left Coast Ventures, a cannabis and hemp company headquartered in Santa Rosa, California. Santana will develop premium cannabis and hemp CBD brands for the company that are influenced by his Latin heritage, while "incorporating his divine philosophies" with strains and products that "promote the spiritual consciousness and wellness effects" of the drug. "Cannabis is a window or a door to different awareness of consciousness," said Santana in a statement. "It gives you the choice to perceive through a different filter of awakening and healing, the misperception of distance as an illusion, which keeps you from being centered in your essence-core. It helps you arrive at knowing, accepting and owning a quality of life that is being with joy!" Santana's pot brand is expected for a summer 2020 launch and will be available to buy in select dispensaries in California; the line will include flower and pre-rolls upon release. The hemp CBD brand, which will include topicals with formulations inspired by Santana's own family, is slated for release in the fall. - Billboard, 1/15/20...... Queen + Adam Lambert and Alice Cooper have been confirmed as headliners of a Sydney Bushfire Relief Concert at Sydney's ANZ Stadium on Feb. 16. All profits and contributions will go to various wildfire relief charities that will help victims of devastating Australian bushfires that have taken dozens of lives, destroyed thousands of homes and razed more than 12 million hectares, an area roughly the size of the states of Vermont and New Hampshire, combined. The massive nine-hour-plus concert will be hosted by actor and comedian Celeste Barber, who has already raised more than A$50 million ($35 million) towards bushfire relief via her own online appeal. Other headliners include Amy Shark, Baker Boy, Conrad Sewell, Daryl Braithwaite, Guy Sebastian and Icehouse. - Billboard, 1/13/20...... David Bowie is set to be honored by having a Paris street named after him, it was announced on Jan. 13. Paris mayor Jerome Coumet, a professed fan of the late rock icon, said that a new road near Austerlitz station in the southeast of the French capital would be named after Bowie. Revealing that Bowie "had a strong link with the City of Lghts," Coumet added that "the naming must be approved by the Paris council in February," something he says normally happens without a problem. Jan. 10 marked the fourth anniversary of Bowie's death, and the musician's 48-year-old son, Duncan Jones, and Bowie's wife of almost 24 years, Iman, paid tribute to him in a series of touching social media posts. Jones posted a photograph of Bowie on holiday via Twitter, captioned "Dad relaxing happily in the Australian outback," adding "Always alive when he's in here - [heart emoji]." Iman took to Instagram to pay tribute to her late husband with a picture of the two together, as well as a separate post featuring the words: "Sometimes memories sneak out of my eyes and roll down my cheeks." - New Musical Express, 1/13/20...... Star Wars actor Mark Hamill is praising a Flagstaff, Ariz., record store for returning a Star Wars: A New Hope soundtrack LP that had been a gift from film composer John Williams that he hadn't seen since the 1990s. The record was one of numerous Star Wars items brought in to sell by a woman after her father's death in 2018. Micheil Salmons, the store's general manager, said they eventually tried reaching out to Hamill via social media. The actor confirmed it was genuine, and the vinyl was sent back to him. Micheil Salmons, the store's general manager, said they reached out via social media to Hamill, who confirmed it was genuine, and the vinyl was sent back to him. Hamill said in a tweet that it felt "totally unexpected & positively surreal" to get back the record he hadn't seen since the early 1990s. "I happily offered to sign any (Star Wars) items they sent me," the actor wrote. Williams had written on the vinyl's sleeve: "Dear Mark Hamill, May the force always be with us." - AP, 1/14/20......
A posthumous release by late Irish rocker Rory Gallagher, Check Shirt Wizard - Live in '77, has been released via Chess/UMC Records. The 20-song, previously unreleased, set is culled from four shows (London, Brighton, Sheffield and Newcastle) during an early 1977 tour across the UK in support of Rory's then latest album Calling Card. Featuring live versions of tracks from that album as well as songs from Gallagher's 1975 set Against The Grain other live favorites, the new album has been mixed from the original multi track tapes from the Rory archive, which were recorded at the Rolling Stones and Jethro Tull's mobile studios and mastered at Abbey Road. Gallagher's most popular albums have always been his live ones, such as Live! In Europe, Irish Tour '74 and Stage Struck. Check Shirt Wizard - Live in '77, is available to pre-order from https://RoryGallagher.lnk.to/CSW. Renowned for his blistering live performances and highly respected for his dedication to his craft, Gallagher died in 1995, aged 47. - Noble PR, 1/15/20...... Chris Darrow, a former member of the Nitty Gritty Dirt Band, has died of as yet undisclosed causes at age 75. In the 1960s, the South Dakota native and Claremont, Calif. transplant became acquainted with Chris Hilman of The Byrds, who had a profound influence on his transition from bluegrass and folk to rock music. He went on to form the genre-bending rock band Kaleidoscope, recording several albums before his joining influential country-rockers the Nitty Gritty Dirt Band in 1967. Darrow worked with the band on two albums, and appeared in the Clint Eastwood movie, Paint Your Wagon, before forming the band The Corvettes, who became the touring band for Linda Ronstadt. Darrow also had a prolific solo career, releasing a total of 10 records between 1972 and 2006, and worked with such notable artists as Leonard Cohen and James Taylor. - 1/16/20.
Sunday, January 12, 2020
David Lee Roth kicked off a 2020 Vegas residency at the House of Blues on Jan. 8 with a mixture of rants, unabashed peacocking, and non sequitors like "my inner child is Edward James Olmos." The 65-year-old former Van Halen singer observed Elvis Presley's Jan. 8 birthday by popping onstage in a bedazzled leather jacket that resembled one of Elvis' famous jumpsuits, and during a version of the VH classic "Unchained," sported a pompadour wig and gave a shout out to the King on what would have been his 85th birthday. Roth also indulged in long stories about his childhood in Detroit as well as his early days with VH as they hosted illegal wet T-shirt contests at a Van Nuys Boulevard nightclub. His sets included "Running With the Devil," "Just Like Paradise, "Just a Gigolo" and "California Girls," forgetting the words to the latter in one particularly cringy moment. Conveying how much he loves spontaneity, Roth told the audience that no two shows of his residency would be the same. Meanwhile, Roth earlier told the Las Vegas Review-Journal that his VH bandmate Eddie Van Halen is "not doing well" and suggested Eddie's performing ability has deteriorated because he hasn't been active since their last reunion tour in 2015 ."Ed's not doing well, and singing and dancing is a perishable skill," Roth said of the 64-year-old guitarist. "If you have the capacity, it's something that has to be used routinely, if not for the thrill of it and the magic of creating with other incandescent spirits." Roth did not address recent reports in the media that Eddie has allegedly been battling cancer again, allegedly secretly battling the disease for five years and making secret trips between the US and Germany to receive radiation treatment. Eddie, a former heavy smoker and alcoholic, has a lengthy health history, having undergone hip replacement surgery in November 1999, after being diagnosed with chronic avascular necrosis years earlier. In 2000, he began receiving treatment for tongue cancer and the subsequent surgery removed a third of his tongue. - Billboard/Music.News.com, 1/10/20......
The rock world is mourning the loss of legendary Rush drummer Neil Peart, who died in California on Jan. 7 at age 67 after a battle with brain cancer. Canada's CBC first reported the news on Jan. 10, citing information from Peart's publicist, Elliott Mintz. Considered one of the best drummers in rock history with Modern Drummer listing him at No. 3 in a 2014 all-time ranking list, Peart also made his mark on the larger pop culture as seen through references in TV shows like Freaks and Geeks, Archer and Family Guy. Born in Hamilton, Ontario, in 1952, Peart became infatuated with music at an early age and started playing the drums after his parents bought him a pair of drum sticks for his 13th birthday. After moving to the U.K. at 18 to make it as a professional musician, he returned to Canada, where in 1974 he auditioned for singer/bassist Geddy Lee and guitarist Alex Lifeson to replace John Rutsey as drummer for the band Rush. Although his audition was rocky, Lee and Lifeson decided to give Peart a chance, and the new trio started playing live gigs just weeks later. Though Lee had written the lyrics on the group's first album with Rutsey, he happily ceded the role to Peart, whose songwriting focus was heavily influenced by his studies of objectivist Ayn Rand while he had lived in England. The visionary drummer's style, both manic and intricate, would also help come to define the band's virtuosic prog-rock sound. Born in Hamilton, Ontario, in 1952, Peart became infatuated with music at an early age and started playing the drums after his parents bought him a pair of drum sticks for his 13th birthday. After moving to the U.K. at 18 to make it as a professional musician, he returned to Canada, where in 1974 he auditioned for singer/bassist Geddy Lee and guitarist Alex Lifeson to replace John Rutsey as drummer for the band Rush. The trio would record five albums over the next half-decade, spanning from 1975's Fly by Night to 1978's Hemispheres, building the band's cult reputation at home and abroad.
The most successful of these efforts was 1976's 2112, whose 20-minute opening title suite took up the record's entire first side and set new standards for classical composition in late-'70s arena rock. It made the top five on the Canadian albums chart and was ultimately certified triple-platinum by the RIAA in the U.S. The Canadian power-trio's most successful period would come early in the next decade, though, with the release of 1980's Permanent Waves and 1981's Moving Pictures -- the latter giving the group their first chart-topping album in their home country. The two sets sold well and together spawned classic rock standards like "The Spirit of Radio," "Limelight" and "Tom Sawyer," emphasizing both the group's highly melodic and anthemic songwriting and their peerless instrumentation, including Peart's iconic drum fills in "Sawyer" and the oft-imitated instrumental "YYZ." Rush released a statement on Jan. 10 confirming the news, writing: "It is with broken hearts and the deepest sadness that we must share the terrible news that on Tuesday our friend, soul brother and band mate of over 45 years, Neil, has lost his incredibly brave three and a half year battle with brain cancer (Glioblastoma). We ask that friends, fans, and media alike understandably respect the family's need for privacy and peace at this extremely painful and difficult time. Those wishing to express their condolences can choose a cancer research group or charity of their choice and make a donation in Neil's name. Rest in peace brother." - Billboard, 1/10/20...... Cher has set a personal touring career record in 2019 with the final dates of her ongoing "Here We Go Again Tour," which raised the diva's calendar-year gross to $108.2 million. The tour earned $14.1 million and sold 109,521 tickets according to figures reported to Billboard Boxscore. Cher earned $3.8 million at New York's Madison Square Garden on Dec. 3-4 and sold out at 27,495 tickets over both nights at the Manhattan arena, while breaking the $1.5 million mark with single-night stops throughout Texas at Houston's Toyota Arena, San Antonio's AT&T Center and the American Airlines Center in Dallas. The dates raised Cher's calendar-year gross to $108.2 million, making it the biggest year of her touring career in Boxscore history. Her previous bests were in 2002 and 2003, the first years of the "Living Proof Tour," when she grossed $75.4 million and $68.5 million, respectively. Coming in at No. 7 and No. 8 on the Boxscore chart were Rod Stewart and Billy Joel, respecively. - Billboard, 1/10/20..... Nielsen Music is reporting that vinyl album sales in the US grew to a new yearly high in 2019 for the 14th consecutive year, led by the Beatles who sold 471,000 copies sold across their entire catalog, more than any other artist. Vinyl sales climbed to 18.84 million units sold in 2019 (up 14.5%), and represented 16.7% of all album sales for the year. In 2018, the format accounted for 11.9% of all album sales. The Beatles also had the top-selling vinyl album of 2019, with Abbey Road. The set, first released in 1969, sold 246,000 copies on wax in 2019, thanks in part to its deluxe 50th anniversary reissue. The set topped the weekly Billboard Hot 200 album chart for 11 weeks in late 1969 and early 1970. Other '70s related acts in the top 10 vinyl sales for 2019 include Queen (No. 2; 345,000), Pink Floyd (No. 4; 217,000), Fleetwood Mac (No. 5; 149,000), Prince (No. 7; 140,000), Led Zeppelin (No. 8; 134,000) and Michael Jackson (No. 9; 127,000). - Billboard, 1/9/20...... In other vinyl news, Bruce Springsteen announced on Instagram on Jan. 11 that he will be reissuing five of his albums on vinyl, many of which have not been available on the format since their original releases. They include 18 Tracks (1999), Live in New York City (2001), The Rising (2002), Devils & Dust (2005) and Live in Dublin (2007). The records, transferred from the original source masters, will go on sale Feb. 21. Each of the five albums cover the period when Springsteen was reunited with the E Street Band, whom he'd previously worked with between 1972 and 1989. The Rising, recorded in the aftermath of the 9/11 terrorist attacks, marks the first album recorded together since the band rejoined him in 1999. - New Musical Express, 1/12/20...... Graceland Auctions has announced a three-wheeled golf cart once owned by Elvis Presley is among hundreds of Elvis memorabilia items that will be put on the auction block in support of the Elvis Presley Foundation. According to GA, the cart is over 50 years old, and was indeed owned by The King himself: "Shortly after Elvis and Priscilla married in Las Vegas on May 1, 1967, the couple spent the next several weeks in Memphis enjoying time together at Graceland and on May 18, 1967, Elvis purchased a white Harley-Davidson golf cart from Taylor Harley-Davidson in Memphis." The website states the singer rarely actually played golf, however, instead using the cart for travel more easily around his estate. The cart, which includes a white "1-ELVIS" license plate, was previously available for public viewing at the MGM Grand Hotel & Casino in Las Vegas. - NME, 1/8/20......
Parlophone Records has announced it will mark what would have been David Bowie's 73rd birthday on Jan. 8 with two posthumous projects. The first is a nine-track album due out on 2020 Record Store Day (April 18) on vinyl and CD for the first time entitled ChangesNowBowie, culled from a 1996 session with longtime bassist Gail Ann Dorsey, guitarist Reeves Gabrels and producer Mark Plati during rehearsals for a 50th birthday Madison Square Garden show. As the first taste of that project, Parlophone has released a mostly acoustic version of Bowie's beloved 1970 track "The Man Who Sold The World," which will also appear on a six-song EP of unreleased and rare tracks, "David Bowie Is It Any Wonder?," slated to be released in weekly batches over the next six weeks beginning on Jan. 17. The EP features tracks originally recorded for radio and broadcast by the BBC on Bowie's 50th birthday on Jan. 8, 1997, with a cover image taken by renowned photographer Albert Watson in 1996. Bowie's latest birthday was also marked with a 30-minute experimental film of the late rock icon shot by friend/collaborator Prof. Martin Richardson which was played for a select group of 300 Bowie fans on Friday Jan. 10 at the U.K.'s Leicesters's National Space Centre to mark four years since's the singer's passing. The 35mm film of Bowie walking towards a camera and striking various poses had reportedly been stored in a box at Leicester's De Montfort University for several years and was used to produce a moving hologram for the 1999 Hours album. Meanwhile, Bowie and fellow late pop star George Michael have been named among the most influential people in British history with their recent addition to The Oxford Dictionary of National Biography. The two musicians, as well as legendary late Beatles producer Sir George Martin, are among 228 contemporary figures who have been added to the book's newest edition. New entries are only allowed to be added following their death, with all of 2020's additions having died in 2016. They bring the the total number of articles in the dictionary to 61,411, which covers the lives of 63,693 people. - Billboard/New Musical Express, 1/9/20...... Elton John has announced he's pledging $1million to to help combat the bushfires in Australia that have been raging since September. John announced his donation while making a plea on behalf of the nation's endangered animals and affected citizens. "We should all be in the awe of the work the firefighters are doing," John, 72, said. "There are people out there who have lost their lives trying to save homes, there are people who have lost their lives and their homes. And lastly, there's the plight of the animals, a loss of their habitat that, frankly, is on a biblical scale and it's heartbreaking. Therefore tonight, I will be pledging $1 million dollars to support the bushfire relief fund." The fires have consumed more than 18 million acres in Australia during the nation's most disastrous fire season in history, and 130 blazes continue to burn out of control, taking the lives of at least 25 to date. Elton joins the likes of Keith Urban and Nicole Kidman, The Wiggles, Kylie Minogue and P!nk who have made six-figure donations or scheduled benefit concerts to aid firefighting cause. On Jan. 9, Queen guitarist Brian May revealed that the band have been asked to play a Live Aid style benefit concert for victims of the bushfires. Concert promoters TEG Live and TEG Dainty have announced the benefit gig "Fire Fight Australia" to raise funds, with the show confirmed fo Feb. 16, but as yet no acts have been confirmed. Queen has seven gigs scheduled in Brisbane, Sydney, Melbourne, Perth, Adelaide and the Gold Coast from February 13 to 29, with their schedule currently clear on Feb. 16. "Of course, we are going there very soon, we are looking at it very carefully" May said recently outside parliament in Westminster, where he was promoting the Save Me Trust's "Amazing Grace Campaign" to help Britain's hedgehogs. - Billboard/NME, 1/7/20......
Ozzy Osbourne shared the title track from his upcoming album Ordinary Man on YouTube on Jan. 10, which features his surprise collaboration with Elton John. "Ordinary Man" sees Ozzy singing the first verse backed by Elton on piano, before Elton contributes vocals during the second verse. Ozzy also revealed the cover artwork for Ordinary Man, his first LP since 2010's Scream, and additional contributors including Post Malone, Guns N' Roses guitarist Slash, and Rage Against The Machine guitarist Tom Morello. "It all just came together," Osbourne said in a press release. "Slash is a dear friend of mine, as is Elton. When I was writing 'Ordinary Man', it reminded me of an old Elton song and I said to [wife] Sharon Osbourne, 'I wonder if he would sing on it?' We asked and lo and behold, he agreed and sings and play piano on the song," he added. Osbourne's backing band on the LP also includes Guns & Roses' Duff McKagan, Red Hot Chili Peppers drummer Chad Smith and producer Andrew Watt on guitar. Ordinary Man drops on Feb. 21. Meanwhile, Sharon Osbourne has slammed Prince Harry and his wife Megan Markle's decision to step back from royal life, insisting they should have waited until Queen Elizabeth retired. Sharon says the Duke and Duchess of Sussex "should be able to do what they want... it's 2020." "However, his family are royal, for thousands of years. And to respect that family, you go to your family; you tell them how you feel; you say, let's sort this out," Sharon said on her daytime TV show The Talk. "The queen has said that within the next 18 months she's going to retire, which means that Harry's dad, Prince Charles, will be King. So, you know what, you wait until the Queen's retired." But Sharon added that Duchess Megan has some new career plans in mind and will have set her sights on teaming up with big names in the US. "My prediction is, that she'll end up doing something with Oprah [Winfrey] and Michelle Obama." - Billboard/Music-News.com, 1/10/20...... Aretha Franklin's son Kecalf has called for a boycott of the upcoming Aretha biopic Respect, which is due to hit theaters in late 2020 and stars Jennifer Hudson after she was handpicked by the Queen of Soul herself for the the title role. But Respect failed to garner the support of Franklin's wider family, after Kecalf threatened to boycott it in a lengthy Facebook post. "Once again The Franklin Family (Does Not) support the movie that is in production," he wrote on Facebook. "Nor do we support the book 'The Queen Next Door'!!! Neither entity felt the need to contact the (core) family about anything." Kecalf also took issue with the 2019 book The Queen Next Door: Aretha Franklin, An Intimate Portrait, which is thought to have provided inspiration for the movie. "How can you make a movie about a person and not talk to the person's sons or grandchildren about important information," he said. "How can you put a person's family in a book and not ask permisssion? If you are a real fan of my mothersplease do not support this. Ask yourself -- would you want this done to you. Note: the only person my mother was in favor of for the movie was Jennifer Hudson," he added. In 2019, Aretha was awarded a posthumous Pulitzer Prize, almost a year after her death. - NME, 1/9/20...... "MJ," the new Broadway show based on the life and career of Michael Jackson, will hold an open casting call in Detroit during the week of Jan. 12 as part of several audition sessions coming up across the US. The show is reportedly seeking performers who can play the late star at various life stages, including Jackson as a 10-year-old, as a teenager, and around aged 30, according to the Detroit Free Press. "MJ," penned by Pulitzer Prize-winning author Lynn Nottage and choreographed by Tony Award winner Christopher Wheeldon, will arrive on Broadway to previews on July 6 before its official opening on August 13 at the Neil Simon Theatre. - NME, 1/7/20...... The ABC television network announced on Jan. 9 that it is partnering with movie director Mel Brooks for its newest live musical event, Young Frankenstein Live!, which will be based on the 2007 Broadway musical adaptation of Brooks' classic 1974 film of the same name. Produced by the show's creator Brooks, Young Frankenstein Live! is expected to premiere in fall 2020 and feature Brooks' music that he composed from the Broadway adaptation. Brooks also co-wrote and directed the 1974 comedy film which parodied Mary Shelley's Frankenstein and starred Gene Wilder and Peter Boyle. - ComingSoon.net, 1/9/20......
Legendary screenwriter Buck Henry, best known for his work on the classic 1967 film The Graduate and for co-creating the '60s spy comedy series Get Smart!, died of a heart attack on Jan. 8 at Cedars-Sinai Health Center in Los Angeles. He was 89. Mr. Henry scored a pair of Oscar nominations -- one for his adapted screenplay for The Graduate and another for co-directing (with Warren Beatty) the 1978 movie Heaven Can Wait. He also won a writing Emmy in 1967 for Get Smart!, the spy spoof he created with Mel Brooks, among many other accolades. Mr. Henry later became a familiar face to a new generation of TV viewers in the 1970s by hosting Saturday Night Live several times during its first five seasons. On SNL he might be best remembered as John Belushi's foil in the classic "Samurai" skits, as well as Uncle Roy, who menaced children he was babysitting. Born Buck Zuckerman in New York City on Dec. 9, 1930, Mr. Henry got his start writing for Steve Allen and Garry Moore's TV shows in the 1960s, including That Was The Week That Was, before penning the script for The Graduate, Mike Nichols' seminal film starring Dustin Hoffman, Katharine Ross and Anne Bancroft. The film scored seven Oscar noms including Best Picture, with Nichols winning Best Director. The film also made the top 10 in the AFI's "100 Years -100 Movies" list in 1998. Mr. Henry would focus his screenwriting on the big screen during the 1970s, penning such films as The Owl and the Pussycat, Is There Sex After Death?, the Barbra Streisand-starred What's Up, Doc?, and The Day of the Dolphin. He had appeared onscreen in numerous films and comedy shows by the mid-'70s when he was chosen to host Saturday Live Night during its first season in 1976. Appearing alongside the Not Ready for Primetime Players, he would go on to host nine more times through 1980, becoming the first SNL host to hit double digits. His later screenwriting credits include To Die For (1995) and Town & Country (2001). In addition to Heaven Can Wait, his other directing credit includes Candy in 1968, whose cast included Marlon Brando, Richard Burton, James Coburn and Walter Matthau. - Deadline.com, 1/8/20.
Tuesday, January 7, 2020
Gene Simmons of KISS kicked off 2020 with a Twitter post that launched a heated debate about adding ice to his milk and cereal. "Anyone else put ice cubes in their cereal?," Simmons simply asked alongside photos of his concoction: Kellogg's Frosted Mini Wheats and Oreo O's in a bowl of milk, with a number of large ice cubes floating around. The result was a flooded comment section filled with people who were disgusted at the idea of watered-down milk, and others who have been adding ice to their go-to breakfast their whole lives. Simmons' son, Nick Simmons, even hilariously chimed in that he's experienced "30 years watching him do this. This is my life." - Billboard, 1/2/2020...... A Huddleston, Va. woman named Beth Bays has created a 15-foot-tall hay sculpture of Willie Nelson that has struck a chord with the community. Bays has been making giant hay bale sculptures for the last eight years, and her most memorable ones include characters from The Wizard of Oz and the Virginia Tech "Hokie" bird mascot. Bays' Nelson sculpture, which she branded "Will-Hay Nelson," can be viewed on Instagram. - AP, 1/3/2020......

Rod Stewart and his 39-year-old son Sean Stewart are due to appear in a Palm Beach court on Feb. 5 after the pair were involved in a New Year's Eve scuffle at the The Breakers hotel. According to court records, a security guard named Jessie Dixon told police officers that Stewart's group was at the check-in table for a private party that they weren't authorized to attend. When the group became unruly and began causing a scene, Dixon said he put his hand on the younger Stewart's chest and told him to back up and make space, which prompted Sean Stewart to shove him backwards and go "nose to nose" with him, the report said. Rod, 74, then allegedly punched Dixon in his "left rib cage area" with a closed fist. Sean told investigators he became agitated when they were not able to attend the event "due to Dixon's interaction with him and his family." After viewing security footage, police determined the Stewarts were the "primary aggressors," and Dixon signed an affidavit saying that he wanted to press charges against the pair, who were both charged with simple battery and issued notices to appear in court on Feb. 5. Meanwhile, Rod Stewart announced on Jan. 7 that he'll launch a North American summer tour with openers Cheap Trick on July 1 in Cuyahoga Falls, Oh. The 21-city tour will visit mostly mid-size markets including Clarkston, Mich. (7/25), Hershey, Pa. (8/1), Wantagh, N.Y. (8/14), Columbia, Md. (8/15), and Maryland Heights, Mo. (9/2) before wrapping Tinley Park, Il. on Sept. 5. Stewart became the oldest solo male artist to top the U.K. pop charts in December with his latest album, You're In My Heart. - AP/Billboard, 1/7/20...... Ozzy Osbourne's wife Sharon Osbourne made a surprise announcement on her syndicated daytime TV show The Talk. on Jan. 7 that Ozzy is collaborating on a new song with Elton John. When asked about Ozzy's plans for 2020 after a year of health scares, Sharon told co-host Carrie Ann Inaba: "A lot of good things. Wellness. And to get back with his fans, to get doing what he loves, which is touring and being out there with his fans." Sharon continued: "And yes, there's new music, and it's great. He's got all his friends playing on it. He's doing a song with Elton. There's so much good stuff. Good things." News of the two rock icons' collaboration comes only a few days after Ozzy's daughter Kelly Osbourne dismissed what she described as "bullshit" reports that her famous dad was in "dire straits" and on his deathbead. "Today I had a wonderful start to 2020. I went out to lunch with my family," the 35-year-old posted on Instagram. "Then I spent the rest of the day laughing and hanging out with my dadI come home to read sickening articles about my dad supposedly being on his 'death bed' sometimes the media makes me sick!!," she added. On Jan. 6, Ozzy posted a video for "Straight to Hell," his second single from his upcoming album Ordinary Man, on YouTube. - NME, 1/7/20......
In an interview with the U.K.'s Daily Mail on Jan. 3, Meat Loaf claimed that 17-year-old climate change activist Greta Thunberg has been "brainwashed" into believing in climate change. Meat Loaf said "I feel for Greta" and that she's been "brainwashed into thinking that there is climate change and there isn't... She hasn't done anything wrong but she's been forced into thinking that what she is saying is true." Thunberg, who has become an icon in the global environmental movement and inspired a number of protests and strikes, responded to the musician's words on Twitter on Jan. 7: "It's not about Meatloaf. It's not about me. It's not about what some people call me. It's not about left or right," she tweeted. "It's all about scientific facts. And that we're not aware of the situation. Unless we start to focus everything on this, our targets will soon be out of reach." Meat Loaf's interview also included his thoughts on his self-proclaimed "sex god" status, back surgeries, and his favorite TV shows. In 2019, he made headlines when he fell offstage during a speaking event and broke his collarbone. He has previously claimed that his health issues that resulted in him collapsing on stage at another event mean that he may never sing again. - Billboard/New Musical Express, 1/7/20...... Speaking of Greta Thunberg, Patti Smith penned an environmentally conscious poem for the young activist's 17th birthday on Jan. 3. Smith posted Thunberg's photo on her Instagram page and broke up the poem's stanzas within the caption: "This is/ Greta Thunberg, turning/ seventeen today, asking/ for no accolade, no gifts,/ save we not be neutral./ The Earth knows its kind,/ just as all deities, just as/ animals and the healing/ spring. Happy birthday/ to Greta, who stood today,/ as every Friday, refusing/ to be neutral," the punk poetess posted. The last three lines refer to Thunberg's weekly routine of heading to the front of the Swedish parliament building on Fridays with her "Skolstrejk fr klimatet" sign (which translates to "School strike for the climate") to demand action toward the global climate change crisis. - Billboard, 1/3/20...... The surviving members of the Allman Brothers Band announced on Jan. 3 that they'll be celebrating the ABB 50th anniversary with a show at Madison Square Garden in New York City on March 10. The concert will reunite drummer Jaimoe Johanson, guitarists Warren Haynes and Derek Trucks, bassist Oteil Burbridge and percussionist Marc Quinones under the name The Brothers. Also appearing will be "special guest" Chuck Leavell on keyboards. It will be the first performance of the ABB since Gregg Allman died following a battle with liver cancer in 2017 and the suicide of ABB drummer Butch Trucks. Founding guitarist Dickey Betts will not be at the show, having had a falling out with the band years ago. - Billboard, 1/3/20...... R&B/Funk legends The Isley Brothers have been confirmed as headliners for the 2020 Playboy Jazz Festival, set for L.A.'s Holywood Bowl on June 6 and 7. In addition to brothers Ronald and Ernie Isley, the lineup will include St. Paul and the Broken Bones, Terri Lyne Carrington and Social Science and Musiq Soulchild among several other artists, according to organizers the Los Angeles Philharmonic Association. The full talent lineup for the 42nd annual PJF will be announced on Feb. 18, along with the complete schedule for the Hollywood Bowl's summer 2020 season. Actor/comedian George Lopez will mark his eighth anniversary as festival host. - Billboard, 1/7/20......

Elton John and his longtime songwriting partner Bernie Taupin were honored with a best original song Golden Globe award during the 77th Annual Golden Globe Awards at The Beverly Hilton Hotel on Jan. 5, 2020 in Beverly Hills, Calif. The duo took BOS trophies home for "(I'm Gonna) Love Me Again," the new song they contributed to Rocketman, the kaleidoscopic musical biopic about Sir Elton's life. Incredibly, John noted it was the first award he and Taupin have won as a duo. "It's the first time I won an award with him. Ever," John said while accepting the award. "We never won a Grammy, we never did anything together except for this and I'm so happy, thank you very much." Taupin then added: "[The song] deals with our relationship... and a 52-year-old marriage... which doesn't happen very much in this town," he said, visibly moved. Elton, a five-time Grammy winner, did not win any of them with Taupin, who has been nominated twice, but has no wins. Since 6 of the last 10 Globe winners for best original song went on to win the Oscar, as did 7 of the last 10 Globe winners for best original score, John and Taupin could be considered as front-runners for the coveted Oscar. If John and Taupin's win for BOS was a mild surprise (facing competition from Beyoncé and Taylor Swift), Taron Egerton's win as Best Actor for a Musical or Comedy for portraying John in Rocketman was a flat-out shock, beating out heavily favored comeback king Eddie Murphy in Dolemite Is My Name. His award was well-earned however, as Egerton supplied his own vocals in the biopic, while 2019 Golden Globe winner Rami Malek did a lip-synced performance of Freddie Mercury in 2018's Bohemian Rhapsody. Egerton thanked Elton for allowing him the honor of portraying him onscreen. "To Elton John -- thank you for the music, for living a life less ordinary and for being my friend," he said. - Billboard, 1/5/20...... In an apparent attempt to avoid new EU copyright laws which went into effect on Jan. 1, a collection of about 130 rare and unpublished Rolling Stones recordings were published to the YouTube account 69RSTRAX shortly before the new year, then mysteriously removed within hours. Offering no immediate clue as to the identity of the publisher, a YouTube-mandated email address for 69RSTRAX directs business enquiries to ABKCO, a music publishing company that owns the rights to a substantial number of early Rolling Stones recordings. According to Variety, the publishing of the tracks might have been an attempt to avoid EU copyright laws and keep them out of the public domain on the 50th anniversary of their creation. Sound recordings are protected for 50 years after they are published, and can be extended to 70 years as long as they are "lawfully communicated to the public" within the first 50 years. Previously, some publishers, faced with similar issues, have released collections of recordings, such as the Beatles' 2013 album Bootleg Recordings 1963, and a limited-run Bob Dylan compilation album literally published as The Copyright Extension Collection, Volume 1. The Stones tracks included several near-complete 1969 concerts and multiple alternate studio versions of songs from the albums Let It Bleed and Sticky Fingers, many of which have been available for decades on bootlegs -- along with many that have not. Variety note that while the brief release of the Stones recordings could extend their copyright, they are not sure whether a post on YouTube constitutes a publication as defined by European Union law. The 20-year extension to the 50-year copyright period was passed in Sept. 2011 by the Council of the European Union, which at the time claimed that the change was designed to benefit artists and songwriters. However, a number of artists decried the council's decision, noting that the extension would instead benefit record companies -- who in most cases retained ownership of sound recordings in the original record contracts -- rather than the musicians who wrote and performed them. - New Musical Express/Billboard, 1/3/20......
As anticipated, a California appeals court on Jan. 3 restored two lawsuits accusing Michael Jackson of child sexual abuse, after the state's statute of limitations on the crime was extended. The lawsuits were filed by Wade Robson in 2013 and James Safechuck in 2014, but were dismissed on the grounds that the statute of limitations had expired for both men. California law required such cases to be filed before the accuser's 26th birthday. However, in October 2019, Gov. Gavin Newsom signed a new state law giving those who claim they were sexually abused as children until age 40 to file suit, effective Jan 1. In November, three judges from the 2nd District Court of Appeal said in a tentative ruling that in light of the new law, Safechuck and Robson's suits ought to be reconsidered. Now, the California judges have made that ruling official. While the new ruling does not address the truth of their allegations, it does give them the green light to proceed with their lawsuits against MJJ Productions and MJJ Ventures, who they argue are liable for the alleged abuse. Howard Weitzman, attorney for the Estate of Michael Jackson, said that "The Court of Appeal specifically did not address the truth of these false allegations, and we are confident that both lawsuits will be dismissed and that Michael Jackson will be vindicated once again." - Billboard, 1/3/20...... The Grateful Dead spin-off band Dead & Company paid tribute to the band's legacy with a career-spanning New Year's Eve show at Chase Center in San Francisco on Dec. 31. Basketball Hall of Famer Bill Walton, the most iconic Deadhead, appeared as a seven-foot tall Father Time in a wizard-white beard, a resplendent crown of roses, to ring in the new year and decade. Dead & Co. band member John Mayer took photos as if he were a fan, and not the band's lead guitarist, tasked with the impossible role of reanimating the spirit of Jerry Garcia. Then a few thousand rainbow-colored balloons descended from the rafters to the floral strains of the GD classic "Sugar Magnolia." Three hours, three sets and 24 songs strong, it was encored with a rendition of the band's biggest pop hit, "Touch of Grey." It was the final show of a four-night "Fun Run" mini-tour by the band that included two stellar performances the previous week at The Forum in Los Angeles. In line with the band's storied tradition, the trip remained "long and strange." - Billboard, 1/2/2020.
Thursday, January 2, 2020
A group of music publishing companies who own the rights to some of the most popular songs of all time filed a lawsuit in New York federal court on Dec. 30 against U.K.-based producer Coda Publishing, Marina del Rey-based distributor Vision Films, director Robert Carruthers and others over several documentaries released by the companies. The suit claims documentaries about the Rolling Stones (Their Satanic Majesties and Big Hits), ABBA (The Gold Singles), Elton John (In Performance), and Lynyrd Skynyrd (Rock Case Studies), along with documentaries about U2, Nirvana and Red Hot Chili Peppers, "are nothing more than a delivery system for intentionally infringed materials." Online retail giant Amazon.com appears to have pulled the titles, but as of Jan. 1 some of them were still available for rental or purchase though Vimeo.com. The complaint asks the court to declare the defendants willfully infringed the copyrights, to order that all copies of the films be destroyed, and to award statutory damages of up to $150,000 per infringement or actual damages plus the defendants' profits. - The Hollywood Reporter, 1/1/20......
The Washington Post has published an article by writer Nancy French who says she was given David Lee Roth's old phone number when she and her new husband moved from Tennessee to New York City in the 1980s, and began to receive sultry phone calls from several women asking to "speak to David." French said she would hand the phone to her husband who insisted it was a wrong number and hang up, but the calls caused her to question her marriage. "Maybe our relationship was all a ruse. I'd heard stories of people getting married only to realize their spouse had a double life," she wrote. Thankfully, Roth's agent finally called and cleared the confusion. "Apparently, [Roth] had changed his number right before we moved to Manhattan but still gave out his old number to women he met but wanted to let down easily," French wrote. "Later that year, he appeared on MTV with Van Halen. When rumors of them getting back together started flying, our phone rang with congratulations and invitations to exclusive parties." - Billboard, 12/30/19...... Vinyl album releases by Harry Styles, Billie Eilish, the Beatles, Queen and classic rock artists on a Guardians of the Galaxy soundtrack have helped the vinyl LP format to top sales of 1 million in a single week for the first time in the Nielsen Music era. In the week ending Dec. 26, 2019, a whopping 1.243 million vinyl albums were sold. Vinyl albums were once the dominant format for album purchases in the U.S., up until the early 1980s. After that, cassettes took hold until the early 1990s, when the CD format flourished and become the leading format for album purchases. Of the top 10 single biggest weeks for the vinyl album format in the Nielsen Music era, five occurred in 2019, three in 2018, one in 2017 and one in 2015. It's expected that 2019 will mark yet another big year for vinyl, once the 2019 Nielsen Music tracking year closes on Jan. 2, 2020. - Billboard, 12/30/19...... In a new interview with the U.K. music mag Mojo, Rolling Stones guitarist Ronnie Wood recalled how his fellow Stones guitarist Keith Richards branded him a "weakling" after he attempted to ditch alcohol and drugs for the first time. Wood, who has been sober for a decade, said RIchards was dismissive of his efforts when he first attempted to get clean in 2005. "I do remember going on stage clean for the first time, it was at this club in Canada for the start of a tour (in August 2005)," Wood noted. "I was like this, ([terrified], and Mick [Jagger] whispered, 'It's alright, you can do it, don't worry.' But Wood said Richards was "trying to make out I was the weakling" by going "rehab's for quitters!" "But it takes a lot of strength to do this if indeed I'm gonna be able to do it at all because there's no guarantees," Wood said. Wood added that during a 2009 intervention when he began to relapse, "they took my counsellor away and got me so annoyed... You sometimes wonder if they want you to go out and drink again... It's big money for them." "So I left rehab and did it for myself I felt I knew what to do... Fellowship. I did 90 meetings in 90 days and I did the same again. Didn't need the rehab place -- I did it through the meetings." - New Musical Express, 1/31/19...... Officials in the U.K. apologized on Dec. 28 for mistakenly publishing the home addresses of more than 1,000 people who received special honors including pop singers Elton John and Olivia Newton-John, along with several Oscar-winning film directors, senior politicians and diplomats, popular athletes and people in sensitive defense roles. The addresses were published online for about an hour on the evening of Dec. 27 when the Cabinet Office posted the recipients of New Year's Honors, including knighthoods. "The information was removed as soon as possible," the Cabinet Office said in a statement. "We apologize to all those affected and are looking into how this happened." Officials said the individuals will be contacted about the error. The Information Commissioner's Office said it was investigating "in response to reports of a data breach involving the Cabinet Office and the New Year's Honors list." It can impose fines for privacy violations. Britain's Cabinet Office publishes a list of the people receiving honors for merit, service or bravery twice a year: shortly before New Year's Eve and on the Saturday in June when Queen Elizabeth II's birthday is officially observed. - AP, 12/28/19...... Actress Teri Garr, star of such blockbuster films as Young Frankenstein and Tootsie, is reportedly "fine" after being hospitalized on Dec. 30 for a "medical emergency." Garr, 75, was taken to a local medical center by ambulance, but her rep says the situation was much more minor than first implied, and said Garr had actually been suffering from dehydration, which led to confusion. "Teri is fine. She had some confusion which it turns out was caused by dehydration. To be cautious they are keeping her overnight and she'll be home tomorrow," the rep said. Garr has suffered health issues for years and was diagnosed with multiple sclerosis in 1999. She also suffered a brain aneurysm in late 2006, but recovered and returned to acting until she retired in 2011. - WENN/Canoe.com, 12/31/19......
British songwriter and comedian Neil Innes, who collaborated with the Monty Python comedy troupe and co-founded the Beatles parody band The Rutles, died unexpectedly of natural causes on Dec. 29. He was 75. Innes wrote several original songs for Monty Python's sketch-comedy TV show, Monty Python's Flying Circus, as well as 1975's classic movie, Monty Python and the Holy Grail, in which he also appeared as an actor. Innes' years as a supporting player with Monty Python and his gift for wry and funny songwriting led to a long-running stint as co-leader of The Rutles, a fictional late-'70s Beatles pastiche that featured Monty Python's Eric Idle as the Paul McCartney stand-in, Dirk McQuickly, and Innes as the John Lennon stand-in, Ron Nasty. The Rutles ultimately became a "real" band, appearing on Saturday Night Live and recording a mockumentary film called All You Need Is Cash in 1978. Assorted Rutles reunions, tours, retrospectives and compilations have followed in the decades since. Innes released numerous solo albums over the years, beginning with 1973's How Sweet to Be an Idiot, and in 2010, the the Essex-born musician and writer formed a new group called the The Idiot Bastard Band. He is survived by wife Yvonne, their three sons and three grandchildren, who "give thanks for his life, for his music and for the joy he gave us all," according to a statement. - NPR.org, 12/30/19...... Songwriter/musician Allee Willis, who wrote the theme tune for the hit sitcom Friends as well as hits for such bands as Earth, Wind & Fire, the Pointer Sisters and Pet Shop Boys, died on Dec. 24 after suffering a sudden heart attack. She was 72. Willis co-wrote "I'll Be There For You," which went on to be recorded by The Rembrandts, with Friends creators David Crane and Marta Kauffman in 1995. She was nominated for an Emmy for the track in the same year, missing out on the award to the theme for Star Trek: Voyager. Willis moved to New York in 1969 where she worked as a copywriter at Columbia and Epic Records, getting her start as a songwriter three years later. Since then, songs penned by her have reportedly sold more than 60 million records around the world, while she was also nominated for two Grammys for her work on the soundtracks for Beverly Hills Cop and the musical version of The Color Purple. She was also responsible for tracks such as Earth, Wind & Fire's "September" and "Boogie Wonderland," the Pet Shop Boys/Dusty Springfield collaboration "What Have I Done To Deserve This," and the Pointer Sisters' "Neutron Dance." She once described "September" as being "that song that when people found out I'd written that, they just go, 'Oh my God' and then tell me in some form how happy that song makes them every time they hear it." She also collaborated with the likes of Herbie Hancock, James Brown and Bob Dylan, and wrote the theme song for The Karate Kid in Joe Esposito's "You're The Best." More recently pictured working with rapper Big Sean. In 2018, Willis was inducted into the Songwriters Hall Of Fame. - New Musical Express, 12/25/19...... Actress Sue Lyon, best known for her first major role as a teen nymphet in the 1962 Stanley Kubrick-directed film Lolita, passed away in Los Angeles on Dec. 26. She was 73. In the movie based on Vladimir Nobokov's famous novel about a middle-aged college professor who becomes infatuated with a teen nymphet, Lyon starred opposite James Mason, picked out of 800 young actresses who had auditioned to play the title character in the controversial film when she was just 14 years old. Her performance earned the blonde beauty the Golden Globe in the most promising newcomer-female in 1963. Her followup to Lolita was a co-starring role opposite Richard Burton, Ava Gardner and Deborah Kerr in the John Huston-directed 1964 feature The Night Of the Iguana. She went on to appear in two dozen movies and TV shows, more notably Evel Knievel, Tony Rome and 7 Women. Her last screen credit was the 1980 horror movie Alligator. According to her longtime friend Phil Syracopoulous, her health had been declining for some time. - Deadline.com, 12/28/19......
West Coast jazz trumpeter Jack Sheldon, best known for playing "The Shadow of Your Smile" in the 1965 Elizabeth Taylor and Richard Burton drama The Sandpiper, serving as Merv Griffin's TV talk show sidekick, and voicing characters on the children's series Schoolhouse Rock!, died on Dec. 27, according to this longtime manager, Dianne Jimenez. He was 88. Mr. Sheldon's haunting version of "The Shadow of Your Smile," written by Johnny Mandel and Paul Francis Webster, won the Grammy Award for song of the year and the Academy Award for best original song. Mr. Sheldon was also seen or heard in several other films including The Long Goodbye (1973), Breakfast at Tiffany's (1961), Save the Tiger (1973), Mommie Dearest (1981), Mr. Saturday Night (1992), Arachnophobia (1990) and For the Boys (1991). On Merv Griffin's long-running TV talk show that began in 1962, the fun-loving Mr. Sheldon enjoyed rich comic banter with the host, a big band singer himself. Griffin's favorite song was "The Shadow of Your Smile," and Mr. Sheldon performed it at Griffin's funeral in 2007. The Jacksonville, Fla., native also provided the voice for the Conjunction Conductor and performed as proposed legislation in the memorable piece "I'm Just a Bill" on the Saturday morning kids educational series Schoolhouse Rock!, which premiered on ABC in 1973. He parodied "I'm Just a Bill" as an "Amendment to Be" on a 1996 episode of The Simpsons and reprised his roles as the bill and the conductor on episodes of Family Guy in 2000 and 2001. In the late 1950s, Mr. Sheldon toured with orchestras led by Stan Kenton and Benny Goodman and backed such famous singers as Frank Sinatra and Sammy Davis, Jr. An inventive player, he also headed his own 17-piece orchestra. His TV credits include The Cara Williams Show, Run Buddy Run and The Girl With Something Extra. He was the subject of a 2008 documentary, Trying to Get Good: The Jazz Odyssey of Jack Sheldon, in which he detailed his battle with alcohol and substance abuse. He then made a resounding recovery from a stroke suffered in 2011 that robbed him of the use of his right arm. "I like the music to swing," he told the Los Angeles Times in 1987, "and I like to make people feel it, feel happy and sad, everything. If the music makes me smile and happy, then maybe the people will feel it, too." - The Hollywood Reporter, 12/31/19.
Saturday, December 28, 2019
A Tina Turner mural featured on a pulldown storefront of a record store in North Carolina was defaced on Dec. 26. Employees of Static Age Records in downtown Asheville, N.C. reported the incident, in which the culprit covered the mural in a black sheet, to police and the Southern Poverty Law Center. Store owner Jesse McSwain said that his store is "a widely inclusive, safe space" and that "hate speech will get you out the door." In addition to Turner, the pulldown storefront also honors Screamin' Jay Hawkins, Lemmy from Motörhead and Lou Reed. Turner's mural was based on her character in the film Mad Max: Beyond Thunderdome. - AP, 12/27/19......
Elton John thanked his legion of fans for a landmark year with a touching Christmas video posted on Instagram on Dec. 24. John, 72, highlighted his most recent accomplishments as he looked back on his "most successful year" ever and wished fans happy holidays. "Merry Christmas everybody, and thank you for making 2019 probably the most successful year of my career," he said. "Wow, at 72 years of age, I'm blown away. First of all you have all supported the Farewell Yellow Brick Road Tour so well it is breaking box office records everywhere, thank you," he added. John also opened up about the success of his new autobiography, Me, and the hit biopic Rocketman. "Rocketman came out in the spring and got incredible reviews, and did incredibly well, Thank you," he shared. "Me, my autobiography, came out in the autumn and did incredibly well, thank you." The rocker also said he "can't believe" he took the top spot on Billboard's 125 Top Artists of All Time list, and named the presentation of France's highest civilian award, the Legion d'Honneur, in June as another big highlight of 2019, adding, "I was blown away." He capped the post with another tribute to fans: "You have come to the show, you have dressed up, you've come along and had a great time and you've made me feel so happy every time I come on stage." - WENN/Canoe.com, 12/26/2019...... As if John wasn't awarded enough in 2019, Queen Elizabeth II released her annual New Years Honours list on Dec. 27, and those receiving 2020 honours include Sir Elton and Olivia Newton-John. Each year, the British honors system recognizes 1,097 new members by designating orders of chivalry. John, who received his knighthood (hence his "Sir" title and "CBE" post-nominal letters) from the Queen in 1998, was upgraded to Companion of Honour for his contributions to music and charity. His full name is now Sir Elton Hercules John, CH, CBE, but he can choose to use the new post-nominal letters "CH." The Order of the Companions of Honor only allows 65 members total, and John clocks in as the 62nd member. Sir Paul McCartney is also part of this exclusive organization.
Additionally, Olivia Newton-John received her damehood for "her services to charity, cancer research and entertainment." The 71-year-old Grease star is currently battling breast cancer for the third time in her life and started the Olivia Newton-John Cancer and Wellness Centre in Melbourne, Australia back in 2008. "I am extremely excited, honoured and grateful beyond words to be included with such an esteemed group of women who have received this distinguished award before me," said the British-born Australian singer-actress. "As a girl born in Cambridge, I am very proud of my British ancestry and so appreciative to be recognised in this way by the United Kingdom," she added. Olivia's new full name is Dame Olivia Newton-John, AC, DBE, but the post-nominal letters "AC" stem from the Companion of the Order of Australia, which she was awarded in June 2019. Others recognized for their musical efforts by the New Year Honours list include Queen drummer Roger Taylor and singers Billy Ocean (OBE) and Snow Patrol frontman Gary Lightbody (OBE). Taylor, 70, has campaigned for the awareness of AIDs, launched a musical featuring Queen's greatest hits and is one of the few living people to appear on a Royal Mail stamp when he was pictured behind the late Freddie Mercury playing drums, which caused controversy in 1999. - Billboard/Deadline.com/New Musical Express, 12/27/19....... Ozzy Osbourne posted a Christmas 2019 playlist on Spotify on Dec. 23, announcing it on Twitter with a cheeky "How #Ozzy Stole #Christmas." Osbourne's 35-track playlist includes Paul McCartney's "Wonderful Christmastime," Frank Sinatra's "Have Yourself a Merry Little Christmas," also delving into his heavy metal roots with Spinal Tap's "Christmas With The Devil," AC/DC's "Mistress For Christmas," Weezer's "We Wish You A Merry Christmas" and Korn's "Kidnap the Sandy Claws." The rock icon also included some of his own solo tracks, including "Miracle Man," "Mama, I'm Coming Home" and his latest single, "Under The Graveyard." Ozzy will release Ordinary Man, his first solo LP since 2010's Scream, in January. - Billboard, 12/23/19...... A rock guitarist extraordinaire named Andrea Boccarusso has posted a video of himself to YouTube in which he performs a mind-blowing medley of 50 of Led Zeppelin's most classic riffs. Boccarusso, who has previously posted videos of himself running through the catalogs of the likes of AC/DC, Iron Maiden and Metallica, is seen switching back and forth between acoustic and electric guitars (sometimes playing both at once) on such beloved Led Zepp tracks as "Trampled Under Foot," "Stairway To Heaven," "Dancing Days," "No Quarter," "Gallows Pole," "When the Levee Breaks," "Dazed and Confused" and "In My Time of Dying." - NME, 12/24/19...... Just in time for Christmas, Paul McCartney has co-designed a collection of limited-edition cashmere sweaters embroidered with titles of two tracks on his 2018 album Egypt Station, "People Want Peace" and "Do It Now," and made them available for $400 apiece at his official merchandise shop on PaulMcCartney.com. The former Beatles reached out earlier in 2019 to sweater label Lingua Franca to create a collection of limited-edition sweaters. Lingua Franca sweaters -- stitched with punchy, culturally relevant slogans -- caught the attention of several celebrities amid the rise of the #Time'sUp movement, with phrases like "Fight Like A Mother" and "Nevertheless, She Voted." Lingua Franca's founder and longtime Beatles fan Rachelle Hruska MacPherson says Sir Paul was "really involved in the process, which was so beyond cool." "Paul's team asked if it would be possible to get a selection of designs mocked up. They had some potential slogans from Paul's recent album," MacPherson says. "We showed them fifteen mockups, and Paul picked six. We really trusted Paul's judgement on color combinations. The fact that Paul was picking all the colors was exciting," she added. - Billboard, 12/23/19......
In a recent chat on the Fox News channel, Marie Osmond reflected on the horrific abuse she suffered as a teen when she was told to "keep food out of her fat face" by studio executives. Osmond, 60, revealed that while she was a 15-year-old filming her show Donny & Marie with her brother Donny Osmond herself after a member of staff at the studio took her out into the parking lot to tell her they would cancel the show unless she went on an extreme diet. "I was 103 lbs. -- I'd kill to be 103 lbs. So I got down to 93 lbs. I never realized the mental abuse behind that," she said. Marie has since found it difficult to keep her diet consistent, and lost 50 pounds ahead of her Dancing With the Stars appearance in 2007. Osmond, a mother of eight, also ecently opened up to People magazine about the 2020 suicide of her son Michael Blosil at 18 years old. "You can't breathe, when you're contemplating something that devastating in your life, you can barely function," she said of her son's loss. However she said it was her strong faith that helped her to get through the ordeal: "You have to find a way to breathe again. Mine was my faith. I have great faith, and I know I will see him again." - DailyMail.co.uk, 12/27/19...... In a new interview with the Toronto Sun, The Who guitarist Pete Townshend claims The Who "invented heavy metal" in 1970 with their acclaimed concert album Live At Leeds, and added that Led Zeppelin "copied their sound." "We sort of invented heavy metal with Live At Leeds. We were copied by so many bands, principally by Led Zeppelin -- you know, heavy drums, heavy bass, heavy lead guitar and some of those bands, like Jimi Hendrix for example, did it far better than we did." Townshend continued: "Cream, with Eric Clapton and Jack Bruce and Ginger Baker, they came along in '67, same year as Jimi Hendrix, and they kind of stole our mantle in a sense. So people who want to hear that old heavy metal sound, there are plenty of bands that can provide it. So it's not really what we can actually do today. Even if we wanted to, it was never high on my list of wishes." The Who were honored with the founding stone in London's new Music Walk of Fame in November, and have received positive reviews for their latest LP, WHO. - New Musical Express, 12/23/19...... Speaking to the UK paper The Sun, Rolling Stones guitarist Ronnie Wood said he feels the Stones are "indestructible" after multiple band members have survived health scares. "After 50 years of chain smoking, my life was hanging by a thread, but I survived. The doctors were able to remove the tumour from my left lung, thank God the cancer had not spread," Wood noted, also running through the health problems of other members. "Not to forget Charlie [Watts], who had laryngeal cancer a few years ago, and Keith [Richards], with his heavy bleeding after falling from a palm tree. Everything went well, a big miracle. The Stones are simply indestructible." Earlier in 2019, frontman Mick Jagger also underwent successful heart surgery. - NME, 12/23/19...... In other Stones-related news, Tom Waits has written a new poem about Keith Richards for his recent birthday on Dec. 18. In the poem which appears in the latest edition of Rolling Stone magazine, Waits runs down the list of qualities he admires in the guitarst: "He wrote his share of the songs from Sticky Fingers/ In a henhouse in Malta / He once won the Hope Diamond in a poker game/ And in the same night lost it in a game of craps / He owns a lug wrench and a tire jack made of solid gold." Richards appeared on several of Waits' albums including Rain Dogs and Bad As Me, and the pair also teamed up to record a track for Johnny Depp's Pirate Chanteys album. - NME/Rolling Stone, 12/20/19...... Elvis Presley's daughter Lisa Marie Presley is apparently "going to war" with her ex-husband Michael Lockwood over her vast fortune and custody of the couple's twin daughters. The judge in the estranged couple's case has set a trial date for July 20, 2020, setting aside an entire month for the trial in one of the nastier celebrity divorce settlements in recent years. During a 2016 investigation by the L.A. Dept. of Children and Family Services prompted by Lisa Marie after she accused Lockwood of inappropriate behavior with their daughters, Lockwood claimed Presley was "coaching" the children to accuse him of illegal acts. Lisa marie claimed she had found "disturbing photos" of the couple's twin daughters on her ex's computer, however it turned out Presley was actually in the bathroom when most of the pictures were taken. Lockwood was ordered to pay a huge chunk of Lisa Marie's attorney's fees to the tune of $140,000, which is an important part of the case as Presley claims the $100 million fortune she inherited from her dad Elvis Presley is all but gone after she entrusted it to her former business manager, Barry Siegel. Presley claims Siegel, who she is now suing, made a series of bad investments that dwindled the fortune down to just $14,000, and also saddled her with a host of debts. A rep for Siegel responds: The 2005 deal she is complaining about now cleared up over $20 million in debts Lisa had incurred and netted her over $40 million cash and a multi-million-dollar income stream, most of which she managed to squander in the ensuing years." - TheBlast.com, 12/21/19......
Six-time Emmy-winning TV producer Lee Mendelson, who produced more than 60 specials featuring Charlie Brown, Snoopy and the Peanuts gang, died on Christmas Day at his home in Hillsborough, Calif., after a long battle with cancer. He was 86. Working often with the late Bill Melendez -- the only animator permitted by Charles M. Schulz to work with the Peanuts characters -- Mendelson collected his first Emmy in 1966 for A Charlie Brown Christmas -- writing the lyrics to its famous theme song "Christmastime Is Here" -- and his last in 2016 for It's Your 50th Christmas, Charlie Brown. He also wrote and directed for the franchise. He amassed 29 Emmy noms during his career, 26 for his work with Peanuts characters, and earned a pair of Grammy nominations as well. His landmarks included 1966's It's the Great Pumpkin, Charlie Brown, 1967's You're in Love, Charlie Brown, the Oscar-nominated A Boy Named Charlie Brown (1971), 1973's A Charlie Brown Thanksgiving, 1975's You're a Good Sport, Charlie Brown, 1976's It's Arbor Day, Charlie Brown and 1980's She's a Good Skate, Charlie Brown. The San Francisco native and Stanford graduate also won Emmys in 1984 and 1987 for producing programs featuring the cartoon characters Garfield and Cathy, respectively. "It wasn't great for us, but to have him pass on Christmas really ties into his history and legacy," one of his sons, Jason Mendelson, told the Palo Alto Daily Post newspaper. He is also survived by his wife, Ploenta, two other sons, a daughter, and eight grandchildren. - The Hollywood Reporter, 12/27/19...... Tony Award-winning composer Jerry Herman, who wrote the cheerful, good-natured music and lyrics for such classic shows as "Mame," "Hello, Dolly!" and "La Cage aux Folles," died on Dec. 26 at age 88. The creator of 10 Broadway shows and contributor to several more, Mr. Herman won two Tony Awards for best musical: "Hello, Dolly!" in 1964 and "La Cage aux Folles" in 1983. He also won two Grammys for the "Mame" cast album and "Hello, Dolly!" as song of the year, and was a Kennedy Center honoree. He had three original Broadway productions playing at the same time from February 1969 to May 1969. "We lost one of the greats," Broadway actor Harvey Fierstein tweeted. "A collaborator and friend for almost 40 years. I cannot thank him enough for his love, trust, encouragement, support and laughter." - AP, 12/27/19...... Veteran radio personality Don Imus whose insult humor and savage comedy catapulted him to a long-lasting and controversial radio career, died of as yet undisclosed causes on Dec. 27 at Baylor Scott and White Medical Center in College Station, Tex., after being hospitalized on Christmas Eve. He was 79. Outspoken in an age of political correctness, Imus's often coarse satire offended sensibilities. Yet, his listeners included those whom he often ridiculed. He sparked national outcry in 2007 when he made derogatory, racist remarks about the Rutgers women's basketball team. Both CBS Radio and MSNBC dropped his show. Imus rebounded by signing a multi year contract with the Fox Business Network in 2009 to simulcast his radio program Imus in the Morning from 6 a.m. - 9 a.m., with Fox anchors appearing during the program. Imus battled a lifelong addiction to drugs and alcohol and in 2009, he was diagnosed with prostate cancer. He is survived by his wife Deirdre, two sons and four daughters. - The Hollywood Reporter, 12/27/19......
American spiritual teacher, former academic and clinical psychologist Baba Ram Dass, who embodied the 1960s psychedelic youth movement by authoring such books as 1971's Be Here Now, died on Dec. 22 at his home on Maui, Hawaii. He was 88. Born Richard Alpert, he returned from a trip to India in 1968 as a bushy-bearded, barefoot, white-robed guru, and became a lecturer on New Age possibilities and a popular author of more than a dozen inspirational books. His lecture presentation was a mix of pithy wisdom and humor, often expressed in the same sentence. "Treat everyone you meet like God in drag," he said in one talk. Ram Dass also started a foundation to combat blindness in India and Nepal, supported reforestation in Latin America, and developed health education programs for American Indians in South Dakota. He was particularly interested in the dying, and started a foundation to help people use death as a journey of spiritual awakening and spoke of establishing a self-help line, "Dial-a-Death," for this purpose. His book Be Here Now, originally published in 1971, has had more than three dozen printings and sold more than two million copies. Wavy Gravy, the eccentric poet and peace activist, once said, "Ram Dass was the master of the one-liner, the two-liner, the ocean liner." By the 1980s, Ram Dass had a change of mind and image. He shaved off the beard but left a neatly trimmed mustache. He tried to drop his Indian name -- he no longer wanted to be a cult figure -- but his publisher vetoed the idea. Ram Dass said that he had never intended to be a guru, and continued to turn out books and recordings, making sure his books and tapes were reasonably priced. Ram Dass's death was announced on his official Instagram account. - The New York Times, 12/23/19.
Monday, December 23, 2019
Star Wars: The Rise of Skywalker, the latest installment in the legendary Star Wars franchise that began in 1977, scored a huge launch in the third weekend of December with $175.5 million at the North American box office and $373.5 million globally. Though coming in notably behind the previous two films in the trilogy in the U.S., the J.J. Abrams-directed sci-fi flick opened No. 1 in nearly every country overseas, Rise of Skywalker sputtered in China with $12.1 million. Europe topped all regions with $122 million, led by the U.K. ($26.8 million) and followed by Germany ($21.8 million) and France ($15.2 million). In Japan, the film scored the No. 3 opening of the year for a Western film with $14.6 million). Generally speaking, sci-fi is a challenged genre in Latin America and parts of Asia. The film -- which cost Disney and Lucasfilm as much as $300 million to produce before marketing -- also marked the third-biggest opening of 2019 in North America to date, behind Avengers: Endgame ($357.1 million) and The Lion King ($191.7 million) - Billboard, 12/22/19......
Jeopardy! host Alex Trebeck, who hosts his annual Christmas party at Vitello's restaurant in Los Angeles, was serenaded by Don McLean on Dec. 18 after Trebeck requested the "American Pie" singer perform at the event. "I sent an email to Don's people on his website and here we are tonight," Trebek told the audience. "I can officially take this off of my bucket list. This was a real treat for me," he added. "I had never met Alex and normally I just come in and do my thing," McLean told People magazine. "When I arrived, Alex handed me a piece of paper with a list of songs he wanted me to perform and in the order he wanted them performed in. Then when I looked next to each song, he had timed them out." "I looked at Alex and said, 'Well, tonight is your night and I will do exactly what you want,'" McLean continued. "And that is what I did. Except I did toss in one Christmas song in the spirit of the event! Alex is a wonderful man and is loved by the world." Trebek, 79, was diagnosed with stage four pancreatic cancer in March. - Billboard/People, 12/20/19...... In a new interview with Haute Living, Aerosmith frontman Steven Tyler said he spent "many years" feeling angry at being forced into rehab by his bandmates as they went on vacation. "There were no such things as rehabs; there were mental institutions.... I went away in '84 and '86, and I didn't really get it," Tyler said, referring to some of the times he failed to detox. "The early 80s were terrible, and drugs took us down. I was the first one to get treatment." Tyler added his breakthrough moment came in 1988 when his management and the rest of Aerosmith stepped in and "pulled an intervention" on him. "They thought, 'Get the lead singer sober, and all our problems would be over. So, I got sober, and you know it took me many years to get over the anger of them sending me to rehab while they went on vacation." But Tyler says he feels nothing but gratitude toward the band now: "But today because of that moment I am grateful and owe a thanks to them for my sobriety. I stayed in this band because I know the power that Joe [Perry] and I have from all the songs that we've written, or Brad [Whitford] and Tom [Hamilton] and Joey [Kramer]," he said. "Joey has been here through thick and thin. My whole life is dreams coming true. I am so beyond grateful for it all." - New Musical Express, 12/23/19...... In a new interview with the BBC's Reel Stories, Rod Stewart revealed he mainly joined the 1960s Campaign for Nuclear Disarmament in the U.K. to "get shagged." "We used to all go on the CND marches. "I used to do it to get shagged. I didn't care about the war actually," said Stewart, who joined the anti-nuke Aldermaston Marches on Easter weekends in England and was once arrested at a sit-in. Reflecting on his early years, the "Maggie May" singer said he's shocked he was so successful with women, because his personal hygiene wasn't great. "It was just rebellion, that's all it was," he said. "You had to be smelly, though. You had to wear corduroy trousers for months and it really smelled. Don't change your underpants. It was disgusting." But the 74-year-old rocker, who is now married to third wife Penny Lancaster, 48, added that despite being rough around the edges, his hair was always on point. "On the Tube (London Underground), all us were going down there holding on to our bouffant haircuts, because when you go down the escalator the train comes in and there's an awful wind that comes up," he mused. "So (there would be) six or seven of us all going down holding our hair. Even then I used to have it back-combed." - WENN/Canoe.com, 12/22/19...... Country great Willie Nelson and his musician sons Micha and Lukas Nelson have paid tribute to late rock legend Tom Petty by recording a version of Petty's song "For Real." Bob Dylan's son Jakob Dylan, George Harrison's son Dhani Harrison, and Amos Lee also appear on the Petty and the Heartbreakers track that was previously unreleased until it appeared on the TP greatest hits collection The Best of Everything earlier in 2019. - New Musical Express, 12/22/19......

Two of Pres. Donald Trump's biggest archenemies from the '70s music world -- Cher and Bette Midler -- have reacted to Pres. Trump's impeachment by the U.S. House of Representatives on Dec. 18 for abuse of power and obstruction of Congress, only the third time in history a president was charged with committing high crimes and misdemeanors. Midler simply posted "Impeached" on her Twitter feed after the vote to impeach, while Cher posted: "'IMPEACHED PRESIDENT' donald j.trump, Makes RICH RICHER, poor poorer, & Will PURGE MILLIONS Of DEMOCRATS Off VOTING ROLLS. RUSSIA, RUDI, RESTRICTIONS, That's trumps game plan. For What Does It Profit a Man To Gain The Whole (Earth emoji), Yet Lose His Own Soul(?)." Pres. Trump now faces removal from office by the Senate in a trial set for January. - Billboard, 12/18/19...... '70s artists Chicago, Roberta Flack, John Prine, Iggy Pop and the late Isaac Hayes will be honored with a Lifetime Achievement Award from the Recording Academy during the 2020 Grammy Awards on Apr. 18 at the Pasadena Civic Auditorium in Pasadena, Calif. Chicago and Prine were previously both nominated for Best New Artist Grammys, but came up short, while Iggy Pop has never won a Grammy Award in competition. Also honored with LAA's will be the late Sister Rosetta Tharpe, who also never won a Grammy in competition. Composer/pianist Philip Glass, who likewise never won a Grammy, has been selected to receive a Trustees Award, along with Ken Ehrlich, who has produced or executive produced the annual Grammy Awards telecast for 40 years, and the late A&R executive Frank Walker. Meanwhile, Elvis Costello & the Imposters' 2019 album Look Now and Barbra Streisand's 2019 set Walls were nominated for Grammys in the Traditional Pop Category. Also, the 2019 Woodstock retrospective box set Woodstock: Back to the Garden The Definitive 50th Anniversary Archive was among the nominees for Best Historical Album Grammy, which also include releases by Bobbie Gentry, Pete Seeger and Vladimir Horowitz. - Billboard, 12/19/19...... Turning to the Oscars, Randy Newman and Elton John are on the shortlist for two Oscars each for the 92nd annual Academy Awards in 2020. Newman is shortlisted for Best Original Score for Marriage Story, and for Best Original Song for "I Can't Let You Throw Yourself Away" from Toy Story 4. Newman has been nominated in the latter category with a song from each of the first three Toy Story films. John is in the running for Best Original Song with both "Never Too Late" from The Lion King (which he co-wrote with Tim Rice) and "(I'm Gonna) Love Me Again" from Rocketman (which he co-wrote with Bernie Taupin). Meanwhile, Elton John and husband David Furnish have announced details for their 28th annual Elton John AIDS Foundation Academy Awards Viewing Party, set for West Hollywood Park in Los Angeles on Feb. 9. Cast members of the Netflix series Queer Eye (Jonathan Van Ness, Tan France, Karamo Brown and Bobby Berk) will be co-hosting the gala along with Sir Elton and Furnish, and British actor, singer-songwriter and Brits Critic Choice Award winner Sam Fender will be the headline performer. "I absolutely love Sam Fender. He's so talented," said Elton in a press release. "Each year we are blessed to have incredible artists do what they do best at our party and this year will be another special night not to miss. Given we have some of the wonderful hosts of Queer Eye at our party, we all wanted to use the event to raise funds for our work with LGBT communities around the world, many of whom are 20 times more vulnerable to the disease than their straight peers. AIDS isn't over until no one gets left behind." IMDb.com will broadcast its four-hour "IMDb Live" streaming show during the party with co-hosts actress and comedian Aisha Tyler and IMDb special correspondent Dave Karger. The Academy Awards Viewing party benefits the Elton John AIDS Foundation, which was founded in 1992 and has funded local experts in 23 countries "to spread awareness, prevent infections and provide care and treatment for the most marginalized groups," according to the release. - Billboard, 12/18/19...... In other Elton news, John has topped the monthly Billboard Boxscore tours list with a gross of $24 million from 11 shows in November during his final North American dates of 2019, as well as the opening show of his "Farewell Yellow Brick Road" tour's Australian leg. The November earnings bring his tour to a so-far total of $268.6 million and sends John's career-total to $1.309 billion. That places him about $30 million behind from Madonna, currently the second-highest grossing solo artist and top-grossing female artist in the history of Billboard Boxscore. After dipping to No. 6 in October, John returns to the peak position, having topped the chart in September and February. November marks his eighth month on the Top Tours chart, and seventh in the top 10. - Billboard, 12/19/19......
Folk-rock icon Judy Collins has earned her first career No. 1 on any Billboard music chart, more than 55 years after she first reached a ranking. Collins's new holiday LP, Winter Stories featuring Jonas Fjeld and featuring Chatham County Line, has climed from No. 2 to No. 1 in its second week on the Bluegrass Albums Chart for the week ending Dec. 21, with 1,000 equivalent album units earned in the week ending Dec. 12, according to Nielsen Music. Collins, 80, initially appeared on a Billboard survey when her debut LP Judy Collins #3 entered the Hot 200 album chart dated March 28, 1964. Her 1968 LP Wildflowers reached No. 5 on the Hot 200, her lone top 10 of 18 appearances to-date. The most iconic track from Wildflowers, Collins' rendition of the Joni Mitchell-penned "Both Sides Now," rose to No. 8 on the Hot 100 pop singles chart, her sole top 10 among 10 entries. Collins recently said that Winter Stories is more of a winter-themed project than Christmas-specific. "Winter lasts a lot longer than Christmas does, that's for sure," she said with a chuckle. The set finds Collins collaborating with Norwegian singer-songwriter Jonas Fjeld and veteran Americana band Chatham County Line, based in Asheville, N.C. The set also sports new versions of the Joni Mitchell-written "River," as well as the Collins compositions "The Blizzard" and "Mountain Girl." - Billboard, 12/18/19...... The estate of Michael Jackson has settled a long-running dispute witht he Disney-owned network ABC over an unauthorized TV documentary, The Last Days of Michael Jackson, that ABC screened in 2018. The Jackson estate filed a lawsuit against Disney in May of that year, claiming the program used "substantial portions" of copyright material owned by Jackson's estate without permission. This included Jackson's music videos plus concert and documentary footage. Jackson's estate also protested that they were only made aware of the special days before its broadcast. They were also angry at Jackson's image being used in promotional material for the documentary, which they said made it look like it had the approval of the estate. ABC withdrew the promotional photo, but they argued that the use of the video, concert and documentary footage was allowable under US TV's "fair use" rules.A spokesperson for Jackson's estate now says the dispute "was amicably resolved," but details of the settlement have not been revealed. - NME, 12/20/19...... Famed rock & roll pioneer and country artist Jerry Lee Lewis was presented with a Mississippi Country Music Trail marker on Dec. 19 during a ceremony at the 84-year-old's Nesbit, Miss., ranch. The event was attended by Mississippi Gov. Phil Bryant, Grammy-winning country singer Marty Stuart and local officials. The Mississippi Country Music Trail celebrates the state's contributions to country music. Lewis, a member of the inaugural Rock & Roll Hall of Fame class of 1986, was born in Ferriday, La., in 1935. He later moved to Memphis, Tenn., and began establishing himself as a musician there in 1956. However his career took a nosedive in 1958 after news leaked that he had secretly married his 13-year-old cousin the previous year. - AP, 12/23/19...... Bohemian Rhapsody star Ben Hardy has hinted there could be a potential sequel to the hit 2018 Freddie Mercury and Queen biopic. Hardy, who played Queen drummer Roger Taylor in the movie, says he "would love to" appear in a Bohemian Rhapsody sequel. "I loved working with all those guys, and the thought of going back and being with those guys for another three months or four months would be amazing, but I'm the same as you, I've only heard the rumour mill," Hardy said. "The film goes up to '85, so you've got another six years there that you can tell. I think it'd be a very different movie," he added. Meanwhile, Queen and Adam Lambert are set to head out on a huge UK arena tour in 2020. - New Musical Express, 12/20/19...... Stevie Nicks will be among the headliners at the 30th Anniversary Jazz Aspen Snowmass festival, a three-day experience set for Labor Day 2020 weekend in Snowmass, Colo. Also performing will be Eric Church, Maren Morris and Kings of Leon, marking the first time all four headliners have performed at the event. Founded in 1991 and entering its 30th season, JAS is a not-for-profit 501(c)(3) organization. Its mission is to present and preserve jazz and related forms of music through world-class events, performances and education programs. - Billboard, 12/18/19......
Ozzy Osbourne has topped Billboard's Mainstream Rock Songs airplay chart with his latest song, "Under the Graveyard," the first single from his forthcoming studio album Ordinary Man. On Dec. 19, Osbourne unveiled the cinematic music video for the tune. "I've always enjoyed working with [director] Jonas (Akerlund)," Osbourne says. "Jonas' vision for 'Under the Graveyard' was to create something more than just your standard music video." The clip stars Jack Kilmer and Jessica Barden as a young Ozzy and Sharon Osbourne in 1979, as the latter details how she wanted to help the young musician out of his struggles with addiction. "I wasn't going to let him give up on himself," Barden tells the camera as the young Sharon marches into the hotel room and stays up all night with Ozzy, calming him through withdrawals and temptation to enter back into his dangerous lifestyle. In a touching happy ending, "Under the Pressure" concludes with a real-life snapshot of Ozzy and Sharon on their wedding day. - Billboard, 12/19/19...... The legendary UK Monmouth recording studio where such legendary acts as Queen, Led Zeppelin and Black Sabbath recorded music over the years is up for sale. According to the BBC, Rockfield Studio was set up in the early '60s by brothers Charles and Kingsley Ward after they converted their farm. Monnow Valley Studios near Monmouth in Wales started out as the rehearsal facility for Rockfield but became an independent studio when Charles branched out on his own in the early '80s. The studios then split, with Monnow operating independently ever since. Monnow Valley Studios has changed ownership over the years but has remained a recording and rehearsal space. Other artists who have recorded there over the years include Welsh crooner Tom Jones and Oasis. - NME, 12/19/19...... To celebrate the festive season, Piston, the five-piece rock and roll band from Cannock, West Midlands, UK, have recorded an electrifying homage to the '70s hard rock outfit Slade by releasing a cover of Slade's 1972 anthem "Mama Weer All Crazee Now" just in time for Christmas. The official music video features cameos from Bad Touch, Collateral, Gorilla Riot, Sons of Liberty, New Saints and Liberty Lies. Piston embarked on a UK tour with Collateral in September. In October, the band supported The Cult on their Sonic Temple UK tour and former Deep Purple icon Glenn Hughes on his Classic Deep Purple Live tour. - Noble PR, 11/29/19...... British actor and singer Kenny Lynch, one of the UK's first black pop stars who toured with the Beatles in the 1960's and became famous for his UK Top 10 hit "Up On the Roof," has died at the age of 81. His family announced the news on Twitter, saying that he would be "remembered and missed by many." His acting career included roles in the likes of Carry On Camping, Bullseye and The Sweeney. Tributes to the late actor and singer have been led by '80s hitmaker Boy George, who called Lynch an "absolutely huge part of my 70s life and on." - NME, 12/18/19.
Wednesday, December 18, 2019
Queen have shared an animated video on YouTube they recently made for their 1984 yuletide single, "Thank God Its Christmas." Queen founding members Brian May and Roger Taylor devised the concept for the video with direction and production for the video's snowy nighttime scene by Justin Moon and Drew Gleason. Roger Taylor recently remarked on the new video: "Ironically, Christmas tends to be such a stressful time for so many of us. So many emotions, joyful memories of past Christmas' as delighted children and responsible adults / parents. It's just a great relief when it finally happens." Brian May added: "The video goes a little further by including a subtle reminder that we as humans now need to feel a responsibility for the welfare of ALL creatures on Earth - not just for our own benefit, and that of our grandchildren, but out of respect for the rights of the animals themselves." Prior to the new video, no visuals for the song had been released for "Thank God Its Christmas." - New Musical Express, 12/16/19......

A three-minute "Facebook Live" video of Ted Nugent signing a long line of red "Re-Elect That Motherf----r" hats has topped Billboard's monthly Top Facebook Live Videos chart for November. Nugent had the hats produced to show his enthusiastic support of Pres. Donald Trump and to sell them to fans. Along the way, he apologized for the delay in getting the hats, which resemble Pres. Trump's famous "Make America Great Again" hats, out to those who had ordered them. Nugent's video was the only upload from any musician to top 1 million views in its first seven days, racking up 1.2 million views, and was the week's most shared by a musician (17,000). Billboard's Top Facebook Live Videos chart tracks the widest-reaching and most-reacted-to videos posted by musicians on Facebook Live. - Billboard, 12/17/19...... Tom Petty's widow Dana Petty and his daughters Adria Petty and Annakim Violette reached a settlement agreement on Dec. 13 in their legal battle over the estate of the late rock star, who died of an accidental drug overdose on Oct. 2, 2017, at age 66. The legal feud first erupted in April 2019, when the two parties filed dueling court petitions accusing the other of attempting to control Petty's assets. In May, a $5 million lawsuit was filed against Dana and several co-defendants by Petty Unlimited, an LLC established in Petty's will, that accused her of "self-dealing, theft, and gross mismanagement" of her late husband's estate and an attempt to "deprive" Adria and Annakim of their share of his assets. Dana then filed a petition two weeks later asking the court to fund and execute an operating agreement for Tom Petty Legacy, a separate LLC she established on her own, while alleging "foul behavior" on Adria's part with regard to estate matters. She also accused the two daughters of interfering in and delaying several posthumous Petty releases, including the 2018 box set An American Treasure, the 2019 greatest hits collection The Best of Everything and a 25th anniversary reissue of Petty's 1994 acclaimed solo album Wildflowers that has yet to materialize. The new legal documents, filed in California Superior Court in Los Angeles, do not disclose details of the settlement. - Billboard, 12/13/19...... French musician/composer Alexandre Desplat, who scored the new movie version of Louisa May Alcott's famous 1868 novel Little Women, says that David Bowie provided inspiration for his music for the new film. Desplat says Little Women director Greta Gerwig had requested music resembling "Mozart meeting Bowie" for the film's score. "I always try to ask, 'What do you expect from me as the composer? Do you want me to do something grand? Melancholic? Lush? Huge? Small?'," Desplat said of his initial discussions with the director. "She said with enthusiasm, 'I'd like the music to be a mix of Mozart meeting Bowie'. It doesn't mean anything, but it does mean something if you let the energy come into your system and you get something of that, and this opening is about that." The film has already received an early nod for the 2020 Oscars in the Music (Original Score) category. Desplat has previously bagged two Academy Awards for his work on The Grand Budapest Hotel and The Shape of Water. - Billboard, 12/18/19......

KISS announced on Dec. 17 that former Van Halen lead singer and solo star David Lee Roth will be their special guest on the final legs of their self-proclaimed continuing End of the Road farewell tour. "David Lee Roth will bring his exciting stage show featuring a twin guitar big rock sound and a set list of classic hits and future energy," the band said in a statement. The tour is slated to officially wind-down with a July 17, 2021 show at an as-yet-unannounced venue in the group's native New York. KISS is currently in Japan where they played the Osaka Dome on Dec. 17, while Diamond Dave is gearing up to launch a Las Vegas residency on Jan. 8 at the House of Blues Las Vegas. Roth recently posted an announcement of his Vegas residency on Instagram. - Billboard, 12/17/19...... Rod Stewart has angered many of his fans in the UK by tweeting a celebratory message after his new album You're in My Heart, with The Royal Philharmonic Orchestra topped the charts there, while the same time including a congratulatory message to controversial UK Prime Minister Boris Johnson for his own recent success at the polls. Stewart's praise directed at Johnson has drawn particular controversy from his large contingent of Celtic supporters within his fanbase. Others suggested that the "Maggie May" singer's support of Johnson -- whose Conservative government won the recent general election with a majority in Parliament -- compromised his Scottish identity. Stewart also added a slightly curt "no hard feelings" to The Who guitarist Pete Townshend, whose new Who album WHO was bumped to third place in the UK charts, behind Robbie Williams' new seasonal effort The Christmas Present. - New Musical Express, 12/14/19...... Late The Cars principle Ric Ocasek, late The Monkees member Peter Tork, and late counterculture icon Peter Fonda, all who passed away in 2019, are among the personalities featured in British artist Christ Barker's annual Christmas Sgt. Pepper's cover tribute. Barker began his tribute based on the famous cover of the 1967 Beatles LP in 2016, in which he re-imagines the cover with recently deceased celebrities and pop culture icons, in 2016. He says his first Sgt. Pepper's cover was "partly to cope with the shock" of losing so many celebrities that year, including David Bowie, Prince, Carrie Fisher and George Martin, along with the jarring outcomes of the Brexit referendum and the 2016 election of US Pres. Donald Trump. Barker said he decided to continue the tribute after 007 actor Roger Moore, rock & roll icon Chuck Berry, and Batman actor Adam West passed that year. In 2019, Barker says he's also focusing on his worries about pollution and climate change by featuring a Sumatran rhino to highlight the plight of many endangered species around the world. Also making this year's cover are Cream drummer Ginger Baker, actors Albert Finney, Doris Day, Luke Perry, Rip Torn, Valerie Harper and Jan-Michael Vincent, and Grumpy Cat. - Billboard, 12/13/19...... In other Beatles-related news, Ringo Starr gave a thumbs up to the 2019 Beatles-themed movie Yesterday from the red carpet of the recent Global Citizen Awards at London's Royal Albert Hall. Ringo appeared to not remember about the film, but gave his seal of approval after being reminded by his actress/model wife Barbara Bach. "Oh yeah - I loved it," Ringo explained. "I mean, what a great concept. You know?" he added. The movie, which hit cinemas this summer, follows the story of a fledgling musician whose life takes a dramatic turn when he realizes he's one of only a handful of people left in the world that remembers Beatles songs. - NME, 12/16/19...... Elsewhere on the Fab Four front, a pair of sunglasses once worn by John Lennon have been sold at a Sotheby's auction in London for £137,500. Lennon, who was assassinated outside his New York apartment on Dec. 8, 1980, mistakenly left a pair of glasses designed by Oliver Goldsmith in the back of Ringo Starr's car in the summer of 1968. In a letter by John's former chauffeur Alan Herring, Herring recalled: "I had picked John up with Ringo and George [Harrison] in Ringo's Mercedes and driven the boys into the office. When John got out of his car I noticed that he'd left these sunglasses on the back seat and one lens and one arm had become disconnected. I asked John if he'd like me to get them fixed for him. He told me not to worry they were just for the look. He said he'd send out for some that fit. I never did get them mended -- I just kept them as they were as John had left them." Herring was originally employed by Harrison as a landscape contractor at his home in Surrey, England, and was later employed by fellow Beatles star Ringo. - NME, 12/16/19......
Journey keyboardist Jonathan Cain says his main focus in 2020 will be making some new Journey music, the band's first since 2011's Eclipse. Cain says it will probably be in the form of an EP rather than a full album just to "break the ice" after the long gap. "I have quite a bit of ideas lyrically," Cain says. "We have the beginning of a really good song and we've even got a title for the next record. For me it works best with just [guitarist] Neal [Schon] and I in a room and we come together rather than trying to dictate what it is." Cain adds that he and Schon have "mended our friendship and moved on" since their relationship was fractured after some vitriolic social media posts by Schon during the summer of 2017 when Schon became upset that Cain, Journey singer Arnel Pineda and bassist Ross Valory attended a meeting at the White House with Pres. Trump. "Neither one of us liked the way all that went, and neither did the fans. It was just a lot of misunderstanding and things that were taken wrong," Cain says. "I think we both learned a lot, and it shows that our relationship is better than that and we shouldn't come against each other." Cain, who began a solo Christian music career with 2016's What God Wants to Hear and followed it up in 2018 and 2019 with two additional Christian albums, says he's among those who welcome rapper Kayne West to the ranks of Christian music. "For me it looked like a move of God, and I'm thrilled he's doing it," Cain said. Meanwhile, Journey will play the next edition of its Vegas residency in the Colosseum at Caesars Palace starting Dec. 27, including a New Year's Eve show. Its summer tour with Pretenders kicks off May 15 in Ridgefield, Wash., with arena and amphitheater dates into September. - Billboard, 12/17/19...... Roy Loney, the founding lead singer of the influential '70s San Francisco power pop band the Flamin' Groovies, died of "severe organ failure" at CPMC Davies Campus in San Francisco on Dec. 13, after a brief hospitalization. He was 73. Loney was a charismatic frontman whose high-energy stage moves and growly, blues-inflected vocals were part of the psychedelic, hippie vibe of the Bay Area rock scene in the late 1960s and early 1970s. Unlike the prevailing flower power sound of the time, the Groovies were full-steam-ahead '50s-inspired rockers, injecting blues, rockabilly and R&B swing into a power pop froth on songs such as "Love Have Mercy," "The First One's Free" and "Bam Balam" -- all written or co-written by Loney -- on their full-length 1969 Epic Records debut. They jumped to Kama Sutra Records for their second effort, 1970's even more raw Flamingo, which solidified their gritty sound. In 1971, the band released Teenage Head, a masterpiece of loose, concise bluesy garage rock. But by the next year Loney quit the group as a precursor to a long solo career with a number of different bands; the Flaming Groovies, however, would record Shake Some Action in 1976, and its title track with vocals by new singer Chris Wilson became its signature tune. Loney re-emerged as a solo act in 1979, when he released the full-length Out After Dark, then returned to the music business in the early 1990s with a series of backing bands. He reunited with the Groovies for occasional shows up until May of this year. E Street Band guitarist and radio show host Stevie Van Zandtposted a tribute to Loney on Twitter: "RIP Roy Loney. Legendary Garage Rocker and original lead singer with the Flamin' Groovies. He will live forever in the Underground Garage." - Billboard, 12/16/19......

Legislators in Tennessee are considering replacing a controversial bust of former Ku Klux Klan leader Nathan Bedford Forrest that has resided in the state Capitol building since 1978 with one of the state's most celebrated musicians, Dolly Parton. According to The Tennessean newspaper, Parton is being considered for the honor because of her revered status as a country music legend and as an ambassador of goodwill around the world, in contrast to the former KKK Grand Wizard. "If we want to preserve history, then let's tell it the right way. Right now there are eight alcoves [in the Capitol]. Seven are filled with white men," said Tennessee House of Representatives member Jeremy Faison. Faison has also suggested building a monument to honour the slaves who built the Capitol Building, while the bust of Forrest should be placed in a museum to educate people about the Fort Pillow massacre of 1864 -- where soldiers under his command massacred African-American troops. Meanwhile, Parton's new Netflix series arrived in late November, and she released her latest album, Heartstrings, on Nov. 22. - The Tennessean/NME 12/16/19...... Joe Smith, a legendary record executive who signed the Grateful Dead and helmed three labels, including as president and CEO of Capitol-EMI Music, died on Dec. 2 at the age of 91. Mr. Smith, who received a star on the Hollywood Walk of Fame in 2015, worked closely with a number of artists, including Bonnie Raitt, whom he signed while president at Warner Bros. Records in the '70s and then brought to Capitol and was part of her comeback in the late '80s, including her multiple Grammy winner, 1989's Nick of Time. Among the other artists with whom he worked are Jackson Browne, Frank Sinatra, Garth Brooks, Eagles, Rod Stewart, The Cars and Bob Seger. In 2012, the Library of Congress acquired more than 200 hours of interviews conducted by Mr. Smith for his 1985 book, Off the Record: An Oral History of Pop Music, a collection of interviews with more than 200 artists, producers and executives, including Bob Dylan, Paul McCartney, Tina Turner, Tom Jones, B.B. King and Barbra Streisand. "Joe believed in supporting artists for the long haul, allowing us to stretch and grow," Bonnie Raitt said in memoriam to Mr. Smith. - Billboard, 12/2/19...... Emmy Award-winning composer, conductor and electronic music pioneer Gershon Kingsley, who wrote the 1969 top 10 hit "Popcorn" and played a pivotal role in popularizing the Moog synthesizer sound, died Dec. 10 in New York. He was 97. Although "Popcorn" was written by Mr. Kingsley, it was a remake by Hot Butter that reached No. 9 on the Billboard Hot 100 in 1972, and No. 1 in at least six other countries. In 2005, Crazy Frog released its version, with the song again going to No. 1 in a number of countries. In 2018, Mr. Kingsley released a yellow vinyl 12" of his trademark song for Record Store Day. Mr. Kingsley also wrote theme music for the American game show The Joker's Wild and several German television shows. In the 1980s, Mr. Kingsley released a number of New Age albums, and one of his latest theatrical works, "Raoul," about Raoul Wallenberg, premiered in New York in 2004 and went on to full production in Bremen, Germany, in 2008. - Billboard, 12/14/19.
Friday, December 13, 2019
A video of Bruce Springsteen performing with his late saxophonist Clarence Clemons for the last time on Dec. 7, 2010, has been shared on YouTube. The intimate performance was played in front of about 60 Jersey fans in the Asbury Park Carousel House, where The Boss delivered a special live concert of songs from his Darkness on the Edge of Town box set The Promise a year before Clemons died of complications from a stroke. The last song in the set, fittingly, was the melancholy holiday song popularized by Elvis Presley, "Blue Christmas." - Billboard, 12/12/19...... Meanwhile, Paul McCartney has revealed he once recorded a secret Christmas album of demos "just for the family" which gets played once a year at festive gatherings. Interviewed on BBC Radio 4's World at One radio show, Paul said, "Years ago I thought, there's not very good Christmas records, so I actually went into my studio over a couple of years and I made one." But McCartney added he would never release the demo of Christmas carol instrumentals, despite it becoming a firm favourite among his children and grandchildren. "The kids like it," he said. "It's something they've heard through the years, you know, and now it's the grandkids getting indoctrinated with my carols record." McCartney, who will be headlining the UK's legendary Glastonbury festival in 2020, also said he plans on getting ready for his high profile gig by playing 10 concerts "to get up to speed." "You don't get an athlete just coming into the Olympics not having done a few races beforehand," he said. "The idea is by the time I get to Glastonbury it'll just be just like another gig. But of course it won't be, because it's very special." In other Macca news, the Netflix streaming sevice announced on Dec. 11 that they're set to adapt McCartney's 2005 children's novel High In The Clouds into an animated feature film. Directed by Oscar-nominee Timothy Reckart and produced by French movie studio Gaumont, the film will feature original songs and music by McCartney. "I've always loved animated films and this is a hugely important passion project for me. I can't wait for the world to see it," he said in a statement. - New Musical Express/Billboard, 12/12/19......
On Dec. 13, Pink Floyd released The Later Years, a lavish 16-disc box set covering their output from 1987's A Momentary Lapse of Reason forward, including their No. 1 1994 follow-up, The Division Bell. The six-hour set features an updated and remixed Momentary Lapse, and includes a host of other rarities, including concert footage, new mixes of classic tracks and other bonus material. Also included on the 10 CD/6 Blu-ray set is a new version of Momentary Lapse featuring new drum tracks from Nick Mason. Momentary Lapse co-producer Bob Ezrin says the original album was at "a transition point in music-making, the beginning of the digital revolution." "The essentially Pink Floyd sound has always been very elemental, very much four people and the sound of every individual," Ezrin notes. "So it was great we were able to reinstall Nick and Rick [Wright] in the places they should have been if only we were all available at the time. It has a greater Pink Floyd-ness than it ever had before." - Billboard, 12/10/19...... The Who are on track to chart their first U.K. No. 1 LP in nearly 50 years with their new studio effort from Polydor Records, WHO. WHO leads the U.K.'s Official Albums Chart Update at midweek, ahead of its closest rival, Robbie Williams' The Christmas Present. The Who have released 12 studio albums and hit the chart summit just once, with Who's Next from Sept. 1971. - Billboard, 12/10/19...... Ozzy Osbourne has scored his first No. 1 hit on Billboard's Mainstream Rock Songs chart since 2010 with "Under the Graveyard," the first single from his forthcoming studio album Ordinary Man. The song, Ozzy's first leader on the MRS chart since his 2010 hit "Let Me Hear You Scream," jumped from No. 4 to No. 1 on the survey dated Dec. 14. Osbourne, 71, is among the eldest musicians to appear on the MRS chart, joining Queen's 71-year-old guitarist Brian May, who contributed to Five Finger Death Punch's "Blue on Black," which was No. 1 for five weeks on the same chart in June and July. Ordinary Man, Osbourne's first solo full-length since 2010's Scream, is expected in January. - Billboard, 12/11/19...... Interviewed on Spotify's Best Advice series on Dec. 11, Elton John revealed the best career advice he's ever received. The Rocket Man said American talent agent Howard Rose once encouraged him to perform in smaller venues than what John already knew he could fill. "When you're in places like New York and Los Angeles and you can sell out big venues, we're gonna put you in smaller venues and create a ticket craziness, so you sell out straight away and no one can get a ticket," Elton says Rose once told him. "That means the next time you come around, you're gonna sell out a bigger venue." John will kick off North American dates of the second year of his three-year tour worldwide "Farewell Yellow Brick Road" tour in 2020 with a two-night stand at Toronto's Scotiabank Arena on Mar. 28 and 29. - NME, 12/12/19...... A David Bowie tribute band called David Live will perform during a Bowie "360 live immersive show" and Sir Patrick Moore Planetarium at England's National Space Centre in January. The band will play the late rocker's music spanning 1969-1972, which is described by the ticket website as "a significant period of time that covered both Bowie's experimental phase (Space Oddity to Ziggy Stardust) and the Apollo lunar landing window." An exhibition of media inspired by Bowie will also be on display at the planetarium. - New Musical Express, 12/11/19......


To the delight of Talking Heads fans, the New Wave icons opened what appears to be an official Instagram account on Dec. 9, sparking rumors of a potential long-awaited reunion. Although the account has yet to share a single post or be authenticated by Instagram's coveted blue check mark, the band's new handle, @talkingheadsofficial, has already garnered more than 10,000 followers in just two days, including former TH keyboard player Jerry Harrison. While frontman David Byrne has been famously reticent in the past about getting the band back together, interestingly 2020 will mark the 40th anniversary of the Heads' critically-acclaimed fourth album, Remain in the Light, which Harrison already announced he'll be celebrating by playing a series of special shows with Adrian Belew and the funk band Turkuaz. - Billboard, 12/11/19...... The Eagles announced on Dec. 10 that they'll be playing their seminal 1976 album Hotel California in its entirety next summer at London's Wembley Stadium. The pair of shows, which will also include a set of the country-rock legends' greatest hits, are set for Aug. 29 and 30 as part of the band's "Hotel California" tour in the U.K. Tickets for the Wembley shows go on sale to the general public on Dec. 14 at 9 a.m. and can be purchased by visiting the Eagles' official website. - Billboard, 12/10/19...... An urban legend that Jimi Hendrix was to blame for the arrival of wild parakeets in Britain has been finally debunked in a new study published in the Journal of Zoology. It was previously claimed that Hendrix released the first pair of parakeets, called Adam and Eve, as a symbol of peace while stoned in London's Carnaby Street in 1968. But the study confirms that the birds were sighted in Britain as far back as 1855, when one parakeet was spotted in Norfolk. Experts now believe that the parakeet population may have risen after the birds escaped from damaged bird houses during Britain's Great Storm of 1987. They also claim that many parakeets kept as pets were released during an outbreak of "parrot fever" in 1929, 1930 and 1952, with the public urged by newspapers to keep away from the "dangerous birds." A rival urban legend claimed that late '80s pop singer George Michael was to blame, after burglars broke into his Hampstead home in the 1990s and raided his secret aviary, but he failed to report the crime since he was wary of the police. Another popular theory claimed that the birds escaped from the set of the classic 1951 film The African Queen starring Humphrey Bogart and Katharine Hepburn. - NME, 12/12/19...... The family of the late Marvin Gaye are asking the original judge in the now infamous "Blurred Lines" vs. "Got To Give It Up" lawsuit to revisit his decision to deny an award of $3.5 million in attorney fees after Pharrel Williams and Robin Thicke were ordered to pay half of "Got To Give It Up"'s royalties to Gaye's family as well as a one-off payment of $5.3 million in damages in 2015. Gaye's famiy claim that Williams committed perjery in court when defending himself in lausuit after he told GQ magazine in November that he "reverse engineers the feeling he gets from listening certain music, adding that he "did that in "Blurred Lines' and got myself in trouble." The Gaye family, represented by litigator Richard Busch, believes Williams' November 2019 comment constitutes a fraud on the court and evidence of perjury, and wants US District Court Judge John Kronstad to deny the attorney fees. The Gaye family's motion stops short, however, of requesting new criminal prosecution. - NME, 12/10/19......

Linda Ronstadt, who was honored with a prestigious Kennedy Center Honor at the 42nd annual Kennedy Center Honors gala in Washington, D.C., had some strong words for Sec. of State Mike Pompeo at a dinner the evening before the ceremony after Pompeo introduced her to the audience, congratulating her and joking aloud "when he would be loved," a reference to Ronstadt's hit "When Will I Be Loved." In response, the 73-year-old singer told Pompeo, "Maybe when you stop enabling Donald Trump." The awkward exchange was tweeted about by Sam Greisman, the son of Oscar-winning actress and fellow 2019 Kennedy Center Honors recipient Sally Field. "Linda Ronstadt got up to get laurels, looked the f---er right in the eye and said 'maybe when you stop enabling Donald Trump.' Icon," he wrote. Other honorees included Earth, Wind and Fire; conductor Michael Tilson Thomas; and the long-running children's TV show Sesame Street. The event, hosted by LL Cool J, was taped and will be broadcast on CBS on Dec. 15. Pres. Trump an first lady Melania Trump declined to appear at the event for the third year in a row. - Billboard, 12/8/19...... The U.S. Library of Congress announced on Dec. 12 that Prince's 1984 film Purple Rain is among the 25 films added to its annual National Film Registry in 2019. The grossed more than $68 million at the box office in the US in its first release and earned over $80 million worldwide. It went on to win the Oscar for Best Original Song Score, the last movie to receive that particular award. Other "culturally and historically significant" films that are set to be archived in 2019 include Martin Scorsese's classic concert film for The Band, The Last Waltz, and Spike Lee's She's Gotta Have It. - NME, 12/12/19...... Queen + Adam Lambert have added five new dates to their forthcoming UK "Rhapsody" tour. The band had already announced five nights at London's O2 Arena in June 2020 along with two dates at the Manchester Arena (6/11, 12). Now they've added five more nights at the O2 to run throughout the month. The "Rhapsody" shows were inspired by the Oscar winning 2018 biopic Bohemian Rhapsody and will feature ambitious staging, lighting and visuals. The film is now the highest-grossing music biopic of all time and the biggest-selling film of 2019 in the UK. - NME, 12/11/19...... An AC/DC reunion with former lead singer Brian Johnson has apparently been confirmed by their fellow hard rock acts Twisted Sister and Behemoth, with the latter band's member Nerghal telling Loudwire: "I know there's a new AC/DC album in the making with [late AC/DC rhythm guitarist] Malcolm Young. It's coming. It's going to be an outtake from Rock or Bust. What do I expect? I expect nothing more and nothing less, just give me f---ing rhythm and Angus and Malcolm's guitar. Don't give me anything extra. [Brian Johnson] is back in the band." Dee Snider of Twisted Sister also seemingly backed the reports on Twitter, claiming that the band will reunite with drummer Phil Rudd, who was ousted from the group following his conviction in 2018 for drug possession and making threats to kill a former employee. - NME, 12/10/19.
Sunday, December 8, 2019
Ozzy Osbourne is offering a $25,000 reward for the return of a stolen guitar that once belonged to his late friend and musical collaborator, Randy Rhodes who died in a plane crash in 1982 at age 25. Osbourne shared images of the guitar which was stolen from the Musonia School of Music in North Hollywood on Thanksgiving, posting "As many of you have heard, the Musonia School of Music in N. Hollywood, CA (the school where Randy Rhoads famously taught guitar) was viciously robbed on Thanksgiving night. Musonia was run by Randy's late mother, Delores, and after his death 37 years ago, the school became something of a pilgrimage to his fans from all over the world." He continued: "It is a place where the Rhoads Family happily opened their hearts to share the life of Randy. As you can imagine, the items that were stolen, including Randy's first electric guitar, are irreplaceable to the Rhoads Family. I am heartbroken that these treasured physical memories of Randy and Delores have been taken from the family so I've decided to personally offer a $25,000 reward for information leading to the arrest and conviction and/or return of all stolen items." Ozzy previously announced his "No More Tours 2" tour with opener Marilyn Manson will kick off on May 27, 2020 in Atlanta and conclude July 31 in Las Vegas, then in the fall he'll play several rescheduled dates in the UK and Europe with Judas Priest. - New Musical Express, 12/8/19......

December 8 marked the 39th year since John Lennon was shot and killed outside his New York apartment at age 40, and his widow Yoko Ono posted an emotional tribute to her late husband on Twitter that day. "Dear Friends. Every day, 100 Americans are shot and killed with guns. We are turning this beautiful country into a War Zone. Together, let's bring back America, the green land of peace," she wrote. Ono also shared a statistic that revealed over 1,400,000 people have been killed by guns in America since Lennon's death. "The death of a loved one is a hollowing experience. After 39 years, Sean, Julian and I still miss him. Imagine all the people living life in peace," she added. Yoko's outdoor art installation, the Imagine Peace Tower in Reykjav'k, Iceland, is lit up each year in memory of John from the date of his birthday until the anniversary of his death. Live footage of the tower can be viewed on Twitter. - New Musical Express, 12/9/19...... In other Beatles-related news, Paul McCartney has weighed in on the ongoing climate crisis in a new interview during an event to promote a product from his late wife Linda McCartney's vegetarian food product line. Sir Paul, his family, climate activist Anna Taylor, and zero-waste restaurant founder Doug McMaster were in attendance at the Dec. 8 event sponsored by the UK's Vice. Speaking about the crisis, McCartney said: "It changes really slowly, so all you can do is what the kids are doing, and protest and do everything you can." Speaking about recent environmental protests, McCartney said: "I was thinking the other day, 'Oh, it's going to turn everyone off' and sure enough it is: 'Oh they're naughty, they're making noise, it woke me up.' But it's like, what about the suffragettes? They were dying for it and now women have rights. Well, some women -- not everyone." Macca also went on to note the government's lack of action on climate change. "The weird thing is that the only people who aren't responding are the government. Everyone else is going, 'Yeah!' and [U.S. Pres. Donald] Trump is going, 'Climate change is a hoax.'" - NME, 12/9/19...... Sheryl Crow and one of her musical heroes, Stevie Nicks, joined forces on ABC's Jimmy Kimmel Live on Dec. 5 for a performance of "Prove You Wrong," the track on which Nicks also appears on Crow's latest collaborative album, Threads. The pair traded verses effortlessly as they promise an ex lover it would be easy to move on after a relationship's end. Earlier in December, the two singers also stopped by Ellen DeGeneres' talk show to sing "Prove You Wrong" along with "Redemption Day," and on Dec. 4 Nicks surprised the audience during Crow's concert at The Theatre at Ace Hotel in L.A. for renditions of "Prove You Wrong" and Fleetwood Mac's "Landslide," with a clip of the performance later posted on YouTube. - Billboard, 12/6/19......
Rod Stewart has earned his first Billboard Classical Albums chart No. 1 with his new album You're in My Heart, with The Royal Philharmonic Orchestra debuting at the top of the chart for the week ending Dec. 7. The honor is just a week shy of the 50th anniversary of Stewart's Billboard chart debut, as he made his first appearance on any ranking with The Rod Stewart Album, which entered the Hot 200 (at No. 200) on the list dated Dec. 13, 1969. The new set takes its title from Stewart's classic 1978 single, and also on the album's 22-song tracklist are a new duet version, with Robbie Williams, of the Motown classic "It Takes Two," which Stewart originally recorded in 1991 with Tina Turner, and a newly-recorded Stewart ballad, "Stop Loving Her Today." Stewart also boasts three No. 1 songs on Adult Contemporary and one each on Dance Club Songs ("Da Ya Think I'm Sexy?," 1979), Mainstream Rock Songs ("Downtown Train," 1990) and Pop Songs ("All for Love," 1994), along with a leader each on Top Rock Albums and Top Holiday Albums. - Billboard, 12/5/19...... Dolly Parton is honoring her Eastern Tennessee childhood upbringing with a new musical dubbed "Dolly Parton's Smoky Mountain Christmas Carol," which will run through Dec. 29 at Emerson Colonial Theatre in Boston. The musical is based on a book and adaption by David H. Bell, and while Dolly doesn't perform in Smoky Mountain Christmas Carol, she wrote much of the music with songs like "Appalachian Snow" and "Circle of Love" paying homage to those who, like her, lived on the margins in the Tennessee mountains. "We decided to use the (Charles) Dickens story of a Christmas Carol -- and of course that mean ole guy Scrooge -- because I related to all those people in the family, just struggling and trying to have good things even in the worst of times," Dolly says. "Being from that part of the world, I was from a poor family and remember how we had so little but always wanted to have a good Christmas." Parton's life story is also at the center of a new podcast from New York Public Radio's WNYC. - Billboard, 12/5/19...... Aerosmith emailed a list of their 2020 European tour dates to fans on Dec. 6 and included was a stop at the UK's iconic Glastonbury festival on June 27. If the Boston-based rockers play Glastonbury on that date it rules them out of a headline slot, as Paul McCartney is already confirmed to take top billing on the same day. Aerosmith's European tour also sees them performing at London's O2 Arena on July 15 and Manchester Arena on July 18. Despite officially calling it a day in 2017 with their "Aero-Vederci Baby!" farewell tour, the rockers reunited earlier in 2019 for an expansive Las Vegas residency. - New Musical Express, 12/7/19...... Elton John has taken the No. 4 spot on the Billboard Boxscore's 2019's year-end top tours list, as his Farewell Yellow Brick Road Tour grossed $194 million during the year. John toured consistently throughout the year, topping two monthly Boxscore recaps in February and September. The Rolling Stones also made an appearance on the year-end roundup, as they swept North American stadiums in a short summer leg that complimented their 2017-18 European dates. - Billboard, 12/5/19......

Def Leppard, Motley Crue, Poison and Joan Jett have announced a massive co-headlining stadium tour in 2020 simply titled "The Stadium Tour." Visiting some of America's largest venues, the Stadium Tour gets underway July 7 at Hard Rock Stadium in Miami and then hit cities including Houston, San Francisco, Atlanta, Pittsburgh, Detroit, Boston, Chicago and more. The 22-date trek will close out on Sept. 5 at the brand new SoFi Stadium in Los Angeles. During a press conference at SiriusXM Studios' garage in Hollywood on Dec. 4 featuring members of Def Leppard, Motley Crue and Poison, Def Leppard frontman Joe Elliott said, "There's a lot of people who still think the '80s is a mockable decade, and we're about to prove that it's not. It's last man standing to a point maybe, but we have survived. Whether we've gone away and come back or we've been constant, it's the music that's been the thread that keeps bringing everybody back again." - Billboard, 12/4/19...... Two members of The Ramones have apparently reached a truce in their ongoing trademark dispute. Joey Ramone (born Jeffrey Hyman) and Johnny Ramone (born Johnny Cummings) died in 2001 and 2004, respectively -- both from cancer. After a year of arbitration, Joey Ramone's brother, Mitchel Hyman, and Johnny Ramone's widow, Linda Cummings-Ramone, have come to an agreement over the use of the name Ramone. A final arbitration agreement was filed on Dec. 2 in New York, resulting in Hyman and Cummings-Ramone each owning 50% interests in Ramone Productions Inc. (RPI), the company which markets license and produces memorabilia and music-related products bearing the group's name and likeness. Cummings-Ramone is also the company's co-president and director. The dispute started when Hyman brought claims against Linda Cummings after she legally changed her name to Ramone in 2014. Hyman claimed that Cummings' use of the Ramone name was "improper and unauthorised." He also wanted to stop her from referring to her Los Angeles house as "Ramones Ranch." - Billboard, 12/6/19...... Questlove, the drummer of the band The Roots, is set to make his directorial debut with a feature documentary titled Black Woodstock, detailing 1969's Harlem Cultural Festival. The outdoor festival, held in Harlem's Mount Morris Park, was headlined by the likes of Stevie Wonder, Nina Simone and The Staple Singers for a musical celebration of African-American culture and unity. However despite attracting a crowd of 300,000 attendees, the festival -- held in the same year as Woodstock -- failed to receive any mainstream media coverage. It's said that Black Woodstock will use 40 hours of never-seen-before footage, while producers promise music and performance footage to "knock audiences out of their seats." "I am truly excited to help bring the passion, the story and the music of the Harlem Cultural Festival to audiences around the world," Questlove said in a statement. "The performances are extraordinary. I was stunned when I saw the lost footage for the first time. It's incredible to look at 50 years of history that's never been told, and I'm eager and humbled to tell that story," he added. - NME, 12/5/19......
In a recently surfaced interview with local San Antonio, Tex. news station KSAT, Willie Nelson revealed that in an effort to take better care of himself, he no longer smokes cigarettes or marijuana. "I have abused my lungs quite a bit in the past, so breathing is a little more difficult these days and I have to be careful," the 86-year-old said. "I started smoking cedar bark, went from that to cigarettes to whatever. And that almost killed me," he added But a rep for Nelson told the AP later that Willie hasn't given up cannabis, and pointed out "there are different ways" to consume pot. "That said," she said "Willie does what he wants, when he wants, when it comes to smoking." One thing though Nelson won't be giving up anytime soon is touring. "I love the bus," he told KSAT. "This is my home." When asked how he feels about rumors that his health problems might suggest he is "near death," Nelson, in response, said "I don't give a f---, I'm here, I'm glad to be here." - AP/Jezebel.com, 12/4/19...... Carroll Spinney, the legendary puppeteer who gave the Sesame Street characters Big Bird and Oscar the Grouch their warmth for nearly 50 years, died on Dec. 8 at his home in Connecticut at age 85, according to the Sesame Workshop. Mr. Spinney voiced and operated the two major Muppets characters from their inception in 1969 when he was 36, and performed them almost exclusively into his 80s on the PBS kids' television show that later moved to HBO. "Before I came to 'Sesame Street,' I didn't feel like what I was doing was very important," Mr. Spinney said when he announced his retirement in 2018. "Big Bird helped me find my purpose." Through his two characters, Mr. Spinney gained huge fame that brought international tours, books, record albums, movie roles, and visits to the White House. The Sesame Workshop said in a statement that Mr. Spinney lived for some time with dystonia, which causes involuntary muscle contractions. "Carroll was an artistic genius whose kind and loving view of the world helped shape and define Sesame Street from its earliest days in 1969 through five decades, and his legacy here at Sesame Workshop and in the cultural firmament will be unending," the Workshop said in a statement. - AP, 12/8/19.