| | |
| --- | --- |
| The Super Seventies Bookstore | |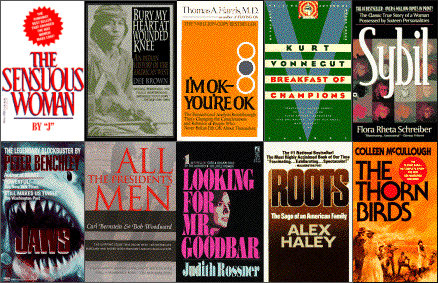 elcome to the Super Seventies Bookstore, where you can reexperience many of those fine Seventies literary classics. Here you'll find the Top 10 bestsellers in both the fiction and non-fiction categories for each year from 1970 through 1979. Rankings are according to Publishers Weekly and are based on publishers' reports of copies shipped and billed, not merely on net sales figures.


A message from Jeff Bezos
PLEASE NOTE: Most underlined books are currently in stock and may be ordered directly from Amazon.com., the largest bookseller on the web. Most are mass market paperbacks and can be purchased for a very reasonable price (usually around $5), and shipping is usually within 2-3 days. Just click on the link to read reviews about the book and put it in your shopping cart if you desire. And thanks for shopping through the Super Seventies Bookstore!
P.S.: Don't forget to check out the RockSite Bookshelf link at the bottom of the page, a collection of links to Seventies music and entertainment books used in the regular maintenance of Super Seventies RockSite!

Fiction
Non-Fiction

Fiction
Non-Fiction
Any Woman Can!, David Reuben, M.D.

Fiction
Non-Fiction

Fiction
Non-Fiction
Better Homes and Gardens Home Canning Cookbook

Fiction
Non-Fiction
You Can Profit from a Monetary Crisis, James Herriot



Fiction
Non-Fiction


Fiction
Non-Fiction


Fiction
| | |
| --- | --- |
| Delta of Venus: Erotica, Anais Nin | |
Non-Fiction

Fiction
Non-Fiction
In Search of History: A Personal Adventure, Theodore H. White

Fiction
| | |
| --- | --- |
| The Third World War: August 1985, Gen. Sir John Hackett, et al. | |
Non-Fiction

Other Bestselling (Or Just Essential) Seventies/Retro Books: