"I Will Survive"
Gloria Gaynor
Polydor 14508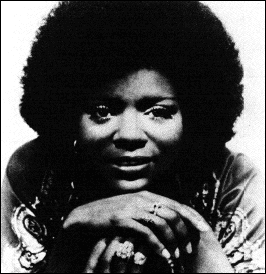 loria Gaynor's early heroes were the Everly Brothers, Buddy Holly, and Frankie Lymon. "When Frankie was thirteen, I was eight, and I could sing exactly like him," she said. "If you heard me from behind a door you'd swear it was him. I figured if he could sing, so could I." She studied male singers, chiefly for technique. "I tried to stay away from females," she explained, "because I didn't want to be compared with anybody else."
Gloria's taste widened as she entered her teens, stretching to include Nat King Cole (for diction), Sarah Vaughn (for phrasing), and Marvin Gaye (for style). Unable to afford singing lessons, she studied recordings, learning how to put emotion into a song. "I love Nancy Wilson, Frank Sinatra, and Ella Fitzgerald," she recalled. "It always amazed me how they could sing so many words in a single line and you could still understand every one."
When she was eighteen and a sales auditor, she got her first professional singing job, replacing a singer in a band in Canada. "I'd never been out of Newark, but I quit my job and told everybody I was going to be a big star. We were there two weeks. Then I worked for a week in New Jersey and that was it. My career was at a standstill for almost six years."
---

THE TOP FIVE
Week of March 10, 1979

1. I Will Survive
Gloria Gaynor

2. Do Ya Think I'm Sexy
Rod Stewart

3. Tragedy
Bee Gees

4. Fire
Pointer Sisters

5. Heaven Knows
Donna Summer & the Brooklyn Dreams

---
In 1971, Gloria joined a house band in Newark, the Soul Satisfiers, and then formed her own group, City Life. They played the East Coast circuit, working nightclubs, supper clubs, and hotels, playing six shows a night, six nights a week. In eighteen months, she had just two weeks off.

Finally, in 1972, Gloria was given the chance to make her recording debut. "I was looking for the easiest way to make it in the record business," she explained. "I was tired of struggling. My manager, my producers, and I felt disco was new and open. We all thought that I could get in on the ground floor and grow with it." Her first record, "Honey Bee," was a mild R&B hit and failed to make the pop charts.

Gloria then switched labels, from Columbia to MGM, and fell in with a new production team: Monardo, Bongiovi, and Ellis. With their ad, she cut "Never Can Say Goodbye," a tune composed by comedian Clifton Davis of ABC's comedy series That's My Mama. The song had been successful before, both times in 1971, as a mid-tempo ballad for the Jackson Five and Isaac Hayes. But now, thanks to an effervescent, rip-roaring arrangement, Gloria transformed the tune into something akin to a Broadway showstopper, spiraling strings and all. "I felt the time was right for a woman's version of the song," she said, and obviously was right. It was a disco smash, a big pop hit, and led, in March 1975, to her actual coronation, at a New York performance, as Queen of the Discos.

Gloria's reign as a musical monarch was short-lived, however. Subsequent singles all bombed, as did four follow-up albums. By the spring of 1976, her crown had been snatched away by newcomer Donna Summer.

Gloria kept on singing though, performing mostly in Europe. During one show, she suffered a fall that put her out of commission for months. From March through October of 1978 she was bedridden as a result of spinal surgery. To cap off her troubles, Gloria's mother, to whom she had been very close, died at about the same time.

"I knew I had to get back in there and survive," she recalled. After leaving the hospital, she hooked up with the writing and production team of Freddie Perren and Dino Fekaris. For her, they came up with "I Will Survive," a woman's inspiring declaration of strength after being emotionally abused by a lover. Gloria did not consider herself a feminist, however; she explained that she was too busy "trying to hook a man" to be into "women's lib."

Originally intended as the "B" side of the first single from Gloria's 1978 album Love Tracks, "I Will Survive" was promoted by Polydor as "more than a hit -- it's a way of life." Gloria was even induced to record the song in Spanish, as "Yo Viviré." After it became the "A" side, it entered Billboard's Hot 100 at number 87 on Jan. 20, 1979. Twelve weeks later, Gloria Gaynor had the number-one song in the nation.

Another version of "I Will Survive," with new lyrics, was used as the theme of the 1979 Easter Seals Telethon. The recording sessions were videotaped, with a special message from Gloria, and then broadcast repeatedly throughout the program. Polydor even donated a gold record of the song to the first person pledging $5,000 to the Telethon.

In 1983, Gloria found an another inspirational anthem similar to her biggest hit, "I Am What I Am," from Broadway's La Cage Aux Folles, and took it to the Top 20 of the British chart. But after that she disappeared from the music scene.

Interviewed late in 1979, Gloria reaffirmed her complete devotion to the disco movement. "I give the people what they want and what they need. They come up and thank me for this song. They say that it changed their lives." And perhaps it did. It certainly changed the life of Gloria Gaynor.

In 2016, the U.S. Library of Congress selected Gloria's "I Will Survive" as one of the 25 annual inductees into its National Recording Registry for culturally and historically significant songs. "'I Will Survive' is my mantra, the core of my God-given purpose," Gloria said in a statement. "It is my privilege and honor to use it to inspire people around the world of every nationality, race, creed, color and age group to join me as I sing and live the words: 'I Will Survive.'"

Reader's Comments
Ronaldo
Does anyone know if the then unknown Gloria ever went to the North of England in the Autumn of 1971 & was part of a backing group of two ladies who did some work onstage at different night-clubs with singer P.J. Proby? They did a few nights at The Batley Variety Club & I have some photos which almost convinces me it was Gloria Gaynor. P.J. himself cannot remember. I'd love to know if this actualy happened.