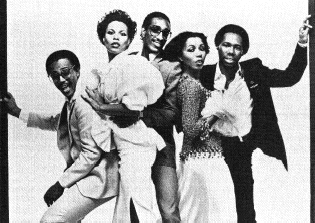 'm from North Carolina," said Bernard Edwards, "and Nile was born in New York. We met in the Bronx in 1970, just out of high school. I was working in the post office during the day, and my girlfriend's mother introduced us. We got jobs in nightclubs and doing weekend things. We made $15 apiece."
Nile Rodgers interrupted. "They paid you fifteen?" (General laughter all around.)
"We just stuck together," Bernie went on. "It was like two guys that just had something in common. We never talked about it. I didn't know he wrote songs; he didn't know that I wrote."
In 1972, the two began playing in the Big Apple Band, backing New York City ("I'm Doing Fine Now"). When that group broke up, they toured with Carol ("Doctor's Orders") Douglas for six months. At the close of 1976, they decided to form their own band.
"We had two amplifiers and two guitars, and we just started to play. We met Tony Thompson, our drummer, and none of us had any money. But we stuck it out."
---

THE TOP FIVE
Week of December 9, 1978

1. Le Freak
Chic

2. MacArthur Park
Donna Summer

3. You Don't Bring Me Flowers
Barbra Streisand & Neil Diamond

4. I Just Wanna Stop
Gino Vannelli

5. How Much I Feel
Ambrosia

---
In February 1977, they began laying down rough rhythm and vocal tracks for a demo. Since Walter Murphy had adopted the Big Apple Band's name, a new moniker -- Chic -- was coined in June. They were turned down by every major label in New York, until finally, in September, Atlantic agreed to give Chic a chance. From their tape, a single, "Dance Dance Dance," was released. In less than a month, it had sold well over a million copies.

"That first hit had different voices on it," explained Bernie. "After the record was made, we found the two girls who are in Chic today. Alfa Anderson, our lead singer, was teaching school in New York. Luci Martin was a dancer and singer in clubs in Canada, and she toured in Hair and Jesus Christ Superstar.

"At that time, Studio 54 was real big in New York," recalled Nile. "A lot of people tried to get into the club, but couldn't. It was real popular with models and people who are not inhibited, more or less. They came out late at night after working all day and were just having fun. Anyway, they had this dance they called the Freak, and it was very, very unorthodox."

In order to Freak, two dancers bend at the knees, spread their legs, and bump their pelvises together, in time to the music.

"The public began to pick up on it, and they made a more 'commercial' Freak. That's what we saw in the discos and started to write about. We thought it could be like the Twist. Everyone said, 'You're crazy. There'll never be another dance craze in the U.S.' But we wrote the song anyway to go along with the dance.

"At first, reaction was bad because of the work "freak." A lot of stations just didn't want that word on the radio. But suddenly they just started playing it, and within two or three weeks it had sold over a million copies."

"Le Freak" went gold in Belgium, Italy, South Africa, England, France, Brazil, and most of the rest of the world. In Canada, it became the best-selling song in the nation's history. In America, it was number one for five weeks, and eventually it sold more than five million copies. It was Atlantic Records' all-time biggest hit.

"We try to please the public," said Nile. "We're not interested in critics that much. They don't buy records."

His partner agreed. "We're trying to establish an entertaining kind of music. We don't have any heavy message; no moral issues, no heavy problems. When you get off work, come and see us, have fun, and split -- that's all. We're just trying to have a good time."

Bernard and Niles have also produced, written or played on dance records by many other performers and become two of the most influential contemporary black writers and producers. Their outside productions include Sister Sledge's "We Are Family," Diana Ross's "Upside Down" and "I'm Coming Out," and Debbie Harry's 1981 album Koo Koo. The pair also made the Soup For One soundtrack including one cut sung by Carly Simon. In 1983 Nile Rodgers released a solo album, Adventures in the Land of Good Groove, and produced David Bowie's Let's Dance.

Tony Thompson received the offer of a lifetime when he was asked to play drums for Led Zeppelin at their 1985 Live Aid concert appearance. He began recording new material with the band, but was forced to quit the sessions after being involved in a serious car accident that year. He died of renal cell cancer in Encino, Calif., on Nov. 12, 2003, at age 48.

comments powered by