"You're the One That I Want"
John Travolta and Olivia Newton-John
RSO 891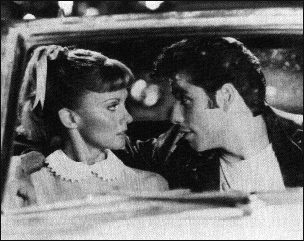 ohn Travolta was inspired to get into acting by his mother, a drama teacher in Englewood, New Jersey. He turned pro at sixteen, and at eighteen went to New York, where he landed a small role in the stage production of "Grease." His next step was a trip to Hollywood and his television debut in an episode of the CBS drama "Medical Center." After that, the job offers dried up, so John went back to Broadway and appeared in "Over There," a musical with the Andrews Sisters. Then, in the fall of 1975, he was cast as Vinnie Barberino, a swaggering, street-wise high school punk in the ABC comedy series Welcome Back, Kotter.
Within a few months, John was pulling some 8,000 pieces of viewer mail a week, far more than the star of the show, Gabe Kaplan. His face was beginning to turn up on posters, T-shirts, and fan magazines, and there was even a Top 10 hit, "Let Her In," in the summer of 1976. In less than a year, Travolta had become the hottest property at ABC-TV.
---

THE TOP FIVE
Week of June 20, 1978

1. You're the One That I Want
John Travolta & Olivia Newton-John

2. Shadow Dancing
Andy Gibb

3. Too Much, Too Little, Too Late
Johnny Mathis & Deniece Williams

4. Feels So Good
Chuck Mangione

5. Baker Street
Gerry Rafferty

---
Meanwhile, producer Allan Carr had bought up the rights to "Grease" mainly as a vehicle for his friend Ann-Margaret and her friend, Elvis Presley. Sadly, that casting never came through, so the lead was offered instead to Henry Winkler, then on Happy Days and at the peak of his fame. Amazingly, Winkler turned it down, saying the part was too much like his TV character, "The Fonz."

Carr didn't know where to turn, and while mulling it over, flipped on his TV. By accident, he tuned in Welcome Back, Kotter, which he decided to watch out of loyalty to Kaplan (who'd opened for Ann-Margaret in Las Vegas many times). To his surprise, "out came this charismatic kid, this wonder, John Travolta." He called his partner, Robert Stigwood, and shouted, "Get to a TV!" Both men agreed that they had found the perfect lead -- their Danny Zuko -- for the movie version of Grease.

Snags postponed the start of the Grease project, so Carr and Stigwood cast John in another project, Saturday Night Fever. It, of course, exploded into a film and record phenomenon, making John's participation in Grease an even more valuable asset.

His co-star, though, was not cast until the company was already into prefilming rehearsals. "I had met Olivia at a small dinner party given by Helen Reddy and Jeff Wald about four months earlier," recalled Carr. "I'd never seen her in person before, and I couldn't resist telling her that she really should be doing movies. I mean, she's just adorable and yet she has a very special sophistication about her, too. I knew if we could just capture that on film, we would have our Sandy."

Olivia agreed to do the picture, partly because it was a musical, and partly because it gave her a chance to play two different kinds of women. Because of he involvement, her musical director, John Farrar, was asked to write a couple of new tunes for her. The first turned out to be a wistful ballad, "Hopelessly Devoted to You." And then came the film finale -- a rousing scene, set at a carnival, in which Olivia learns to "outgrease" Travolta. For that, Farrar came up with "You're the One That I Want."

"I had a ball doing that part of the picture," said Olivia. "I was so much fun to shoot. All through production, the crew treated me like I was Sandy -- this seventeen-year-old naïve lady." Then, in the last reel, she's transformed into a black-leather-clad biker, complete with skintight satin pants, red stiletto heels, and vampy makeup. The change made for a stunning climax -- both for the film and for a phase of Olivia's career. "I was usually pretty virginal," she said, "and I was hoping I wouldn't lose all my fans. But this side of me is much more fun than the sweet virginal side. Doing Grease and cutting 'You're the One That I Want' was an opening-up for me. It made me want to try different things.

"I was thrilled with the film. Maybe another one like it will never come along. But I'll always know that I was in one of the biggest films of all time."

And to help her remember, Olivia can always look at her bankbook. Her work in Grease reportedly earned her over $10 million.

comments powered by