"Thank God I'm a Country Boy"
John Denver
RCA 10239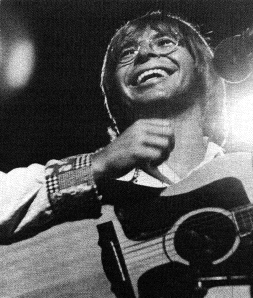 y 1975, John Denver had been singing and writing about the beauties of nature and of romanticism for a long time. The man and his music had become symbols -- simple, wholesome, sometimes corny -- but, in many ways, said much as a voice for Middle America. His records seemed to have a therapeutic effect, and millions, all across the country, listened and bought. In 1975, John Denver was the largest-selling recording artist in the United States.
He achieved that feat with old standbys, really; love, peace, and homespun happiness served as subject matter for most of his tunes. In troubled times, cheerful, nostalgic songs hold wide appeal for almost everyone -- everyone, that is, except the rock press. Critics especially loathed his optimism (as they hate anyone who appears to be more happy than they are). Perhaps it was John's unremitting sincerity that made it all work, and made him the Norman Rockwell of popular music. Denver sang from the perspective of a "country boy," reflecting on the joys of rural living, and since he had lived that experience, he was certainly a qualified spokesman for it.
---

THE TOP FIVE
Week of June 7, 1975

1. Thank God I'm a Country Boy
John Denver

2. Sister Golden Hair
America

3. How Long
Ace

4. Bad Time
Grand Funk

5. Old Days
Chicago

---
John first recorded "Thank God I'm a Country Boy" for his album Back Home Again, issued in 1974. That record, which spent four weeks at the top of the album chart, was certified gold one month after release (and ultimately sold more than three million copies). It included his second number-one tune, "Annie's Song" (written for his wife), as well as the hits "Back Home Again" and "Sweet Surrender." "Thank God I'm a Country Boy" was, at that point, just another track, in its original studio version.

But then, in the summer of 1974, John appeared at the Universal Amphitheater in Los Angeles. His engagement there set a house record by selling out seven nights' performances in twenty-four hours. All the shows were taped for television and an eventual live album.

That album -- a double set -- was released in February 1975 as An Evening with John Denver. It shipped gold, peaked at number two, and spent fifty weeks on the best-seller lists. Among the many tunes featured were "Take Me Home, Country Roads," "Rocky Mountain High," "Annie's Song," "Sweet Surrender," and "Thank God I'm a Country Boy."

Somehow the vibes on one magic night -- John's interaction with the fans -- helped make the latter song a high point of the entire concert run. The tune, written only months before, was composed by John Sommers, a guitarist in Denver's backup group. It was pulled for release as a single in February 1975, and broke onto the charts a month later. In June, it reached number one, and was certified as a million-selling 45. In all, it spent twenty-two weeks on the pop charts.

John went on to score three more hits in 1975: "I'm Sorry," "Calypso," and "Fly Away." He also did well on the album charts with Windsong and Rocky Mountain Christmas (both of which went gold on advance orders alone). His Rocky Mountain Christmas TV special was watched by sixty-five million people -- the largest audience to that time for an ABC music program. And the TV special An Evening with John Denver won an Emmy as the Best Musical Variety Special of the 1974-75 season.

John closed out the decade by revealing his sales figures to an astonished pop press. By January 1979, he had sold over one hundred million records. He even found chart success as a label executive in 1976, when his Windsong Records released the Starland Vocal Band's number-one single, "Afternoon Delight." In addition to his music career, John also did volunteer work for ecological causes, the ERA, and space exploration (he became a board member for the National Space Institute) and against nuclear power.

Through the eighties and into the nineties, John's commercial star faded, although by that time he had earned fourteen gold albums and eight platinum albums. He had an unwelcome return to prominence late summer of 1993, when he was arrested for drunk driving in Aspen, Colorado; however that same year he became the first nonclassical musician to be given the Albert Schweitzer Music Award, for lifetime humanitarianism.

If John's public face always seemed cheerful and optimistic, a dark side was also evident in his two divorces and a second drunk-driving charge in his adopted hometown of Aspen. He contested the second arrest, which came one year after his first when he crashed his Porshe into a tree. The case resulted in a hung jury. As any Columbus DUI or DWI attorney knows the case can go either way when a defendant contests a charge.

On Oct. 12, 1997, John Denver was killed when the small, home-built aircraft he was piloting plunged 500 feet into Northern California's Monterey Bay. He was 53. A longtime aviation buff, John was flying without a valid pilot's license which had reportedly been denied due to the two drunk-driving charges that he had faced the past four years. He was given a private funeral and burial, followed by a public memorial ceremony on Oct. 17 in Aurora, Colo.

comments powered by