"You Make Me Feel Brand New"
The Stylistics
Avco 4634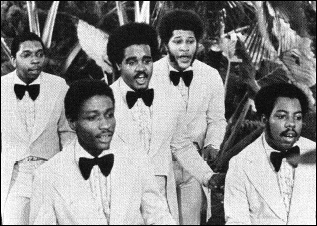 n the spring of 1968, two Philadelphia vocal groups competed for first prize in a high school talent show. The winners were the Monarchs, featuring Airrion Love, James Smith, and Russell Thompkins, Jr. The Percussions, with Herb Murrell and James Dunn, came in a close second. Soon after, college and the draft took several members from both groups. The remaining five decided to merge and become the Stylistics.
"We were close from the beginning," recalled Russell. "We realized early that there was a chance that success could hurt us, so we sat down and talked it over. We pointed out what could happen and agreed to remain conscious of potential problems."
---

THE TOP FIVE
Week of June 15, 1974

1. Billy, Dont Be a Hero
Bo Donaldson & the Heywoods

2. You Make Me Feel Brand New
The Stylistics

3. Sundown
Gordon Lightfoot

4. The Streak
Ray Stevens

5. Band on the Run
Paul McCartney & Wings

---
The group developed its early style by emulating the Temptations, the Impressions, and especially the Platters. They came to be known as a kind of up-to-date Mills Brothers, purveyors of sweet, delicate R&B harmonies.

In 1969, their road manager, Marty Bryant, and the boys' guitarist, Robert Douglas, wrote a song called "You're a Big Girl Now." The fellows added it to their act, and one night it was heard by Bill Perry, the owner of Sebring Records. At the cost of $400, he had the tune recorded and released on his own label, and it became a local hit in Philadelphia, New York, Washington, and Baltimore. Avco Records bought the master in late 1970 and issued it coast-to-coast in 1971. The single barely dented the national charts, but at least the Stylistics were on their way.

Avco vice presidents Hugo Peretti and Luigi Creatore placed the group in the hands of producer Thom Bell, who had been working with the Delfonics. The first thing Bell did was lower Russell Thompkins' voice. Thom was impressed by Russell's memory -- an ability to sing songs back exactly as he had been taught them. As a result, ten tunes could be mastered in four hours -- an album cut in three.

The Stylistics' first session with Bell produced "Stop, Look, Listen (to Your Heart)," a Top 40 single in the summer of 1971. Their second date yielded "You Are Everything" and "Betcha By Golly, Wow," both of which made it to the Top 10. After that, there was no stopping the group: in 1972, there wee "People Make the World Go Round" and "I'm Stone in Love with You"; in 1973, "Break Up, to Make Up," Rockin' Roll Baby," and "You'll Never Get to Heaven (If You Break My Heart)." All of their hits (except the latter) were composed by Thom Bell, with lyrics by Linda Creed, a white, French, Jewish girl who sang backup vocals.

"We owe everything to Thom and Linda," said Herb Murrell. "To say that he's a genius is only half the story. You know, those two can sit down anytime and write about everyday feelings that everyone can identify with."

As the months went by, Thom began spending time honing the Stylistics' sound. He distilled what they had down to pure emotion. "Every track he put down on us," said Love, "he worked on it like it was a potential single." This caused friction between Bell and the group, with things coming to a head at the close of 1973.

"You Make Me Feel Brand New" was, in Thom's words, his "parting shot." It was unique among Stylistics' records in that it featured two lead vocals, Airrion Love and Russell Thompkins, Jr. Released as a single in March 1974, it quickly scaled the pop, soul, and easy listening charts. On May 22, it was certified gold -- the sixth and last million-seller for the Stylistics.

Hugo and Luigi then took over the production and writing, Van McCoy arranging and conducting for the group. Their well-titled next effort was "Let's Put It All Together," a Top 20 entry in the fall of 1974. But the Stylistics weren't really able to put it all together after that, although they remained popular in Europe both on record and in nightclubs throughout the seventies. By 1980, James Dunn had quit due to health problems and was not replaced, and within a year James Smith had left as well. The group remains active as a trio, hoping that their luscious blend of doo-wop and strings will make a comeback.

comments powered by