"The Loco-Motion"
Grand Funk
Capitol 3840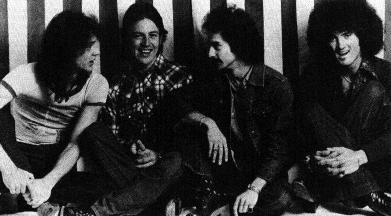 imply put, Grand Funk was one of the best loved and least liked groups in pop history. Critics hated them; even other stars, like Rod Stewart, put them down. But Grand Funk became an unqualified success in the early seventies by finding and filling a public need for basic, sledgehammer rock'n'roll.
The group specialized in drum and guitar solos played at levels that seemed designed to blister paint. "We were loud," admitted their leader, Mark Farner, "but there was a reason. We wanted to create an atmosphere in which nothing existed but music."
Mark had been swept into music in high school. He honed his style in two Flint, Michigan, bands: the Bossmen and Terry Knight and the Pack. In the late sixties he formed his own group with Don Brewer (from the Pack) and Mel Schacher (from Question Mark and the Mysterians). Adapting the name of Michigan's Grand Trunk Railroad, Grand Funk Railroad was born.
---

THE TOP FIVE
Week of May 4, 1974

1. The Loco-Motion
Grand Funk

2. TSOP
MFSB

3. Bennie and the Jets
Elton John

4. Best Thing That Ever Happened to Me
Gladys Knight & the Pips

5. Dancing Machine
Jackson 5

---
The boys made a splashy debut in July 1969, when, unpaid, and unbilled, they opened the Texas International Pop Festival. Their audition tape, already turned down by several labels, was then picked up by Capitol. A debut album, On Time, faced further rejection -- this time by radio -- yet, through word of mouth, managed to sell nearly a million copies by Christmas.

And so it went for Grand Funk Railroad -- air play and acclaim eluding them, even as concert halls around the world were crammed (the Beatles took three weeks to sell out Shea Stadium; Grand Funk did it in three days). Capitol estimated that they were selling one Grand Funk album every four seconds, yet there were few radio hits. As consolation, the group was given its own custom label; the first release, E Pluribus Funk, was issued in a round, silver dollar jacket, which proved to be impractical from a marketing standpoint as the LP became infamous for rolling off retailers' shelves.

In 1972, things began to look up. Organist Craig Frost was added, and the word "Railroad" was dropped from the name. "Footstompin' Music" and "Rock'n'Roll Soul" both made the national Top 30. Then, in 1973, the group scored its first number-one hit single. "We're an American Band" became the title of the chart-topping 45 and album, both pressed in gold vinyl.

In January 1974, after nine consecutive million-selling albums, the group announced plans for an album to be called Shinin' On. Todd Rundgren would again produce. The album featured a remake of "The Loco-Motion," originally popularized by Little Eva in 1962. As an added gimmick, the package design would be another industry first: a jacket in 3-D with a 3-D poster inside. Star-shaped 3-D glasses were also thrown in as a punch-out bonus.

The track was released as a single in late February 1974, and broke nationally early in March. On April 24 it was certified gold, and in May "The Loco-Motion" was at the top of the charts. It was one of the few times in pop history in which a particular tune had been taken to number one by two different artists. Oddly enough, the only previous instance involved another Goffin-King song, "Go Away Little Girl."

Grand Funk then embarked on a sold-out, forty city American tour, and in keeping with the Shinin' On concept, "mysteriously" lit up in the dark during their live performances. To close the shows, they went into an encore of "The Loco-Motion," heightening the effect by showing a filmed train collision behind them. After the tour, manager Andy Cavaliere received a Jaguar XKE from the band, and road manager Louis Pulver got a pie in the face.

The song "Shinin' On" became a hit in August 1974; in 1975, "Some Kind of Wonderful" and "Bad Time" both made the Top 5. The group moved to MCA in 1976, cut one album, and broke up. By that time, Grand Funk had sold over thirty million dollars worth of albums.

Mark Farner was interviewed at that point. "As old as I am," he said (he was 25), "I've accomplished what people eighty years old have been trying to accomplish, financially, that is, and that made me realize a lot. Being in the business we're in makes you grow up faster. I don't have a high school education, but I feel like I got a college degree.

"Please tell all our brothers and sisters how grateful we are to them for voting us Best Rock Group in the United States. The critics might not be happy, man, but we sure are. That's the real power of the people."

Mark released two solo albums -- Mark Farner in 1977 and No Frills 1978 -- and toured on occasion. In 1981 he reunited with Don Brewer for Grand Funk Lives, which picked up some AOR air play with a remake of the Animals' "We Gotta Get Out of This Place." After a second album, What's Funk, in 1983, Grand Funk split up once again, with Brewer joining former bandmate Craig Frost in Bob Seger's Silver Bullet Band. Mark Farner, meanwhile, had become a born-again Christian. In 1988 a song of his, "Isn't It Amazing," hit number-two on the Inspirational chart.

comments powered by