"Playground in My Mind"
Clint Holmes
Epic 10891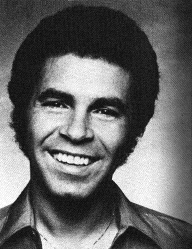 was born in England," said Clint Holmes, "but grew up in Farnham, New York. My mother was a British opera singer. In fact, everybody in my family sang. When people as me when I decided to become a singer, my answer is that it was never a conscious decision. It was always something I did. As far as how I got into it professionally, I was in the army chorus in the mid-sixties as part of my military career. When I got out, I started playing little clubs and kind of sang around until I got a following and because a local name in Washington, D.C. An agent from New York saw me, and I began working on a bigger scale, and things got better and better.
"One night I was singing in the Bahamas, on Paradise Island, Nassau. Paul Vance, who had produced Johnny Mathis, walked by the club and heard me do my little comic impression of Mathis. He laughed, came in, and saw the rest of the show. Afterward, he came up to me and said that he and his partner, Lee Pockriss, had a couple of songs and they were looking for a singer. Paul thought that I would be terrific. So, when I got back home two or three weeks later, I went to see them and listen to what they had.
---

THE TOP FIVE
Week of June 16, 1973

1. My Love
Paul McCartney & Wings

2. Playground In My Mind
Clint Holmes

3. Pillow Talk
Sylvia

4. I'm Gonna Love You Just a Little More Baby
Barry White

5. Daniel
Elton John

---
"The one that they were real high on was 'Playground in My Mind.' Paul had four kids, and his inspiration came from watching them play. I thought it was a cute song. I didn't have, of course, the entire production concept that they had in mind.

"The other song was 'There's No Future in My Future,' which honestly I liked a whole lot better. I told them so, and then we agreed to cut the two sides and see which one turned out better.

The biggest memory I have of recording 'Playground' was when we tried to match vocals with Paul's son, Phillip, who was the little boy's voice on the record. He was eight or nine years old at the time, and not a professional singer by any means. I put my vocal down and then we tried to have him sing along with me. Eventually, we had to reverse it and have me sing along with him. I remember having to sing softer and softer to try to get some kind of vocal blend. I was so afraid of overpowering him.

"'Playground' was recorded in May 1972 and released by Epic in June. It got played in a few places, but for all intents and purposes, the record flopped, and we went on to other things.

"Then in November a programer in Wichita, Kansas, put it on as a Christmas record. He thought it had a Christmasy sound. The record had never made any kind of impact, but now it was getting really heavy phone response. It spread all over the Midwest. A few weeks later, I got a call from Epic in New York. Don Ellis, the head of A&R, said, 'We've got to get you out to L.A. to finish as album. Your record's gonna hit the Hot 100 this week, and it looks like it could make the Top 40.' I didn't even know what record he was talking about. I was amazed.

"By springtime I was in New Orleans and 'Playground' was a solid hit. Everywhere I went, I heard that song being played on the radio. Don Ellis had said he thought it had a chance at the Top 20. He was certain it wouldn't go to Top 5 -- and then it wound up as number two. By June, it was a million-seller.

"You know, in some sense 'Playground' hurt me. It branded me as a novelty singer because I didn't follow it up with something more substantial. We recorded another song in a similar vein, which I did not want to do. It was called 'Shiddle-ee-Dee,' and the very title tells you what the song was like -- a bomb.

"After 'Playground' I tried to create a new image, and quit doing the song in my act. 'Playground' was an excellently made record, but it could have been almost anybody singing it. It didn't have to be me; therefore, it was not a career-making record. It didn't bear the stamp of Clint Holmes. I think that's why, even today, a lot of people remember the song but not the fellow who sang it."

comments powered by