"Touch Me In The Morning"
Diana Ross
Motown 1239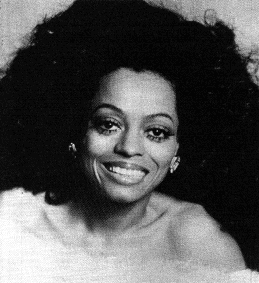 iana Ross was one of six kids who slept in the same room, three to a bed, with a kerosene jar lighted to keep the insects away. Her dad worked two jobs in order to keep the family going. Diana escaped her ghetto surroundings by immersing herself in music: singing in the church choir, and by starring in little shows on the back porches of her friends' homes.
She often walked to school singing gospel or R&B songs, along with two neighbors, Mary Wilson and Florence Ballard. When Diana was fifteen, they became the Primettes, a sister group to the all-male Primes. Both acts sang frequently around the Detroit area, performing nights and on weekends. To earn extra money, the Primettes also took straight jobs -- Diana in Hudson's Department Store, working as a cafeteria busgirl.
Once signed by Motown records, the Primettes were renamed the Supremes, and went on to become the label's consummate commercial coup. Over a ten-year span, they racked up thirty-three Top 40 hits -- nineteen in the Top 10; twelve of which reached number one. They performed in a gospel call-and-response pattern, set to a vibrant dance beat; and were sweetness, energy, and vulnerability all in one attractive package. Compared to other girl groups, such as the meek Shirelles or tough Ronettes, Mary, Flo and Diana came on as mature young women -- respectable, but accessible to those who really cared. In person or on record, they epitomized the essence of Motown magic: slick, sophisticated soul, engineered with machine-like precision.
---

THE TOP FIVE
Week of August 18, 1973

1. Touch Me in the Morning
Diana Ross

2. Live and Let Die
Wings

3. Brother Louie
Stories

4. The Morning After
Maureen McGovern

5. Let's Get It On
Marvin Gaye

---
The Supremes' golden decade lasted from 1963 to 1972, but their musical world began to crumble long before that. On January 15, 1970, at the Frontier Hotel in Las Vegas, Diana bid farewell to the group and began her own solo career. When she did, she took with her the attention of label president Berry Gordy, and thus all of Motown. The Supremes began to falter, even though they continued to turn out a number of exceptional records. Perhaps it was a little embarrassing that the group continued to have success without Diana, whose own career was floundering at that point. But whatever the reason, the Motown Record Corporation seemed to lose interest in the Supremes sometime in the early seventies.

Diana's debut solo single was "Reach Out and Touch," a song she had selected over heavy objections from Berry Gordy, Jr. In June of 1970, it peaked at number twenty. Next, she covered "Ain't No Mountain High Enough," first recorded by Marvin Gaye and Tammi Terrell in 1967. It turned out to be a number-one record for Diana in September 1970. After that, there were four singles in 1971: "Remember Me," "Reach Out I'll Be There," "Surrender," and "I'm Still Waiting," each one placing progressively lower on the charts.

In 1972, there were no hits at all, as Diana turned her attention toward motion pictures. She made Lady Sings the Blues, co-starring Billy Dee Williams, Richard Pryor, and James Callahan. It was a highly fictionalized biography of jazz singer Billie Holiday, and earned Diana an Academy Award nomination. One song from the soundtrack, "Good Morning Heartache," barely made the Top 40 in March 1973.

By that time, Diana had gone nearly three years without a really big hit. She needed one to reassert her position as a major recording artist, and to dwarf the continuing popularity of her old group. At Berry Gordy's direction, an aching ballad was written especially for her by Michael Masser and producer Ron Miller. It was "Touch Me in the Morning," released in May 1973.

The single took off in April, slowly building through the summer until it peaked at number one in August. In all, it spent 21 weeks on the chart, longer than anything Diana had ever recorded, either by herself or with the Supremes.

It was a plaintive, longing, emotionally rich record -- proof that Diana Ross still had it, after more than a decade as a superstar.

In 1980, Diana updated her approach with the album Diana, produced by Nile Rodgers and Bernard Edwards of Chic. This platinum album contained two big singles, "Upside Down" and "I'm Coming Out," and reestablished her as a pop presence after several lean years in the late seventies. In 1981, she duetted with Commodores lead singer Lionel Richie on "Endless Love," a number one record from the film of the same name. It was the year's most popular single but it proved to be her last hit for Motown.

In 1981, Diana ended her 20-year tenure with the company and signed with RCA Records, and her next few years were fruitful. With "Missing You" -- a ballad dedicated to Marvin Gaye -- Ross scored her last Top 10 pop hit in 1985. Her biggest successes, like "Missing You," seemed to hark back to her days with Motown. In 1986 the Bee Gees-written and -produced "Chain Reaction" gave Diana a minor hit in America, yet in England this affectionate remake of the old Motown style went to number one. In early 1989 Ross left RCA and returned to Motown, where she became a corporate officer and part owner. But despite a rush of publicity and continued strong concert sales, she was unable to regain a foothold on the pop charts.

Regardless of her career's ups and downs, Diana Ross' stature among her fans and her power to draw attention to her endeavors is undiminished. She will always be "the first lady of Motown," the label's biggest and perhaps most important star and one of the top entertainers of her generation.

Ron Miller, who co-wrote "Touch Me in the Morning" and other chart-topping Motown singles such as Stevie Wonder's "For Once in My Life," died on July 23, 2007 of cardiac arrest at Santa Monica UCLA Medical Center. He was 74.

comments powered by