"Daddy Don't You Walk So Fast"
Wayne Newton
Chelsea 0100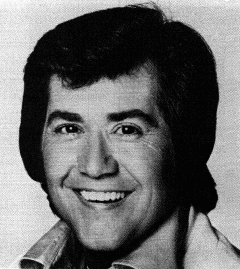 ayne Newton was born in Norfolk, Virginia, and began singing there at the age of six. Along with his brother, Jerry, he formed a duo that appeared at county fairs, church functions and school events. Most of their repertoire was country and western; Wayne strummed along on his Hawaiian guitar. They were known as the Rhythm Rascals.
In 1952, Wayne developed bronchial asthma, and for his health, the family moved to Phoenix, Arizona. Soon after, the boys landed a daily TV show over KOOL. They kept it until 1959, when Las Vegas beckoned. The Fremont Hotel offered them a five-year contract: six nights a week, six shows a night, as a lounge act. They accepted, even though Wayne was barely sixteen at the time. As he was too young to enter the casinos, Wayne had to spend most of his time in his hotel room, talking to his pet skunk.
---

THE TOP FIVE
Week of July 29, 1972

1. Alone Again (Naturally)
Gilbert O'Sullivan

2. Brandy (You're a Fine Girl)
Looking Glass

3. Too Late to Turn Back Now
Cornelius Brothers & Sister Rose

4. (If Loving You is Wrong) I Don't Want to be Right
Luther Ingram

5. Daddy, Don't You Walk So Fast
Wayne Newton

---
In the summer of 1962, Wayne was invited to appear on the fall premiere of the "Jackie Gleason Show." It was his first national TV exposure, and one of the people watching was Bobby Darin. Darin signed Newton to his production company, TM Music, and got him a contract with Capitol Records. The next year, Darin gave Wayne a song he himself had planned to record. That tune, "Danke Schoen," became the first Wayne Newton hit, in the summer of 1963. Two years later, there was a second hit, "Red Roses for a Blue Lady."

Wayne spent most of the sixties developing a nightclub act specifically aimed at Las Vegas audiences. It seemed to work. By the end of the decade, he was one of the highest-paid performers in the city. Wayne's weekly take was estimated at $52,500, which works out to $6 million a year. Clearly, he was doing something right -- live, in person, onstage. The problem was out of town, where, across America, Wayne was still being perceived as an ultra-square, squeaky-voiced wimp. His record sales were a joke, and no label wanted to take him.

Then, in 1972, Wes Farrell decided to take a chance. He signed Wayne as the first artist on his new Chelsea label. As a debut single, they came up with "Daddy Don't You Walk So Fast."

The song had already been a hit for a few months before in England, for pop singer Daniel Boone (Daniel was later to have a U.S. hit, "Beautiful Sunday," in the fall of 1972). Wayne liked it for its unstated theme of divorce -- something his Las Vegas fans could surely identify with. He also felt it "tugged at the heartstrings."

"I seem to lean toward emotional songs," he said, "and there's a reason for it." He offered a cinematic analogy. "If you go to a comedy, you laugh a lot, and come out saying, 'I really like that.' But you'll never go back. It's kind of like hearing the same joke twice. But if you go to a movie and cry when you leave, you might go back to see it nine or ten times. Don't ask me why, but it's a human trait, and that's the way I am. If something truly touches me that deeply, I'll want to see it, or sing it, or hear it again."

"Daddy Don't You Walk So Fast" was released in April 1972, and peaked on the charts in July. The same month, Wayne received his gold disc for sales topping one million copies.

Since that time, Wayne has concentrated mainly on raising horses, exercising his three-octave vocal range, and building a business empire. In 1980, he and a partner bought the Aladdin Hotel in Las Vegas for $85 million, assuring Newton of a purpetual place to play.

When asked for his mood at that time, Wayne just smiled a the reporters. "It's a wonderful feeling," he said.

comments powered by