"Lean On Me"
Bill Withers
Sussex 235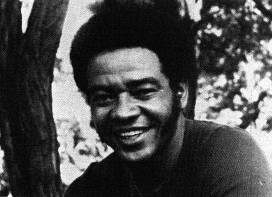 or most of his youth, Bill Withers was what you might call the strong, silent type. Because he stuttered so badly, he was embarrassed to say anything to anybody. But at 33, he became a soft-spoken yet nonstop talker -- and a singer-songwriter with his first of several gold records.
Bill, who was born in Slab Fork, West Virginia, spent nine years in the navy -- "to get away from people," he said. Afterward he found work delivering milk and then as a mechanic for the Ford Motor Company. Next he got a job as a computer operator for IBM. Eight months later, Bill left for California and was hired by Lockheed Aircraft to make bathrooms and air stairs and kitchens for 747s. In his free time, he hung around clubs, listening to the singers. "They seemed to be pretty contented people," he recalled, "and I guess I thought I could sing as well as them."
---

THE TOP FIVE
Week of July 8, 1972

1. Lean on Me
Bill Withers

2. Outa-Space
Billy Preston

3. Song Sung Blue
Neil Diamond

4. Too Late to Turn Back Now
Cornelius Brothers & Sister Rose

5. Candy Man
Sammy Davis Jr.

---
He began writing his songs because "I figured if I was going to be a singer, I'd have to have some tunes." Instead of making the usual rounds of the record companies and begging for a chance to be heard, he decided to make his own record. "I just saved my money and read the backs of album covers to find out who could play. Then I got a license from the musician's union and hired a few."

A piano player who helped out on the demo introduced Bill to Chico Hamilton's son, Forrest. In turn, Forrest took Bill to Clarence Avant, president of Sussex Records. In the spring of 1970, Bill was given a producer, Quincy Jones, and the recording process began.

His first single release was "Ain't No Sunshine," in 1971. "If you listen to it, you'll realize that the first half of the record is nothing but a guitar riff and my foot stomping on a board." It became a gold record, and won a Grammy Award as Best R&B Song of the Year. Bill was also nominated in two other categories, including Best New Artist of 1971.

The next year was even more successful. His second album, Still Bill, featured two more tunes that would go on to become R&B classics. The first was "Lean on Me."

"I was still working in a factory when I wrote that tune," Bill recalled. "None of us were really making much money, and we came to depend on each other for favors. You know, most songs are about romantic love, perhaps the most inconsistent kind there is. Well, there's another kind of love where people say, 'Hey, if there's anything I can do for you, let me know.' At the same time, they're smart enough to say, 'And if there's any way you can help me out, I'd sure appreciate it.' Well, at the factory, there was always somebody there to help you -- if you were fixin' your car and there was something too heavy for you to handle by yourself, or you needed five bucks. We all needed some little thing from each other. The song grew out of that environment."

"Lean on Me" entered the pop charts in April of 1972 and three months later was number one. It was followed in September by "Use Me," another million-seller, which made number two. "Kissing My Love," also from the gold Still Bill album, was a Top 40 hit for Bill the following year.

"I loved working at Sussex Records, because we kind of grew up together," said Bill. "When I came about, nobody had heard much of Sussex Records, or me either. So we just had a lot of fun. Nothing can ever replace that first situation, you know. It's kind of like your first girlfriend."

Sussex Records folded in the mid-seventies, though, and Bill moved on to the Columbia label. His old masters were bought by Columbia at auction. In 1978, Bill had another mild hit, "Lovely Day." He returned to the Top 10 in 1981 with "Just the Two of Us," a single cut in collaboration with Grover Washington, Jr. Then he basically retired from recording until another 1985 album for Columbia, Watching You Watching Me, and still toured occasionally.

"A person's either musical or not," Bill said in the early eighties. "I was fortunate in that I was able to be reasonably successful without being too cultivated. The longer I make records, the more sophisticated I become. But all I'll ever be able to do is say the things that are available to me in my mind. I write and sing about whatever I'm able to understand."

Bill died on March 30, 2020, in Los Angeles from heart complications, leaving behind a legacy of classic albums, radio staples, and an entire second generation of further hits covering or sampled from his peerless singles. He was 81 years old.

Reader's Comments
Jay Allenby
Thanks Bill Withers. RIP. What a great story. They should make a movie about it.